Brothers Stu and Charles Smith have been making wine on Spring Mountain above Napa Valley since the early 1970s. The mountainside location sets Smith-Madrone apart from the valley and so does the brothers' winemaking style. They make Cabernet Sauvignon in an elegant, old-world style along with lively, oaked Chardonnay and Riesling — yes, Riesling, because they both really love Riesling. Their wines don't chase current fads in winemaking. Stu and Charles make wines they love to drink and you will too. We received these wines as tasting samples.
Smith-Madrone Vineyards & Winery has been a true labor of love. When Stu first walked the property in 1970 it was forested. Vineyards planted in the prior century had long since been reclaimed by the forest, but Stu recognized the fundamentals of a great vineyard site: soil, climate and elevation. Charles joined Stu at the winery in 1972 and is the winemaker.
The vineyard is essentially dry-farmed and located between 1,300 and 2,000 feet above sea level on the upper reaches of Spring Mountain in the Mayacamas Mountains west of Napa Valley. Some of the steepest parts of the vineyard sit at a 34% slope. The red Aiken clay loam soil runs deep, is volcanic in origin, rocky and well-drained.
The first vines were planted in 1972 and included Chardonnay, Riesling, Cabernet Sauvignon and Pinot Noir, which was grafted over to Chardonnay in 1986. Merlot and Cabernet Franc were added in 1998 and Petit Verdot in 2007. Each variety is planted at the optimal elevation and exposure: Chardonnay on the coolest north-facing slopes, east-facing slopes for Riesling, and Cabernet Sauvignon is planted on flat, south and west-facing exposures. All wines are sourced entirely from estate vineyards. Annual production is 3,000 to 4,000 cases. The mountainside vineyards and winery are beautiful and provide sweeping views of the Napa Valley below.
In 2021 Stu and Charlie celebrated the 50th anniversary of Smith-Madrone. Over those 50 years the Smiths have come to know Spring Mountain well. They have watched as the climate changed and wildfires increased in intensity and number. But they did more than watch, they made a plan to defend their property against wildfires. In October 2020 they were forced to execute that plan of defense when the Glass Fire skipped across the valley and up Spring Mountain. It was a harrowing time that could well have resulted in destruction of the winery. But it didn't. Their 50th anniversary celebration must have been all the sweeter having survived the inferno.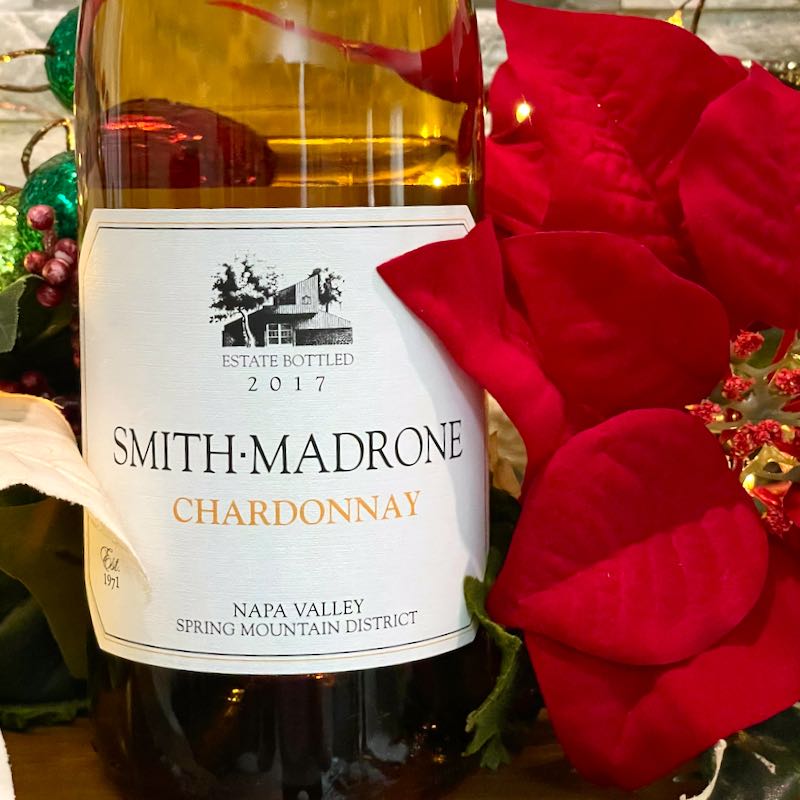 2017 Smith-Madrone Chardonnay, Spring Mountain District, Napa Valley — medium golden with generous aromas of stone fruit, grilled pineapple and toast. Flavors include ripe peaches and hints of pineapple supported by toasty notes and abundant citrusy acidity with a round mouthfeel. Flavors have become concentrated and rich with time in the bottle. 14.6% abv. 991 cases made. $40.
There is no denying the oak influence in this wine, but the oak is skillfully used and results in delicious flavors. The generous fruit flavors are supported, not overwhelmed by toasty oak flavors and the brilliant acidity of the wine balances the rich flavors. The wine's golden color hints at its age, but the flavors are lively. 100% Chardonnay was barrel fermented and aged 10 months in French oak, 85% new.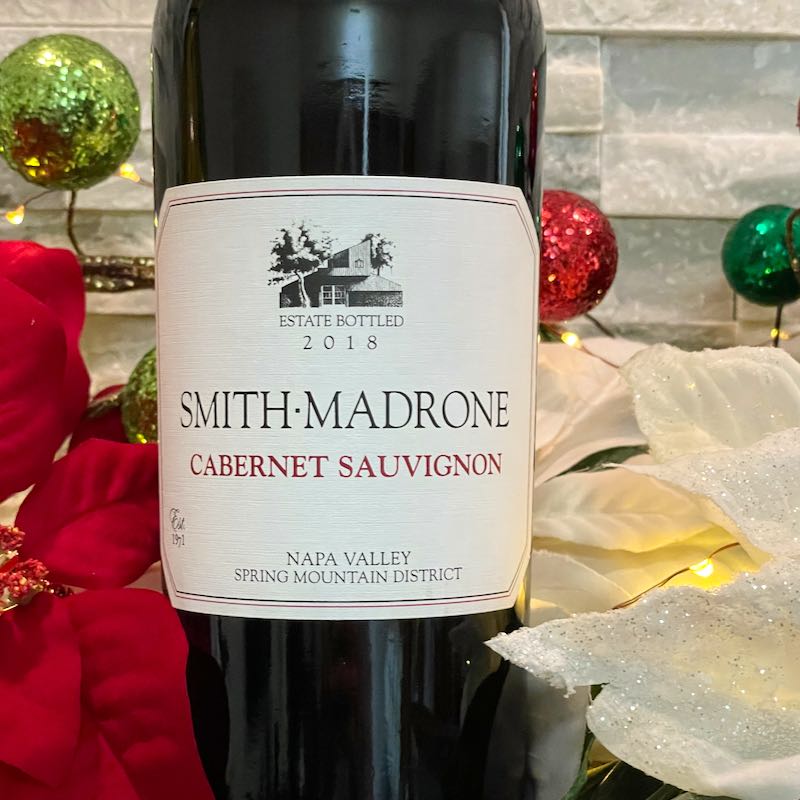 2018 Smith-Madrone Cabernet Sauvignon, Spring Mountain District, Napa Valley — medium ruby with aromas of red and dark fruit, dried tomato leaf and tobacco. The flavors follow with bright red fruit and blackberries, dried tomato leaf and dried tobacco. Over time a slate-like minerality develops along with notes of cedar. Acidity is bright and lifting. Fine tannins are a bit grippy and well integrated. The finish is medium+ in length and the body is medium. 14.3% abv. 1,006 cases made. $62.
This is a Cabernet to sip and savor — it doesn't need a meal to be enjoyed, something that cannot be said of many Napa Cabernets (not to my taste at least). It has plenty of complex fruit flavor, but isn't even close to being overripe and certainly has just the right amount of oak influence. The blend is 86.5% Cabernet Sauvignon, 7.5% Cabernet Franc and 6% Merlot aged for 21 months in French oak, 50% new. This Cabernet will be delicious for years to come.
You might wonder if we ever purchase any of the wines we are sent as tasting samples. The answer is yes. We currently have a six-year vertical of Smith-Madrone Riesling that is just waiting for good weather so we can host friends outside for a tasting. Stay tuned.
Cheers!