When Stuart Smith began looking for vineyard property in Napa he didn't look on the valley floor; he looked toward the mountains. He began coming to Spring Mountain in 1968. By the fall of 1970 he found a 200-acre parcel that in an earlier time had been home to vineyards. The property had been cleared and planted to vineyards by George Cook in the early 1880s. In return for the improvements he made to the land Cook was granted a deed to the property on December 5, 1884. By the end of the 19th century he was forced to abandon the vineyards due to damage caused by phylloxera.
When Stuart first walked the property in 1970 it had been completely reclaimed by the forest. The only remaining evidence of Cook's prior farming effort were two rows of olive trees that had somehow managed to survive among the 100-foot-tall Douglas fir trees. Stuart didn't discover the olive trees until after he had walked the site several times. Logging permits were obtained, part of the land was cleared and the two rows of now very tall olive trees were saved from the forest.
Stuart told us the history of the property and those two rows of olive trees as we drove between them during a recent visit to Smith-Madrone winery. During our visit we gained an appreciation for mountain winemaking and the elegant wines made at Smith-Madrone — which, notably, includes Riesling.
Vineyards in the Mountains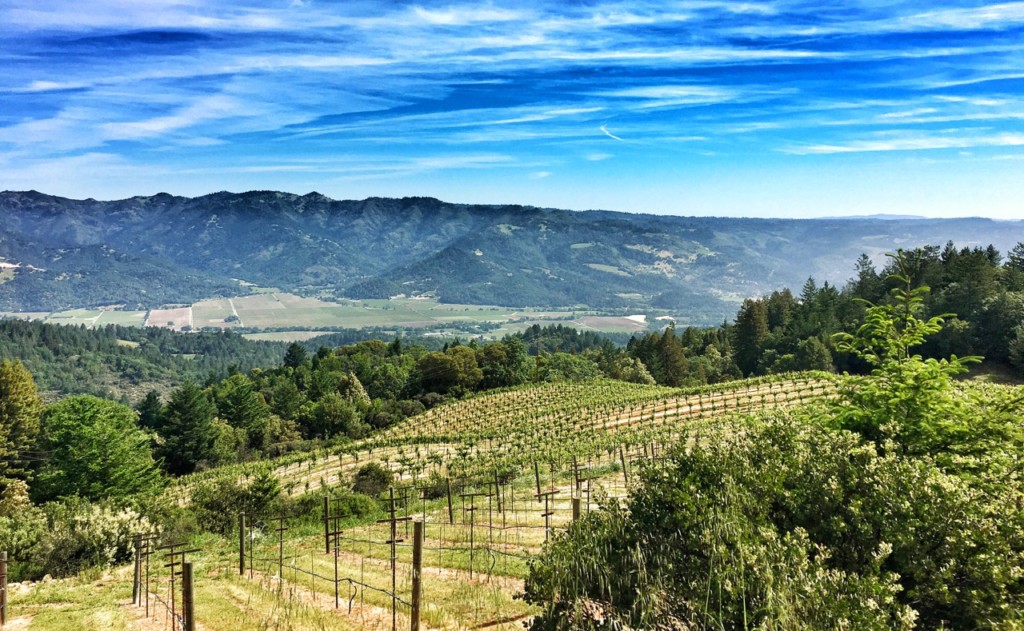 Smith-Madrone winery is located at 1900 feet on Spring Mountain on the eastern slopes of the Mayacamas Mountains that separate Napa Valley from Sonoma Valley. The view across Napa Valley to Howell Mountain and the Vaca Range is spectacular. About 36 acres are planted to vineyards. The balance of the acreage includes open space, the winery building and forested land. Stuart and his brother Charles have been making wine here for more than 40 years. The focus of their winemaking is Chardonnay, Cabernet Sauvignon and Riesling — all estate grown.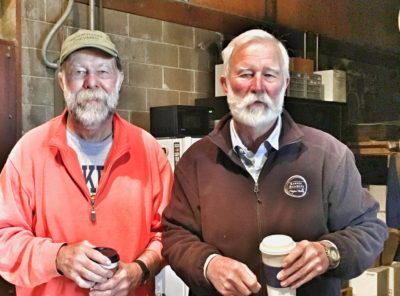 Mountain soils lack sufficient fertility for general agriculture, according to Stuart, but are perfect for vineyards because of that very reason — they provide just enough fertility to grow healthy vines and produce quality fruit but not enough to overstimulate vine growth. That's why Stuart looked for vineyard property in the mountains of Napa Valley and not on the valley floor. He firmly believes quality wine begins with the proper soil.
Growing grapes on the slopes of a mountain is not without its challenges; namely preventing soil erosion. As Stuart put it, "The first obligation is to keep your soil in place." A vigorous cover crop is an efficient defense against erosion, and for that reason the vineyard rows are not tilled. Instead, a variety of grasses, clovers and filaree (all selected because they grow well during winter and have quick root development) are planted between the rows. Only the area between the vines is kept clear of vegetation.
Over time, phylloxera damage in the vineyards has required replanting (an old problem). When no change in variety, spacing or row orientation is required, interplanting is considered. Otherwise, the entire vineyard block must be replanted. Because their management of soil erosion is so efficient row orientation does not need to follow the contour of the mountainside. Rather, row orientation is decided upon based on experience with each grape variety. Over 40 years of tending vines in these mountains the Smiths have learned exactly where they want each variety planted and at exactly what orientation.
In addition to row direction, trellising is an important consideration. The Smiths have developed a trellising system that works in this location and they modify it by variety. Fruiting wires are located at an ergonomically-correct 38 inches off the ground with two cross-arms above that. The size of the cross-arms varies by variety and creates what Stuart described as an umbrella shape to protect the fruit from mid-day sun. The fruit must receive enough sunlight to ripen, but not so much that it sunburns.
All varieties are essentially dry-farmed. Drip irrigation is in place, but is only used during the first few years after vines are planted. Over time the vines are weaned from irrigation. Merlot, they have discovered, can be difficult to dry-farm so if the vines look like they need water they are irrigated.
When I asked Stuart his thoughts on organic viticulture, he told us he believes in farming sustainably rather than organically. He believes it's more responsible to follow best management practices to insure economic viability and to continually look for new, more efficient ways to farm. Organic farming has a different focus and is not inclusive of new ideas and practices in his view. Anyway, he hasn't used pesticides in the vineyards for 40 years and believes there is a healthy balance of beneficial insects in the vineyards that keep the not-so-beneficial ones in check. Possibly this is a result of having never "nuked all the insects," as Stuart put it referring to the non-selective use of pesticides in the vineyards. He went on to observe that the relative isolation of the vineyards may be another factor.
The Smith Brothers' Wines
We met Stuart's brother Charles in the wine cellar where he took us through a tasting of Smith-Madrone's wines. It's clear Stuart is not the only Smith brother having fun making wine. Only half-joking Charles characterized their current winemaking operation as a hobby that got out of control.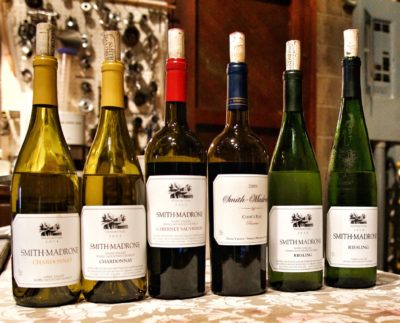 When you taste Smith-Madrone wines you are tasting the style of wines the Smith brothers like to drink themselves, according to Charles. In describing their marketing strategy he joked, "If we like it maybe we'll get lucky and somebody else will like it too!" Skill, more than luck, accounts for the fine quality of their wines. They pay attention to every detail, beginning in the vineyard. They eagerly await the opportunity to begin tasting each vintage as fermentation proceeds; making observations, taking notes, planning changes for the next vintage. And while there is a overall consistency of style in the Smith-Madrone wines we tasted, there is definitely vintage variation, which is exactly as the Smiths would have it.
While the pair is open to adjusting their winemaking techniques, there are a few things they feel strongly about. Neither is a fan of cold soaking or native yeast fermentation, though they did use native yeast in the 1970s and '80s when they made Pinot Noir.
Chardonnay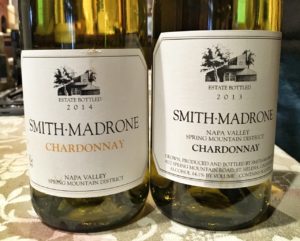 The two vintages of Chardonnay we tasted were very different wines. The 2013 Chardonnay shows stony minerality, delicate pear aromas and flavors. Hints of spice and cedar season the fruit flavors, but delicately, and the wine is relatively light-bodied with great acidity. The 2014 Chardonnay is lusher, rounder, more weighty with toasty and cedar flavors. Once again the wine has brilliant acidity. Both are delicious; siblings but not identical twins.
Chardonnay fermentation begins in tank with inoculation and then moves to oak barrels where it also goes through 100% malolactic fermentation. When I expressed surprise that the oak influence was not more evident in these Chardonnays Charles told us that hillside Chardonnay grown in the area tends to resist wood influence.  These are not fat, buttery California-style Chardonnays. They exhibit elegance, body and style. Above all they have brilliant acidity, an essential quality in Chardonnay for the Smiths, and plenty of fruit flavor.
Stuart and Charles love to experiment with things like the frequency of lees stirring in their Chardonnay and are already looking toward the 2016 vintage when they will take a portion of that production "in a completely different direction," according to Charles. Of their Chardonnay production in particular Charles noted, "We have a lot of fun with Chardonnay. We've been making wine for 40 years and we're still screwing around with it!"
Cabernet Sauvignon
If the Smith brothers' Chardonnay reflects the fun side of winemaking then their Cabernet Sauvignon occupies the serious side. In part because their Cook's Flat Reserve retails for $200 a bottle; their Smith-Madrone Cabernet Sauvignon retails in the more modest $45 range.
Charles admitted to being a bit uncomfortable making a wine that costs $200 a bottle. He told us that the wine must be perfect on release and must have an immediate impact. With that in mind, they decided to release the 2010 Cook's Flat Reserve early because it tasted perfect at the time. "Now, it tastes better than ever. We really nailed 2010." Charles observed. He would love to be pouring that wine now, but it's gone.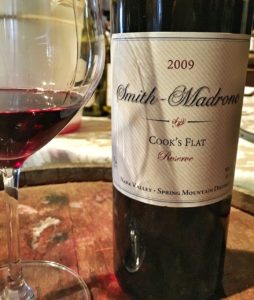 We tasted the 2009 Cook's Flat Reserve and found it to be an elegant, complex and evolved wine that is still bright and youthful. Complex dark fruit and cedar aromas are followed with dark plum and red fruit flavors. Hints of cedar and pencil shavings add complexity. Tannins are silky smooth and the finish is very long. Delicious.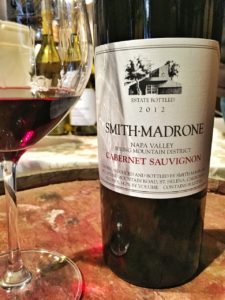 The 2012 Smith-Madrone Cabernet Sauvignon exhibits ample blackberry and plum flavors with interesting herbaceous backnotes and damp earth. The tannins are drying with a bit of grip. The finish is juicy and very long lasting. I love this wine. I look forward to tasting this wine over time as it evolves in the bottle.
Cabernet Franc and Merlot are potential blending partners with Cabernet Sauvignon in these wines. The blend varies with every vintage.
Riesling
We finished the tasting with two Smith-Madrone Rieslings. I thought it was interesting that Charles chose to follow the Cabernets with white wines. He said he though it would become clear why he did so after we tasted the wine. He was right.
Riesling is the first varietal wine the Smiths made. Charles told us that in the early 1970s Riesling was as important in terms of volume and quality as Chardonnay. Then the 1976 Judgement of Paris wine tasting happened and Riesling was eclipsed by Chardonnay in the U.S. In spite of not being loved by the masses, Charles and Stuart have continued to make the wine they love. If the Smith brothers make Chardonnay for fun, and Cabernet is the serious wine then Riesling is the wine the make out of love.
We tasted the 2013 and 2014 Riesling. Both are weightless in the mouth, but the flavor profiles are very different. The 2013 Riesling is fruity with generous melon, pineapple and diesel flavors. The 2014 Riesling is more mineral driven and very fresh. Charles described it as edgier, racier and more austere than the 2013. He expects it to develop more slowly than the 2013. He put it this way, "At the 20-year mark the 2013 will be insanely delicious. The 2014 will have 10 years to go."
Finishing the tasting with the Rieslings demonstrated to me just how lively and flavorful these light-bodied wines really are. It can be a challenging for the flavors of a white wine to show well after tasting red wines, but that wasn't the case with these Rieslings. Charles likened it to finishing a meal with sorbet for dessert. The comparison works for me.
The Smiths had critical success with their Riesling from the very first vintage. That 1977 vintage won the Riesling Competition of the 1979 Wine Olympics, a tasting organized in Paris by the food and wine magazine Gault & Millau. This was the Smith's personal Judgement of Paris moment. They were thunderstruck. Only 5 bottles of that precious 1977 Riesling remain and it has been several years since they last tasted it. "You can never have too much of a vintage you really love." Charles observed.
More recently Stuart Piggot, British-born author and Riesling expert, listed Smith-Madrone Riesling among the world's top 20 dry Rieslings (and the only one from North America) in his 2014 book The Best White Wine on Earth: The Riesling Story.  "It's humbling to be on the list," Charles told us.  "It's the single nicest thing that's ever been written about us."
Wine tasting at the winery requires a reservation, but you will be rewarded for planning ahead. The drive up Spring Mountain takes you away from the crowds of Napa Valley, the air is fresh and the mountain vineyards are beautiful. Wine tastings take place in the barrel room where the aromas of wine production accompany your tasting. If you are lucky Curly the winery dog will be there.  Taste these beautiful wines for yourself, I'm certain you will not be disappointed.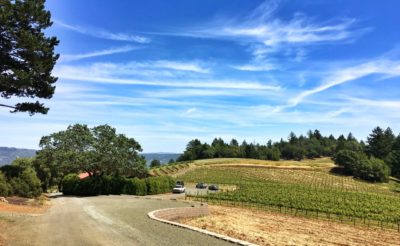 Many thanks to Stuart and Charles for the time you spent with us. It is a winery visit we will not soon forget. And those wines!
Cheers!