Winemaker José Luis Moreira da Silva, Zé Luis as he is known more informally, has the challenge of making wine in two Portuguese wine regions. The two regions could not be more different in terms of growing conditions and grape varieties. Fortunately the distance between Vinho Verde and the Douro is not too great, about 90 minutes by car. In Vinho Verde, Zé Luis is continuing the work of the prior owner to elevate the Loureiro variety. In the Douro, where the focus is on red wine and Port, he is helping to establish the estate's legacy.
During a recent online conversation with Zé Luis he provided our group with a personal and detailed perspective of winemaking in these two regions. Also joining the conversation was Frank Paredes, US Director Esporão Group, who provided a quick history of the company. We received wines from both estates, provided as tasting samples, to accompany the discussion.
A Brief History of Esporão
Esporão was established in 1973 by José Roquette and Joaquim Bandeira with the purchase of a historic property, Herdade do Esporão, in the Reguengos sub-region of Alentejo. The documented history of the estate dates back to 1267. The first vintage released was 1985, followed by many years of growth in Alentejo.
In 2008 Esporão purchased Quinta dos Murças in the Cima Corgo sub-region of the Douro. Estate winemaking facilities and vineyards have since been revitalized. In 2019 Esporão purchased Quinta do Ameal in Vinho Verde, a property dedicated to the Loureiro grape variety by its prior owner. Today, Esporão manages nearly 2000 acres of certified organic vineyards and olive groves in Portugal and continues to be managed by family members.
Vinho Verde
The Vinho Verde DOC lies along the Atlantic Ocean in the northwest corner of Portugal and is the country's coolest and wettest region. Temperatures are warmer in the inland parts of the region than along the ocean. The region is relatively flat with hilly regions, lush vegetation and rich soils. Zé Luis mentioned that historically the first Port wines exported from Portugal were made here in the warmer inland parts of Vinho Verde, not in the Douro. At that time the red wines were more important than the white wines. Today, white wines are in the forefront with a small production of red and rosé wines.
Quinta do Ameal is located in the Lima Valley along the Lima River very close to the village of Ponte de Lima, one of the oldest in Portugal. Winemaking dates back to 1710 on the estate. The location, 12 miles inland from the Atlantic Ocean, results in both Atlantic and Continental climatic influences. This translates to cool temperatures at night and higher precipitation but warm enough daytime temperatures to fully mature the Loureiro grape variety. Soils are granitic with different textures depending on elevation.
The 74-acre estate, which runs along the Lima River, is planted to about 34 acres of Loureiro. The remaining 40 acres are very old forests. Soils closer to the river are richer and result in more vigorous growth, higher yields and more aromatic grapes. Loureiro planted further away from the river, and at a slightly higher elevation, grow in poorer soils that produce less vigor with lower yields but more concentrated flavors.
The goal of Pedro Araújo, the prior owner of Quinta do Ameal, was to elevate Vinho Verde wines from off-dry, drink-now wines to ones with complexity and the potential to age. He planted only the Loureiro variety, which is indigenous to the Lima Valley, and set about establishing it as a quality varietal wine. Pedro Araújo made wines in a variety of styles and Zé Luis intends to continue doing so. He believes the best way to understand the Loureiro variety is to understand the soil, which is why soil studies are being undertaken on the estate. Zé Luis also noted that Loureiro dating back to the 1999 vintage are aging beautifully.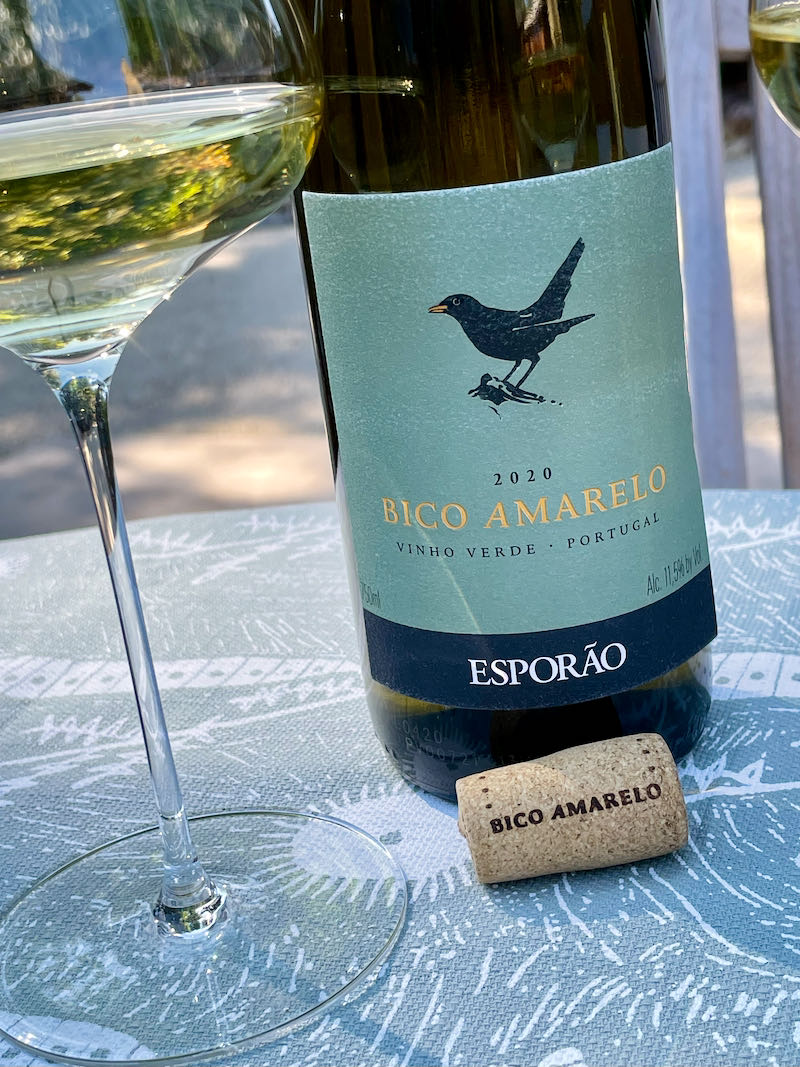 2020 Esporão Quinta do Ameal Bico Amarelo, Vinho Verde DOC, Portugal — pale yellow with delicate aromas of melons and pears. Flavors are tart with Meyer lemon, barely-ripe pears and citrus pith along with generous acidity in a light body. 11.5% abv. SRP $12
In order to capture the essence of Vinho Verde this wine is a blend of the three main grape varieties of the region sourced from the three main sub-regions. Loureiro from Ponte de Lima lends intensity, freshness and acidity. Alvarinho from Monção e Melgaço contributes complex aromas, body and texture. Avesso from the very warm Baião sub-region lends structure. Whole-cluster pressing, a technique specific to Ameal, lends texture and stirring of the lees for 3 to 4 months creates a creamy texture.
Zé Luis described this wine as simple, but in a good way, meaning it's easy to enjoy but won't put you in a contemplative mood the way the Loureiro might. It's the perfect wine for a warm afternoon.
2020 Quinta do Ameal Loureiro, Vinho Verde DOC, Portugal — pale yellow with generous aromas of ripe pineapple, lemons, limes and white peaches. Flavors follow with peaches, citrus, ripe pears and lively acidity. The wine is a bit round with excellent acidity and a drying finish. 11.5% abv. SRP $18
Loureiro is sourced entirely from estate vineyards. Once again, Loureiro is whole-cluster pressed and battonage is extended to 8 months with this wine. This wine is a very special taste of Loureiro and Lima Valley where it shines. Zé Luis sees this wine as a continuation of Pedro Araújo's legacy with Loureiro. And Loureiro is emphasized on the front label of the wine bottle over Vinho Verde DOC, which appears on the back label.
Both of these wines demonstrate Vinho Verde can be much more than sweet, fizzy, simple white wines. Both are fresh, vibrant and aromatic. The Loureiro is rounder and more complex than the Bico Amarelo, which is more sharply acidic. And both are an excellent value.
Douro
The Douro Valley is the opposite of Vinho Verde in every way. It is a region of red wines. It is the world's oldest demarcated wine region and lies inland along the Douro River. It is hot and dry with very steep hillsides and poor soils comprised of schist and granite. Zé Luis told us that everything is difficult at Murças.
When Esporão considered expanding beyond Alentejo they looked to the Douro, but in the cooler parts of the valley in the sub-regions of Baixo Corgo and Cima Corgo in order to make fresher red wines. Here there is a bit more precipitation and temperatures are not as hot as in Douro Superior. The cooler climate makes the right bank of the Douro, with its south-facing vineyards, the most coveted. This is where Quinta dos Murças is located.
Unlike Quinta do Ameal, whose reputation was established when Esporão purchased it, Quinta dos Murças was an estate whose potential had not been fully realized. Esporão and Zé Luis are working to establish its reputation.
The estate is known for having the first vertically-planted vineyards in the Douro. This orientation, first employed in 1947, continues today. The advantages are many: higher vine density resulting in more competition among the vines, deeper root development, increased wind movement through the vineyard reducing disease pressure. The big disadvantage is increased difficulty of working the vineyard.
The 150 acre estate is planted to only 50 acres of vines to maintain the property's biodiversity. Eight unique terroirs have been identified on the estate and are represented in the individual Murças bottlings. All farming has transitioned to organic to maximize quality and preserve a sense of place. Amazingly, the vineyard has been divided into 50 plots and each is vinified separately. Most are planted as field blends, with one plot comprised of 14 varieties. The quest to make wines of place continues in the wine cellar with the use of indigenous yeast, neutral oak and low sulfur additions.
In recent vintages the weather has been more extreme than it has been historically. Zé Luis believes that the older vines with deep roots, field plantings of many varieties and organic farming will all enable the vines to adapt to climate change in the region.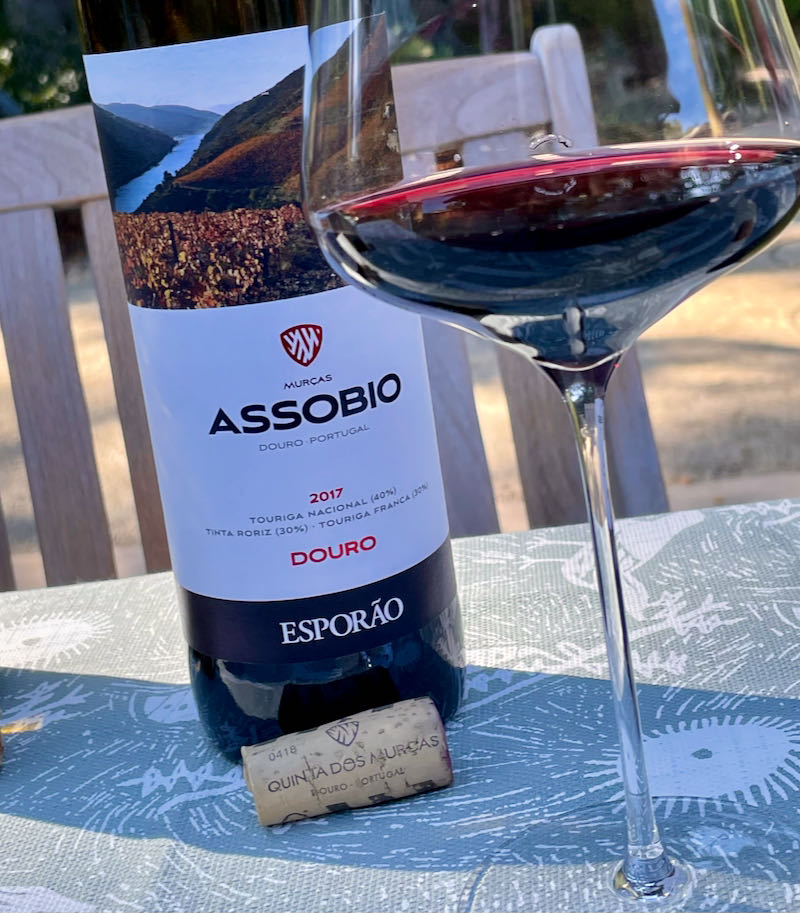 2017 Esporão Quinta dos Murças Assobio Red, Douro DOC, Portugal — medium ruby with aromas of ripe blackberries and raspberries with dusty earth. Flavors of mixed berries and dusty earth are supported by gauzy tannins and nice acidity. The finish is very long without heat. The body is medium. 13.5% abv.
Originally sourced from a north-facing plot at higher elevation on the estate, but today it is sourced from similarly situated plots from other growers in the area. North-facing, higher elevation plots lend freshness, less concentration and more aromatics to the wine.
The blend is Touriga Franca, Touriga Nacional and Tinta Roriz. Maturation took place mostly in concrete tank with a small proportion aged in oak casks.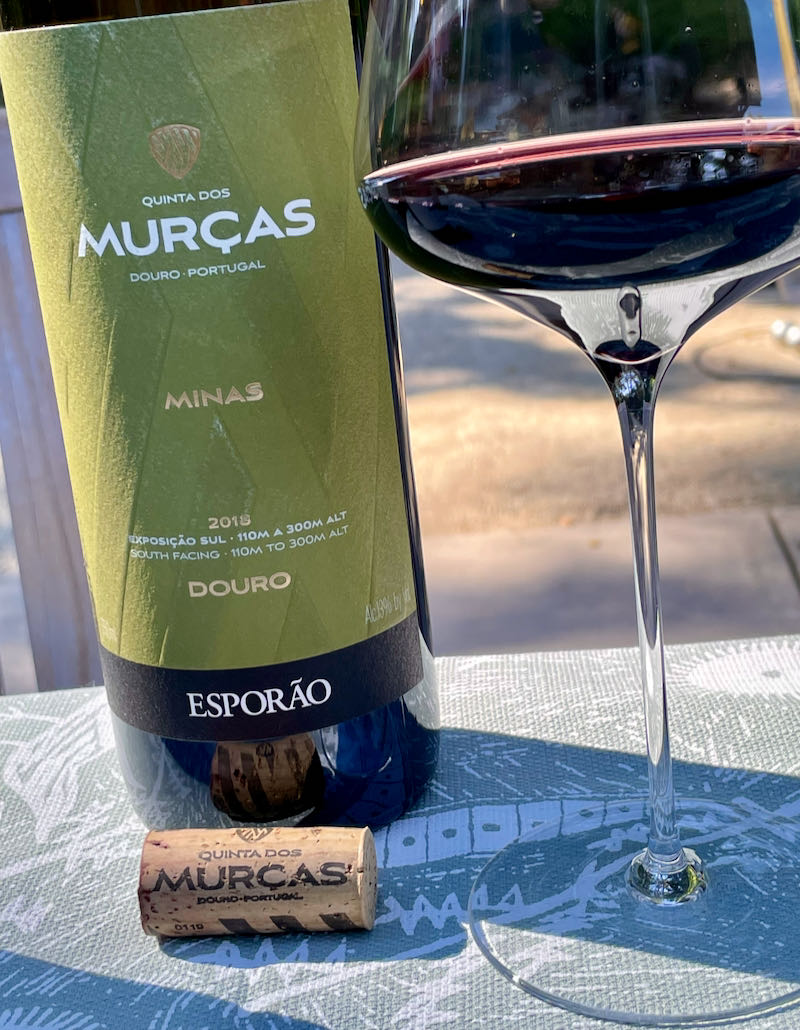 2018 Esporão Quinta dos Murças Minas, Douro DOC, Portugal — medium ruby with aromas of ripe blackberries and boysenberries. Flavors include plums, blackberries, black tea and earth. Tannins are gauzy and fine with lively acidity and a long finish. The body is medium. 13% abv. SRP $24
Minas, named for the five natural springs in the vineyard, is 100% estate grown. The field blend of Touriga Franca, Touriga Nacional, Tinta Roriz, Tinto Cão and Tinta Francisca is foot-trodden in lagares and is co-fermented using natural yeast. The wine is aged in concrete tank and used French oak. Zé Luis believes aging in concrete helps preserve the wine's natural acidity and freshness.
While both of these wines are flavorful, medium-bodied red wines, they are not at all too ripe or over-oaked. They are just begging to be paired with a meal.
In nosing around the Esporão website, I noticed wine tourism opportunities at Quinta do Ameal, Quinta dos Murças and the first estate in Alentejo, Herdade do Esporão. All look very appealing.
Many thanks to Zé Luis for the personal look at Quinta do Ameal and Quinta dos Murças and best wishes for an excellent 2021 vintage. The tasting was organized by Creative Palate Communications. Thank you.
Cheers!