When I think of Oregon wine my mind automatically goes to Pinot Noir and the Willamette Valley. Without a doubt Pinot Noir is Oregon's signature variety and the Willamette Valley its best-known wine region, but as I learned during a recent online seminar sponsored by the Oregon Wine Board, Pinot Noir just scratches the surface of an evolving wine scene that now includes 21 recognized AVAs and more than 80 wine grape varieties in commercial production.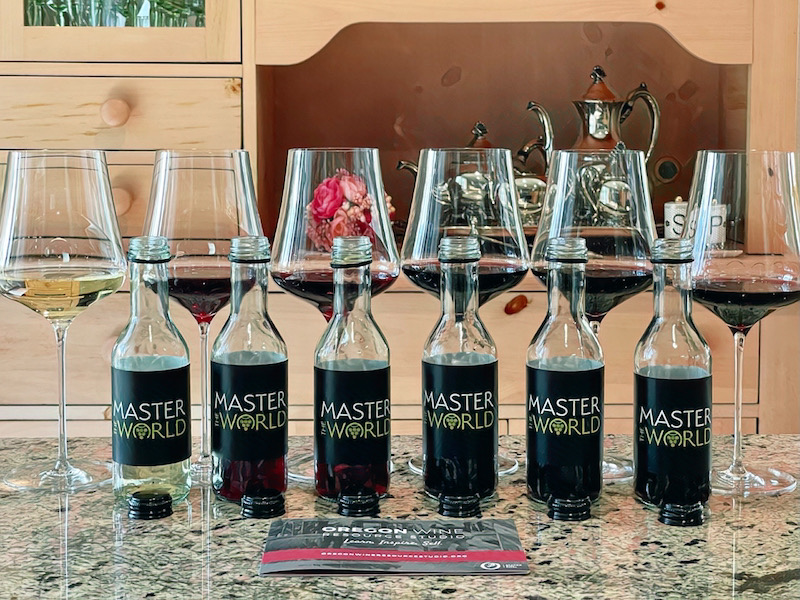 During the seminar moderated by Bree Stock, MW we tasted six wines made using five grape varieties from six wine regions that deliciously demonstrated the diversity of Oregon's wine. There is literally an Oregon wine for every palate. All wines were provided as tasting samples and packaged in 187-ml bottles by Master The World.
A Few Oregon Wine Facts
The first post-Prohibition wine grapes were planted in 1961 by Richard Sommer at his HillCrest Vineyard near Roseburg in the Umpqua Valley. He planted Riesling, Pinot Noir, Gewürztraminer and Malbec among many other varieties over several years.
According to a comprehensive article about Richard Sommer's contributions to Oregon wine, William "Rusty" Gaffney, M.D. notes on his blog, The Prince of Pinot, that Mr. Sommer was assisted in the planting of those first vines by Adolph Doerner whose family planted wine grapes in the Umpqua Valley in 1888. In 1963 the HillCrest Vineyard winery was bonded and Sommer released his first wine, a Riesling, that same year.
Today, Oregon is home to more than 1,300 vineyards and 900 wineries. Pinot Noir is the most-planted variety followed by Pinot Gris, Chardonnay, Syrah and Cabernet Sauvignon. In terms of the percent of new acreage Gamay is the fastest-growing variety and Rogue Valley the fastest-growing region.
21 AVAs include four cross-border AVAs and represent diverse growing conditions. The Rogue Valley represents high desert, Willamette Valley and Umpqua Valley are alpine and maritime influenced, the Columbia Gorge is river influenced and Eastern Oregon enjoys a continental climate. The hallmarks of Oregon's diverse wines according to Bree are bright fruit flavors and vibrant acidity.
Let's Taste By Region.
Willamette Valley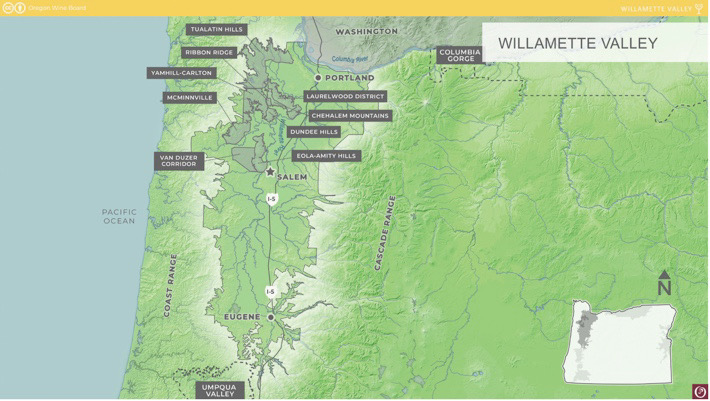 The Willamette Valley AVA was established in 1983 making it Oregon's first official wine region, and with boundaries stretching from Portland to Eugene it is also Oregon's largest at 3.4 million acres. Nine sub-AVAs have since been established within the Willamette Valley.
Three soil types are represented within the Willamette Valley: ancient uplift marine sediments, volcanic basalt and wild-blown loess.
Pinot Noir reigns supreme in the Willamette Valley, but Chardonnay has been planted here since early on and is on the increase in terms of both quantity and quality. Pinot Gris also has a notable presence as the first site of plantings in the U.S.
Eola-Amity Hills AVA
Eola-Amity Hills sub-AVA of the Willamette Valley was established in 2006. The region runs north-south along the west side Willamette River roughly between Salem and McMinnville.
The biggest influence is the ocean breeze that blows in through the Van Duzer Corridor and cools the region in summer. The volcanic basalt and clay soils are heavily laden with rocks of varying size, which makes vineyard work a challenge.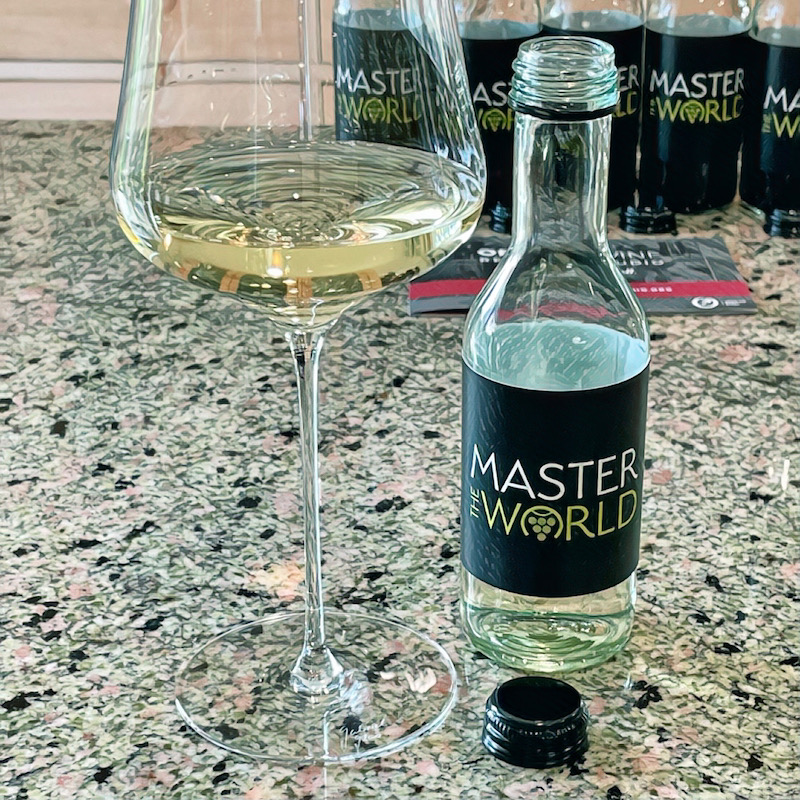 2018 Walter Scott Wines Seven Springs Vineyard Chardonnay, Eola-Amity Hills — medium yellow in the glass with generous aromas and flavors of asphalt, flint and grapefruit. Nice weight on the palate and fresh acidity make for an elegant and bright Chardonnay that is deliciously distinctive. 390 cases made. 13% abv. $65
Walter Scott Wines winemaker Ken Phalow told us the Seven Springs Vineyard is legendary in Oregon and was first planted in 1984 by Al MacDonald. The site's eastern exposure ensures morning sun and cooling ocean breezes result in wines with concentrated flavors and fresh acidity. The vineyard is LIVE™ certified and has been farmed biodynamically since 2007. The site is planted mainly to Pinot Noir, but Chardonnay excels here as well.
Tualatin Hills AVA
Tualatin Hills sub-AVA of the Willamette Valley was established in 2020 and is the most northerly and westerly of the Willamette Valley sub-AVAs. Weather is characterized by coastal fog and the highest rainfall in the Willamette Valley. Its proximity to the Columbia Gorge brings dry, warm wind to the region in the mornings that pushes back the coastal fog. By early afternoon the coastal fog establishes its dominance providing a significant cooling effect.
Only one soil type is present in the Tualatin Hills: wind-blown loess of the Laurelwood series, over basalt in areas, that was blown from the Columbia Gorge as a result of erosion. These light clay soils are very deep in areas and thanks to their water-retention qualities, and abundant rainfall, dry-farming is possible in this hilly region.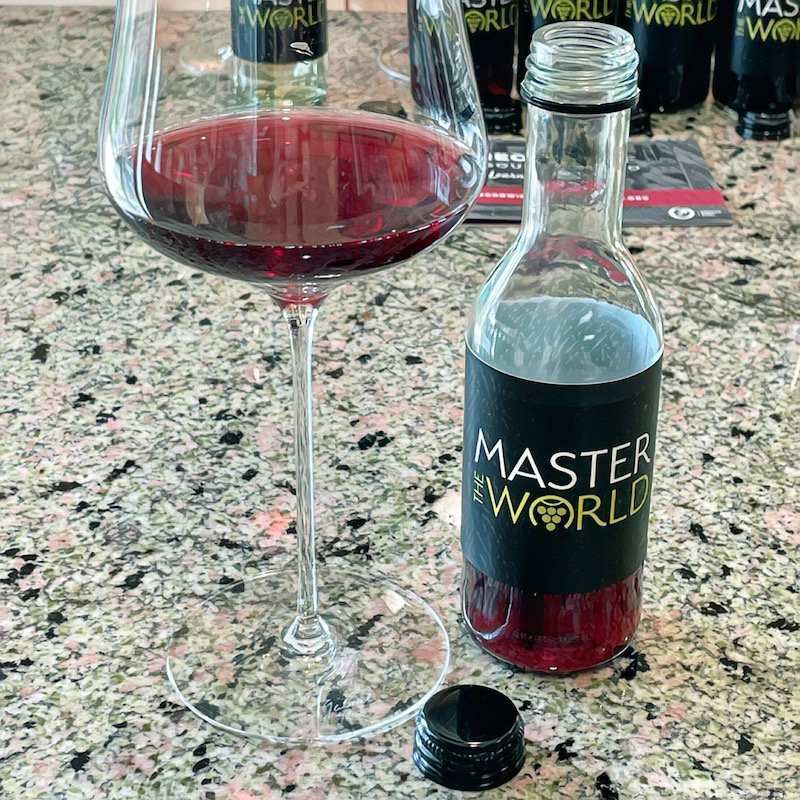 2019 David Hill Vineyards & Winery Winemaker's Cuvée Pinot Noir, Tualatin Hills — translucent ruby in the glass with aromas of berry bramble, raspberries and blackberries. Dark and red berry fruit flavors blend with earth and berry bramble and are supported by smooth, drying tannins. Acidity is lively in this pure fruit expression of Pinot Noir. 13.1% abv. Wine Club only wine. ~$50
The first vines were planted at David Hill Vineyards & Winery in the 1960s by Charles Coury making these vines some of the oldest in Oregon. These old vines were planted on their own rootstocks.
David Hill winemaker, Chad Stock, described the vineyards as a bit of a museum because some blocks were planted from cuttings taken from other parts of the vineyard and some from undocumented origins. Gewürztraminer, Sylvaner, Semillon, Pinot Blanc, and Riesling are also planted here with the most recent plantings made in 1995.
In 2020 David Hill Vineyards & Winery achieved B Corp status, one of very few in the world to do so.
Through DNA testing the Pinot Noir clones in the source block for this wine have been identified as Pommard and Wädenswil 1A. Chad believes strongly that clonal material is at least as important as site in expressing the flavors of a wine. He went on to note that the region's loess soil results in very drying, chalky tannins.
Columbia Gorge AVA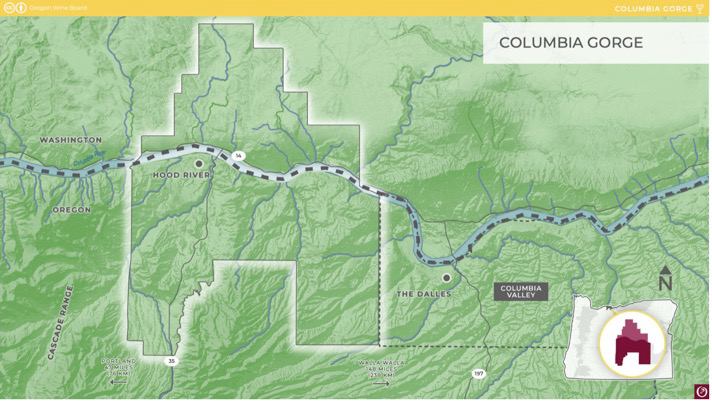 The Columbia Gorge AVA, established in 2004, includes a bit over 186,000 acres, 925 of which are planted to vines. The AVA straddles the Columbia River east of Portland and may be small, but it is extremely diverse. The major influences are the Columbia River and the constant cooling breezes that blow in from the Pacific Ocean. The seasons here are distinct.
Elevations vary between 300 and 2,000 feet above sea level and are a factor as well. Soils here vary by elevation and are a direct result of the Missoula Floods. The floods reached a depth of 1,000 feet, so elevations below that are characterized by cobbles, sand and glacial soils. Above this elevation the soils are volcanic from eruptions of nearby Mt. Hood (in Oregon) and Mt. Adams (in Washington.)
Higher elevations receive snow in winter and in general growing conditions are coolest and wettest in the western portions of the AVA and warmer and drier toward the east. This, according to Analemma co-proprietor and winemaker Steven Thompson, allows a diverse list of grape varieties to thrive — everything from Riesling to Syrah to Mondeuse and Zinfandel.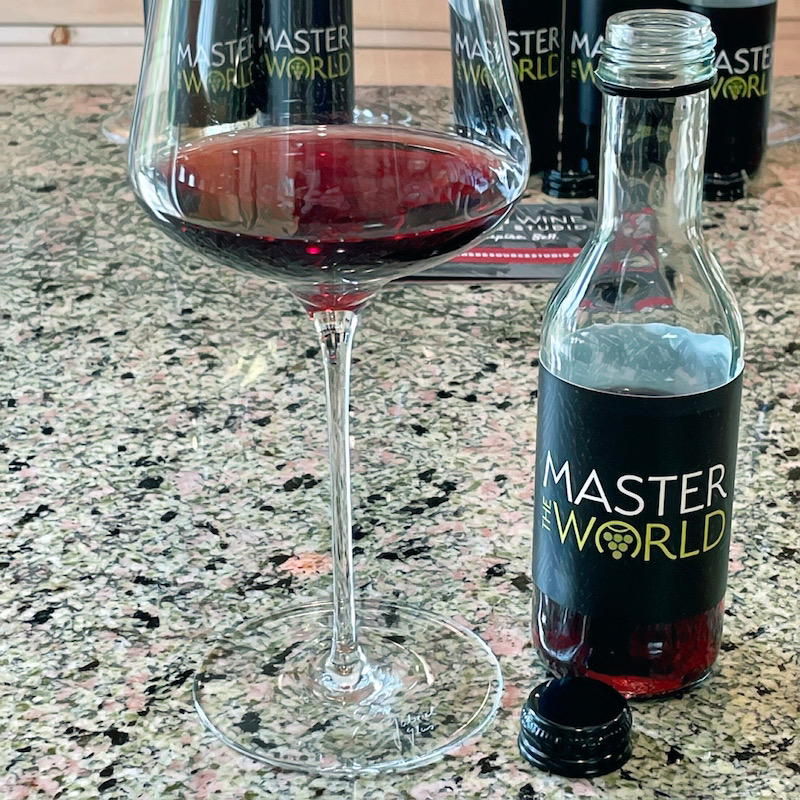 2018 Analemma Wines Mosier Hills Estate Grenache, Columbia Gorge — translucent ruby with garnet at the rim. Aromas include roses, raspberries and dusty earth. Flavors follow with raspberries, blackberries and cherries with background notes of dried herbs. Chalky, drying tannins float in a medium body with bright acidity. 13.5% abv. Only 70 cases made. $42
This beautifully aromatic and bright 100% Grenache is made using 35% whole cluster in open-top stainless steel fermenters then aged in concrete egg and 600L neutral oak vessels for 15 months. Farming is organic and biodynamic certified on the Mosier Hills Estate with a focus on regenerative agriculture. In addition to vineyards, the estate is home to orchards, cows, pastures, vegetables and wild space. Analemma wines are made with intention by those who work the vines and the farm. In the words of Steven Thompson, each wine carries, "a fingerprint of place."
Southern Oregon AVA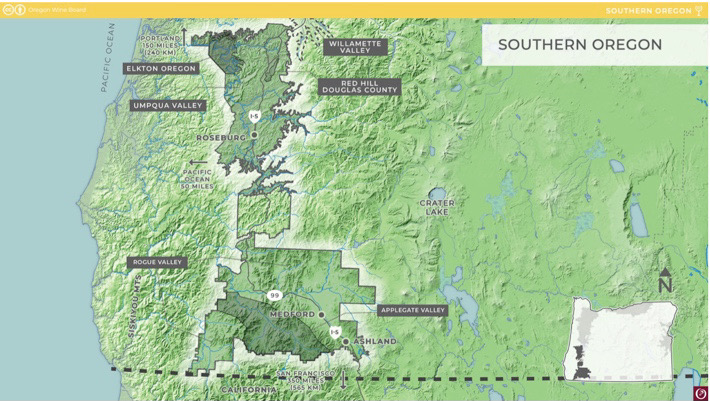 Southern Oregon was established in 2004 and is another very large AVA, at just over 2.2 million acres, that stretches from 125 south of Eugene to the California border. The Umpqua River, Elkton and Red Hills Douglas County AVAs lie in the northern portion of Southern Oregon and the Rogue Valley and Applegate Valley lie in the southern portion. Once again these regions are defined by rivers, mountains and varied soil types.
Umpqua Valley AVA
Umpqua Valley AVA was established in 1984 and enjoys maritime influences with many elevations and soil types. According to Dyson DeMara, HillCrest Vineyard proprietor and winemaker, the Umpqua Valley is home to 150 soil types and 82 grape varieties. 75% of the landscape is mountains and hillsides with a large diurnal shift in temperature. About 3,500 acres are planted to vines.
De Mara purchased HillCrest Vineyard in 2003 from Richard Sommer who originally planted the vineyard. He told us Sommer sourced many of the cuttings from a test vineyard developed by Louis Martini in Carneros. De Mara has rehabilitated and maintained as much of the original plantings as possible and the vineyard remains a diverse collection of the original plantings of 30+ varieties.
Malbec is the variety Sommer felt showed the most promise at HillCrest and De Mara has Malbec planted in three unique hillside sites. The vineyard is farmed with minimal inputs and all dry-farmed. Similarly, winemaking is hands off with no adjuncts added during winemaking.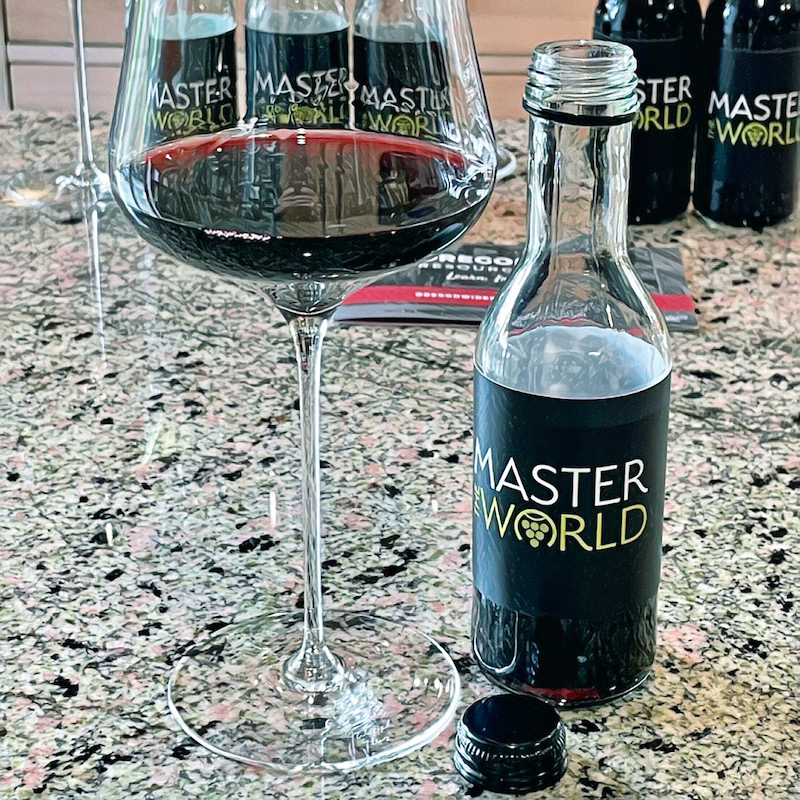 2013 HillCrest Vineyard Old Stones Malbec, Umpqua Valley — medium ruby in the glass aromas of iron, iodine, dried plums and dusty earth. Flavors of dried plums, blackberries, pomegranates are supported by leather and earth. The body is medium with substantial, grippy tannins. 13.9% abv. $45
The Malbec is sourced from those original vines planted 60 years ago! The grapes were brought into the winery, 100% de-stemmed and crushed, fermented and left on the skins for 50 days in concrete tanks before being pressed and racked into neutral barrel for aging. The wine then spent a further 2 years in stainless steel tank before being bottled. In all, this wine spent 5 years in the winemaking process before being bottled. This is a unique, powerful, yet lively Malbec unlike any other I've tasted. Delicious.
Rogue Valley AVA
The Rogue Valley AVA was established in 1991 and is the southernmost Oregon AVA and the warmest in Southern Oregon. The region is defined by high elevation sites and alluvial soils created by the Rogue River and its tributaries the Illinois, Applegate and Bear Creek Rivers.
2015 Valcan Cellars Syrah, Rogue Valley — medium ruby in the glass with aromas of red cherries, raspberries, black cherries and smoke. Flavors lead with blueberries, cherries, blackberries smoke and leather. Notable acidity lends freshness and tannins are drying in a medium body. 14.3% abv. $30
This single-vineyard Syrah is sourced from a clay soil site and is VSP trained with low yields. The Belmont Vineyard Syrah was planted in 2008 and is watered only twice a growing season. The westside Rogue Valley site is a bit cooler than eastside sites, which is Valcan Cellars co-proprietor and winemaker Juan Pablo Valot's preference as he doesn't like to use additives in winemaking. The wine spent two years in barrel (20% new oak) and one in bottle before release. Juan Pablo Valot and his wife, Doris Cancel, are co-proprietors of Valcan Cellars in Corvallis.
The Rocks District of Milton-Freewater AVA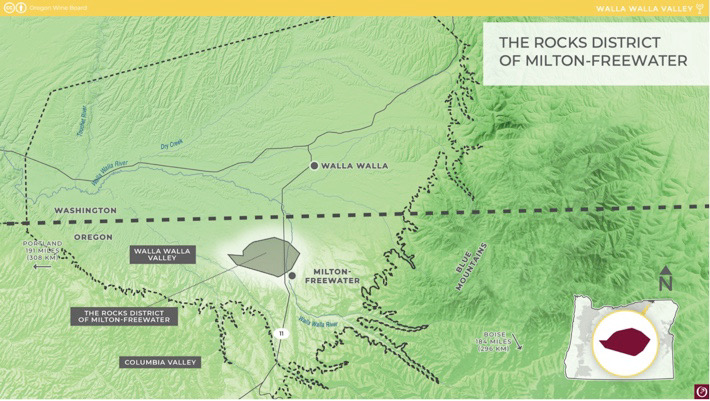 The Rocks District was established in 2015 and is relatively small at 3,770 acres. Only 330 acres of vines are planted in this region, which lies in Oregon near the Washington state line in the Walla Walla Valley AVA, which straddles the state line. The Rocks is named for the single soil type in this unique region: Freewater series basalt cobbles.
Billo Naravane, MW is co-owner of Rasa Vineyards with his brother Pinto, and also the winemaker. Their winery is located in Walla Walla, Washington so in spite of the vineyard's location in Oregon's Rocks District, it must be labeled under the wider Walla Walla Valley AVA because that is where it is made.
Billo provided a detailed account of what makes the Rocks District so special. Large cobblestones were deposited during the many Missoula Flooding events along a stretch of the Walla Walla River where it flattens out creating an alluvial fan. The cobblestones (about the size of a softball) are as deep as 200 feet in some areas, but average 70 to 80 feet deep.
In addition to having very low water-retention qualities the cobblestones absorb heat during the day and radiate that warmth to the vines and their root structure. To take advantage of this radiant heat, the fruit zone of most vines are located only 14 to 18 inches off the ground. The radiant heat and warming of the roots results in early bud break for Syrah in the region (by as much as 5 to 7 days) and harvest 2 weeks earlier than Syrah in the rest of Walla Walla Valley.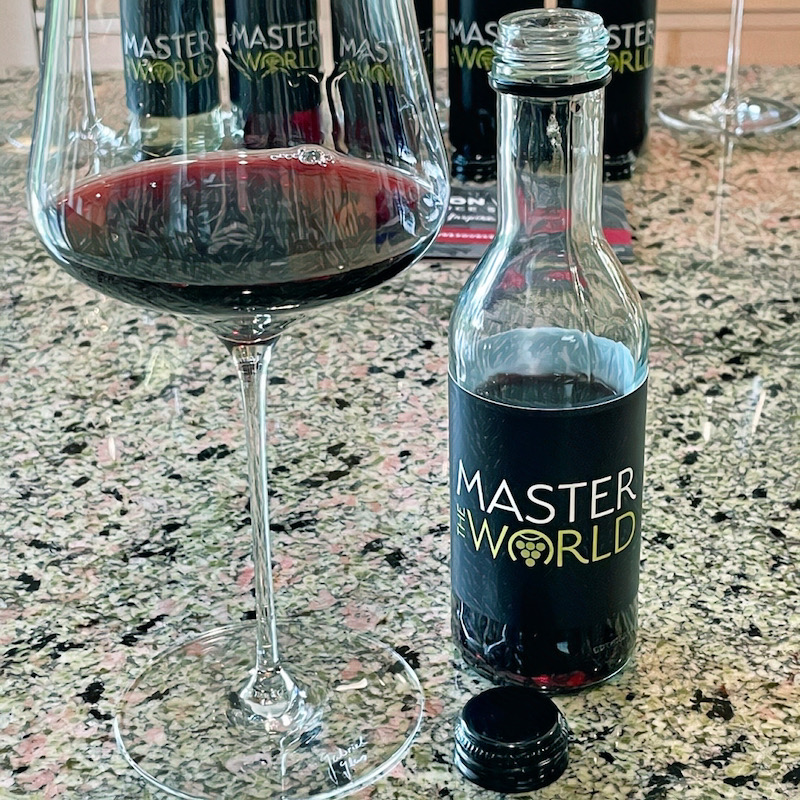 2016 Rasa Vineyards Veritas Sequitur Syrah, Walla Walla Valley — medium ruby in the glass with aromas of bing cherries, fresh alfalfa and dusty earth. Flavors include blackberries, plums, earth and alfalfa hay. Tannins are smooth, drying in a medium body with notable acidity and lingering alfalfa hay flavors. 14.4% abv.
The Syrah is sourced from the SJR Vineyard and is whole-cluster fermented in open-top puncheons. Fermentation begins naturally after a 5 to 7 day cold soak. The wine is left on the skins for an additional 300 hours after fermentation (until the desired texture is achieved) and then pressed.
Billo noted that fine grained tannins are a characteristic of the region's wines and though he doesn't use 100% new oak on any other Syrah he makes, he does so for Rocks District Syrah. Something about the growing conditions allows the oak to seamlessly integrate in the wine. You would never guess this dazzling Syrah was aged in 100% new French oak.
In addition to the amazing and delicious diversity of wines being made in Oregon, the state's growers and winemakers are dedicated to sustainability (47% of vineyards are certified) and employ organic and biodynamic practices in larger numbers than anywhere else in the U.S. Both Demeter Biodynamic Certification and the LIVE Certified Sustainable initiatives have Salmon Safe requirements written into them. And the Deep Roots Coalition in the Willamette Valley promotes terroir-driven viticulture without irrigation. And if that isn't enough, Oregon has the most Certified B Corp wineries in the world.
In short there is much to love about Oregon wine. Pinot Noir is my favorite grape variety because of the delicate, nuance flavors it can exhibit. I first fell in love with the variety in the Willamette Valley, but clearly there are many more grape varieties and regions to explore and fall in love with. A wine lover couldn't ask for more.
Thanks to the Oregon Wine Board and Creative Palate Communications for this detailed look into the world of Oregon wine.
Cheers!