Every February we get a few days of bright, sunny weather with temperatures approaching the 70s. We take advantage of the break from chilly weather by heading outside to finding a sunny spot in the backyard to enjoy the faux spring. We know it won't last long and soon we will be back to chilly, rainy weather, but this little respite from winter always makes me hopeful and impatient for spring. Today we're sipping the perfect wine to enjoy with the faux spring until spring actually gets here: Beaujolais Nouveau. We received both wines as tasting samples.
The third Thursday in November has become the day to celebrate Beaujolais with the release of Beaujolais Nouveau wines. It's the date these wines are first available for purchase. They are young, fruit-forward wines made using a quick fermentation, short skin contact, carbonic maceration and brief aging before bottling. These wines come to market in the same year they were harvested.
Beaujolais Nouveau is meant to be enjoyed young. They're light on their feet and low in alcohol, which makes them the perfect partner for lunches or sunny afternoons in winter.
2020 got off to a difficult start for Les Vins Georges Duboeuf with the passing in January of Georges Duboeuf. He was an early and enthusiastic champion of Beaujolais Nouveau wines and had a hand in making the Beaujolais Nouveau celebration what it is today. His enthusiasm for Beaujolais Nouveau continued with the release in 2018 of Georges Duboeuf Beaujolais Nouveau Rosé — the first ever released as far as I know.
The beautiful wine labels for 2020 depict a painting called 'Russet Vines' by Maeve Croghan. Maeve's painting was chosen from over 1000 entries and selected for the label by public vote. Beginning with the 2017 vintage Georges Duboeuf has hosted the Beaujolais Nouveau Artist Label Competition, a call to artists around the world to submit their artwork to be chosen by public vote to adorn the Beaujolais Nouveau bottles. That competition opens March 1 for the 2021 vintage.
The 2020 vintage in Beaujolais was a weather roller coaster that resulted in the harvest being authorized for August 20, the second earliest date since 2003. Overall, the quality of the Gamay is considered very high. These Beaujolais Nouveau wines celebrate Gamay and offer a first taste of the vintage.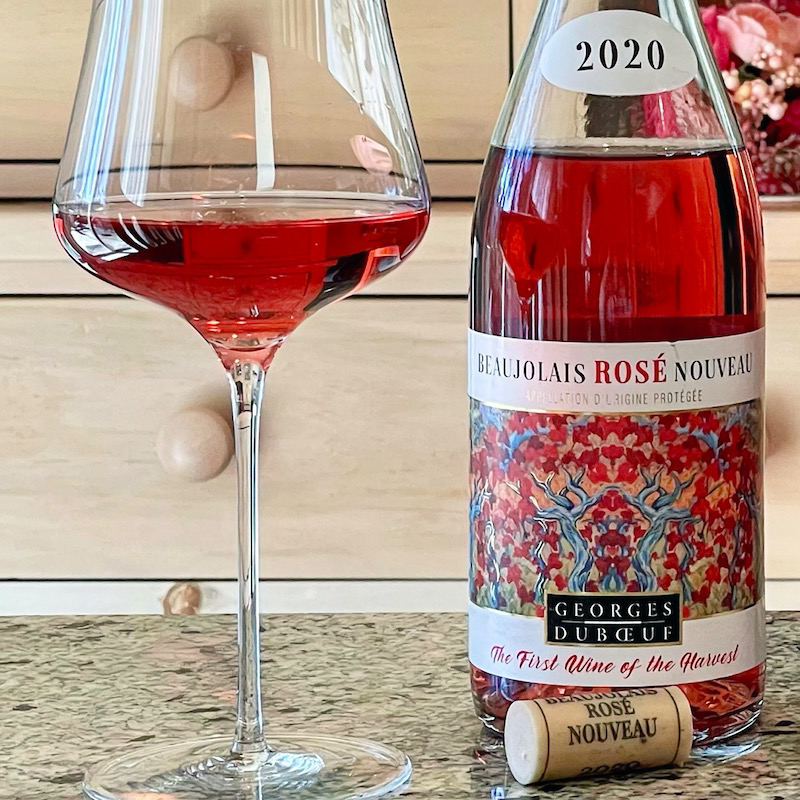 2020 Georges Duboeuf Beaujolais Nouveau Rosé — clear, bright raspberry color in the glass with generous aromas of ripe strawberries, raspberries and citrus zest. Flavors follow with ripe strawberries, cherries and citrus zest. Flavors are bright and balanced with nice acidity. 12.5% abv. SRP $13.49
The 2020 Beaujolais Nouveau Rosé is darker in color and more fruit forward than the 2019. It's so sippable and will brighten even the cloudiest of days. It will pair with everything from charcuterie to roasted chicken to pasta.
2020 Georges Duboeuf Beaujolais Nouveau — medium ruby in the glass with generous aromas of macerated boysenberries, blackberries and raspberries with background notes of iron and earth. Flavors are generous as well with blackberries, currants and plums predominating with earthy notes in the background and smooth, drying tannins in a medium body. 13% abv. SRP $13.49
If this isn't the perfect lunch wine one doesn't exist. Pair this with a turkey burger or roasted pork sandwich.
I found several online sources for these wines on Wine-Searcher, so you can still have a taste. If you're fortunate enough to have a break in winter weather, these wines are perfect to accompany a sunny day. If not, you can pretend it's sunny by drinking sunny wines.
Quintessential is the exclusive importer of Les Vins Georges Duboeuf wines in the U.S. Thanks to both for this taste of "The First Wine of the Harvest."
Cheers!