Today we are tasting three wines from New York's Finger Lakes wine region. This cool-climate region is known for its dry Riesling, but there is considerable diversity beyond Riesling. Expect bright fruit flavors, brilliant acidity and modest alcohol levels in Finger Lakes wines. We received three wines as tasting samples from Ravines Wine Cellars that offer a delicious introduction to the region's wines.
Finger Lakes AVA
New York's Finger Lakes AVA is a cool-climate region that lies between and south of Rochester and Syracuse. The region is defined by eleven elongated glacial lakes that run north-south. They were scratched out (the lakes have always looked like cat scratches to me) over hundreds of thousands of years by successive glaciers. The four major lakes in the region are Canandaigua, Keuka, Seneca and Cayuga. Seneca Lake and Cayuga Lake are the biggest and deepest with the most vineyards and wineries located on their shores. Both have earned AVA designations within the Finger Lakes region.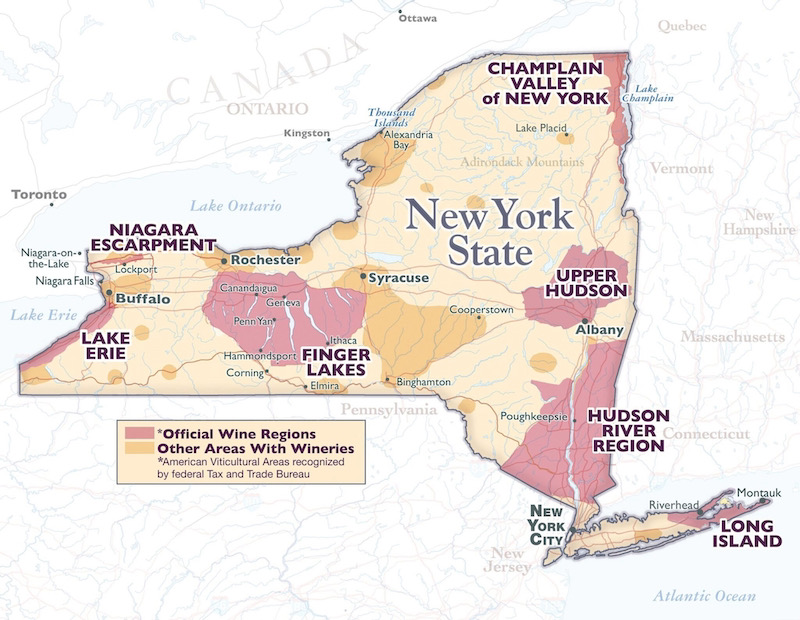 The depth and size of the lakes significantly influences the climate around them. Adjacent areas are warmer in winter, warm slowly in spring delaying bud break (thereby mitigating frost damage) and remain warmer longer into fall lengthening the growing season.
The Finger Lakes AVA was established in 1982. Riesling is the star of the show in the Finger Lakes, but also look for Pinot Noir, Chardonnay, Cabernet Franc, sparkling wine and ice wine. French-American hybrids and native American grape varieties are also grown here.
Ravines Wine Cellars
Ravines Wine Cellars was established by Morten and Lisa Hallgren in 2001. Morten's formal European winemaking education and experience, combined with growing up on his family's Domaine de Castel Roubine winery in Provence, made him unique among winemakers of the region at the time. Hallgren's prior experience as winemaker for Dr. Konstantin Frank winery on Keuka Lake gave him valuable experience in the region and confirmed that Finger Lakes is where he and Lisa wanted to settle and make wine.
Their first purchase was a 17-acre parcel of land on the eastern slopes of Keuka Lake. The property is characterized by steep slopes and deep ravines. These deep ravines drain cold air from the vineyard toward the lake and provide excellent drainage. The Hallgrens took Ravines as the name of their winery in recognition of this landform that is so important in the region. This is the site of their first tasting room and the vineyards here are the source of grapes for their new range of wines, Agricolāe.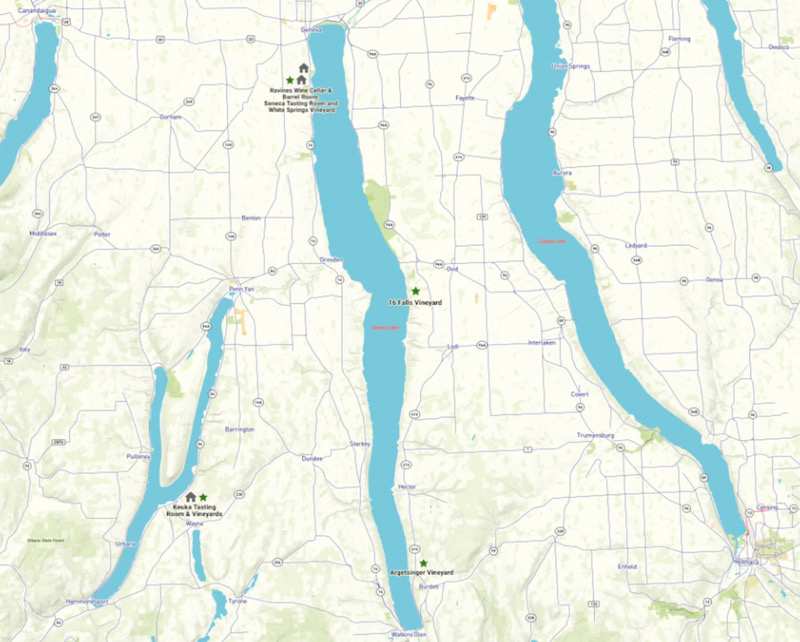 Three vineyard sites are the source for Ravines' wines, two of which are estate vineyards. All are located on Seneca Lake and each brings a unique location with unique soils and climate. 16 Falls Vineyard is located on the eastern shore of Seneca Lake at its deepest point. Soil here is comprised of acidic shale stone with significant clay content. The White Springs Vineyard is located on the western shore of Seneca Lake and planted in Honeoye loam over limestone soils. The Ravines' main tasting room is located here as well. The Argetsinger Vineyard is owned by Beren Argetsinger and located on the east side of Seneca Lake near its southern end. Soils are shallow, mineral rich limestone.
The Hallgrens specialize in making dry Vitus vinifera wines and realized early on the potential for dry Riesling in the area. Winemaking takes advantage of vintage variation to make balanced wines.
Let's Taste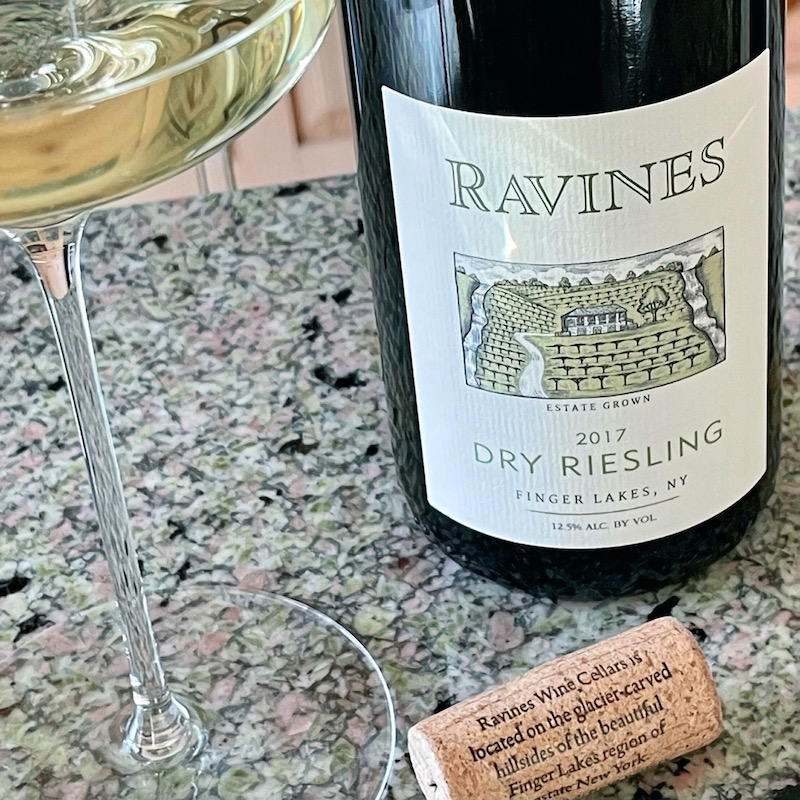 2017 Ravines Wine Cellars Dry Riesling, Finger Lakes, NY — light golden in the glass with generous aromas of ripe pineapple, white peach and pears. Flavors are generous as well with a combination of peaches, pears and pineapple along with stony minerality and citrus zest. Flavors are supported by juicy acidity and the finish is medium long. 12.5% abv. SRP $17.95
This dry Riesling is racy and flavorful. Riesling is sourced from White Springs and 16 Falls Vineyards. Interestingly, hand-harvested fractions of Riesling from both vineyards were whole-cluster pressed and the machine-harvested fraction from White Springs was allowed skin contact in tank before being pressed. All winemaking took place in stainless steel. Multiple Riesling clones are represented.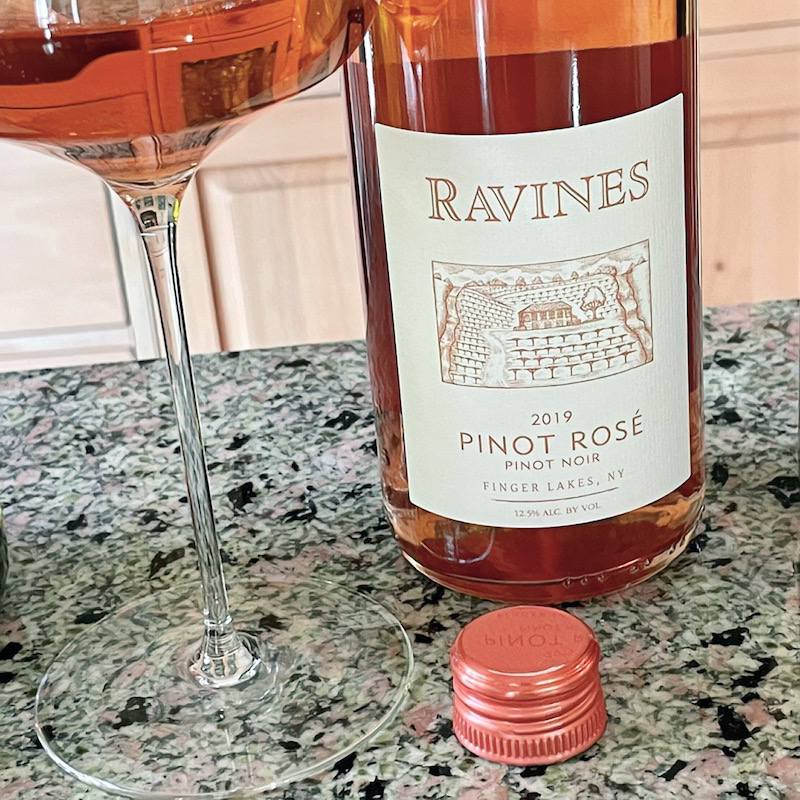 2019 Ravines Wine Cellars Pinot Rosé Finger Lakes, NY— bright, translucent, medium salmon color in the glass with generous aromas of strawberries, raspberries and berry bramble. Flavors of blackberries, raspberries and cranberries blend with earthy berry bramble and citrus zest. Bright acidity supports the complex flavor profile. 12.5% abv. SRP $17.95
The beautiful flavors of Pinot Noir come through clearly in this generously-colored dry rosé. 100% Pinot Noir is sourced from the 16 Falls, White Springs and Argetsinger Vineyards. Yield is a modest 1.8 tons per acre. Four hours of skin contact was followed by a slow pressing, fermentation and aging in stainless steel. Winemaking notes indicate this is a rosé made with intention, not as a bleed off from red wine making.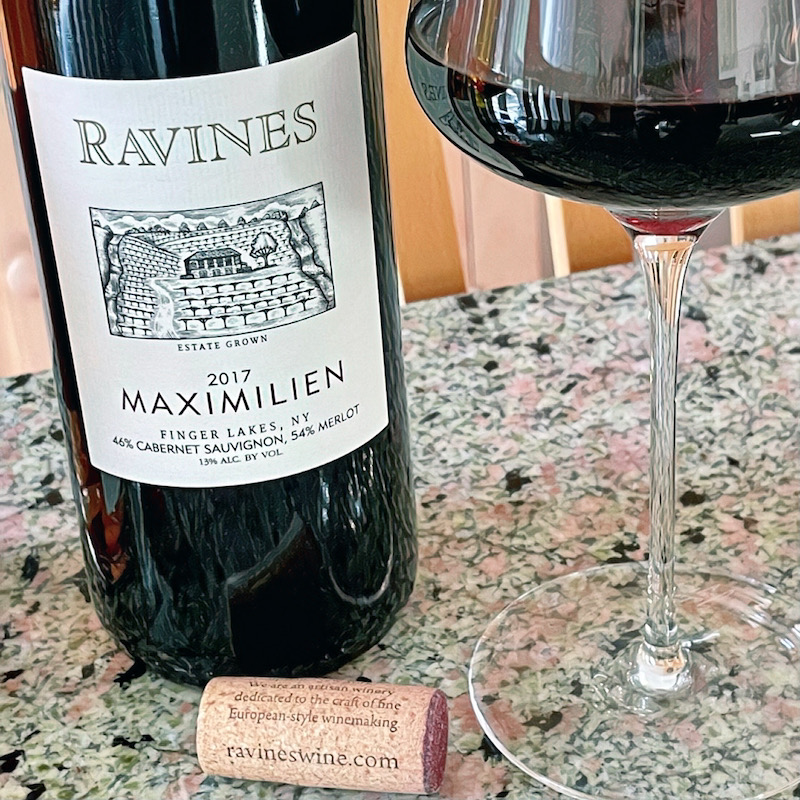 2017 Ravines Wine Cellars Maximilien Finger Lakes, NY — light ruby and nearly translucent in the glass. Aromas of blackberries, tart plums, earth, dried thyme and iodine are complex. Flavors follow with tart blackberries, plums, barely ripe blueberries, dusty earth and background notes of dried herbs. Tannins are fine and drying in a barely medium body. 13% abv. SRP $24.95
This elegant blend of Cabernet Sauvignon (46%) and Merlot (54%) is sourced from the two Seneca Lake estate vineyards: 16 Falls and White Springs. All lots were de-stemmed into open-top stainless steel fermenters. Extended skin contact of three to four weeks was followed by spontaneous malolactic fermentation in oak barrels. The wine spent 17 months in barrel, a combination of 80% French and 20 % American. About 18% new oak was used.
Aside from being the source of bright, elegant cool-climate wines, the Finger Lakes region is impossibly pretty. Lakeside vineyards cover rolling hills and the contrast between blue lakes and green vineyards is punctuated by blue skies often dotted with puffy, white clouds.
Ravines Wine Cellars is a small production, family-owned winery making wine with dedication and care that shows in the glass. These wines offer tremendous quality for the price and all held up very well over several evenings. Their wines are available for purchase on the website and Wine-Searcher lists quite a few retail options.
Cheers!