This month's Wine Pairing Weekend (#winePW) challenge comes from host, Gwendolyn Alley. She thought Earth Month would be the perfect time for our group of wine and food enthusiasts to explore the world of biodynamic wine. Brilliant idea, Gwendolyn.
The principles of biodynamic farming are complex and interdependent, but worth understanding. It isn't necessary to understand every detail of biodynamic farming to gain an appreciation for its importance in the world.
Rudolph Steiner is considered the founder of biodynamic farming principles. He was a scientist and philosopher who promoted a strong understanding of our spiritual and physical worlds.
After witnessing the development and use of synthetic pesticides and fertilizers in the early 1900s Steiner (as well as the farmers using them) began to notice a decline in soil fertility, animal and plant health. Steiner's observations led to a series of eight lectures in 1924 that would become the basis of the book Agriculture as well as biodynamic farming.
Biodynamic farming principles reach back to pre-industrialization practices and rely on the farm as it used to be: a self-sustaining system based on biodiversity. What does that mean? No commercial fertilizers, herbicides or pesticides. All inputs must be certified organic. The biodiversity of plant and soil organisms is encouraged with the use of homeopathic preparations, compost and compost tea. The Earth's relationship to the cosmos is an essential consideration as well.
It is a lot to take in. It wasn't until we visited a biodynamic wine farm in South Africa that I began to understand the basic principles. We were taken on a detailed, hands in tour (hands in the compost and hands in the vineyard soil) by the Waterkloof farm manager, Christiaan Loots. I gained a great respect for biodynamic farming principles that day and have been a supporter of biodynamic wines since.
The Wine

Today we are sharing a biodynamic wine from the well-known Oregon producer Montinore Estate. We have tasted several vintages of Montinore's stellar Pinot Gris and Pinot Noir over the years, some we received as tasting samples, others we bought or received as gifts. This wine is not a tasting sample.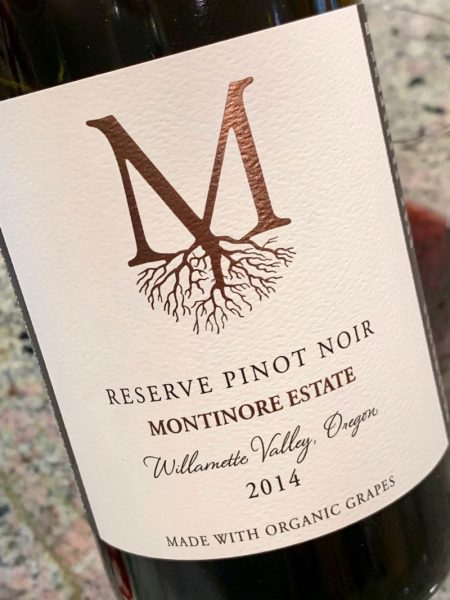 2014 Montinore Estate Reserve Pinot Noir, Willamette Valley Oregon —translucent ruby with garnet at the edges. Generous aromas of berry bramble, blackberries and earthy cedar lead to flavors of cedar, cranberries, raspberries and tart cherries. Earthy notes in the background lend complexity. Bright acidity support the underlying fruit flavors and tannins are smooth and well integrated with the flavors. The finish is medium+ in length and the body on the light side of medium.13.5% abv.
This wine was a charmer from the minute I poured it in my glass to the time I took the last sip. The color was that beautiful, translucent ruby I look for in Pinot Noir. The aromas and flavors were generous and accessible resulting in a lovely, balanced Pinot Noir.
Montinore Estate was established in 1982 in the northern part of the Willamette Valley. Before Rudy Marchesi owned the 200-acre property that would become Montinore Estate he was the vineyard consultant and operations manager.
Rudy learned his respect for sustainable farming practices from his grandparents, Carlo and Rosa Marchesi. A transition to Organic and Biodynamic-certified farming practices in his vineyard was a natural choice.
The 200-acre Montinore Estate Vineyard is Demeter Certified Biodynamic® and CCOF Certified Organic. It is planted to Pinot Noir, Pinot Gris, Riesling, Gewürztraminer, Müller-Thurgau, Lagrein, Teroldego, Muscat and Sauvignon Blanc. Aren't you curious about the Lagrein and Teroldego?
A second vineyard, Tidalstar Vineyard located in the Carlton-Yamhill AVA, is planted almost entirely to Pinot Noir, 13 blocks to be exact. Tidalstar is farmed biodynamically, Certified LIVE (sustainable), Salmon Safe and Organic.
The Food
Salmon is a natural pairing for Pinot Noir to me. As luck would have it wild-caught salmon was available in my neighborhood grocery store. In the time it took to roast the salmon I also roasted fresh, local asparagus with olive oil, salt and pepper.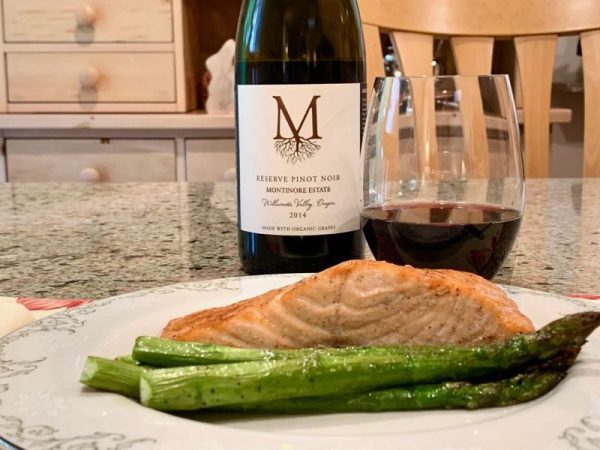 Print
Maple Syrup & chipotle pepper glaze for salmon
2 salmon fillets, approximately 1/4 pound each

2 tablespoons pure maple syrup

1 teaspoon ground chipotle peppers
Print
Directions
Pre-heat oven to 375º F, convection roast
While oven is heating mix maple syrup and ground chipotle pepper in a baking dish

Add salmon, skin side up to the baking dish

When oven is hot turn salmon fillets over so they are skin-side down
Roast until the salmon flakes or reaches an internal temperature of 145º F
The sweet maple syrup flavors are countered by the spiciness of the chipotle peppers. This glaze works just as well on the grill as it does roasting in the oven. We use it often during the summer, mostly on salmon, but it is good on chicken as well.
Keep reading for more delightful food pairings for biodynamic wines. Then, gather with us on Twitter, Saturday, April 13 at 8 am Pacific Time to talk food and biodynamic wine. Follow #winePW to join the conversation.
Cheers!