Flora Springs Winery sits at the foot of the Mayacamas Mountains at the western end of Zinfandel Lane in St. Helena. This stone winery has a long history in Napa Valley and may or may not be home to ghosts. We recently received three wines from Flora Springs as tasting samples and there is nothing spooky about any of these wines.
A Stone Winery is Built
The Rennie brothers, James and William, immigrated to the US from Scotland in the late 1800s. They planted 60 acres of vines and in 1885 began construction of a stone winery. The winery was completed by 1900 and the brothers were the first in the valley to use a gasoline engine to power a hydraulic grape press. They became known for extracting the most juice per ton of wine grapes. Unfortunately, the press and all of their wine barrels were destroyed by fire in November of the same year.
With the loss due to fire and damage to the vines from phylloxera the Rennie Brothers were not able to continue winemaking. The property changed hands several times before Prohibition shuttered the winery in 1920.
The beautiful, old stone winery became one of many that were built between 1860 and 1900 that eventually fell into disuse and disrepair in the Napa Valley. These wineries came to be known as ghost wineries.
The Komes Family To The Rescue
But this sad tale of a beautiful stone winery has a happy ending. In 1977 Jerry and Flora Komes fell in love with the property and the old stone winery. When they purchased the winery that year, along with 325 acres, char marks from the fire in 1900 were still evident in the winery.
The Family Vision Looks Beyond Growing Grapes
The winery was named Flora Springs for Flora Komes and for the natural springs that run on the property. The Komes' adult children and their spouses set about doing more than growing grapes and selling them to other wineries. This had been their father's original plan, but John and Carrie Komes and Julie and Pat Garvey quickly jumped into winemaking and the family hasn't looked back.
Over the years additional vineyard property from St. Helena to Carneros has been purchased. The old stone winery and other buildings on the property have been completely renovated. A tasting room on Highway 29 was built and caves were constructed into the hillside.
Flora Springs wines have been served at White House dinners and won numerous accolades in the wine world. A second winery dedicated to the production of white wines was built on the original estate, allowing the original stone winery to be used entirely for red wine production. And third-generation family members have joined the business.
Sustainable and Organic farming practices are followed in the vineyards and certain of the vineyards are Certified Organic by California Certified Organic Farmers (CCOF). Vineyard locations in various sites allows for the proper grape varieties to be planted in the perfect combination of soil and climate. Only a small percentage of the total estate production is used for winemaking at Flora Springs. Most of the grapes are sold to neighboring wineries, so that original vision of Jerry Komes is being honored along with the vision of the next generations.

In 2017 Flora Springs celebrated their 40th anniversary. Every year Flora Springs is host to a variety of events for wine lovers including celebrations of Sauvignon Blanc and Chardonnay. Flora Springs is also leading the charge for a white wine emoji #whitewineemoji. Other events include release parties, celebrations of art and wine, and the opportunity to taste and talk with John Komes, founder and proprietor of Flora Springs. Then there is the Sixteen Spirits Historical Ghost Winery Tour & Tasting for a unique winery experience! See the Flora Springs Events page for details.
Let's Taste
2016 Flora Springs Merlot, Napa Valley

2016 Flora Springs Cabernet Sauvignon, Napa Valley
2016 Flora Springs Merlot, Napa Valley — light ruby in the glass with generous red fruit aromas followed by tart red and dark fruit flavors of blackberries and currants. Hints of cedar and dried leaves lend complexity in the background. Tannins are smooth and well integrated. Acidity is juicy and the body is medium. 14.2% abv. 5160 cases produced. SRP $35
This is a bright, enjoyable Merlot that will appeal to a wide variety of wine drinkers. The winery describes this wine as approachable, which I think is a good description. Merlot stands on its own in this bottling, which is sourced from estate vineyards in St. Helena, Rutherford and Oakville. The wine aged for 15 months in French and American oak
2016 Flora Springs Cabernet Sauvignon, Napa Valley — medium ruby in the glass with red and dark fruit aromas. Flavors of blackberries, plums, dusty earth, leafy tobacco and cedar are supported with grippy tannins that are well integrated with the flavors. The body is medium as is the length of the finish. 14.2% abv. 4500 cases produced. SRP $50
I appreciate the play of berry and plum flavors with hints of leafy tobacco in this Cabernet Sauvignon blend. 11% Merlot, 3% Malbec and 1% Petit Verdot round out the flavors of Cabernet Sauvignon which was aged for 19 months in French and American oak.
Pair this wine with anything from roast pork to a grilled rib eye.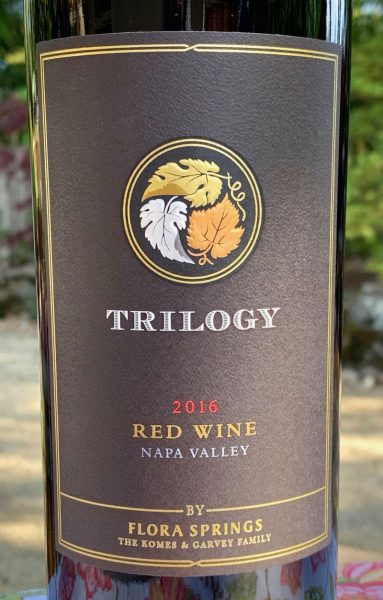 2016 Flora Springs Trilogy, Napa Valley — dark ruby in the glass with initial aromas of caramel, and earthy dark fruit. Flavors blackberries, blueberries and dusty earth combine with a core of slate-like minerality. Tannins are grippy and well integrated with the flavors in this juicy, medium-bodied red wine. 14.5% abv. 3859 cases produced. SRP $85
Once again, the blending skills of winemaker Paul Steinauer are on display in this lively wine. Since 1984, Trilogy has been Flora Springs' flagship red wine. It is made from the best lots sourced from estate vineyards in St. Helena, Rutherford and Oakville. It is aged for 20 months in 87% French oak and 13% American oak.
Braised short ribs and silky mashed potatoes with roasted carrots would be a divine pairing with this lovely red blend. It deserves a meal prepared with as much care as went into the making of this wine.

If it is important to you to support family-owned wineries then Flora Springs is a winery to consider. Wines from Flora Springs are widely available if you can't make it to Napa Valley for a visit.
Many thanks to Mora Cronin of Cronin Communications for sending these delicious wines our way.
Cheers!