December 4 is #CabFrancDay, a celebration of one of my favorite grape varieties. Because I am such a Cabernet Franc lover, I'm especially happy to participate in this year's Cab Franc Day celebration. We received two wines, one we know well and the other new to us, as tasting samples. Cheers to Cabernet Franc on December 4 and everyday!
Why December 4?
We have Lori Budd to thank for the annual celebration of Cabernet Franc. Lori and her husband Mike are the dynamic pair behind Dracaena Wines. They are Cab Franc lovers who make 100% Cabernet Franc as well as a Rosé of Syrah, both from the Paso Robles AVA. It occurred to Lori that, although there is a wine day for Cabernet (#CabernetDay), there wasn't a celebration specifically for her beloved Cabernet Franc. That just didn't seem right especially given that Cabernet Franc is one parent, along with Sauvignon Blanc, of the best known Cabernet of them all: Cabernet Sauvignon. Rather than simply lamenting the fact, Lori established #CabFrancDay.
But what day to choose for the celebration? Being the scientist that she is, Lori let research be her guide. Although Cabernet Franc likely originated in Basque Country near the French border (based on DNA analysis according to Jancis Robinson, Julia Harding, José Vouillamoz in Wine Grapes), the variety eventually became established in the Bordeaux region before being transported to the Loire Valley.
In 1631 Cardinal Richelieu sent a large collection of the variety from Bordeaux to Abbé Breton who planted it in Chinon and Bourgueil. Cab Franc was happy, happy there. Today both regions are famous for red wines that are a minimum of 90% Cabernet Franc. Cardinal Richelieu was born on September 9, 1585 and died on December 4, 1642.  To honor Cardinal Richelieu, who got the ball rolling (so to speak) for Cabernet Franc as a varietal wine, Lori chose December 4 as Cab Franc Day. The first #CabFrancDay was celebrated in 2015.
Cabernet Franc in the Vineyard and in the Glass
According to Jancis Robinson Cabernet Franc thrives in clay-limestone soils and sandy soils with adequate water. It buds earlier than Cabernet Sauvignon and therefore matures earlier as well. Earlier budding makes it prone to coulure, caused by rainy or windy weather during flowering that can result in incomplete fertilization and flower drop. Metabolic imbalances in the vine may also contribute. Cabernet Franc characteristically produces relatively small, dark berries.
Depending upon where Cabernet Franc is grown its color and flavors will vary widely. In cool climates it will likely be lighter in color with red fruit and herbal or jalapeño aromas and flavors. In warmer climates it may be darker in color with darker fruit flavors and dried herbs. I love this variability in flavor profile.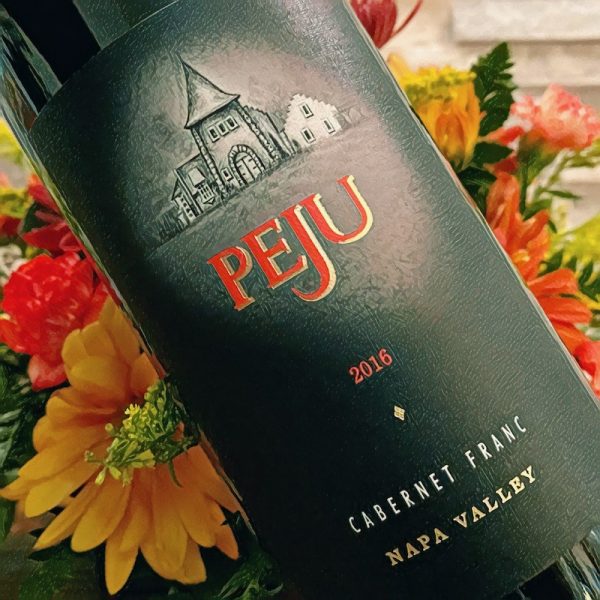 2016 Peju Cabernet Franc Napa Valley — dense ruby in the glass with layered aromas of red and dark fruit, cedar and earth. Flavors lead with red fruit then dark cherry and blackberry with supporting flavors of gravel, dried tobacco and leather. Tannins are well integrated and fine in a medium body. The finish is medium to long. 14.8% abv. SRP $70
This delightful Cabernet Franc is no shrinking violet, but neither is it an obnoxious extrovert. It's complex, interesting and rich without being too ripe. It has nice mouthfeel and texture and is easy sipping on its own. Pair it with Greek lamb, pork roast or beef Bourguignon. Got a roaring fire?
Winemaker Sara Fowler described 2016 as near-perfect. Steady temperatures in July and August were followed by warm days near the end of the growing season and rain in mid-October. Cabernet Franc (83%) and Cabernet Sauvignon (17%) are sourced from the Wappo Vineyard, a Peju estate vineyard.
Peju Winery's history begins in 1983 when Tony and Herta Peju purchase a 30-acre Rutherford estate and move there with their two daughters Lisa and Ariana. The winery has become well-known for the row of distinctively pruned sycamore trees that bend over the drive leading to the winery and for the distinctive Peju Tower.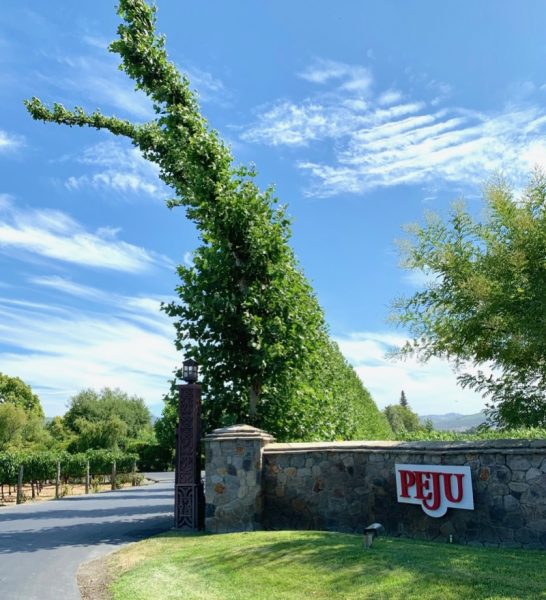 But Peju is also a friendly place to taste delicious wine and wander through the art-filled gardens. The winery remains family owned with both Lisa and Ariana active in the management of Peju in addition to their own project Calmére Estate Winery.
The Rutherford Estate Vineyard, surrounding Peju Winery on St. Helena Highway, is CCOF certified organic and Peju Winery is Napa Green certified. Wappo Vineyard is farmed according to organic principles, but is not certified organic.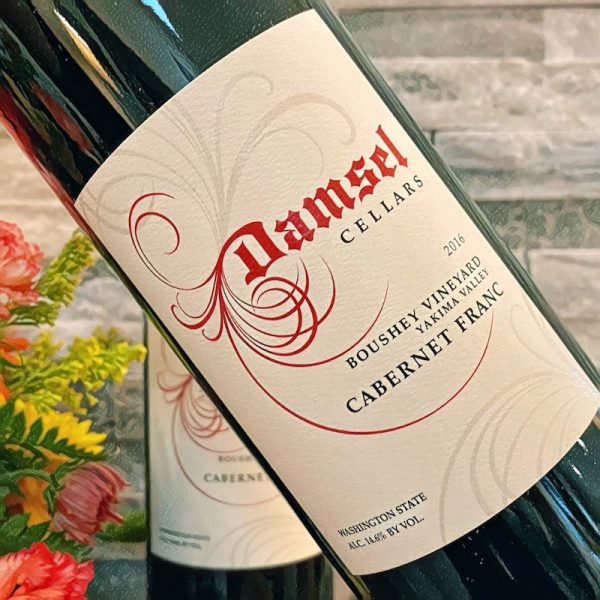 2016 Damsel Cellars Boushey Vineyard Cabernet Franc, Yakama Valley — dark ruby in the glass. Flavors lead with dried tobacco, berry bramble and dark berries. Flavors of red cherry, blackberry and dried herbs are backed by dusty, earth notes. Over time red fruit flavors come forward with bright acidity and smooth tannins. The body is medium and the length medium+. 14.6% abv. SRP $38
The red fruit notes along with dried tobacco and smooth tannins make this Cab Franc so sippable. This wine is 100% Cabernet Franc and it's delicious. It's just the wine for a cool evening and a warming meal. Turkey soup, pork roast, grilled lamb chops would be lovely pairings. And the price makes this Cab Franc an excellent buy; only 49 cases produced though, so don't wait too long to give it a taste.
Mari Womack gained an appreciation for wine (and food) through her experience in restaurants and tasting rooms. She has honed her skills as a winemaker by volunteering during harvest and eventually becoming assistant winemaker at Darby Winery. Over time she has made many connections in the Woodinville wine community and beyond in Washington state.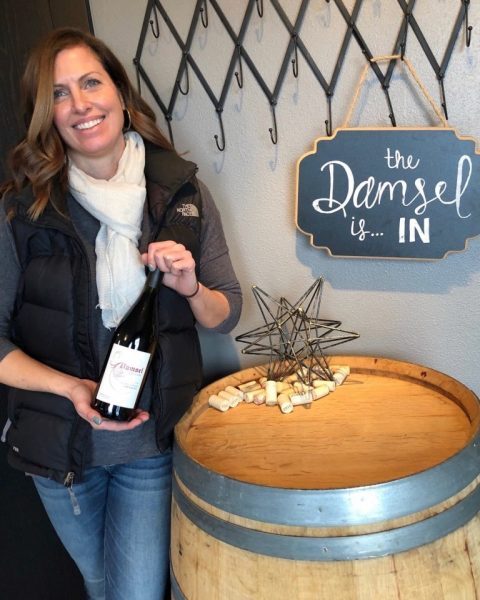 Mari's first vintage at Damsel Cellars, where she is owner and winemaker, was 2012. Her current list of wines includes Malbec and Syrah sourced from Stillwater Creek, Cabernet Franc and Syrah sourced from Boushey Vineyard, Chardonnay, Cabernet Sauvignon, a GSM Blend and a Red Blend.
Our friends at AdVINEtures wine blog recently published an in-depth article about Mari and Damsel Cellars you should read. Also, skip over to VinoSocial for another first-hand account of tasting with Mari in her Woodinville facility.
Let's Talk Cabernet Franc
On Wednesday, December 4 at 8pm ET Lori Budd will be leading a discussion of Cabernet Franc on Twitter. Follow #CabFrancDay to join the conversation and learn about Cabernet Franc. Lori will highlight Peju and Damsel Cellars, in addition to the other wineries participating in this year's Cab Franc Day celebration — Chateau Niagara, Derby Wine Estates and Dracaena Wines. No doubt the conversation will be wide-ranging and interesting. I hope you will pour yourself a glass of your current favorite Cabernet Franc, share that wine with us and join the conversation.
Cheers!