Before visiting Peju Winery in Napa Valley's Rutherford AVA I knew the winery primarily for its distinctively-pruned sycamore trees arching over the driveway leading to the winery. I always look for them as we drive along Hwy 29.
Click on individual photographs in galleries to view. Close to return to the post.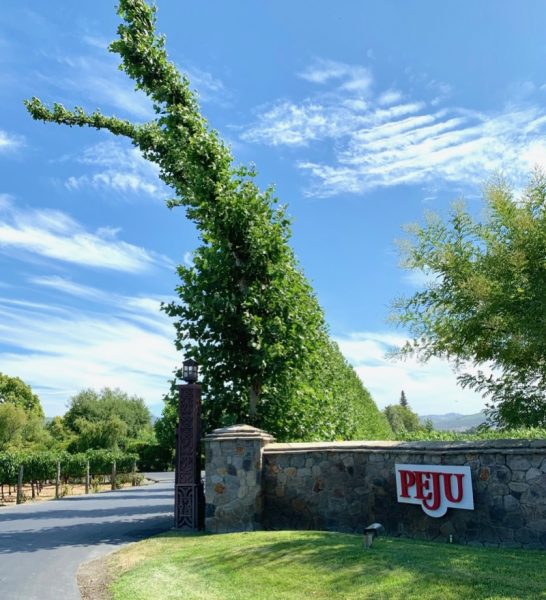 Our first taste of Peju wine came in 2017 when we received their Napa Valley Merlot as part of a Merlot celebration called #MerlotMe. We were impressed by the complexity of that delicious Merlot.
A few weeks ago we received an invitation to attend a Writer's Tasting and Luncheon at Peju Winery with Sara Fowler, director of winemaking & vineyards. My thoughts immediately took me back to that delicious Merlot and we gladly accepted the invitation. After touring the garden and winery, meeting Sara and tasting her wines and enjoying lunch in the vineyard I feel compelled to make the case for a visit to Peju. There are many kinds of tasting experiences in Napa Valley and this is one not to be missed.
A Family Business
Tony and Herta Peju's dream of owing a vineyard and raising their daughters in a rural setting was realized in 1983 when they moved to the 30-acre vineyard in Napa Valley's Rutherford AVA where Peju Winery sits today. Tony applied his horticultural knowledge to the vineyard, studied winemaking and began making wine while selling most of his grapes to other wineries.
Over time the Pejus expanded the winery and built a tasting room. Even before owing a vineyard and making wine Tony knew what he wanted his winery to look like. The Peju tower is evidence of his vision and you will see the image on Peju wines.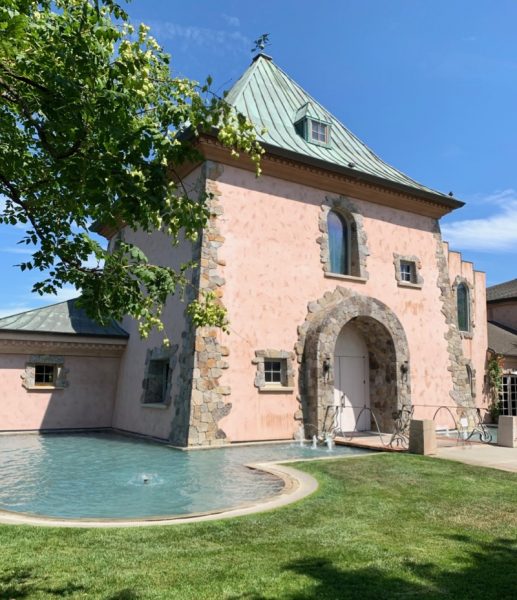 The gardens at Peju Winery are a reflection of the Peju's experience as owners of floral shops and a nursery before moving to Napa. Architectural elements salvaged from buildings grace the gardens as do the many commissioned artworks throughout them. Don't be surprised if you see Herta Peju tending the garden.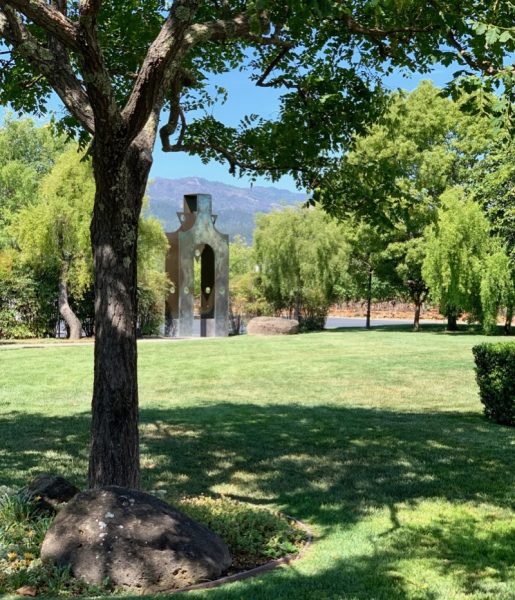 The two little girls who moved with their parents to the Napa Valley 36 years ago, and grew up experiencing the rhythm of the vineyards, have joined Peju winery. Lisa as marketing and public relations ambassador and Ariana as environmental steward with interests in solar power and recycling. A new solar array is being installed shortly that is expected to support the entire winery.
In addition to that original vineyard surrounding Peju Winery, the Peju family now owns five other vineyards in four locations: Pope Valley, Calistoga, Oak Knoll and Carneros. The original vineyard is certified organic by CCOF and the others are farmed sustainably or essentially organically (though not certified organic).
In 2016 the Peju family purchased the Acacia winery in Carneros. The facility has been extensively remodeled and named Calmére Estate. This has become Lisa and Ariana's project and reflects their artistic sense. The focus at Calmére is Pinot Noir and Chardonnay.
A Beautiful Tasting Experience
Moving inside from the lush gardens to the tasting areas is an artistic journey of another sort. There are 10 tasting counters located throughout the Peju Winery. The focal point is an enormous stained glass window that Tony Peju bought at auction. The tasting areas were designed around it and are located in front of and behind it. Tasters are encouraged to wander through the winery to experience all of it. That beautiful stained glass window was the first thing I noticed as we entered the Peju tower.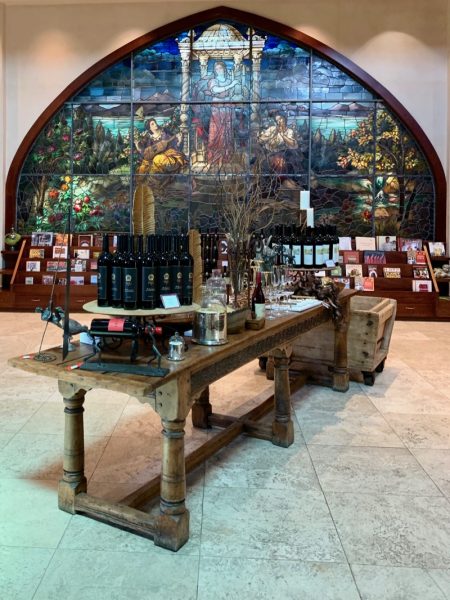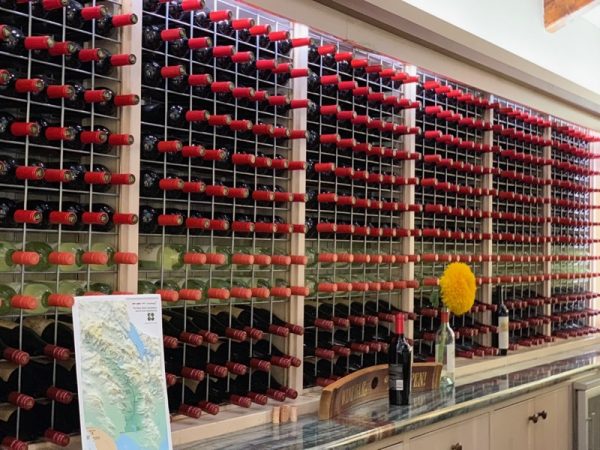 Only a few of the more than 40 wines made at Peju are available through retail outlets. You must visit the winery or be a wine club member to taste most of them. It is important to the Peju family that you have a personal experience with their wines. Visiting Peju Winery gives you the opportunity to learn about the Peju family, their vineyards and winemaking first hand. You will find the gardens (and the water features) relaxing and the winery to be an artistic marvel.
Wine Tasting with Sara Fowler
As a winemaker Sara is all about knowing her vineyards, learning through experimentation and keeping an immaculate winery. She pays attention to every detail, matching each vineyard with the appropriate type of oak barrels and culling individual barrels that don't meet her standard. She has the confidence and self assurance that 26 years of winemaking brings.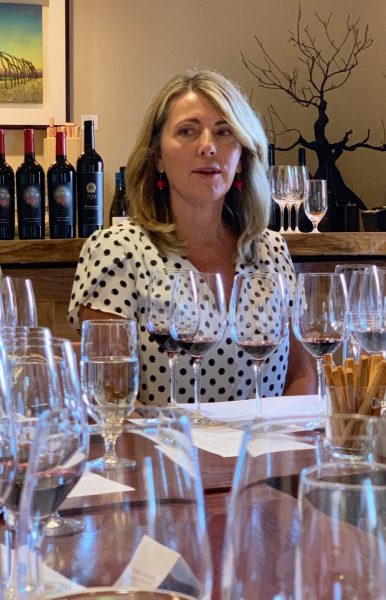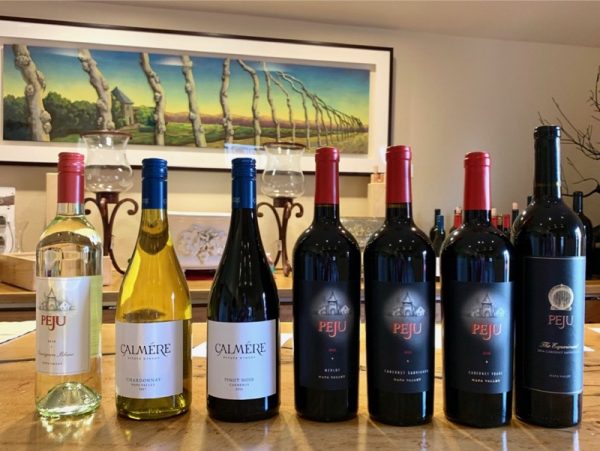 2018 Peju Napa Valley Sauvignon Blanc — just a hint of grassiness in the aromas with flavors of stone fruit and tropical fruit with brilliant acidity. A variety of clones, picking times and vineyard sites are represented in the wine and vinified in stainless steel with lees stirring. Delicious. $25
2017 Calmére Napa Valley Chardonnay — toasty aromas plus stone fruit and citrus with nice mouthfeel. Barrel fermented with lees stirring throughout full malolactic fermentation. Sara told us that lees stirring during malolactic fermentation, without sulfur addition during that time, dissipates those (in her view unpleasant) buttery flavors. Her goal with this Chardonnay, and every wine she makes, is for you to want a second sip or glass. This one fits the bill. Delicious. $30
2016 Calmére Carneros Pinot Noir — ruby in the glass with perfume, red and dark fruit and earthy bramble. Nice Pinot Noir, but not as light a style as we prefer. $45
2015 Peju Napa Valley Merlot — red and dark fruit, plenty of structure. This friendly Merlot, with character, is a blend of two vineyard sites. $48
2015 Peju Napa Valley Cabernet Sauvignon — dark fruit, smooth tannins, restrained oak with cedar and a hint of herbs. Sourced from three vineyard sites. $60
2016 Peju Napa Valley Cabernet Franc — savory dark fruit aromas and flavors with tobacco and grippy tannins. Sourced from one vineyard site. May I have another glass, please? Love this Cab Franc. $70
In Sara's experience Cab Franc requires a lot of work in the vineyard. She prefers dried herb flavors to overly green flavors in this variety and succeeds in that regard with this wine.
2016 Peju Napa Valley The Experiment — bright red fruit and dark fruit flavors with cedar and leather and slightly grippy tannins. Delicious. $100
The Experiment is just that. It is 100% Cabernet Sauvignon aged in 100% new French, American and Hungarian oak. It was originally intended to be a blending component for another wine, but was bottled as a wine club wine to rave reviews. You would never guess it is aged in 100% new oak. Sara knows oak and how to use it effectively.
Sara described the Peju style of wine as one of restraint that is intended to pair with a meal. That is certainly an accurate description of all the wines we tasted.
Sara is free to experiment in the winery as she likes and is free to make the style of wine she chooses. Happily, her taste in wine is in line with the Peju family's taste.
Lunch Among the Vines
Peju Chef Nicolas Montañez prepared a lovely lunch, which we enjoyed in the vineyard with Calmeré and Peju wines. The afternoon was warm, the food delicious and the conversation lively.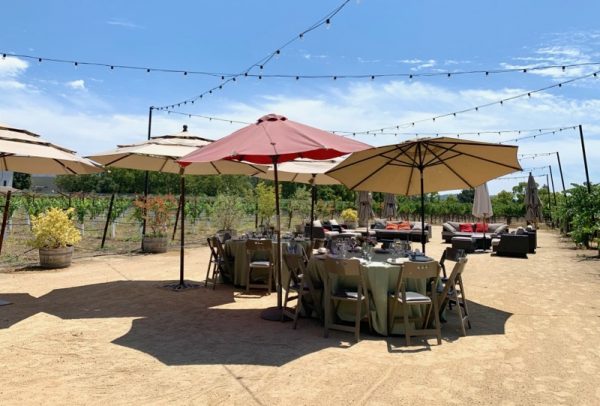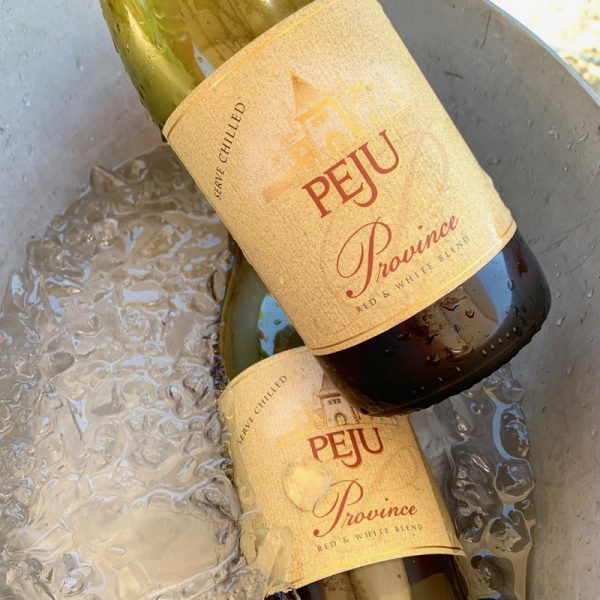 Peju winery offers a variety of tasting options. I hope you will check the website for details and plan to visit soon.
Cheers!