A two-day trip to the charming railroad town of Willcox in 2013 left us longing to return. We fell in love with the high desert grassland, the mountains that ring the Sulphur Springs Valley and, of course, the wine.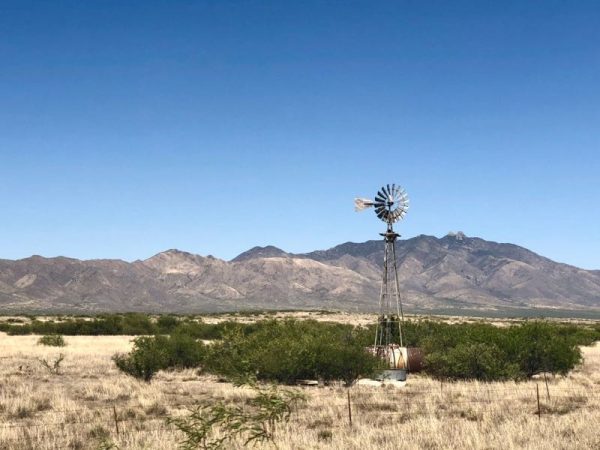 In Part 1 of this post we shared our hiking experiences and introduced you to a historic B&B where we stayed during our May trip to Willcox. In this post we focus on the wine and the people behind the wine. We timed our visit to include the Spring Willcox Wine Festival. Our friend, and fellow wine lover JR, organized a vineyard tour and a wine tasting for us in Willcox as well. He steered us in the direction of an outstanding winery in Sonoita, which we visited on the second leg of our visit to southern Arizona, and told us about the Sand-Reckoner Vineyards tasting room in Tucson. Wine friends are the best. Thanks, JR!
The Willcox AVA
The Willcox AVA (American Viticultural Area) is the second of two AVAs declared in Arizona. Both lie in the southeastern corner of the state. Willcox has for some time been growing most of the wine grapes in Arizona (74% is the number I've read most often) and in September 2016 the Willcox AVA was established by the TTB.
Modern commercial winemaking in Arizona is relatively young. The first vineyards were planted in Sonoita during the early 1970s and the Sonoita AVA was declared in 1984. Even though Willcox got a later start in viticulture, vineyard acreage has expanded faster in Willcox than in Sonoita.

At least part of the reason vineyard acreage in Willcox has grown faster than in Sonoita is because the weather in Willcox is less unpredictable. Predictable is not a word I have ever heard a winemaker or vineyardist use to describe the weather in this corner of Arizona. Spring frost is always something of a threat. By April average temperatures are in the 80s and go up from there. Temperatures in June and July can reach over 100 degrees. Monsoons from July through September are fast moving and can cause flash floods. Crop-damaging hail can accompany summer storms, although this is more common in Sonoita than Willcox. In general, vineyard yields are greater in Willcox than Sonoita.
There is very much a pioneering spirit among winemakers and vineyardists in Willcox. Both are working hard to figure out which varieties thrive in the high desert (elevations approach 5000 feet above sea level) and how to farm them for the conditions. As a result some plant many varieties. We learned this first-hand at Chiricahua Ranch Vineyards.
Chiricahua Ranch Vineyards
"This is a hobby that got out of control," Greg Gonnerman admitted with a laugh as we walked through Chiricahua Ranch Vineyards, his commercial vineyard project. It all began with wine tasting on a regular basis. Home winemaking using purchased grapes soon followed. Then he planted vines in his yard in Mesa before asking friends to plant vines for him in their yards.
By 2012 he was looking for property and had zeroed in on the Willcox area as the best location. The soils are right (sandy loam), water is available, the growing season is longer (and less unpredictable) than Sonoita, and land is still affordable.
Greg is an engineer by profession; he thinks fast, talks fast and is detail and fact-oriented. Before planting his vineyards in Kansas Settlement he talked to winemakers to find out what varieties they wanted to buy and to growers about what to grow.
In 2013 Greg planted Petit Manseng, Tempranillo, Vermentino, Merlot, Marsanne, Roussanne, Mourvèdre, Sangiovese and Cabernet Sauvignon. The following year he planted Syrah, Chardonnay, Primitivo, Petite Sirah and more Roussanne. See what I mean about planting lots of varieties?

"2015 was a year of recovery," Greg told us. A well pump failure deprived some young vines of the essential water they needed to survive. Parts of his vineyard had to be replanted.
2015 was also the beginning of Greg's Pinot Noir project. He is a man of vision and great confidence in the quality of grapes Willcox is capable of producing in general. Then there is Pinot Noir specifically, which Greg has very high hopes for if it is farmed creatively.
Using a technique called crop forcing, which you can read about on Greg's website, Greg hopes to make Pinot Noir that rivals Pinot from the Willamette Valley. He knows this will be a labor of love — with an emphasis on labor. The first vintage is in the barrel and Greg likes what he's tasting. I can hardly wait to taste the wine for myself next time we visit.
He's also a believer in Petit Manseng because it can fully ripen and maintain great acidity. We've tasted the Callaghan Vineyards Greg's Petite Manseng, which Kent sources from Greg, and it's delicious.
Recent plantings include Sagrantino (at the suggestion of Rob Hammelman from Sand-Reckoner Wines) and Sangiovese. More Petite Manseng is coming next year on Greg's 40-acre parcel. He believes Fiano and the Greek variety Assyrtiko have good potential here as well.
In addition to figuring out which grape varieties do best on his site (Roussanne does better than Marsanne, Viognier is a star and Syrah sings when planted on its own rootstock) all these grape varieties allow Greg to provide a wide choice of wine for his wine club members and for commercial and restaurant sales.
Greg now makes wine commercially under his Laramita Cellars label. The name comes from Arizona's first official port of entry from Mexico. His wines are bright, balanced and focused.
We tasted three of Greg's wines during our time in Willcox. The 2017 Laramita Cellars Viognier is beautifully aromatic with white flowers followed by melon flavors and citrusy acidity. His Mourvèdre Rosé is dry, earthy and bursting with flavor. His 2016 Syrah was simply delicious. It is a co-ferment of Syrah and Viognier (5%) with bright, red fruit character and nuanced, herbaceous, dried hay flavors and drying tannins.
All that Greg has accomplished at Chiricahua Ranch Vineyards since 2012 is even more impressive when you consider he is also working full-time as an engineer. The drive between his home in Mesa and his vineyard in Willcox takes three hours. He is hands-on and doing much of the work himself. And he is already succeeding with his vineyards (he's well respected among winemakers) and with his wines. I look forward to the next time we visit to see and taste what is new.
Sand-Reckoner Vineyards
Rob Hammelman makes his brilliant Sand-Reckoner wines in a small space near the intersection of Maley Street and S. Haskell Road in Willcox. As JR pulled open the door we were greeted by the aromas of winemaking. We walked by a small basket press and small fermenters of various types. These were the first hints that winemaking at Sand-Reckoner is done by hand and on a relatively small scale.
Somehow Rob orchestrates the transformation of 45 tons of grapes into wine for his Sand Reckoner label, as well as Greg Gonnerman's Laramita Cellars wines and one or two others, in this small space. According to Rob, "it becomes a game of Tetris," at times during harvest.

We walked through to the barrel room where the temperature is kept at a constant 60º F. I noticed a stainless steel barrel or two, which Rob prefers for Vermentino and sometimes Picpoul, and many racks of oak barrels. The labor of turning grapes into wine is very hands on here, but Rob's winemaking style is hands off.
Rob's preference is for neutral oak, though he occasionally uses up to 20% new French oak for some of his wines. He has tried new American oak, but feels it overwhelms the flavors of Arizona fruit.
He prefers to harvest fruit at that perfect balance of ripeness and acidity so that he doesn't need to acidify his wines. Rob is mostly able to make his wines like this, but it can be a challenge. High potassium levels in the soil can cause the pH to spike as the grapes soak on their skins. In Rob's experience Italian varieties hold their acidity the best here.
It shouldn't be surprising that Rob's red wines are neither fined nor filtered.
Rob told us he particularly likes Malvasia Bianca (for its intense aromatics) as well as Viognier, Roussanne and Picpoul. He also has high hopes for Fiano. In terms of red grape varieties, he believes Syrah, Tempranillo and Sangiovese speak uniquely of the Willcox terroir.
In his estate vineyard, which Rob and his wife Sarah purchased in 2010, Rob is able to farm organically, using only occasional organic sprays. He prefers varieties with more open clusters and pays attention to canopy thinning before the monsoon season.
He was the first to plant Sagrantino in 2013, which he loves for its tannins and fruit intensity. "It's a great blending variety," he told us.
Nebbiolo, Syrah and Zinfandel are also planted in his 4-acre estate vineyard. Zinfandel, "is fun when it works," Rob told us, but two out of three years it may suffer from rot and in some years he doesn't even pick it. In addition to his own vineyard, Rob sources grapes from several others in Willcox.

As we talked grapes and winemaking we tasted several Sand-Reckoner wines. The 2016 Malvasia Bianca was floral and bright with citrus pith and juicy acidity. This wine has twice been included in the San Francisco Chronicle's Top 100 Wines. The 2017 Grenache Rosé was incredibly aromatic and very delicately colored. The 2015 Sangiovese (sourced from Greg Gonnerman's Chiricahua Ranch Vineyards) showed bright berry aromas and flavors with dried alfalfa and earth with substantial tannins. We finished with a Syrah-Tempranillo blend and a Tempranillo that exhibited dark fruit and grippy tannins.
Rob and Sarah opened a tasting room in Tucson in February 2017 where, at the time of our visit, 16 wines were on offer to taste. We stopped by for a taste on our way to Scottsdale a week or so later. We will include that experience in a subsequent post.
Willcox Wine Festival
The Willcox Wine Festival happens twice a year, the third weekend in May and third weekend in October, in Railroad Historic Park in downtown Willcox. The May festival featured about 15 Willcox wineries, food by Dante's Fire in Tucson, live music and many local artists.

Entry is free. We actually met a couple from Tucson who don't drink wine but came to the festival for the music, crafts and food. To taste wine you must purchase a wine glass and drink tickets.
The festival is a great way to sample wine from a variety of wineries in one place — without driving. Winery staff pouring wine were friendly and happy to talk about their wine. Your opportunity to talk to winery staff about the wine depends on how crowded it is though. Arrive early if you're chatty.
In general, Saturdays are more crowded than Sunday, according to what we were told, and Saturday of the spring festival set an attendance record.
The food was very good, although the choices were somewhat limited. Thankfully a shade tent and tables were provided. The music was excellent. Many regulars to the festival bring their own chairs and follow the shade of the trees. Some folks we talked to prefer the fall festival because, they said, the weather is often cooler.
Bodega Pierce Wines
Several wines from Bodega Pierce and Saeculum Cellars caught our attention at the Willcox Wine Festival so we took the drive out to their tasting room on E. Robbs Road the next day. Yes, there was a gravel road involved, but that's part of the charm of wine tasting in Willcox.
Barbara Pierce, who with her husband Dan, owns Bodega Pierce and Saeculum Cellars was pouring wine in the nearly-full tasting room. This is yet another example of a family winery in Willcox. Dan manages the vineyards, Barbara has command of the tasting room and their son, Michael, is the winemaker. Michael is also the Director of Enology at Yavapi College's Southwest Wine Center at the Verde Valley campus.
Most of the tasters were wine club members and friends. Todd and Michelle, the owners of nearby Rhumb Line Vineyard, were enjoying a glass of wine with the group as well. Just about the time we arrived another couple left making room for us at a table. As we chatted with fellow tasters we were warmly greeted by Barbara and tasted a few of the wines that were not on offer at the wine festival.
Bodega Pierce makes all of their wines from estate fruit only. The list of varieties planted in their Rolling View Vineyard in Willcox includes 17 on their website. The number of wines in their tasting room exceeds that by several.

We particularly enjoyed the red wines and left with several bottles of the Bodega Pierce Cabernet Franc. This is the only varietal bottling of Cab Franc we've tasted from the area and it is very good. Being the Cab Franc lover that I am, I couldn't leave without a bottle for us and one for a friend who loves Cab Franc as much as I do.
We highly recommend a stop at Bodega Pierce when in Willcox. Barbara is an enthusiastic and knowledgeable ambassador for the region and her family's wines.
Wine Tasting in Willcox
The wine scene in Willcox, and all of Arizona, is growing rapidly. In 2009 there were 9 bonded wineries in Arizona, today there are about 100. I can't quote you an exact number but, as I recall, the first time we visited Willcox in 2013 there were maybe 10 wineries listed on the Wines of Willcox map of tasting rooms in the area, today that map lists 15 wineries.
The wineries in this area are relatively small and every one we've visited is family-owned. There are four tasting rooms located in downtown Willcox and they have more of a city feel. This is a good place to start if you are short on time.
Tasting rooms located among the vineyards reflect their rural setting. Many are rustic and located along gravel roads. Wine tasting here is unpretentious and, in our experience, uncrowded. You will have plenty of time to talk wine with the enthusiastic folks, often times the owners themselves, pouring the wine.
If you plan to visit anytime other than the weekend, call ahead to confirm that the winery is open. Many wineries are open only on the weekend or by appointment. This applies to tasting rooms in town as well.

Wine tasting in Willcox requires advanced planning and a fair amount of driving is involved in visiting many of the wineries. Be prepared to drive on gravel roads and to be dazzled by the views. Mountains in the distance, large crop circles irrigated by center-pivot sprinkler systems, vineyards and undeveloped scrub and grassland. It is such an interesting area.
The Wines of Willcox website is an excellent resource for detailed maps of area tasting rooms and an essential resource for things to do, where to eat and places to stay. You will find Willcox Wine Festival information there as well.
Mustang Mall
If you find yourself in Willcox during the middle of the week and want to purchase Willcox wines head for the Mustang Mall (don't you love the name?) in Pearce, 30 miles south of Willcox. This combination gas station, grocery store, tack shop and clothing store also has a corner dedicated to Willcox wines.

Vicki Brand carved out her Cochise Corner two years ago. She began with one small rack and now includes wine from 15 Willcox wineries. It's the largest selection of local wines in the area according to Vicki. Cochise Corner also includes local nuts, honey and artwork curated by
TRUST Art & Design
.
I loved wandering through the Mustang mall and wanted to buy a cowboy hat in the worst way. Instead, I came away with several bottles of Willcox wine – a more prudent purchase.
Our time spent in Willcox was relaxing and filled with good food, good wine and the nicest people. It is a corner of Arizona very worth exploring on many levels.
The couple behind Wines of Willcox, Kim Johnson and Thomas Ale Johnson, are the same couple who, through TRUST Art & Design, curate the work of local artists and place it in wine tasting rooms around the region. Thomas also designs wine labels for many of the wineries in Willcox and Sonoita. There are so many stories to tell from this interesting and beautiful corner of Arizona!
In the next installment of our visit to southeastern Arizona we move to the AVA next door, Sonoita, where we stayed in a bunk house, visited some of our favorite wineries and made a new discovery or two. Stay tuned.
Cheers!