We first visited Willcox, Arizona in August 2013 to taste the wine and see for ourselves the vineyards planted in Arizona's high desert. Two days spent in this beautiful, southeast corner of Arizona left us wanting to return for a longer stay. It has taken us five years to return, but return we did this May, and we had to most splendid adventure.
The small, railroad town of Willcox seems much the same as I remember it. Visiting in May, though, was a very different experience from visiting in August. By May the spring grasses had already begun to dry and turn golden in color. The weather was predictably warm and dry, but afternoons were often windy. During our August visit the mountains and high-desert grasses were green, the "second spring" as it is called, encouraged by afternoon thunderstorms. The monsoons are dramatic and unpredictable with spectacular cloud formations and fast-moving afternoon thunderstorms that can cause flash floods.

I must admit I missed the beauty and drama of the monsoon season during this visit. And the smell of summer thunderstorms. On the other hand, the weather for hiking and walking through vineyards was always good and we never had to worry about getting caught out in a thunderstorm or having the gravel road in front of us washed out. Willcox is charming regardless of the season.
We had a lot planned for this visit to Willcox. Our friend John Raymond, known to everyone in the southern Arizona wine scene as JR, arranged a vineyard visit and wine tastings for us during our stay. We attended the Spring Willcox Wine Festival and hiked in all of the major areas I'd been longing to explore since our last visit. And on top of that we stayed at the most amazing B & B a few miles outside of Willcox. In a ghost town. I told you it was splendid!
Dos Cabezas Retreat Bed & Breakfast
Sixteen miles south of Willcox along AZ-186 W a road sign announces you've arrived in Dos Cabezas. Today it's called a ghost town, and has the expected adobe ruins, abandoned vehicles and crumbling houses, but between the ruins families live here. So, really, it's a living ghost town.
Sam and Dorothy Laage have created their own little paradise here at
Dos Cabezas Retreat Bed & Breakfast
. They regularly share that paradise with guests who book either of their two guesthouse bedrooms in a home dating back to the 1890s. Breakfast, and dinner if you choose, is served in the adobe Casita, just a few yards away.
Sam prepares every meal from scratch. Dorothy's straw bale garden is the source of lettuces, vegetables and herbs for Sam's creations. Afternoons often begin with appetizers prepared by Sam and Willcox wine chosen by Dorothy. We like how Sam and Dorothy fly!
Rocking chairs set on the wide, covered porch on the front of Sam and Dorothy's adobe home make a comfortable spot for happy hour. It's also the perfect perch from which to enjoy the parade of birdlife through their garden. We spent every afternoon here enjoying the view, sipping Willcox wine and taking pictures of the birds. You can view our bird pictures from this trip to southern Arizona on
SmugMug
. The Dos Cabezas Mountains provide a dramatic backdrop and sunsets are spectacular. This was the most enjoyable and relaxing stay we've had in ages.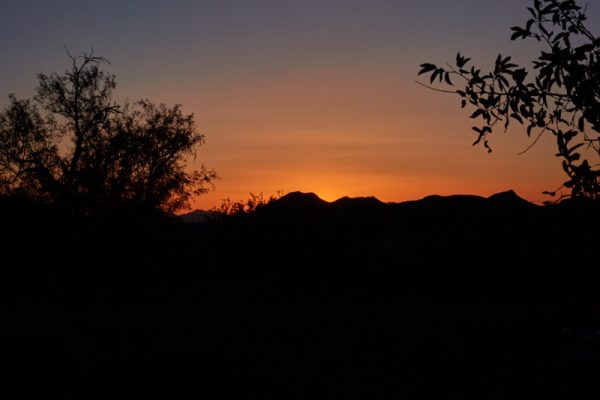 There is no shortage of hiking trails in the mountains surrounding Willcox. To the east the Dos Cabezas Mountains lead into the Chiricahua Mountains. To the west the Dragoon Mountains provide equally interesting and beautiful scenery. We hiked in three locations around Willcox.
Fort Bowie National Historic Site
Fort Bowie National Historic Site is a 30-mile drive southeast from Willcox. The drive from Dos Cabezas along AZ-186 W to Apache Pass Road is only 16 miles. The drive is scenic, but be prepared for gravel roads on Apache Pass Road.
A three-mile hiking trail forms a loop that allows you to walk to the ruins of Fort Bowie and back. According to the National Park Service website:
The trail winds past remains of a Butterfield Stage Coach Station, the post cemetery, an Apache wickiup, the Chiricahua Apache Indian Agency, Apache Spring, the original fort and finally the more elaborate Fort Bowie and the visitor center.
We especially enjoyed that this hike is a loop rather than out and back on the same trail. The hike into Fort Bowie and the Visitor center takes you through a valley. The return trail takes you up to Overlook Ridge and provides interesting views into the valley through which you hiked coming in as well as into the next valley over.

The natural beauty of the Fort Bowie trail stands in contrast to the violent history of the fort. This was ground zero for the bitter and deadly clash between the Chiricahua Apache people and the US Army.
The website recommends allowing two hours for the hike; we took longer because we stop to take photos. When you visit take food and plenty of water and always check the weather forecast. Don't forget sunscreen and a hat. There are picnic tables at the Visitor Center which also has an interesting museum. The ranger was knowledgeable and friendly. We passed only one other group of hikers.
Chiricahua National Monument
A few days before we arrived in Willcox the Chiricahua National Monument was closed due to a wild fire. I was so disappointed and feared we would miss our opportunity to hike in the park. Fortunately the fire was contained within a few days and it was located in a remote portion of the park. The park re-opened a few days before we left. We didn't see any evidence of this most recent fire, but we did see evidence of a prior wild fire during our hike.
This park is spectacular. The rock formations are absolutely gorgeous and the views go on forever in every direction. There are lots of trails to hike and the National Park Service
website
conveniently categorizes them as easy, moderate and strenuous. We hiked the Echo Canyon and Massai Point trails and look forward to coming back to hike other trails. Once again what should have been a 2-hour hike took us much longer because we took so many
photos
.
Cochise Stronghold
The name of the park and the little bit of history I've read about it drew me to this location. When I saw pictures of the rocky, wooded landscape I knew I had to visit.
Cochise Stronghold is named for the Chiricahua Apache leader, Cochise, who was involved in conflicts with the US Army from 1861. The rocky area was used as a hiding place by Cochise and after his death in 1876 his body was taken there and buried in a secret location.
The park is located within the Dragoon Mountains, which are part of the "sky islands" an important and diverse habitat in Arizona, New Mexico and Mexico. I had never heard of sky islands before visiting Willcox.
After hiking about half of the Cochise Trail (it is an out-and-back trail, not a loop) we had lunch in the campground and spent time watching and photographing the many birds watching us eat. It was a really fun morning. You can view our photos of Cochise Stronghold on SmugMug.
As with the hiking at Fort Bowie National Historic Site and Chiricahua National Monument, hiking here at Cochise Stronghold was uncrowded; we only passed one other hiker. We had the trail and campground to ourselves, except for the birds.
During our stay in Willcox we visited the Chiricahua Regional Museum on Maley Street in downtown Willcox. The museum was established and is maintained by the Sulphur Springs Valley Historical Society. It is filled with the history and artifacts of the city of Willcox and the greater Sulphur Springs Valley. It's so interesting and definitely worth a visit.
In Return to Willcox, Arizona – Part 2 we will share our Willcox Wine Festival adventure as well as vineyard and winery experiences.
Cheers!