Every time we participate in a Wine Pairing Weekend (#winePW) event it is a learning experience with regard to pairing food and wine. I learn from my successful pairings and from those that are not so successful.
I always learn about wine too. This month's theme, German Wine Exploration, was particularly challenging for me. I admit to finding German wine law confusing and, on top of that, we do not drink very much German wine so I have little experience reading German wine labels.
Enter Winesellers, Ltd., an importer of German and other wines from around the world, who provided a generous collection of German wines as tasting samples for our German Wine Exploration. The collection of eight wines provided an excellent opportunity to taste a range of German wines and learn how to read a German wine label.
I worked backwards, if you will, in organizing the wines. I used the technical sheets to arrange the wines according to sweetness in terms of food pairing. The wines ranged from 4.3g/L of residual sugar to 60.2 g/L and fell into three groups. I planned a meal to pair with each group of wines.
The first group, which I wrote about in our preview post, included three wines. Two wines had residual sugar of 4.3 g/L and one was labeled Kabinett Trocken and unknown residual sugar. We considered these wines to be dry.
The next group included three wines with 7.2g/L to 23.1g/L of residual sugar. We considered them off-dry. The third group of two wines had between 50.2g/L and 58g/L of sugar and we considered them sweet.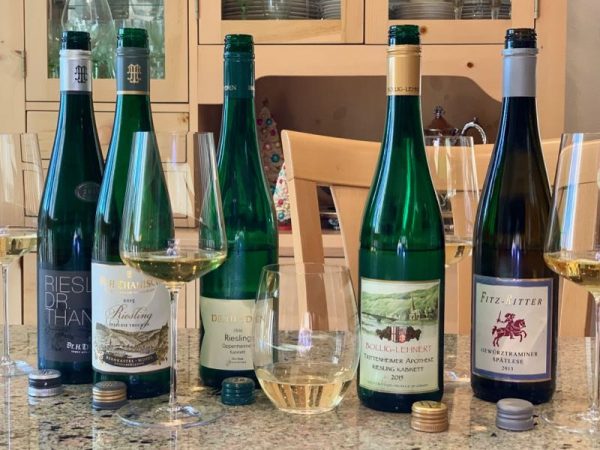 Once the wines were arranged by residual sugar, I went to my wine books and searched online references to study German wine law. I found two helpful online references. The most detailed discussion of German wine laws I found comes from the Society of Wine Educators' blog Wine, Wit, and Wisdom. It is helpful in understanding the quality levels of German wines.
The second comes from Wine Folly and is a guide to reading German wine labels.
Then I studied the labels of each wine to see if I could break the code. I think I made some headway.
Online research also helped me find recipes to pair with each group of wines. One consideration in pairing food with wine is to choose a meal that is less sweet than the wine. Food that is sweeter than the wine that accompanies it will make the wine taste bitter. And, in general, sweeter wines pair very well with spicy food and cut the heat a bit.
Off-Dry Riesling and Food Pairing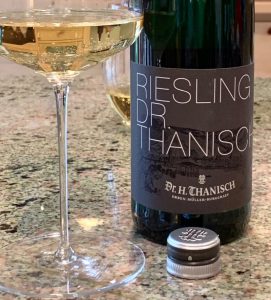 2017 Dr. H. Thanisch Feinherb Riesling, Mosel — medium yellow in the glass with intense ripe peach, apple and beeswax aromas. Flavors of ripe stone fruit and pears with stony minerality in the background are complex and linger on the palate along with a bit of sweetness. There is a bit of roundness as well. Flavors are supported by juicy acidity and the finish is clean. 10.3% abv. SRP $14
Fresh flavors of ripe fruit and a bit of sweetness are balanced by great acidity. The wine is light on its feet with a clean finish.
Riesling is sourced from the middle Mosel area from vineyards located above the Mosel River. Black and blue slate predominates on the steep hillsides. Not all vineyard sources are from the Thanisch estate. The Thanisch winemaking legacy reaches back more than 350 years.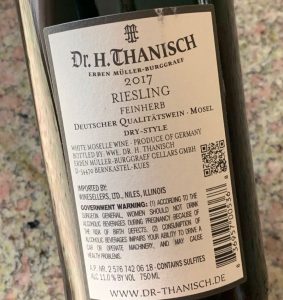 The label tells us that this Qualitätswein ("quality wine from a designated region.") is from the Mosel region and is Feinherb, meaning an off-dry style, although the descriptor dry-style appears on the back label. This wine does taste sweet to me, but not overly so.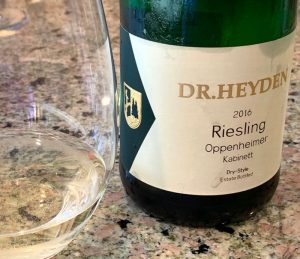 2016 Weingut Dr. Heyden Oppenheimer Riesling Kabinett, Rheinhessen — pale yellow in the glass with delicate aromas of dried hay and dried apricots. Fresh peach, pear and apricot flavors combine with stony minerality and are supported by bracing acidity. The wine tastes a bit sweet with little roundness in the mouth. 10.3% abv. SRP $13
Ample fruit flavors, lovely minerality and a bit leaner, but still a bit sweet, than the first wine. Riesling is sourced from two estate vineyards, Kreuz and Herrenberg, planted in loamy soils with abundant limestone. The average age of the vines is 25 years.
The Heyden family's history in winemaking is relatively recent. Dr. Karl Heyden founded the estate in 1999 with his wife and two sons. Dr. Heyden passed away in 2005 and his sons have continued their father's work.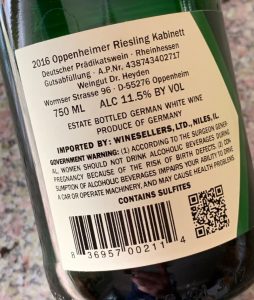 The label tells us this Riesling is a Prädikatswein a "quality wine with attributes" made with Riesling grown near Oppenheim (Oppenheimer on the label) in the Rheinhessen region. You will always find the level of ripeness of the grapes at harvest on the label of a Prädikatswein. The order of ripness from less ripe to most ripe is: Kabinett, Spätlese, Auslese, Beerenauslese, Eiswein, Trockenbeerenauslese.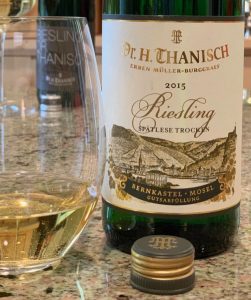 2015 Dr. H. Thanisch Riesling Spätlese Trocken, Mosel — light golden-yellow in the glass with generous, concentrated flavors of dried apricots, petrol and hints of asphalt. Complex flavors follow the aromas with apricots, ripe stone fruit and stony minerality. The body of the wine is a bit round and the finish, which is very long, is clean thanks to juicy acidity. 10.3% abv. SRP $30
This is a wine with notable complexity, concentration and balance. It is the most interesting of the group. It has the most age in the bottle and comes from a stellar vintage. It is worth the higher price.
Riesling was sourced from various single vineyards of the Thanisch's Müller-Burggraef estate in the middle Mosel. Vineyards are located higher, up from the river, and continue to the woods.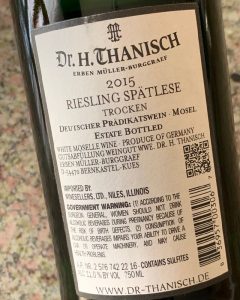 The label tells us this is a Prädikatswein made with Riesling from the Mosel region. The level of ripeness of the grapes at harvest is Spätlese (late harvest) and that the style is Trocken (dry).
We went for a German-themed meal to pair with this group of wines. The recipe, Sautéed German Sausages with Bacon and Apple Sauerkraut, comes from Food & Wine along with a recommendation to pair it with off-dry German Riesling. Bacon, sautéed onion and apple sweeten the sauerkraut. The bratwurst lends richness resulting in a rich and satisfying meal that paired perfectly with all of the Rieslings in this group.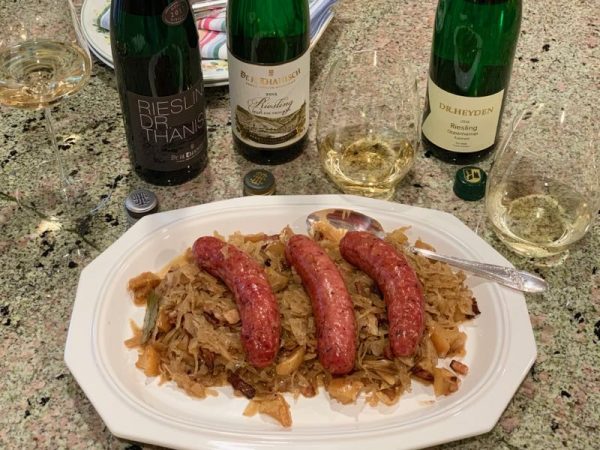 Sweet Riesling and Food Pairing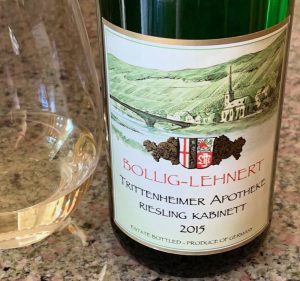 2015 Bollig-Lehnert Trittenheimer Apotheke Riesling Kabinett, Mosel — pale yellow in the glass with generous aromas of ripe peaches and petrol. Flavors of ripe red apple, apricot and pineapple are supported by tart acidity and slate minerality. The wine feels round in the mouth and the finish is complex and long-lasting. It finishes clean thanks to ample acidity. 8.2% abv. $17
This wine tastes considerably sweeter than any in the prior group. The sweetness is perfectly balanced by ample acidity and fruit flavors so the wine finishes clean and is not at all cloying.
Stefan Bollig, whose family history of winemaking reaches back to the 17th Century, is the current generation of his family making wine on the estate. The Apotheke vineyard, which translates to pharmacy and named for its medicinal properties, is located on a steep slope above the Mosel River. Stefan considers the Apotheke vineyard to be his best site.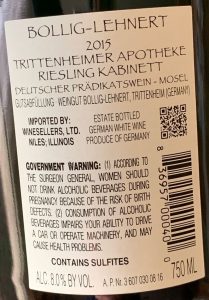 The label tells us it is a Prädikatswein made near Trittenheim and that the Riesling is sourced from the Apotheke vineyard. The grapes achieved Kabinett-level ripeness at harvest, which I generally think of as yielding a drier-style of Riesling. The 8.2% abv. indicates more residual sugar remained in the wine (not converted to alcohol by fermenting to dry).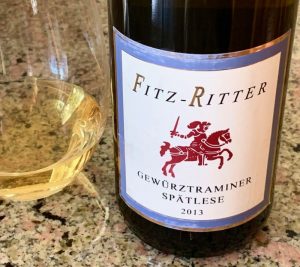 Fitz-Ritter Gewürztraminer Spätlese, Pfalz – back label[/caption]2013 Fitz-Ritter Gewürztraminer Spätlese, Pfalz — golden yellow in the glass with generous spice, guava and candied orange peel aromas. Concentrated fruit flavors are similar to the aromas along with beeswax and bright, juicy acidity. The wine is round in the mouth, sweet but balanced by the acidity, and has a very long finish. 9.5% abv. SRP $20
Wow is an appropriate descriptor for this lovely Gewürztraminer. It exhibits incredible complexity and body with sweetness and plenty of acidity for a clean, bright finish. It is the sweetest Gewürztraminer I've tasted and I'm a fan.
The Fitz-Ritter vineyards are EU certified organic and work in the vineyard is done entirely by hand. The ninth generation of the family now manages the estate.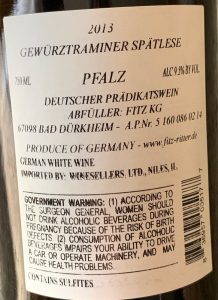 The label tells us it is a Prädikatswein made in the Pfalz region using Gewürztraminer harvested at Spätlese ripeness.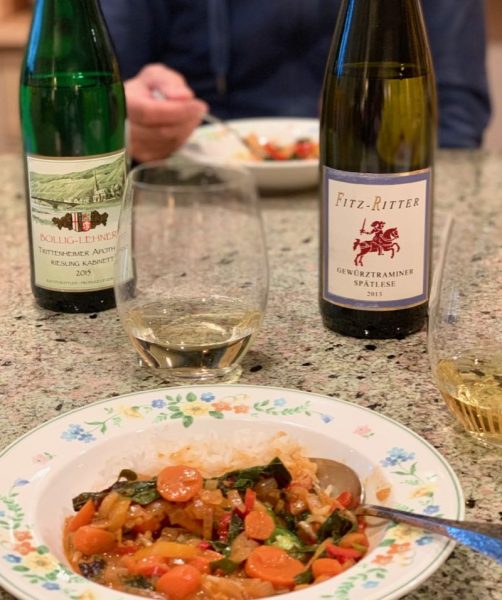 We chose a spicy dish to pair with these two sweetest wines in the group. Thai Red Curry with Vegetables worked nicely, I added cayenne pepper for additional heat. Delicious pairing.
This Wine Pairing Weekend has been one of the most interesting in some time. It also required the most work to understand the wines I was tasting. That work has been very worthwhile and now I need to put what I've learned to use by looking for more German wine to enjoy with our meals. As they say, use it or lose it.
Thanks to Winesellers, Ltd. for providing this interesting group of German wines.
Be sure to take a look at the food and wine pairings the rest of the Wine Pairing Weekend group of bloggers created. I will be looking for pairing ideas myself.
Our group will gather on Twitter Saturday morning, December 8 at 8:00am PST to talk German Wine and food. You can join the conversation by using #winePW. See you then.
Cheers!