The anticipation is building for this Saturday's Wine Pairing Weekend (aka #winePW) Exploration of German Wines. Behind the scenes we've all been very busy. Food and wine pairings have been prepared. Bloggers have taken photos of their delicious pairings, done their research and written posts about their experiences.
We will all publish our posts between Friday, December 7 and 8:00 am EST on Saturday, December 8. Then on Saturday morning at 11:00 am EST we will gather on Twitter to share our pairings and talk German wine. Please follow #winePW and join the conversation.
I expect the conversation will be lively and I'm looking forward to being tempted by the pairings you see listed at the end of this post. I'm also looking forward to the insights my blogging friends will share about German wine and their food pairings.
The reason I know all of my fellow bloggers have been so busy behind the scenes is because we too have been busy. We were fortunate to receive a group of eight German Wines provided as tasting samples by the importer, Winesellers, Ltd.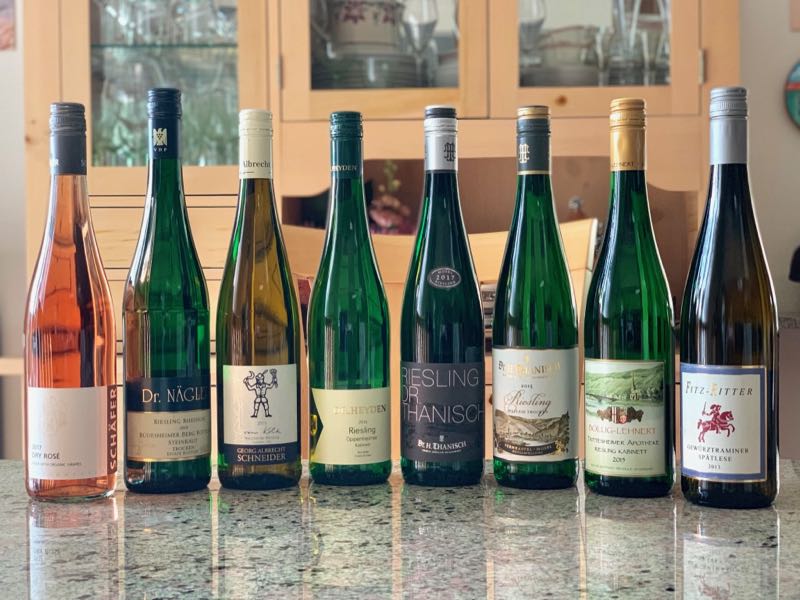 Our sampler included a Rosé, a Gewürztraminer and six Rieslings. How to organize this group of wines to pair with food? Because German white wine is made in a range of styles from dry to dessert, not every white wine will pair successfully with the same meal. The sweetness of the wine depends on the ripeness of the grapes at harvest, timing of harvest and winemaking decisions.
I was happy, and relieved, that Winesellers Ltd. included technical sheets on every wine we received. This provided a shortcut to organizing the wines by dryness so that we could prepare meals to pair with each group of wines.
Below we share our food pairing with three dry German wines. In our Wine Pairing Weekend post we will explore food pairings with an off-dry group and a group of sweet wines. Along with our food pairings we will share a few tips that will help you decipher whether a German wine is likely to be dry, off-dry, sweet or a dessert wine by reading the label. A tall order, indeed.
The Food
The first three German wines for our pairing include the driest of the group; about 4g/L of residual sugar. Because the goal of a successful food and wine pairing is for the food to be no sweeter than the wine, lest the wine taste bitter, we went for a savory meal rather than a sweet one.
I chose a recipe for Chicken Piccata and used lemon juice from our Meyer lemon tree which is not overly acidic. Capers made a lively, pungent accompaniment to the buttery sauce.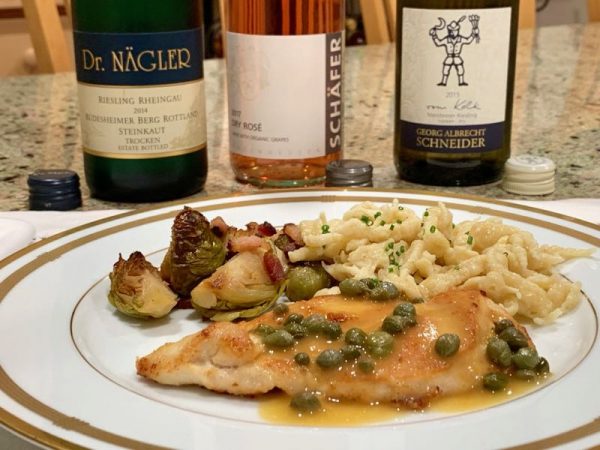 I reached for my usual recipe for spaetzle and oven-roasted Brussels sprouts completed our pairing. The meal was satisfying and comforting. I always think of my grandmother when I make spaetzle.
The German Wines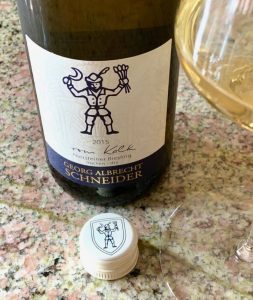 2015 Georg Albrecht Schneider Niersteiner Riesling Vom Kalk Kabinett Trocken, Rheinhessen — pale yellow-green in the glass with generous petrol aromas along with white flowers and stone fruit. Complex flavors of apricots, petrol and tart pineapple are lifted by tart, juicy acidity. The mouthfeel was rich and slightly viscous with a long finish. 13% abv. SRP $17
Lovely Riesling with nice mouthfeel, complex flavors and lifted, juicy acidity.
The Schneider family's vineyard blocks surround the town of Nierstein (hence Niersteiner on the label) along the Rhine River in the Rheinhessen region. The vineyards have been in the Schneider family for seven generations.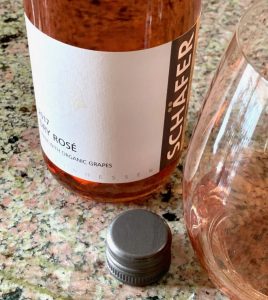 2015 Schäfer Organic Dry Rosé, Rheinhessen — pale salmon in the glass with delicate aromas of mixed berries. Citrusy flavors lead with blackberries in the background and gravelly minerality. A hint of tannins linger on the finish of this bright and refreshing rosé. 12.5% abv. SRP$13
Schäefer family vineyards are also located south of Nierstein near the village of Mettenheim where the family has been tending vineyards since 1790. This bright, crisp Rosé of Pinot Noir is made using organically grown, estate grapes. It made a delicious partner for chicken piccata.
A bonus pairing: The Schäfer Organic Rosé also made a super partner for the leftover spaetzle, which I prepared like my grandmother use to. As she would have put it, I knocked an egg over the spaetzle and scrambled the mixture. Add a salad and sautéed mixed mushrooms, which she would not have done, and you've have yourself a delicious lunch.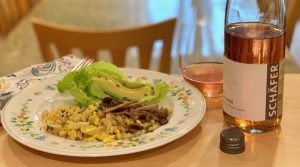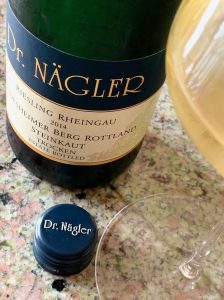 2014 Dr Nägler Rüdesheimer Berg Rottland Steinkaut Riesling Trocken, Rheingau — medium golden in the glass with geneous petrol and honeyed aromas. Concentrated flavors follow the aromas along with intense minerality, citrus pith and juicy acidity. 12.6% abv. SRP $19
The flavors have become concentrated in this 2014 Reisling. The color has darkened and honeyed noted are delicious, but not at all sweet tasting. Interesting wine.
The Dr. Nägler estate is located in the town of Rudesheim (Rudesheimer on the wine indicates it's from Rudesheim) in the Rheingau region, just north along the Rhine from the prior two wines.
Regarding the unique terroir of the Nägler estate, the importer notes:
"The renowned Berg (mountain) in Rüdesheim is split into three single vineyards, Rottland, Schlossberg and Roseneck. The Nägler estate has ownership in all three parts of this outstanding, steep vineyard slope. The Rüdesheimer Berg Rottland is known as the best vineyard site within the Rüdesheimer Berg. It is located west of Rüdesheim. The name of the vineyard comes from the Middle High German "rotten" (today: "roden"), which means land cleaning."
The Takeaways
Every one of these German wines has been interesting and delicious. The Rieslings in particular show complex, ripe fruit and floral flavors that by the aromas lead you to think they might taste sweet. Not so. These dry wines have bracing acidity and complex flavors. They are lovely wines to sip on their own and the flavor profiles did not change with a meal.
All three wines tell a story of family-owned vineyards and winemaking and in one case of organic viticulture. Both are themes that are important to me and ones that I consider when making a wine purchase.
Finally, the quality of these wines is outstanding, and for under $20 they're a steal.
The Pairings for Wine Pairing Weekend's German Wine Exploration
I hope to talk with you Saturday morning during our chat on Twitter.
Cheers!