Silverado Vineyards has been a landmark in the Napa Valley for us nearly as long as we have been visiting Napa. The winery sits at the top of a knoll above the Silverado Trail and is about a 90-minute drive from our home. In spite of knowing right were Silverado Vineyards is located, we only recently visited for the first time. When the invitation came to tour the winemaking facility and taste the wine we were happy to accept. And we knew exactly how long it would take to reach the winery.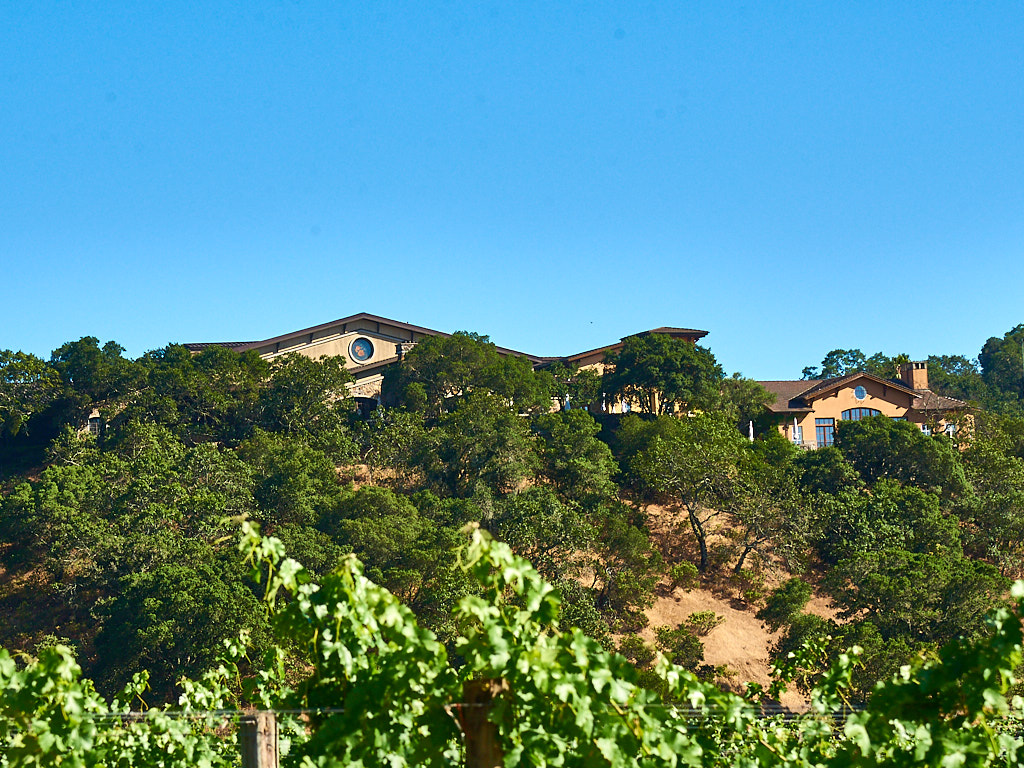 Vineyard History
The driveway off the Silverado Trail winds between vineyards and climbs around a hill through an oak and pine forest to the winery. Olive trees line the driveway which opens to the stone and stucco building. The vineyard view from a stone courtyard just outside the Silverado Vineyards tasting room is spectacular.
Our tour began in the courtyard with Russell Weis, President of Silverado Vineyards and Amanda Haynosch, Marketing Director. Vineyard views reach to the west across Napa Valley beyond the tree-lined Napa River which forms the boundary of the Silverado Vineyard. A house is tucked in along the river and not far away stands an old oak tree with the initials SV carved into it. The initials do not stand for Silverado Vineyards but rather Salvador Vallejo and the tree stands as a boundary marker for Vallejo's Rancho Yajome circa 1846. Remarkable.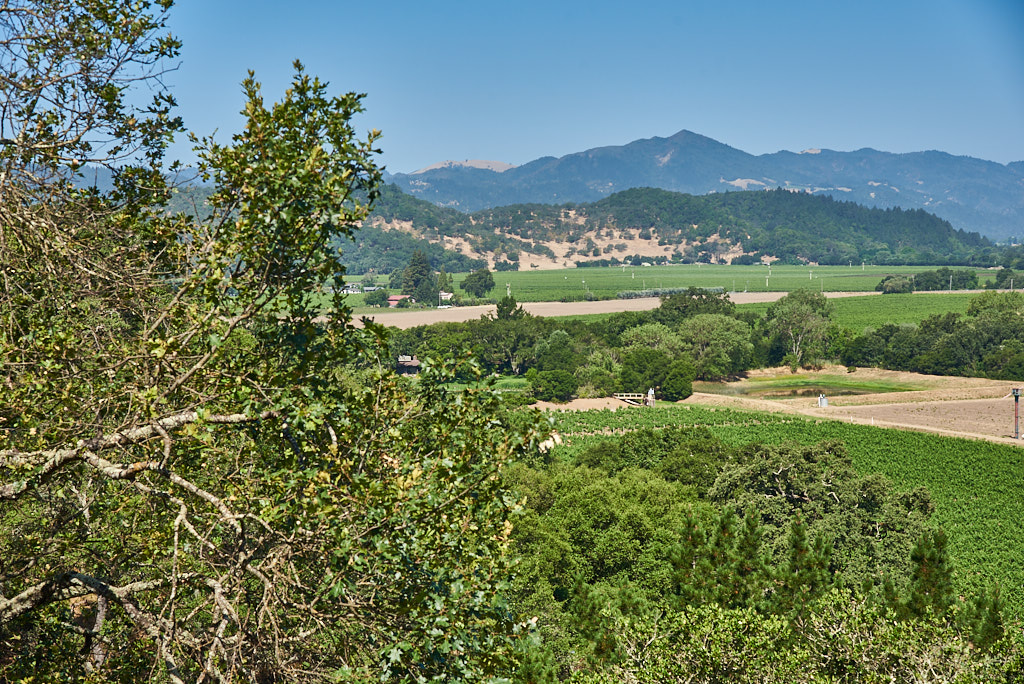 From this vantage point it is possible to see only a small portion of the Silverado Vineyard. The bulk of the Stags Leap District AVA vineyard follows the Napa River south and behind a hill that rises between the winery and the river.
The property was first planted to vinifera in 1884 by Able McFarland. Subsequently, the land was used as a cattle ranch by various owners until it was purchased by Harry See (a member of the See's Candies family). Harry See built the house that still stands along the Napa River. He employed a viticulturist named John Brock who planted the vineyards to Cabernet Sauvignon (possibly Clone 8) in the late 1960s. These Cabernet planting were among the first in what would become Stags Leap District AVA.
Over the next 15 years Brock selected the Cabernet vines with the most favorable traits and replanted them. Over time he developed a clone, commonly referred to as the See Clone, that thrived in this arid region of the Napa Valley.
In the mid-1970s Ron and Diane Miller (Diane was the daughter of Walt Disney) began looking for property in the Napa Valley. The family toured the See property and fell in love with the home. That parcel was not on the market at the time, but the family was able to purchase a property just across the Napa River that was owned by Harry's niece. That 105-acre ranch in the Yountville AVA became known as Miller Ranch and is now planted to Sauvignon Blanc and Sémillon. Subsequently the See Ranch came up for sale and the Millers were successful in their bid to purchase the property in 1978.
Silverado Vineyards was established with the Miller Ranch and the Silverado Vineyard, which was named by Harry See when he owned the property. Until the winemaking facility was built in 1981 the Millers sold their grapes to other wineries.
The Disney-Silverado Heritage Clone
John Brock's work in developing a distinct clone of Cabernet Sauvignon in the Silverado Vineyard was formally recognized by University of California, Davis through their grape program at Foundation Plant Services. In 1999 it was registered as UCD Clone 30, the Disney-Silverado Heritage Clone.
Silverado Vineyards is among the first modern wineries in the Stags Leap District and is the only one that is home to the Disney-Silverado Heritage Clone. Remember the Disney-Silverado Heritage Clone — we will circle back to it when we get to the wine tasting portion of this post. A variety of other Cabernet Sauvignon clones as well as Merlot and Malbec clones comprise the rest of the plantings in the Silverado Vineyard.
Vineyard & Winery Development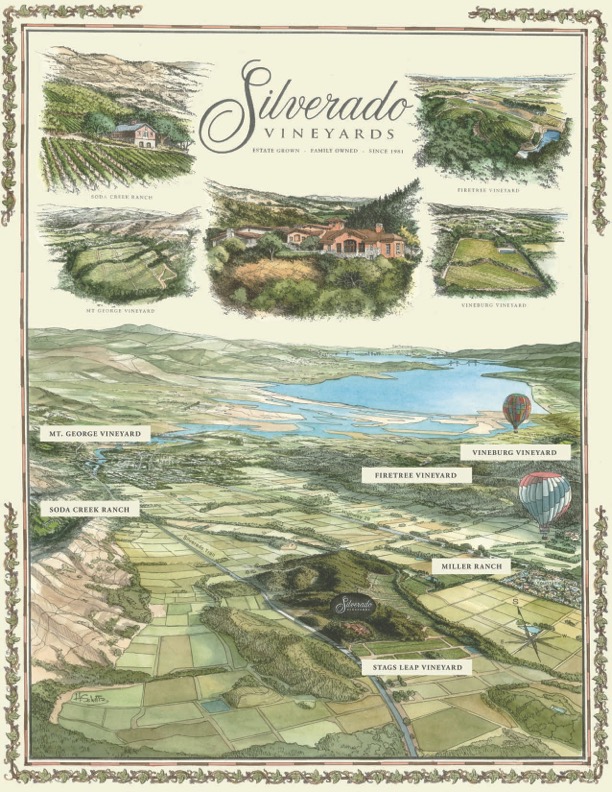 The Millers continued to expand the vineyard holdings of Silverado Vineyards through 2000 beginning with the purchase of the Firetree Vineyard in 1988. The Los Carneros AVA property was first planted in 1883 and is currently planted to a variety of Chardonnay clones.
Mt. George Vineyard is yet another historic vineyard in the Coombsville AVA, also purchased by the Millers in 1988, that was originally planted to winegrapes in 1868. Current plantings include Cabernet, Merlot, Petit Verdot, Cabernet Franc and Malbec.
The Soda Creek Ranch in the Napa Valley AVA is home to Sangiovese, Zinfandel and, most interestingly, one acre of Kerner.
The Vineburg Vineyard was an abandoned apple orchard when the Millers purchased the Los Carneros AVA property in 2000. It is now home to a variety of Chardonnay clones.
With vineyards in six sites in the Napa Valley comes a variety of microclimates, soil types and grape varieties planted in optimal sites. Also, complete control of the winemaking process beginning with what happens in the vineyard.
The Millers have invested in the winery over the years as well as the vineyards. What began as a small winery in 1981 has been expanded twice over the years. Wine production is state-of-the-art and there is no shortage of stainless steel tanks and French oak barrels. The bottling line is capable of output that exceeds current demand. In short — a winemaker's dream.
The Wine
2016 Silverado Vineyards Miller Ranch Sauvignon Blanc, Yountville, Napa Valley — pale yellow in the glass with generous guava and tropical fruit aromas aromas. Complex flavors of melon, tropical fruit with backnotes of dried grass have a bit of roundness in the mouth. Acidity is bright and the finish is long and flavorful. 13.3% abv. SRP $25
This Sauvignon Blanc always contains a bit of Sémillon, 5% was included in the 2016 vintage. The Sémillon is barrel fermented with time on the lees and bâtonnage. The result is a Sauvignon Blanc with considerable fruit flavor and mouth feel.
2015 Silverado Vineyards Estate Chardonnay, Carneros — medium yellow in the glass with predominantly grapefruit and tropical fruit aromas. Subtle toasty notes add complexity. Citrus, white flower and melon flavors combine with citrusy acidity. The wine is a bit round in the mouth, but still very juicy. Lovely texture. 14.3% abv. Sold Out
Chardonnay sourced from both Vineburg and Firetree Vineyards in Carneros are blended for this bottling. Vineburg contributes racy acidity and Firetree richer flavors. The wine was barrel fermented (80% in French oak and 20% stainless steel with lees aging and stirring in both). 72% completed malolactic fermentation.
This is one complex Chardonnay. I'm not always a fan of Chardonnay that is barrel fermented and goes through malolactic fermentation, but this Chardonnay has lots of fruit flavor and a rich mouth feel without being fat. It's just plain delicious.
2013 Silverado Vineyards Mt. George Merlot, Coombsville, Napa Valley — dark ruby in the glass with aromas of dried herbs and dark fruit. The flavor profile is complex with dark and red fruit, cedar spice, dried earth and hints of dried herbs. Tannins are substantial but well integrated. 14.6% abv. SRP $40
Merlot can sometimes be a red wine without much character or personality. Not so with this lovely, complex Merlot. 5% Cabernet Sauvignon is blended with the Merlot and both are sourced from the historic Mt. George Vineyard in the Coombsville AVA. The cooler-climate Mt. George Vineyard allows for phenolic ripeness to develop along with sugar ripeness, and results in a smaller fruit-set and smaller berry size. Oak aging: 17 months in French oak, 46% new.
2013 Silverado Vineyards Estate Cabernet Sauvignon, Napa Valley — dense ruby in the glass with ripe blueberry and dark fruit aromas. Dark fruit flavors, cocoa, damp earth and grippy tannins combine to produce a fruit-driven Cabernet that is medium bodied. 14.5% abv. $50
This Cabernet is a blend of 88% Cabernet, 9% Merlot and 3% Petit Verdot from the Stags Leap Vineyard, Mt. George and Oakville Station — a University of California, Davis research station. Aging took place in French and American oak for 18 months.
2013 Silverado Vineyards GEO Cabernet Sauvignon, Mt. George Vineyard, Coombsville, Napa Valley— dense ruby in the glass with generous dark fruit and cedar spice aromas. Predominantly dark fruit flavors combine with cedar spice, dusty earth and leather. Tannins are grippy and last through the long finish with lingering fruit. This wine is flavorful, but still light on its feet. $75
A blend of 88% Cabernet and 12% Petit Verdot from the Mt. George Vineyard is aged for 17 months in new and used French and American oak. Lovely wine, lots of texture, lots of flavor, very long finish without being heavy.
GEO is short for George (Mt. George, get it?) and Greek for Earth, paying homage to this special single-vineyard Cabernet and the unique vineyard site.
2013 Silverado Vineyards SOLO Cabernet Sauvignon, Silverado Vineyard, Stags Leap District, Napa Valley — dense ruby in the glass with generous aromas of dark fruit, cedar spice and dried herbs. Dark fruit, earth, savory herbs and backnotes of cedar are supported by significant, grippy tannins. The finish is very long with flavor and tannins. A lovely and savory Cabernet. $125
I kept coming back to this wine as I tasted through the red wines in this tasting. The savory and cedar underpinnings of this wine completely drew me in.
SOLO is 100% Cabernet Sauvignon from the Silverado Vineyard planted to the Disney-Silverado Heritage Clone (the clone developed by John Brock beginning in Harry See's vineyard). The Cabernet stands alone in this bottling and successfully so. It was aged in French and Hungarian oak.
All of these red wines are delicious now; they're generous and bold but still very young. With time in the bottle they should become even more complex.
Silverado Vineyards has had only two winemakers in its history. Founding winemaker Jack Stuart started with the Millers in 1980. In 1990 Johnathan Emmerich joined the winemaking team as an enologist and then assistant winemaker. In 1998 John was named winemaker ahead of Jack's retirement in 2004 assuring continuity of winemaking.
Over lunch our conversation turned to, among other things, the ageability of Silverado Vineyards' wines. As luck would have it, a bottle of 1996 Silverado Vineyards Napa Valley Cabernet Sauvignon was open from a Library Tasting. The wine was ruby garnet in the glass with generous aromas of leather and earth and evolved fruit flavors. Tannins had smoothed and this Cab was full of life and flavor. It reminded me of an aged Bordeaux – my gold standard for Cabernet Sauvignon-based wine.
Hospitality
A number of tour and tasting options are available at Silverado Vineyards. The tasting room has sweeping views of the Napa Valley with both indoor and outdoor seating. It is a perfect location for a relaxing, unhurried tasting.  A vineyard tour and tasting, as well as a cheese and wine pairing, are also available. If you have an appreciation for the elegance that comes from aging fine wine, their Library Tasting might be the thing for you. With just a little planning you can have the tasting experience that best suits you.
We visited Silverado Vineyards in the morning on a weekday. The Silverado Trail was uncrowded and although several groups were tasting wine as we passed through the tasting room it wasn't hectic. We highly recommend visiting Silverado Vineyards and doing so during the week, if you can. The wines of Silverado Vineyards deserve your time and undivided attention.
Cheers!