The theme for our July Wine Pairing Weekend is Summer Supper & Wine. Our pairing for the get-together is super simple, on the light side and doesn't require the use of the oven. Quick, easy, doesn't heat up the house are all good things in the warmth of summer. This meal comes with the added bonus of leftovers.
We started this month's pairing with the food, which evolved from another recipe I prepared for friends recently. It was delicious, but not quick and easy to prepare. To me Summer Supper must be both. You are likely to see it for an upcoming Wine Pairing Weekend, so I won't give away that recipe now.
Our wine choice this month is a result of my monthly Lodi wine calendar series on Twitter and Instagram. Each month I find a wine made in the Lodi AVA and take a photo of it with that month's Lodi Calendar. You can find my 2017 choices by searching for #LodiCalendarWine on Twitter and Instagram.
The Food
Gyro. Easy to eat, not so easy to pronounce. It is a word with several meanings and it is the meaning that determines how the word is pronounced. According to Merriam-Webster gyro refers to a gyrocompass or gyroscope. Gyro in this context is pronounced /JEYE-roh/.
Gyro also means a sandwich especially of lamb and beef, tomato, onion, and yougert sauce on pita bread. This meaning of gyro is pronounced /YEE-roh/ or /ZHIHR-oh/.
Now on to our recipe for lamb gyros (pleural of gyro). The recipe for yogurt dressing follows.
Our version of the sandwich is prepared with ground lamb that I pressed around skewers and seasoned before grilling. Once grilled, we slip the meat off the skewers, break it into smaller portions and add it to a mixture of chopped romaine lettuce, cucumbers and tomatoes placed on a warm piece of pita bread. A few dollops of yogurt dressing finishes the presentation.
Lamb Gyros
1 lb. ground lamb divided into 4 portions. Press the ground lamb around each of 4 metal skewers. Season with salt, pepper and marjoram.
1 head romaine lettuce, chopped
3/4 cup chopped English cucumber
12 grape or cherry tomatoes cut in half
1/2 cup yogurt dressing. Recipe follows.
Directions
Grill lamb skewers about 4 minutes on each side or until cooked sufficiently. Allow skewers to rest for five minutes before removing the ground lamb from the skewers.
Warm 4 pieces of pita flat bread according to instructions on package. I microwave them in paper towels for about 30 – 45 seconds.
Place shredded lettuce, cucumber, tomatoes and grilled lamb on a warm pita bread.
Top with yogurt dressing.
Fold like a taco and enjoy!
Serves 4
Yogurt Dressing
1/2 cup Greek yogurt
5 mint leaves finely chopped
1/8 teaspoon dried dill
zest of 1/2 lemon
juice of 1 lemon
Directions
Add Greek yogurt to a mixing cup and add all remaining ingredients. Mix well.
Allow to chill in refrigerator for 30 minutes before using.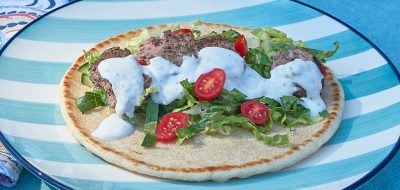 The quality of the pita bread is essential to the enjoyment of this dish. I purchase Grecian Delight Greek Pita Bread from a local Greek restaurant. Each package contains 10 flat breads which I warm it in the oven or microwave according to package directions. It has the best flavor and texture of any I have tasted. This pita bread makes a great accompaniment to hummus as well.
The Wine
June nearly slipped away before I remembered my June Lodi wine and calendar photo. Generally during the month I visit a Lodi winery, or the Lodi Wine & Visitor Center, to choose my wine for the month. This month I had to go to plan C. Our local market came to the rescue. We are fortunate to have an excellent, independently-owned market within walking distance of our home. It's where we do most of our shopping.
A quick study of the wines on offer revealed a wine I remembered from visiting the winery a couple of years ago. Perfect. A winery I know makes excellent wine and a vintage I have not yet tasted. Thank you Marina Marketplace!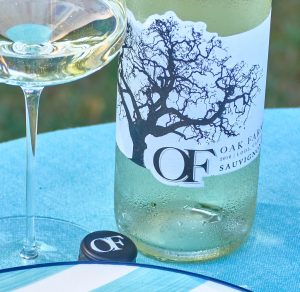 2016 Oak Farm Vineyard Sauvignon Blanc — pale yellow in the glass with generous tropical fruit aromas and hints of white flowers. Flavors are citrusy along with melon, floral and mineral backnotes. Only hints of fresh herbs are present in the background and the wine has lively acidity. 13% abv. Less than $15 at my local market.
Oak Farm Vineyards is a family-owned winery located on a historic property northwest of Lodi. The Panella family has done nice job of preserving the historic buildings on the property while adding a new production and hospitality facility. We toured the new facility in 2014 when it was completed.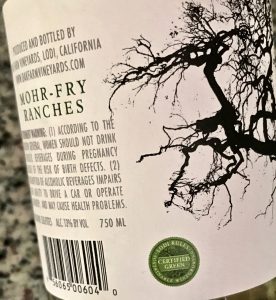 The Sauvignon Blanc for this bottling is sourced from the Mohr-Fry Ranches in Lodi. The Fry family, another local Lodi family, farm their vineyards according to Lodi RulesTM for Sustainable Winegrowning and were actively involved in the evolution of Lodi RulesTM. Lodi RulesTM is a third-party certified program defined by over 100 sustainability practices called Standards. The Standards are organized into six chapters covering environmental, social and economic issues. The sustainability program extends beyond the Lodi region. Look for the green Lodi RulesTM certification seal on wine made using certified grapes.
This Sauvignon Blanc is perfect for summer sipping and summer suppers. It has bright acidity, lots of flavor and just a hint of herbaceous flavor that lets you know it's Sauvignon Blanc. In addition to being delicious this wine is produced by a family-owned winery from grapes grown by a longtime Lodi farming family and the grapes are farmed sustainably. The price is right and I was able to purchase it at our neighborhood market. Yes, I'd say Super Sauvignon Blanc definitely applies to this lovely wine from Oak Farm Vineyards.
The Pairing
This pairing is the perfect Summer Supper. It is fast and easy to prepare, doesn't heat up the kitchen and it's delicious. The Oak Farm Vineyards Sauvignon Blanc was the perfect wine with this meal. The bright acidity was a perfect counterpoint to the richness of the lamb and yogurt dressing.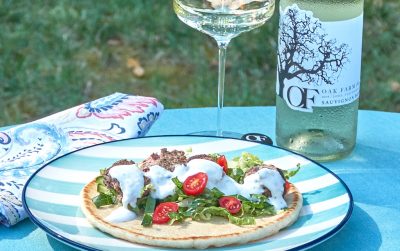 Gyros could just as easily be made with chicken, we like that combination too. If you don't like lamb then use ground beef or grilled skirt steak. The yogurt dressing recipe can be varied to suit your taste as well. I sometimes make it with just dill or add dill and grated cucumber. It's really refreshing however you make it.
The rest of the Wine Pairing Weekend bloggers have come up with some interesting Summer Supper & Wine pairings as well. Please read about their pairings.
On Saturday morning, July 8 at 8 am Pacific Time we will gather together on Twitter to chat about our food and wine pairings. You can join the chat by following #winePW on Twitter. We'd love to have you join the conversation.
Cheers!