Springtime brings a welcome renewal in our garden after the dormancy of a cold, wet winter. The lawn and shrubbery are an intense green this time of year with azaleas adding pink, red and coral accents. At about this same time of year our supply of rosé dwindles to one or two bottles. We begin searching the shelves of local wine shops for the new vintage. The first releases begin to appear about now and, if our timing is right, our rosé enjoyment is seamless from one vintage to the next. We look forward to finding old favorites, but are always happy to try a new rosé. Just as our garden is renewed with springtime, so too is our wine enjoyment — with the bright, fruit flavors of a new vintage of rosé.
The theme for this month's Wine Pairing Weekend was chosen by Wendy, who blogs at A Day in the Life on the Farm. My Old Standby, she declared as our inspiration. Rosé of course came to mind immediately and my food choice was also easy — pizza. We eat just about much pizza as we drink rosé, since I learned to make my own pizza dough.
The Wine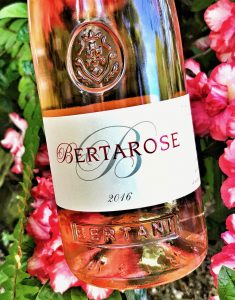 2016 Bertani Bertarose — light coppery, salmon color in the glass with generous white flower and raspberry aromas. Intense citrus flavors and mixed berry flavors of raspberries, strawberries and blackberries finish with clean, crisp acidity and a light body. Refreshing, delicious and flavorful. 12% abv. SRP $14.99 (sample)
A blend of 75% Molinara and 25% Merlot produces the complex flavor profile of this rosé. The grapes are grown in the hills above Lake Garda in the Veneto region of northern Italy, and each variety was vinified separately before being blended and aged in stainless steel for three months.
I especially appreciate the complex aromas and flavors in this bright rosé, and it could easily become a new favorite. It is the most complex of this group of rosés.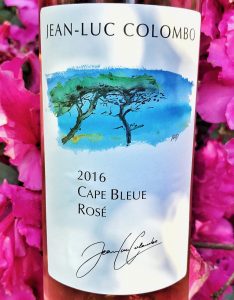 2016 Jean-Luc Colombo Cape Bleue Rosé — light coppery, salmon in the glass with restrained aromas of raspberries and strawberries. Blackberry and raspberry flavors combine with backnotes of dried hay, citrusy acidity and interesting texture — maybe a hint of tannins. 13% abv. SRP $12.50 (sample)
The flavor and texture of this Syrah, Mourvèdre blend will taste familiar to you if you have tasted Provençal rosé in the past. This wine begs for a warm afternoon, a good book and a chair under the shade of a tree. This is a rosé we enjoy every year — literally an old standby.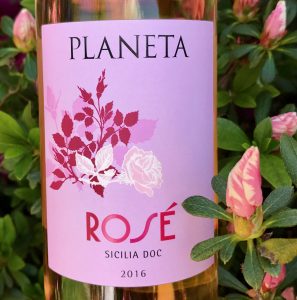 2016 Planeta Rosé — pale salmon in the glass with earthy, mixed berry aromas. Delicate berry and citrus flavors finish with a hint of citrus pith and interesting earthy backnotes. Once again, just a hint of tannins show on the finish. 12% abv. SRP $15.99 (sample)
Nero d'Avola, a variety indigenous to Sicily, and Syrah play nicely in this Sicilia DOC blend. Interestingly, this wine became more complex after being open for a day or two — though it may not last that long in your refrigerator.
In addition to the very reasonable price of rosé I appreciate that in general the alcohol level is relatively low. All of these rosés are dry, which is the style of rosé I prefer. I find them very food friendly and enjoy them with salads, appetizers and spicy food.
The Food
Pizza. Until I learned to make my own crust, we only rarely ate pizza. We almost never ordered pizza from a restaurant and made it only infrequently with pre-made dough purchased at a local market. But, there is nothing like making your own dough because the flavor is so much better. I favor a blend of 50/50 whole wheat and white flour and use Martha Stewart's Quick Basic Pizza Dough recipe. Generally I cut the recipe in half to make one pizza. We usually eat half the pizza for dinner and finish it the next day for lunch. I love to cook once and eat twice!
We keep the topping simple: fresh mozzarella with vegetables and sometimes meat, often dry coppa or proscuitto. I particularly like the flavor of leeks when they are sautéed and they're especially delicious with mushrooms. If the local mushroom vendor is at our farmers market, I buy a selection of whatever is in season. Otherwise, I use cremini mushrooms or whatever I can find at our local market.
Here is what the rest of our Wine Pairing Weekend group of bloggers cooked up the pair with their Old Favorites. The list looks interesting.
We will be chatting about our food and wine pairings Saturday, April 8 at 8 am Pacific Time. To join the conversation, follow #winePW and share your old favorites with us!
Cheers!