Looking at a street map of the city of Camagüey is not at all helpful in navigating this historic Cuban city. The maze-like layout of the city was completely confusing to me, not that I minded being lost in historic Camagüey, it provided a delightful opportunity to interact with local Cubans. Pete and I had only a couple of opportunities to wander out on our own during the three days we spent in Camagüey as part of a 13-day people-to-people exchange in Cuba, but we took advantage of them.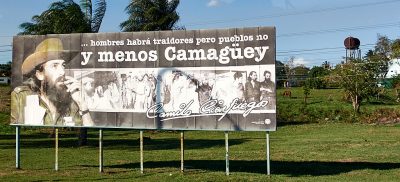 Camagüey sits in the middle of Cuba, and in the middle of a province of the same name, having been moved there from its original location on the north coast of Cuba in 1528. Winding streets and small alleyways run at odd angles everywhere creating complicated intersections. This design may have been the result of poor planning, or it may have been a plan to defend against pirates entering the city to pillage it back in the day.
The Historic Heart of Camagüey
We stayed in the historic heart of the city, at the Hotel Encanto Santa Maria. The hotel overlooks a small plaza, a Catholic Church (Iglesia De Nuestra Señora De La Soledad) and other historic hotels. From this location we were able to walk to many art galleries and picturesque squares.
When not walking, hiring a bicitaxi is a convenient way to negotiate the narrow streets of Camagüey. There are fancy bicitaxis, aimed at tourists, as well as everyday bicitaxis used by locals. At the end of our tour by bicitaxi, we had an opportunity to talk to the drivers about their work, how they are paid and the benefits of self-employment, which is expanding in Cuba.
Many in Camagüey ride bicycles, or large three-wheeled bicycles. Bicycles are used to transport all kinds of things. We saw many more bicycles, scooters and bicitaxis than we did cars in the narrow streets of Camagüey. Many people just walk.
Public squares are common, and often filled with statues and outdoor artwork. Plaza de los Trabajadores was just two blocks away from our hotel. Facing the square is Iglesia de Nuestra Señora de la Merced, built in 1748, with its ornate interior. Just across the street a large mural of Che Guevara looks out across the square. The square is also a local Wi-Fi hotspot, which explains why we often saw lots of people using their phones in the square.
Just a short bicitaxi ride away is Plaza del Carmen with Iglesia de Nuestra Señora del Carmen at one end of the square that includes life-size sculptures of locals going about their day.
Because water was scarce in Camagüey, residents took to making large clay pots, called tinajón (tinajónes pleural), to collect rainwater. They come in all sizes, some stand upright others on their side, and we saw them in the city as well as the countryside around Camagüey.
Parque Ignacio Agramonte is a beautiful park that honors Ignacio Agramonte, a local figure important to the fight for independence from Spain. There are many restaurants in the area and a local chess club. Just next to the park is Catedral de Nuestra Señora de la Candelaria, the largest church in the city. We were in Camagüey just before Easter and were fortunate to witness a procession from the Cathedral to the Catholic church just across the street from our hotel. There are 24 churches in Camagüey and the streets were filled with people on that evening.
Both dance and the visual arts are well represented in Camagüey. We visited a local children's dance group and the Contemporary Ballet of Camagüey where we watched rehearsals and performances. Aside from the artistic beauty of the performances we had the opportunity to speak with the dancers. They answered our questions and asked a few of their own. It was a very personal interaction.
Teatro Principal was built in 1850 and is home to the Camagüey Ballet Company. Ballet is important in Cuba and the Camagüey Ballet Company is second only to the Cuban National Ballet in Havana. The theatre is beautiful, if not in the best condition, and we managed to watch a rehearsal for just a few minutes.
Art studios are numerous and we visited several. Once again, we met the artists and in some cases were able to watch them work.
The Countryside Around Camagüey
Just outside the city we visited an artistic family of potters. Father and son, both named Bernardo Casanova, showed us how they work the clay in preparation for shaping it into all types of vessels. Both made several pieces as we watched them. Bernardo's wife began painting when she was in her 60s and we saw several beautiful, colorful pictures she painted. Their home is colorful as well and the courtyard is filled with plants and pottery of all sizes, including a large tinajón.
Another highlight of our time spent in the countryside was a visit to a ranch. Finca Zaragozano is a working ranch where we met three generations of the family working there. We were greeted with a mojito, great way to start, and then watched the cows being milked and a horse being shod.
We were treated to an amazing Cuban lunch, prepared in the open-air kitchen, that included a whole pig roasted for hours over an open fire. Our meal included pork, chicken soup, black beans and rice, plantains, yucca, salad, fruit and bread. I washed all of it down with a Bucanero. We enjoyed a Cuban flan for dessert.
We returned to our hotel to find a band playing in the courtyard, which called for another mojito. The bartender made an art form of preparing the mojito. She started with lime juice and sugar in a tall glass, then added the mint using a pair of tongs. After muddling the lime juice, sugar and mint she added ice cubes, one at a time, using the tongs. Next, rum and sparkling water. To finish, she added a straw and a stir stick, both using the tongs. It was a pleasure to watch.
And so it went with our visit to Camagüey. I have the fondest memories of this colorful and artistic city of over 320,000 people. Next stop, Remedios.
If you would like to see more photos of our trip to Camagüey check out our SmugMug album.
Cheers!