Parducci Wine Cellars was founded in 1921, making it the oldest winery in Mendocino County still making wine. That milestone is being celebrated with the release of 85, which also honors John Parducci who was known as Mr. Mendocino. Parducci was a lover of Petit Sirah so, as part of the celebration, a vertical of Parducci True Grit Petite Sirah has also been released. We are fortunate to have received these wines as tasting samples and are happy to share our tasting notes with you.
John Parducci lived his long life making wine in Mendocino County. First, with his father, Adolph, and then on his own with his brother. He was a champion of the wine region and the first to label his wines Mendocino County. He was also among the first to varietally label his wines. Parducci is now part of the Mendocino Wine Co. family of wines.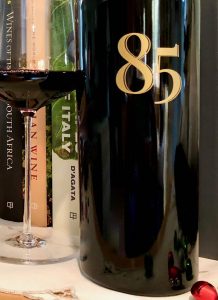 Parducci 85 — dense ruby in the glass with bright red fruit aromas of ripe raspberries, blackberries and damp earth. Blackberry and ripe plum flavors, hints of vanilla, wood spice and green tea blend together for a bright and complex flavor profile. Tannins are a bit grippy, but well integrated with the flavors. Acidity is in balance and provides a juicy finish. 14.5% abv. $45. 241 cases produced.
This 2015 vintage red blend is easy to like and easy to drink. It is a blend of 69% Cabernet Sauvignon, 18% Merlot, 8% Petit Verdot, 5% Cabernet Franc aged in 30% new American Oak and 70% used oak. This wine not only celebrates 85 years of winemaking by Parducci Wine Cellars, it celebrates 20 years of winemaking by Bob Swain at Parducci.
Parducci True Grit Petite Sirah Vertical
Petite Sirah is probably a grape variety most of us drink as part of a blend, rather than as a varietal wine. It is often used in blended wines to lend color and tannin structure. Inky, tannic varietal Petite Sirah can be difficult to enjoy upon release, at least for me, because they are such big, tannic wines. I've not had the opportunity to taste Petit Sirah with some age in the bottle, so I really looked forward to this vertical tasting of Parducci True Grit Petite Sirah.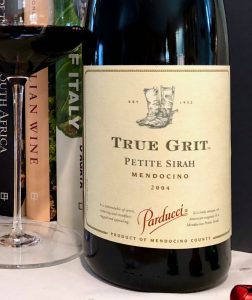 2004 Parducci True Grit Petite Sirah — dark ruby with garnet at the rim. Complex aromas of dark fruit, dusty earth, leather, dried herbs and hints of cedar develop with time in the glass. Rich, dark, dried blueberry flavors along with significant, cedar spice flavor, leather, tobacco and dusty earth flavors combine for an incredible flavor profile. Tannins are still firm, but not overwhelming. Acidity remains bright and the finish juicy and long. 14.5% abv. $50. Bottled February 2007. A total of 1,380 cases produced, 21 cases remain.
Give this delightful wine some time to open up. It becomes so expressive aromatically with time in the glass. Initially, this wine was a bit closed, so I made a few tasting notes and set it aside. When I came back to it about an hour later, it had come into its own. This wine gives me many of the flavors I love in an aged red wine and, yet, is still full of life. 2% Viognier is blended with the Petite Sirah. Oak aging was a combination of French and American, only 23% new oak.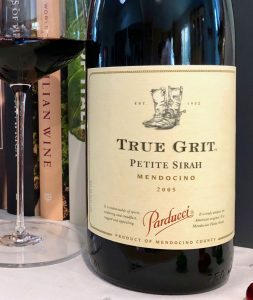 2005 Parducci True Grit Petite Sirah — dense ruby in the glass with only a hint of garnet color. Concentrated blackberry and blueberry aromas predominate with dusty earthiness in the background. Bright red and dark fruit flavors, leafy tobacco and hints of cedar spice and cocoa mingle with juicy acidity and tannins that are still a bit grippy. The finish is long lasting and warming. 14.5% abv. $50. Bottled January 2008. A total of 1,575 cases produced, 28 remain.
One year less in the bottle and a slightly different blend, 8% Grenache along with the Petite Sirah, make for a very different wine. The flavors are brighter, younger and the wine more tannic. A lovely wine, but the difference between these two wines is significant. Those not so in love with the flavors that come with time in the bottle will favor this wine over the 2004.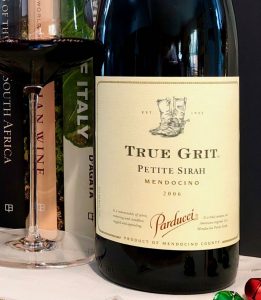 Parducci 2006 True Grit Petite Sirah — dense ruby in the glass with raspberry, cherry and ripe blackberry aromas. A hint of smoke appears in the background. Blackberry flavors predominate with hints of tobacco and leather. There are hints of crushed flower stems and cedar as the flavors taper off. Acidity is bright and juicy. Tannins are firm and linger on the finish along with the fruit flavors. 14.5% abv. $50. Bottled December 2008. A total of 2,036 cases produced, 37 cases remain.
This wine is extremely complex, with firm tannins and lots of life left ahead of it. It is really delicious and flavorful, but not too ripe or rich.
Even with up to 10 years in the bottle these wines are still food wines, meaning they have plenty of flavor and tannins. I would pair the 2004 with roast beef or prime rib and Yorkshire pudding. The 2005 and 2006 would be delicious with grilled lamb or beef.
On the day of publication, all of these wines were available on the Parducci website (along with a deal on shipping). This vertical is an informative way to enjoy the flavors that come with aging well-made Petite Sirah. I have to say, I very much appreciate Petite Sirah with some bottle age; it might even be my preference. More research is needed.
Congratulations to Parducci on 85 years of winemaking and thank you for sharing these interesting wines with us.
Cheers!