Wine from South Africa is the theme for our August Wine Pairing Weekend group of food and wine bloggers. The challenge was posed by Sarah of Curious Cuisiniere. Sarah and Tim Ozimek recently returned from a trip to South Africa which was the inspiration for their choice of themes.
We reached into our wine cellar to make a choice for this month's challenge and found a familiar friend. A delightful rosé we look for every year and one we first discovered during a trip of our own to South Africa.
For the food pairing we chose to prepare a sandwich. Stay with me. It's summer and the weather has been warm, making me a rather lazy cook at times. This was one of those times. We prepared a BLT (bacon, lettuce and tomato sandwich) from a recipe we found in Food & Wine magazine, but in our own defense it was not a standard BLT. I hope that counts for something.
The Wine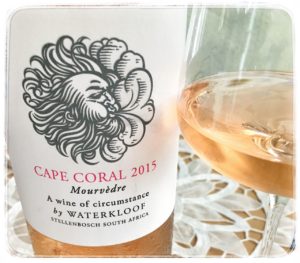 2015 Waterkloof Circumstance Cape Coral Mourvèdre — delicate salmon color in the glass with light berry aromas. Flavors follow the aromas with blackberries along with dry earth and delicate savory notes. Dusty minerality and citrusy acidity combine for a bright, lively and juicy finish. 12.5% abv.
Mourvédre is hand harvested and gently pressed using a basket press without destemming. After settling, the wine is racked into neutral oak fermenters for an unhurried fermentation using indigenous yeast. The wine is allowed to remain on the lees to add complexity.
In addition to the thought and care that is taken in the winery, the Waterkloof story is framed by its spectacular location and the biodynamic farming practices they follow in the vineyard.
The 100-hectare wine farm is located on the slopes of Schapenberg, sheep mountain in Afrikaans. The vineyards cover south-facing slopes above Somerset West about 45 kilometers east of Cape Town. The view of False Bay below is spectacular.
Only about 50 hectares of the property is planted to vineyards and much of the rest is covered by native vegetation called fynbos. The fynbos was filled with bird life when we visited in July 2014. The vineyards are farmed according to biodynamic principles and are certified by Demeter. Biodynamic farming is based on organic principles, but involves additional preparations to build soil health through microbe diversity. It's a lot of work and very hands-on.
Cattle, sheep and chickens are kept on the farm. The sheep help with weed control in the vineyards. Horses are used to do much of the work in the vineyards largely replacing tractors. It is truly a working farm.
The biodynamic farming principles are what first caught my attention and, after learning the details of Waterkloof's commitment to the environment, seriously drew me in. But it was the quality of the wine made by Waterkloof that made me a true believer. In addition to the Cape Coral Rosé Waterkloof makes stellar Syrah, Chenin Blanc and my absolute favorite Cabernet Franc. The wines are pure and balanced.
The Food
This is the first sandwich pairing we've done for Wine Pairing Weekend. An overabundance of tomatoes in our garden this summer and a recipe we saw in Food & Wine magazine for a Garlic Aioli BLT were the inspirations for our choice.
The only standard ingredients in this BLT are bacon and tomatoes, all of the other ingredients are variations. We stopped by our local Boudin bakery and restaurant expecting to purchase a sourdough round, but were distracted by a Boudin Kalamata Olive round. It looked delicious and we thought the salty flavors of the olives would be an interesting addition to our BLT.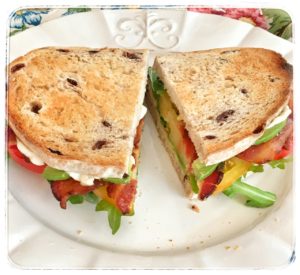 As the recipe suggested, we used arugula in place of lettuce and garlic aioli to replace the mayonnaise. We used red and yellow tomatoes in addition to our favorite Niman Ranch Applewood Smoked Uncured Bacon. We added avocado too, because avocados are so good in the market right now.
Assembly was easy. Toasted, sliced Kalamata Olive bread, garlic aioli, tomatoes, arugula, bacon and sliced avocado more garlic aioli.
The Kalamata Olive bread was a great choice the olives added a welcome savory saltiness. Fresh-from-our-garden tomatoes added tons of flavor, the garlic aioli added, well, loads of garlicky flavor, the bacon was smoky and delicious.
The Pairing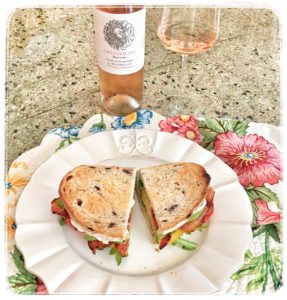 Right on. The Waterkloof Circumstance Cape Coral Mourvèdre had ample flavor and nice acidity to match the richness of the bacon and garlic aioli. Both of us were surprised how delicious the pairing was. Why hadn't we thought of this combination before?
Thanks to Sarah for hosting Wine Pairing Weekend this month and for choosing South African wine as the theme. It provided a welcome opportunity to remember the fun wine times we enjoyed on our trip to South Africa.
Here is a look at the wines and pairings the Wine Pairing Weekend group explored this month!
Our September #winePW theme will be "Grüner Veltliner Pairings," on September 10th, 2016. The event will be hosted by Martin at ENOFYLZ Wine Blog, so keep an eye out for details!
For a list of past and upcoming #winePW event, visit the Wine Pairing Weekend calendar. We'd love to have you online with us!
Because many of us are at the Wine Bloggers Conference in Lodi, California this weekend we will not be meeting Saturday morning for our usual Twitter chat. We will be back next month when we will talk food and Grüner Veltliner.
Cheers!