For the longest time I thought of Champagne as a strictly celebratory libation. What is more festive than a glass of bubbly to celebrate a marriage, a birthday, or a new job? A still wine just doesn't have the same impact.
Over time, though, I have discovered how versatile Champagne really is. Looking beyond the bubbles to the bright acidity (that wine made from cool-climate grapes often possesses) and complex flavors (that come from extended lees aging) you will discover Champagne pairs with a wide variety of food — and not just appetizers. Champagne is just as delicious with a meal as a still wine.
We recently put my belief to the test as we prepared a meal to accompany a bottle of  Champagne Forget-Brimont NV Brut Premier Cru which we received as a tasting sample. The occasion? Summertime. Sunday dinner. Just the two of us. Pick one.
The Wine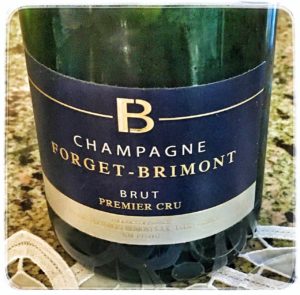 Champagne Forget-Brimont NV Brut Premier Cru — medium yellow in the glass with plentiful, small to medium bubbles. Generous aromas of toasted almonds and yeast are followed by mouth-filling bubbles, complex and long-lasting flavors of toasted bread, yeast and interesting cedar spice. The body is medium and the finish clean and fresh. 12% abv. SRP $45.
Generous aromas in the glass were our first hint that this Champagne might deliver complex flavors. Each glass left me thinking about the combination of flavors I was tasting. It was delightful to sip as I prepared dinner.
Maison Forget-Brimont is a family-owned and operated Champagne house. In 2000 ownership passed from founder Michel Forget (pronounced for–JHEY) to Frédéric Jorez  who continues to operate independently. Michel Forget remains as Director and is involved in wine production. The blend of 40% Pinot Noir, 40% Pinot Meunier and 20% Chardonnay for the Forget-Brimont NV Brut Premier Cru is sourced from the domaine's 18 hectares of vineyards. All are located in Grand Cru or Premier Cru-classified villages.
Of particular interest to me is the use of organic fertilizers and soil conditioners in the vineyards and the absence of insecticide and anti-rot treatments. Herbicide use is minimal.
Only juice obtained from the first press, or cuvée, is used in the production of Champagne at Forget-Brimont; it is the best quality juice. The Brut Premier Cru ages on the lees for at least 30 months and rests a further two months after dosage before shipping. That's a lot of time and work for $45 per bottle.
The Food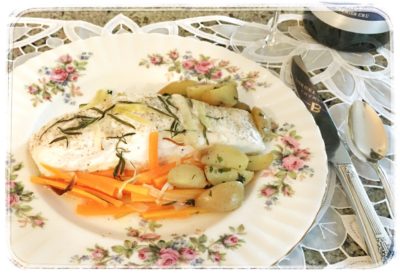 I had halibut on my mind as a pairing for the Forget-Brimont Brut and wanted a preparation method that would lend flavor and moisture to the fish but that wasn't too complicated. Halibut baked in parchment was just what I was looking for. I seasoned the halibut with salt and pepper before adding fresh tarragon. A julienne of organic carrots, leeks and zucchini followed with just a splash of Forget-Brimont Brut Premier Cru and some butter. To accompany the fish and vegetables I steamed baby Yukon Gold potatoes, then sautéed them in butter and parsley allowing the butter to brown a bit.
The halibut was moist and delicately tarragon-infused. The veggies were perfectly done and the sautéed Yukon Gold potatoes added richness and flavor. Pete, who is not as big a fan of halibut as I am, declared this preparation of halibut to be his all-time favorite.
The Pairing
Delicious and elegant, but not too fussy.  The halibut, vegetables and potatoes were all perfectly cooked and seasoned with just enough buttery goodness. The Forget-Brimont NV Brut Premier Cru paired beautifully with the delicate flavors of the halibut and had just the right balance of flavor and acidity. It was the perfect meal for a warm summer evening; not too rich or heavy but very flavorful. The Forget-Brimont Brut Premier Cru kept the entire meal light and at only 12% abv I could enjoy a glass while preparing dinner and still have a glass with dinner. I like that!
We are happy to have had the opportunity to sample the delightful Champagne Forget-Brimont NV Brut Premier Cru. I hope this pairing will inspire you to look for this delicious Champagne. Enjoy it as a toast to any special occasion but be sure to remember Forget-Brimont is the perfect partner for a meal as well; any time of year and no special occasion needed. In fact the Champagne Forget-Brimont NV Brut Premier Cru becomes the special occasion!
Cheers!