Wine makes our life more fun. It says so right at the top of our blog. It's what we believe. But, it's not just wine that makes our lives more fun –it's wine people too.
The Invitation
In early May of this year Pete and I received an unexpected and exciting invitation. It came in the form of a phone call from Bradley Gray, Public and Media Relations Manager for Scotto Cellars. We first met Bradley at last year's Wine Bloggers Conference — and now he had a question for us. Would we participate in a wine blending project with Scotto Cellars' winemakers and two other wine bloggers? I was speechless. As I collected my thoughts Bradley kept talking, thankfully, and filled in some of the details for us.
The Idea
A wine blended by wine bloggers. What a unique idea!
Guiding our blending effort would be well-known winemaker Mitch Cosentino and Paul Scotto, lead winemaker for Scotto Cellars. Whew, we would have a safety net!
Two well-known wine bloggers would be participating in the blending project with us: Cindy Rynning, whose blog is Grape Experiences, and Melanie Ofenloch who blogs at DallasWineChick. Two wine bloggers known for their professionalism and wine knowledge!
We would create the blend in Lodi at a time and place to be determined. The wine would be bottled and labeled in time for the Wine Bloggers Conference happening in Lodi, August 11 – 14, 2016, where it would be released. We would have to move quickly to get this done!
Masthead was to be the name of the label, playing off the fact that we are all writers. The wine bottle label would be designed to look like the front page of a newspaper. Very clever!
So, what did we think? Did we want to participate? Pete and I looked at each other, smiled. Yes, we're in!
Bradley along with his associate Robert Walker, Marketing Manager at Scotto Cellars, hatched the Masthead idea and pitched it to Anthony Scotto III, CEO of Scotto Cellars. Anthony told them to run with it.  Scotto Cellars is well acquainted with the wine blogging community and is familiar with bloggers' ability to reach a wide variety of consumers. And, in addition to creating a delicious Lodi wine (from varieties other than Zinfandel) they wanted to make the Lodi Wine Bloggers Conference a memorable and distinctive event.
Getting Acquainted
On June 6 we all came together in Lodi to begin the Masthead blending project. Day 1 was an opportunity for our group to get to know each other better, learn a bit about Scotto Cellars and tour downtown Lodi. In addition to Pete and I, our group for the day included Cindy, Melanie, Bradley, Robert and Natalie Scotto-Woods, Director of Operations for Scotto Cellars. Bradley took the photo of us below.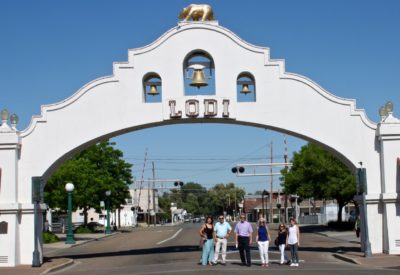 We all met in the afternoon at the Scotto Cellars' tasting room located on School Street in downtown Lodi. The large open space was under construction at the time. Plans include on-tap red and white wines from the Scotto Cellars' stable of wine brands and craft cider from Paul and brother Michael Scotto's Cider Brothers venture. Pallet-wood will face the quartz-topped bar. Large folding glass doors will open the front of the tasting room to the outdoor seating area. The space will be comfortable and inviting; a place to meet friends, linger a while and relax.
We moved on to wine tasting in downtown Lodi. Monday is a quiet day in downtown Lodi and some tasting rooms are closed, but we discovered two tasting rooms that offered a wide range of wines to enjoy and a cheese shop that is to die for.
Jeremy Wine Co. features an mid-1800s wooden bar, indoor seating at the window and an outdoor patio in the back. The wine list is interesting — beginning with Albariño and ending with Zinfandel. Among the offerings is Jeremiah's Jug — a wine growler refillable in the tasting room with a variety of red blends on tap.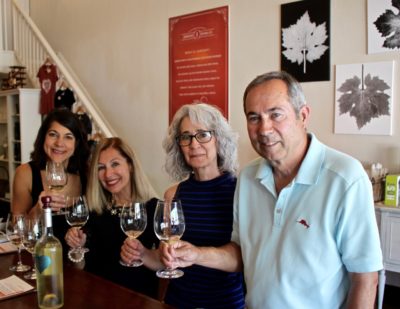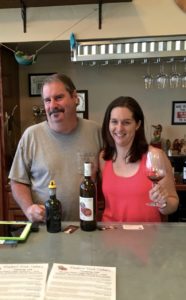 Only a couple of blocks away is Toasted Toad Cellars, a father-daughter operation. Jeff and Laura Werter do everything from making the wine to staffing the tasting room to pouring their wine at tasting events — themselves. Jeff entertained us with stories about their wines on the afternoon we visited as he poured from their extensive list of wines. You can tell by the winery name and motto, Wine that won't make you croak, that they have a sense of humor and don't take themselves too seriously.
No visit to downtown Lodi would be complete without a stop at Cheese Central, Cindy Della Monica's wonderful cheese shop. She stocks a dizzying variety of cheeses and accompaniments. She and her staff will offer you samples, explain where and how each cheese is made and help you discover what kind of cheese you like best (just in case you don't already know!)
We closed the evening with dinner at
Rosewood Bar & Grill
located in the same block as the Scotto Cellars' tasting room. Over dinner we had an opportunity to discuss the Masthead project and tasted a few of the many wines produced by Scotto Cellars. Among the wines we tasted: Scotto Family Cellars Malbec and 50 Harvests Meritage.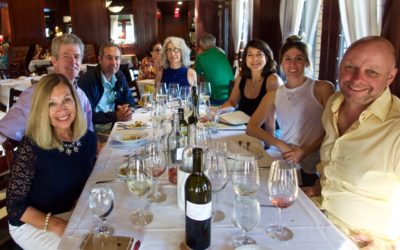 Excitement was building for Day 2 of the Masthead project when we would tour Scotto Cellars' winemaking facilities in Lodi and then the vineyards at Mohr-Fry Ranches — the source of the major blending components we would use in creating our Masthead blend. After lunch we would sit down to begin the blending project. We could hardly wait to get started.
Part 2 of the Masthead Blending Project: The Winery and Vineyard will post here   tomorrow. Join us!
Photo Credits: Some photos were taken by Bradley Gray, some by PullThatCork.
Cheers!