Day 2 of the Masthead blending project promised to be busy. We gathered in front of the Scotto Cellars' tasting room in downtown Lodi early that morning. Our first stop would be Scotto Cellars' winemaking facilities. Then we would visit Mohr-Fry Ranch to see the block of Sangiovese that was the source of the major blending components for the Masthead project. After lunch we would sit down with winemaker Mitch Cosentino to begin the process of blending our wine.
The Winery
"Scotto Cellars is," as Bradley Gray put it to us, "the largest winery you've probably never heard of." He went on to explain that in large part that is because Scotto Cellars bottles wine under so many labels. They also make hard cider under several labels and sangria in cans.
The Scotto family has been making wine for five generations, beginning in 1880s when Salvatore Dominic Scotto made wine for his family in Italy. Family winemaking continued after immigrating to Brooklyn in the early 20th Century and again when the family moved to California in the 1960s.
Anthony Scotto III continued the tradition when he started Scotto Cellars in 2004. He learned the wine business by marketing his grandfather's value brand, Villa Armando. The Brownstone label quickly followed.
As distribution of Scotto wines increased and crossed state lines compliance with various state regulations became essential. Anthony's sister Natalie Scotto-Woods joined Scotto Cellars as Director of Operations in 2006 to accomplish that task.
By 2009 the third Scotto sibling, Paul, was ready to step into the Scotto wine world and founded Sera Fina Cellars in Amador County. Paul was ready to put his formal winemaking education to work and became lead winemaker for Scotto Cellars at that time.
Michael Scotto joined Scotto Cellars in 2012 as Production Manager. He keeps bottling, labeling and shipping organized for the company.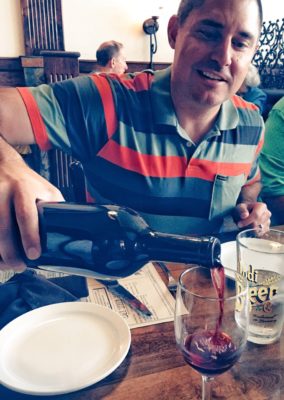 As Scotto Cellars' production volume has increased so has the range of wines they produce. Beginning with jug wines, Scotto Cellars now includes varietal wines from the Lodi region and Central Coast at a variety of price points. At the higher end of the price-spectrum is the family's Steele Canyon Cellars in Napa where Paul works with winemaker Mitch Cosentino.
Anthony recently told us he keeps an open mind with regard to wine and strives to produce wines that appeal to all kinds of wine drinkers. That open-mindedness extends to the variety of ciders the family produces, and to mead as well. Anthony never loses sight of the wine in wine business, neither does he take his eye off the business portion.
Paul took us on a tour of the cider and white wine making facility in Lodi and then next door to the wine storage warehouse.
This was our first cider-production tour and we learned several interesting facts about the process:
only fresh, cold-pressed juice is used in the production of their ciders. Paul places the order for juice, the apples are pressed and the juice arrives a couple of days later from Washington state. This allows cider to be crafted on demand.
5 varieties of apples are used to produce the desired flavor and acidity.
a variety of yeasts are used to ferment the apple juice.
it takes about 9 -14 days to complete fermentation. Cold settling, filtration, blending and canning/bottling follow. The process can be completed in less than 21 days.
pressurized tanks are required to make sparkling cider, though at a lower pressure than sparkling wine.
look for William Tell ciders on the West Coast and Pacific Coast in the Midwest.
sparkling wine production by Scotto Cellars is on the horizon.
Across the street we toured the wine storage facility that includes multiple tanks with a 350,000-gallon storage facility, about 300 oak barrels, glass bottles and bottles waiting to be labelled. Paul estimated the annual Scotto Cellars wine production at about 300,000 cases. Cider production varies by month and is more difficult to estimate.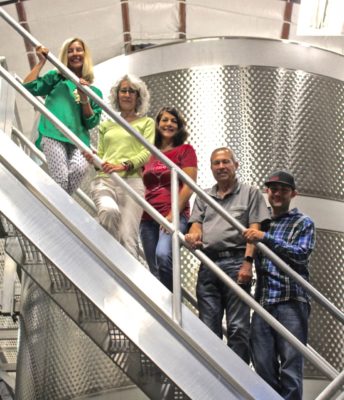 Every winery tour is different, and this one ranks right at the top of the list. We welcomed the unexpected opportunity to learn first-hand how craft cider is made.
The Vineyard
When we learned that one of the blending components for the Masthead project came from the Mohr-Fry Ranch we were thrilled. The Mohr-Fry Ranch name is well-known in the Lodi appellation and beyond as producers of quality winegrapes. One indicator of that quality is that, even though the Fry family does not make wine of their own, the Mohr-Fry Ranch name appears on many wines made by others.
Jerry Fry and his son Bruce farm about 600 acres of winegrapes in the Lodi appellation. Farming is in their blood. The Mohr and Fry families have been farming in California since the 1850s.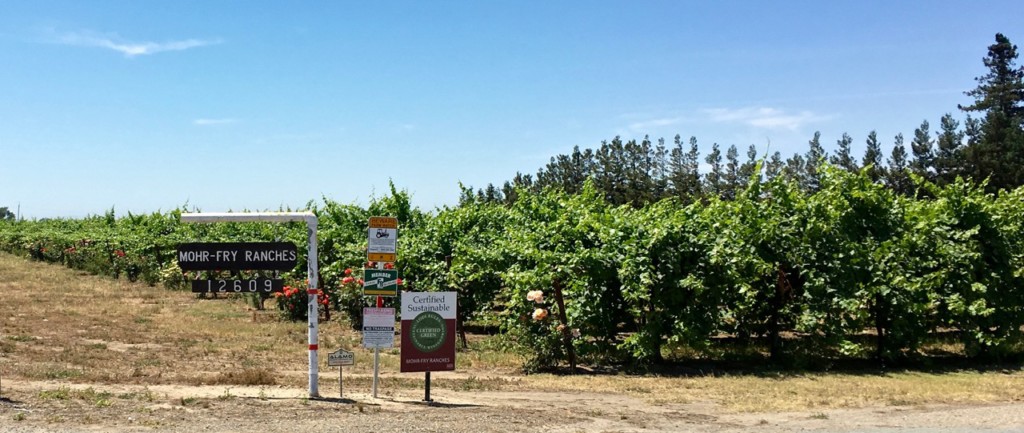 All of the winegrapes are farmed according to Lodi Rules™ for Sustainable Winegrowing. The third-party certified program was the first of its kind established in California and implements viticultural practices that aim to balance environmental, social and economic objectives. Both Jerry and Bruce worked on the committee to establish Lodi Rules™ and they were among the first six growers to earn certification.
The Mohr-Fry Ranch Sangiovese vineyard is located in the Mokelumne River sub-AVA of the Lodi appellation on Lodi's West Side where Sandy Loam is the predominant soil type. The 6-acre vineyard was planted in 1999 and 2002. Jerry obtained the vines from another grower in Lodi because he was impressed with the quality of the fruit the vines produced. The Sangiovese is planted on Freedom rootstock, which Jerry told me, is good for sandy soils and is nematode resistant.
The Sangiovese is trained on quadrilateral trellising with spur pruning; a trellising system favored by the Frys and one that works particularly well with their Sangiovese. This block is described by Jerry as a good producer that yields fruit with good color and complex flavors.
Mitch Cosentino has been purchasing grapes from the Frys since 1998, when he was first able to purchase a small amount of Cabernet Sauvignon that was missed during harvest. When the Scotto family was looking for a source of quality Sangiovese Mitch had this vineyard in mind.
So, unknown to everyone now involved in the Masthead project, that decision to purchase Mohr-Fry Ranch Block 433 Sangiovese from the 2014 vintage set the stage for the decision two years later to use it as a blending component in the project. Pretty amazing, I'd say!
Part 3 of The Masthead Project: Blending Wine from a Wine Blogger's Point of View will post tomorrow when we will share our wine blending experience with you. Please join us!
Photo Credits: Some photos were taken by Bradley Gray, some by PullThatCork.
Cheers!