Are you familiar with Beaujolais, the French wine region dedicated to the Gamay grape variety? If you enjoy fruit-forward wines with relatively low alcohol levels, juicy acidity and silky tannins then you really should become acquainted.
We recently participated in a tasting of Beaujolais that demonstrates the range of wine production in the region by a single producer. We received four wines as tasting samples and participated in an online discussion hosted by Charles Communications Associates that provided the opportunity to talk with Franck Duboeuf, second-generation proprietor of Les Vins Georges Duboeuf, and Steve Kreps of Quintessential Wines the exclusive U.S. importer of Les Vins Georges Duboeuf.
Beaujolais. Just the Facts Ma'am.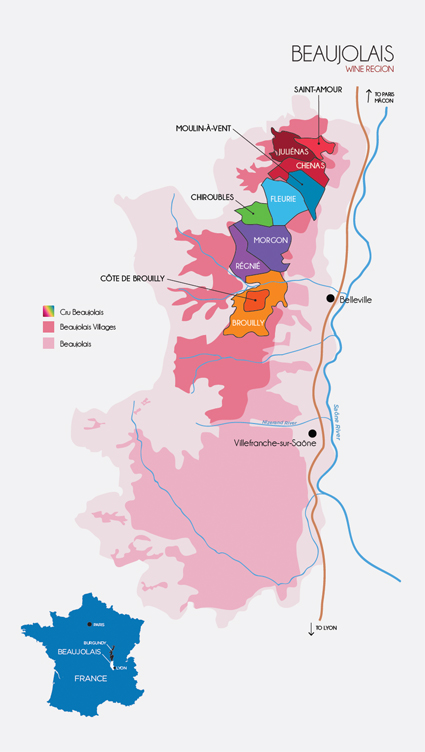 Beaujolais lies in eastern France and is sandwiched between the wine regions of Burgundy to the north and the Rhône to the south. Beaujolais is about 34 miles long and about 8 miles wide.
The climate is continental which means it is very cold in winter, but warm enough in summer to fully-ripen wine grapes thanks to the moderating influence of the Mediterranean that reaches up the Rhône Valley.
Soils in the northern portion of Beaujolais are mostly granite and decomposed rock and produce the highest quality wines in the region. In the southern portion of the region soils contain more clay and limestone.
The region is planted almost exclusively to Gamay Noir and is the only variety allowed to produce red Beaujolais. A small amount of Beaujolais Blanc is made using Chardonnay grapes. All harvesting must be done by hand.
The fruit-forward style typical of Beaujolais wines comes in part from the traditional use of carbonic maceration in winemaking which, in addition to fruity flavors, produces wine with less tannins.
There are 12 appellations (AOCs – Appellation d'Origine Contrôlée) in the Beaujolais region:

Beaujolais AOC – includes villages mostly, but not exclusively, in the southern portion of the region. Much of Beaujolais AOC wines are produced as Beaujolais Nouveau for early release in November. More on that below.
Beaujolais-Villages AOC — 38 villages have the right to use the name Beaujolais-Villages on the bottle and 30 of those may also add the name of the village. The complexity of Beaujolais-Villages AOC wines is a step above Beaujolais AOC and the villages are mostly located in the northern portion of the region.
Cru Beaujolais — these are the top-tier wines produced in the region from one of 10 Cru villages all of which are located in the northern portion of the region. You will see the name of the village on the wine. The 10 Cru villages are: Saint-Amour, Juliénas, Chenas, Moulin-à-Vent, Fleurie, Chiroubles, Morgon, Réginié, Brouilly and Côte de Brouilly.
Learn About Beaujolais by Tasting Beaujolais
The four sample wines in this Beaujolais tasting provide an excellent way to understand the AOC classifications and winemaking techniques used in Beaujolais.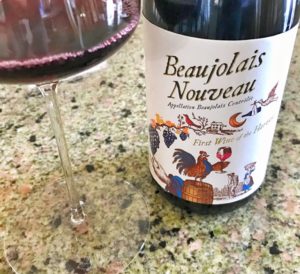 2016 Georges Duboeuf Beaujolais Nouveau — translucent ruby-violet in the glass with generous grape aromas and hints of ripe banana. Tart red berry flavors combine with ripe strawberries, adequate acidity and smooth tannins. The wine has a light body and relatively short finish. 12% abv. SRP $11.99
Light and fruity describes this wine perfectly and that's what Beaujolais Nouveau is all about. It is produced using carbonic maceration with a short fermentation allowing it to be bottled and released in the same vintage year as it is harvested. Traditionally Beaujolais Nouveau is released on the third Thursday in November (Beaujolais Nouveau Day) and is intended to be consumed upon release.
Don't over-think Beaujolais Nouveau, sip it and enjoy it with a light lunch. Consider chilling it slightly. I admit Beaujolais Nouveau is not my favorite style of Beaujolais, but this year thanks to this celebration of Beaujolais Nouveau Day I challenged myself to try this wine again; that's when I discovered how I enjoy this wine…with lunch. Its light, fruity flavor and low alcohol paired beautifully with a roasted pork sandwich I enjoyed at a local wine bar and restaurant. If you are looking for a companion wine for dinner look to Beaujolais-Villages AOC or a Cru Beaujolais.
Learn from the label: Appellation Beaujolais Contrôlée = Beaujolais AOC.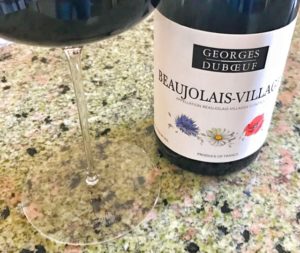 2015 Georges Duboeuf Beaujolais-Villages — dense ruby-violet in the glass with blackberry and raspberry aromas and hints of damp earth. Berry flavors follow the aromas with the addition of an earthy component. The wine is relatively light bodied with tannins that are smooth and drying. 13.5% abv. SRP $12.99
The flavors are a bit more complex as we move from the Beaujolais Nouveau style to a Beaujolais-Villages wine. Flavors show more depth, complexity and maturity.
Gamay grapes were hand harvested, destemmed and the grapes were fermented using indigenous yeast.
Learn from the label: Appellation Beaujolais-Villages Contrôlée = Beaujolais-Villages AOC.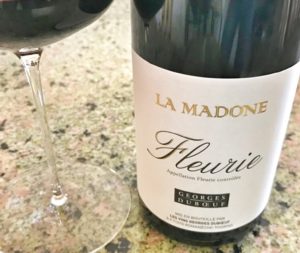 2015 Georges Duboeuf La Madone Fleurie — dense ruby-violet in the glass with delicate, berry and perfumed aromas. Blackberry flavors mainly with hints of ripe raspberry. A suggestion of dusty earth and mineral flavors tease in the background. The body is relatively light and tannins are drying. Very complex and interesting. 13% abv. SRP $19.99
Now we're talking. This is a wine with depth, interest and structure. And it's light bodied. I love that combination.
This wine is made using semi-carbonic maceration and undergoes malolactic fermentation in stainless steel. Fermentation times are longer for Duboeuf Cru wines which lends complexity and structure from extended skin contact.
The south-facing La Madone vineyard is planted in pink granite soil characteristic of Cru Fleurie and vines are 60 to 80 years of age. It is designated as a climat or parcel of significant quality. Very few are designated in Beaujolais.
Learn from the label: Appellation Fleurie Contrôlée = Cru Fleurie AOC. La Madone is allowed on the label because the vineyard is recognized for its outstanding quality.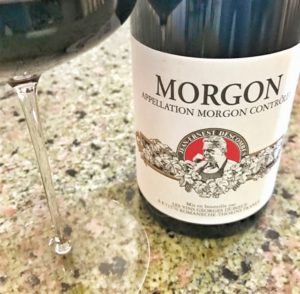 2015 Georges Duboeuf Jean-Ernest Descombes Morgon — dense ruby-violet in the glass with generous dark fruit and earthy aromas. Complex flavors include blackberries, ripe raspberries and dusty earth. This wine has a bit more body and tannins are more substantial. The flavors are long lasting. 13% abv. SRP $21.99
Whole bunches and destemmed grapes are fermented using semi-carbonic maceration method. This is a bigger, denser wine (but still relatively light bodied) which is reflective of Cru Morgon Beaujolais. The vines in this vineyard are 50 to 100 year old.
It was a Cru Morgon wine that recently captured my attention at a wine tasting and caused me to take a second look at Beaujolais. This tasting confirmed that impression and reminded me how important it is to constantly taste and re-taste wines from a particular region. And, equally important, it is essential to keep an open.
Learn from the label: Appellation Morgon Contrôlée = Cru Morgon AOC. Jean-Ernest Descombes appears on the label as a nod to the grower of the grapes with whom Les Vins Georges Duboeuf has had a long-standing relationship. 
The Take Aways
Les Vins Georges Duboeuf is a Beaujolais specialist. Duboeuf works with over 300 growers in the region. Rigorous tasting and blending are important components of winemaking at Duboeuf.
2015 vintage is the best in many years, perhaps the best since 1947, according to Franck Duboeuf.
Cru Beaujolais wines age very well – 20 years or more.
Continue to taste widely in order to continue learning about wine. Remember to re-visit wine regions too, you might be surprised how your tastes change.
You can view the Charles Communications Associates' Brandlive event with Les Vins Georges Duboeuf, then go out and explore Beaujolais.
Cheers!