This month our Wine Pairing Weekend group of food and wine bloggers is celebrating Cabernet Franc. This month's host, Lori Hoyt Budd, announced the theme in this post on her blog. As a Cabernet Franc lover, winemaker and founder of #CabFrancDay the theme is a natural choice.
As a Cabernet Franc lover myself, I was happy to participate in the second annual #CabFrancDay celebration on December 4 and am even happier to have an excuse to cook up a food pairing with Cabernet Franc.
The Wine
As participants in an online tasting celebrating #CabFrancDay we received six bottles of Cabernet Franc as tasting samples. We chose from that group of wines for our Wine Pairing Weekend Cabernet Franc. It was not an easy choice. The 2013 Ehlers Estate Cabernet Franc caught my eye immediately because the estate vineyards are farmed organically and are certified by the California Certified Organic Farmers (CCOF) a United States Department of Agriculture-accredited organic certifying agency. I often look for an organic choice in food and do the same with wine, which is really just liquid food. Am I right?
Ehlers Estate was founded in 1885 by Bernard Ehlers who replanted the Phylloxera-damaged vineyards and set about establishing a winery. Only a stone barn erected in 1886 remains from that earlier time. In 1996 the estate was purchased by Jean and Sylviane Leducq, a French couple who came to the Napa Valley to establish a property in the style of a Bordeaux Château.
The 42-acre vineyard is located in the St. Helena sub-AVA of the Napa Valley and is planted to red Bordeaux varieties (Cabernet Sauvignon, Cabernet Franc, Merlot, Petit Verdot) along with Sauvignon Blanc. Organic certification was earned in 2008 and along with organic farming principles the principles of Rudolph Steiner (the father of Biodynamic farming) are applied as well. All Ehlers Estate wines are made entirely from estate-grown fruit.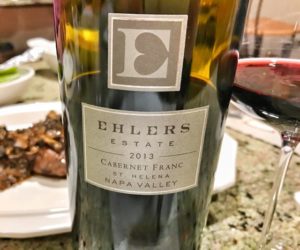 2013 Ehlers Estate Cabernet Franc — dense ruby-garnet color in the glass with generous dark fruit aromas and a hint of dried herbs. The flavors of rich, ripe and dark fruit – plums and berries – join dusty earth and hints of vanilla spice. Tannins are substantial and linger on the finish along with the flavors. This wine has many familiar flavor components. 831 cases produced. 14.2% abv. $60.
This 100% Cabernet Franc was aged in all French oak, 50% new, from a variety of coopers, and has great richness and depth of flavor without being overly ripe. It is a wine for a hearty, meaty meal which is just what we cooked up.
The Food
We enjoyed this wine and food pairing on a recent Monday night, elevating our usual weeknight fare significantly. I wanted to prepare a meal that would be elegant, but not too complicated. I chose a quality cut of meat, grass-fed beef tenderloin medallions, a fancy method of baking potatoes, hasselback, and a simple steamed vegetable, broccolini. I worked out beautifully.
Beef Tenderloin Medallion with Mushroom Gravy
3 beef tenderloin medallions
1 package (1/2 oz) dried morels, re-hydrated in 2 cups water and finely diced (filter and reserve the soaking liquid)
6 oz cremini mushrooms, cleaned and diced
1 small shallot diced
3 teaspoon butter
3 teaspoon olive oil
1/8 teaspoon dried thyme leaves
1 teaspoon corn starch
salt and pepper to taste
Directions
Mushroom Gravy
Add 1 teaspoon each butter and olive oil to a sauce pan over medium heat until melted.
Add diced shallot, mushrooms, thyme leaves and sauté until all are tender.
Add half of the reserved soaking liquid from the morels.
Add the corn starch to the remaining soaking liquid to dissolve before adding to the rest of the ingredients in the sauté pan.
Continue cooking until the sauce is thickened. Add liquid as necessary.
Beef Tenderloin Medallions
Season tenderloin medallions on both sides with salt and pepper.
Add 2 teaspoons each butter and olive oil to sauté pan over medium-high heat. Melt until shimmering.
Place the medallions into the sauté pan and sear until brown. Turn the medallions over and continue cooking for 4 to 5 minutes for medium-rare doneness. Remove the medallions to a plate, allow to rest for 10 minutes before serving with Mushroom Gravy.
The meat was so tender and juicy with the sautéed mushroom mixture adding depth of flavor and texture. When the focus of a dish is the meat, spending extra on a quality cut is worth it. The hassleback potatoes were so flavorful and the steamed broccolini added a bit of crunch and color.
Meat and potatoes never tasted so good.
The Pairing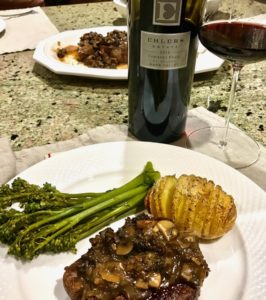 Hearty. Delicious. Complementary. Elevated. The earthy, savory qualities of the Ehlers Cabernet Franc paired perfectly with the rich, juicy flavors of the beef tenderloin. The mushroom sauté was perfectly savory thanks to the mixture of morel and cremini mushrooms. I love this flavor combination and using cremini mushrooms along with morels helps keep the cost down. Morels can be expensive whether you purchase them freshly harvested or dried, but I do love their flavor.
This is my idea of wintertime dining. Something meaty and hearty that didn't take me that long to prepare. While the potatoes were roasting I prepared the gravy and quickly sautéed the tenderloin medallions. It went pretty quickly and was so worth it. We don't eat like this every night, but it was the perfect special occasion meal and the 2013 Ehlers Estate Cabernet Franc was an elegant partner for our elegant meal. A match made in culinary and vinous heaven. A big thank you to Ehlers Estate for sharing your delicious Cabernet Franc with us and for participating in the #CabFancDay celebration!
We have a long list of bloggers this month who have also created a Cabernet Franc and food pairing. Looks like delicious reading. We will be gathering on Twitter Saturday morning at 8 am Pacific Time to talk Cabernet Franc and food. Please join the conversation by following #winePW on Twitter.
Cheers!