I think we can all agree that anytime is the perfect time for a glass of sparkling wine but, practically speaking, most of us are going to have more opportunities to enjoy sparkling wine as the holidays approach. This year, why not choose a sparkling wine with an interesting backstory in addition to those lively bubbles? Why not choose Limoux?
Was Limoux the first?
Limoux is a small town south of the medieval city of Carcassonne and the name of an appellation on the western edge of the Languedoc. Limoux is less famous for its still wines than for its sparkling wines. It is home to Abbaye de Saint-Hilaire (Abbey of St. Hilaire) where monks first documented making sparkling wine in 1531. Whether that sparkling wine was made intentionally or not is unknown. It may have been the result of warmer temperatures in spring that initiated a second fermentation in the bottle after cold winter temperatures had arrested fermentation. Whether intentional or not, the monks of St. Hilaire kept the best records, so they get the credit.
Meanwhile, still wines were also being made in Champagne, and it wouldn't be until 1668 that Pierre Pérignon was put in charge of the wine cellar at Abbaye d'Hautvillers (Abbey of Hautvillers) near Épernay. Dom Pérignon is credited with improved quality in the vineyard and the wine cellar, but there is no certain documentation that he made sparkling wines, according to Peter Liem in his comprehensive book, Champagne. That documentation wouldn't come, says Liem, until 1718 when vin mousseux, or sparkling wine, was mentioned in a book.
Being a stickler for details, Liem credits the English for documenting the first intentionally made sparkling wines in 1662 based on a published work describing the process. The English also led the way by combining cork closures with their stronger, coal-fired glass bottles to contain the bubbles.
A Unique Grape Variety
Mauzac Blanc is a white grape variety indigenous to Gaillac, north of Carcassonne, and Limoux. Mauzac is used to make dry, sweet and sparkling wines almost exclusively in Gaillac and Limoux. It has flavors of apple skins and must not be picked too early, according to Robinson et al., 2012 in Wine Grapes, or it will lose its fruit flavors.
Unique Limoux Sparkling Wines
Sparkling wines are made in three styles in Limoux and all must be made using the traditional method in which the second fermentation takes place in the bottle.
Crémant de Limoux is made using Chardonnay and Chenin (maximum 90%) + Pinot Noir and Mauzac (maximum 40%, with a maximum 20% Mauzac). This blend is less traditional than the Blanquette de Limoux, and allows the winemaker to craft a wine in a more modern style. The wine must age for at least nine months on the lees before disgorgement, at which time the dosage determines the final flavor profile of very dry, dry or medium dry. The wine ages for another two months in the cellar.
Blanquette de Limoux is made using at least 90% Mauzac and no more than 10% of Chardonnay and/or Chenin Blanc. The reliance on Mauzac yields a more traditional flavor profile. The wine must age on the lees for at least nine months. At the time of disgorgement the dosage determines the final flavor profile of very dry, dry or medium dry.
Blanquette de Limoux Méthode Ancestrale is made in an ancestral method that respects the history of sparkling wine in Limoux. 100% Mauzac grapes must be used and the only components are Mauzac grapes. Fermentation begins and then is arrested before it is completed. In March the wine is bottled and fermentation finishes in the bottle "with the old or waning moon". The wine is not disgorged, so the lees remain, and the flavor is sweet. This is similar to the sparkling wine the monks documented back in 1531.
Local Winemaker
Jean-Claude Mas learned winemaking from his grandfather and father in Languedoc. The family's history in the business dates back to 1892. In 1987 Jean-Claude received a plot of vineyards from his father to begin his own wine journey. Thirteen years later, according to Wine Enthusiast, he founded Domaines Paul Mas, named for his father, and proceeded to make a name for himself as well as his home of Languedoc.
Family holdings now total 2100 acres across Languedoc and the family contracts another 3700 acres of grapes from other vignerons in the region. 60% of the family's vineyards are certified organic and 80% are farmed organically. Mas' goal is to be completely certified organic. Domaines Paul Mas was named Wine Enthusiast's European Winery of the Year in 2020.
Let's Taste
Both wines in this tasting are made by Domaines Paul Mas and reflect Mas' respect for the history of Languedoc. They represent two of the three styles of sparkling wine made in Limoux. We received both wines as tasting samples.
Both wines are made at Château Martinolles, which was purchased by Jean-Claude Mas in 2011. Prior to 2011, Domaine de Martinolles had been owned by the Vergens family since 1926. The vineyards are situated on some of the same hills cultivated by the monks at Abbey of St. Hilaire back in 1531.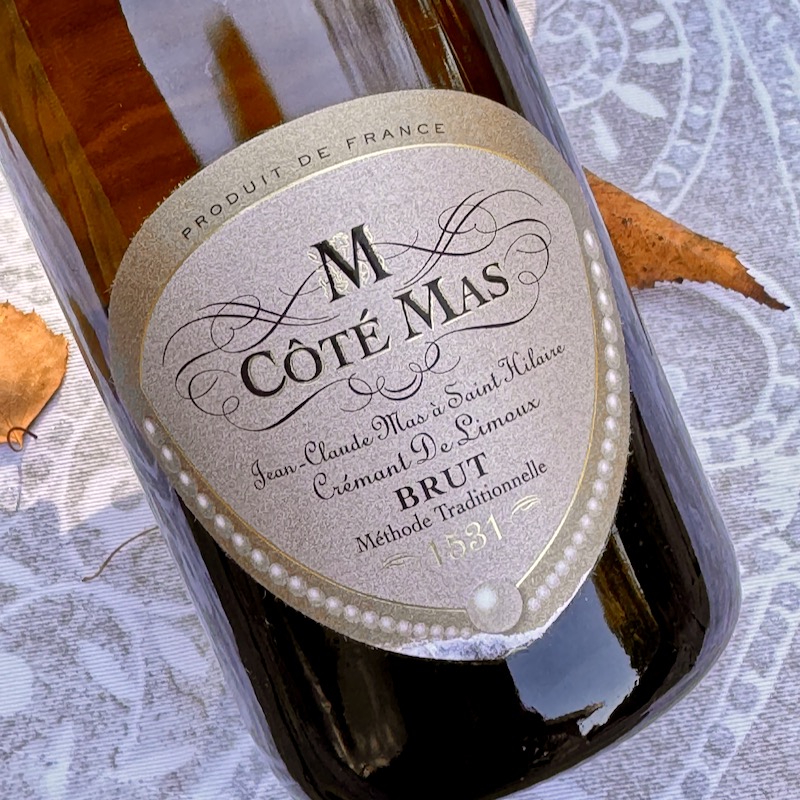 Domaines Jean-Claude Mas, Cote Mas Brut, Crémant de Limoux, NV — pale yellow with citrusy aromas and generous, persistent bubbles. Flavors are primarily fresh citrus with notes of barely ripe pears. The bubbles are mouth filling and creamy. The finish is clean and medium-long in length. 12% abv.
The blend is 60% Chardonnay, 20% Chenin Blanc, 10% Pinot Noir, 10% Mauzac. The wine aged on the lees in the bottle for one year before disgorgement and the addition of dosage. The wine then aged 12 months more before release.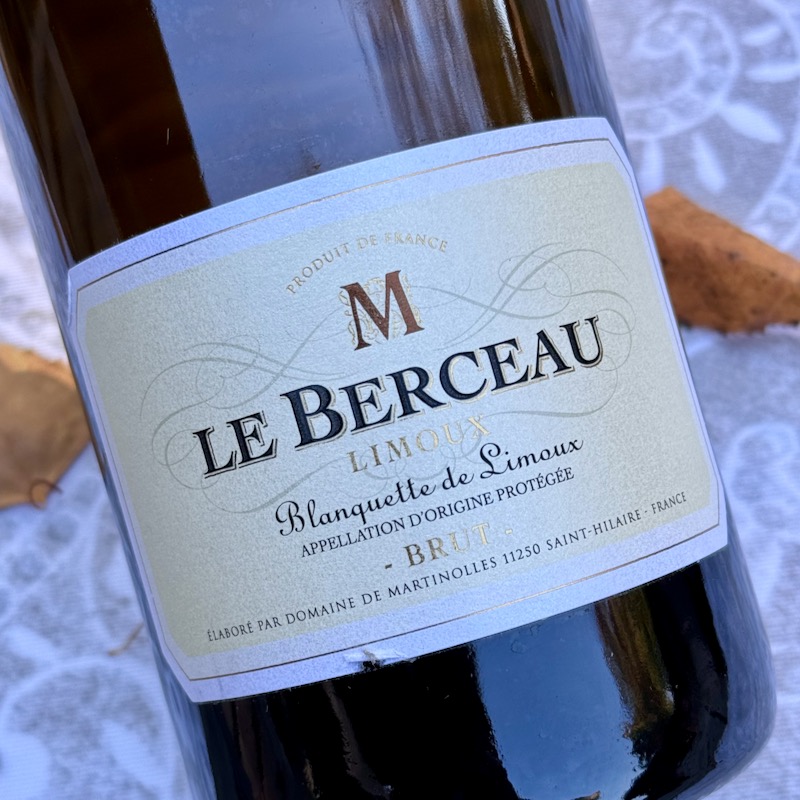 Domaine de Martinolles, 'Le Berceau', Blanquette de Limoux, NV — light yellow with aromas of pears, yellow apples, citrus and earth with generous, persistent bubbles. Flavors lead with yellow apples and pears supported by citrusy acidity and background notes of earth and mustard seeds. Flavors are layered and interesting. The bubbles are mouth filling and creamy. The finish is long. 12.5% abv.
Le Berceau translates to the cradle in reference to the birthplace of sparkling wine and is made using 100% Mauzac, the traditional variety of Limoux. The wine is aged for a minimum of nine months on the lees before being disgorged.
Both wines should be widely available in the US, and for substantially less than $20 per bottle. That's delicious wine, with an interesting history for a very attractive price. It's a win, win, win situation. I could also add relatively low abv and add another win.
Thanks to Gregory + Vine PR for organizing out tasting.
Cheers!