The full title of a new book by Jane Lopes and Jonathan Ross is How to Drink Australian: An Essential Modern Wine Book. I recently received a digital copy for review and admit to falling headlong into the book.
How to Drink Australian is a detailed, regional introduction to the wines made throughout Australia. Australia's wine regions are explored in a way that is engaging, fun and informative. The double-column layout makes the book easy to read and headings and sub-headings stand out well from the text. The use of short side-bar topics keeps the reader engaged. And the photos, illustrations and artwork are as beautiful as the maps.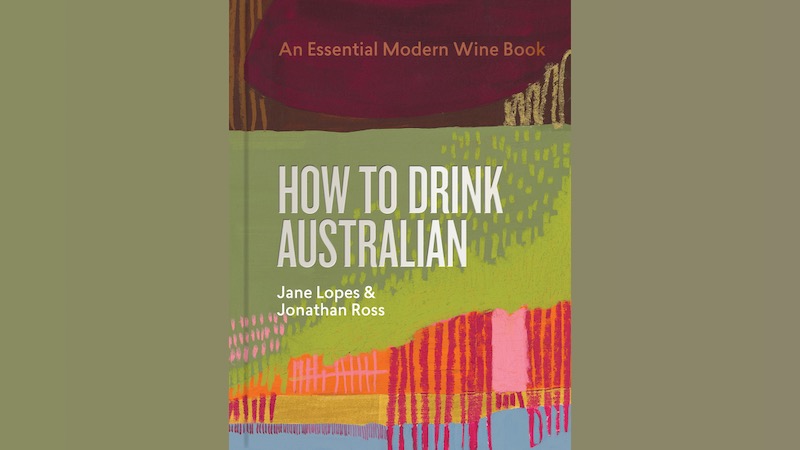 How did Jane Lopes and Jonathan Ross pull off the monumental task of making an entire continent's wine regions understandable? It's all about team work and organization.
The Authors
Both Jane Lopes and Jonathan Ross are sommeliers who have relocated to Australia. They bring an outsider's perspective, and worldly experience to How to Drink Australian. Working with them to write the book are Kavita Faiella, Mike Bennie and Hannah Day, all of whom are from Australia and have varied experience in the wine business. They bring a local's perspective. Martin von Wyss contributes his cartography skills to create detailed maps of Australia's wine regions. Maps are essential to understanding wine.
Before How to Drink Australian dives into wine, the authors begin at the beginning: with a history of the land and recognization of the caretakers of the land before and at the time of colonization. This recognition, called Acknowledgement of Country, pays respect to, names and properly describes the Aboriginal peoples' relationship with the land. This Acknowledgement is woven throughout each section of the book. How to Drink Australian is a richer book because of the inclusion of the Acknowledgement of Country, as is the reader's understanding and appreciation of Australian wine.
How The Book Is Organized
How to Drink Australian is divided into six sections according to Australia's winegrowing states: New South Wales, Victoria, Tasmania, South Australia, Western Australia and Queensland. Each state section begins with a list of the regions discussed, an introduction to the state, a chart of applicable GI (Geographical Indications), Zone, Region and Subregion names and a detailed map.
The most significant regions are then discussed in chapters under the state sections. Regions that aren't discussed individually may appear at the end of the section as a group.
Each regional chapter is divided into four sections:
Introduction: a thumbnail description of the region.
Evolution of Wine: perspective on how each region's wine culture developed.
Lay of the Land: soils, planted area, detailed climate data and maps with important vineyards and producers.
Hubbub: an insider's view of the region that lets you in on what's going on in the region, what the concerns are and what local winemakers are thinking.
A list of Producers with biographies closes each chapter. The alphabetical list, sprinkled with sketches of the winemakers, includes the most prominent wineries in the region.
How To Drink Australian: An Essential Modern Wine Book is 496 pages (according to Amazon) and concludes with a glossary, bibliography, index, index of producers and conversion charts.
To say this book is detailed is an understatement, but short sidebar discussions throughout make How To Drink Australian very readable. The discussion feels fresh and insightful. How To Drink Australian is an excellent reference to guide your Australian wine purchases and will inspire your wine travels.
Thanks to Smith Publicity for the opportunity to read How To Drink Australian: An Essential Modern Wine Book.
We do not receive compensation if you order How To Drink Australian using the links above.
Cheers!