Little Vumbura is a six-roomed tented camp located on an island in the northern part of the Okavango Delta. Reaching Little Vumbura is a bit of an adventure and reflects the variety of habitats in the Okavango Delta. The flight from Jacana Camp, our first stop in the Delta, was only 20 minutes. The 40-minute drive from the airstrip to Little Vumbura took us across open plains, through varied grasslands and across shallow waterways to a dock at the edge of a large permanent waterway surrounded by reeds. The boat ride to Little Vumbura takes only a couple of minutes and the approach by water is quite dramatic.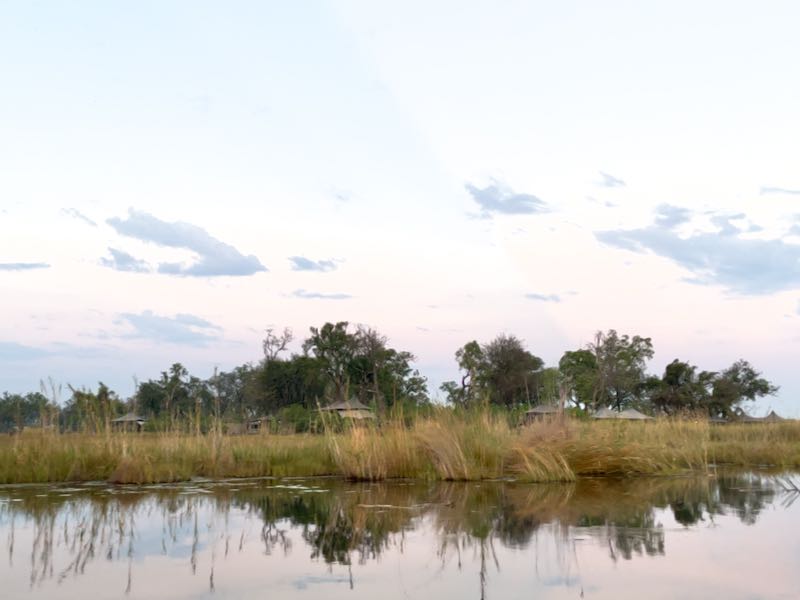 Click on individual photographs in galleries to view. Close to return to the post.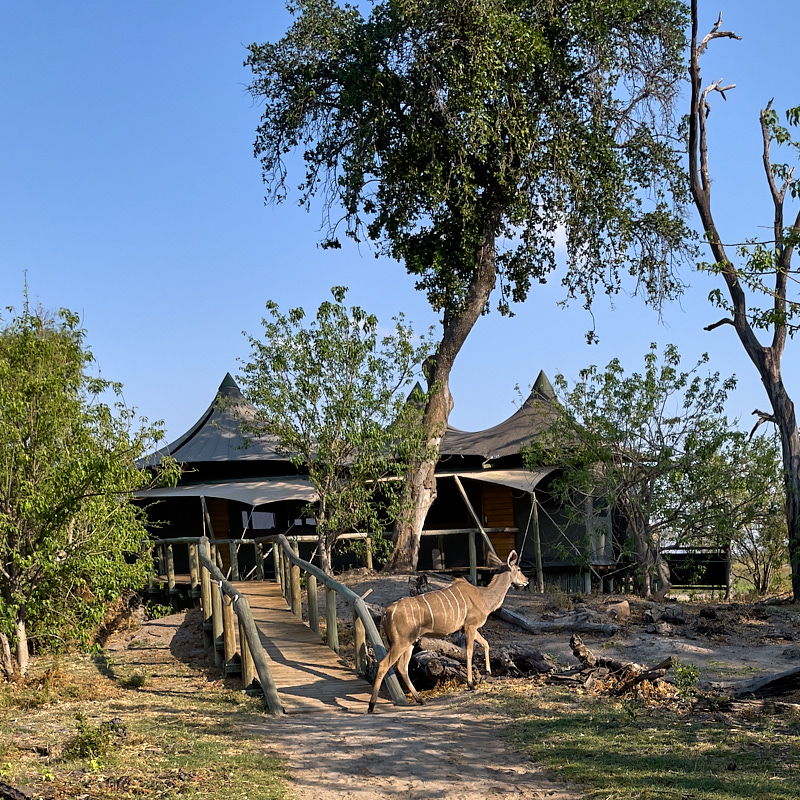 Tented rooms are very spacious and the "tents" are quite spread out from one another. The charm of Little Vumbura itself lies in its small size, comfortable rooms and friendly camp staff. And the food is absolutely delicious. The dining area, raised seating areas and the fire pit are all connected by raised walkways and surrounded by permanent swamp. The pool is the perfect spot to sip a cool drink on a warm afternoon. And the fire pit after dinner is not to be missed.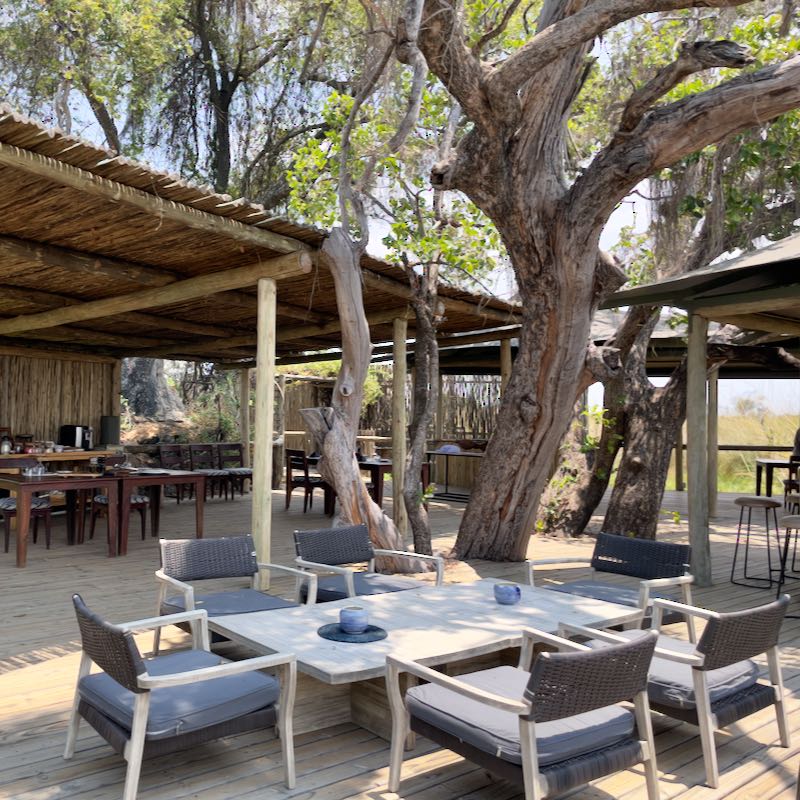 Oh, and there is Jack, the resident elephant who wanders through camp and grazes the surrounding swamp's floating reeds. We were thrilled when he was there to welcome us to camp.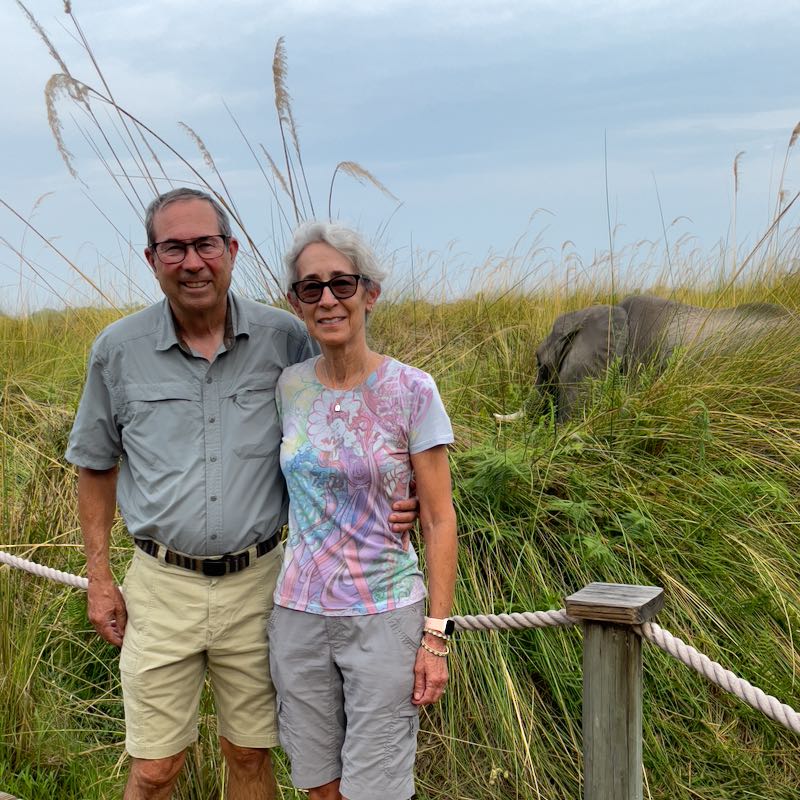 We were so fortunate to have one of the most enthusiastic and skilled guides we have met. Gee is not only a skilled guide he's also a skilled photographer. That's important to guests like us who enjoy taking photos of animals, but who don't know the animals' behavior very well. We were happy to rise at 5 am, eat a quick breakfast (there was breakfast to go as well) and snap our first photos before 6 am.
Peter and Gee had the most amazing fishing experience the first evening we arrived. We boated far out along the channels created by floating mats of reeds and the guys fished for tiger fish. Neither had much luck at the first spot, but Gee's attention was caught by a distinctive plopping sound around the corner. Thinking it might be an elephant grazing among the reeds we motored over to see. What we observed was something different entirely.
As we approached the sound we observed large catfish crashing up against the reeds. Gee explained that the catfish were shaking the reeds trying to knock heron chicks out of their nests. Then the sound of the motor caused the catfish to begin jump out of the water around us! I was frightened one might land in the boat. (No photos, my head was down!)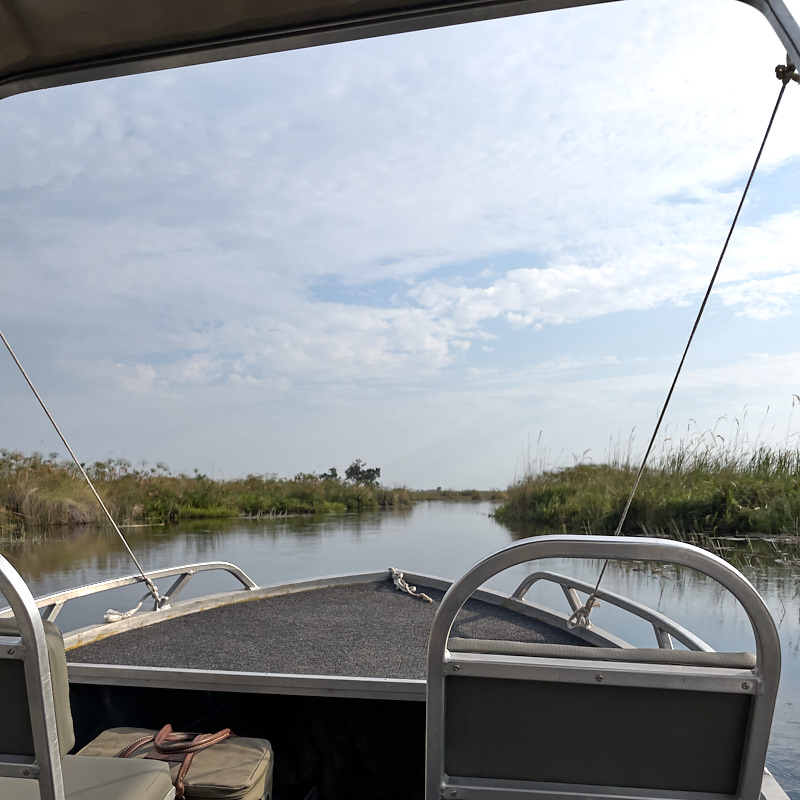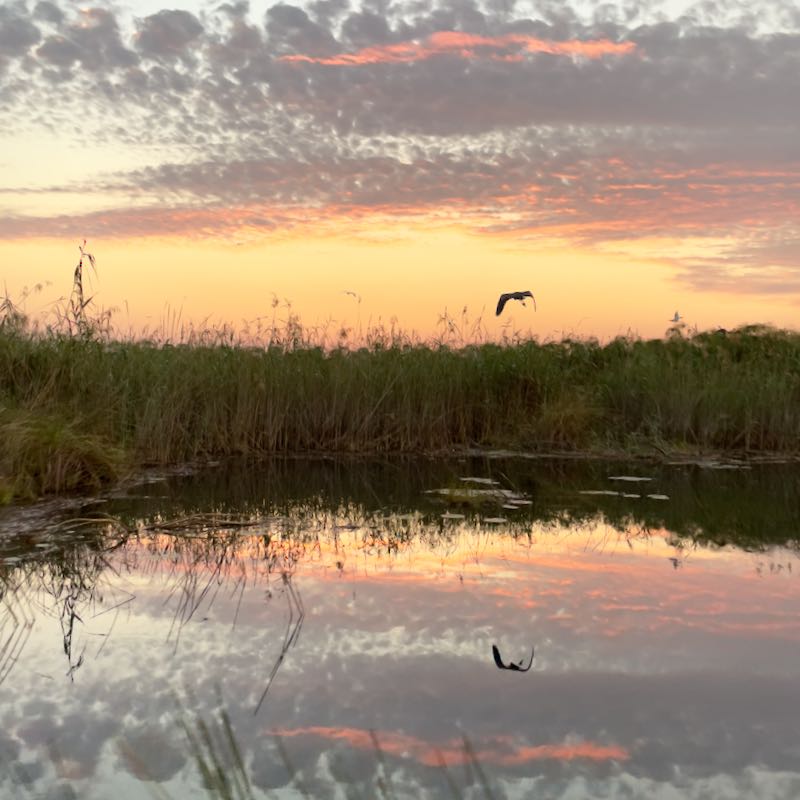 Well, all of that plopping in the water attracted tiger fish to the area and Peter and Gee began catching them with practically every cast! It was quite amazing. These ferocious fish have long, very sharp teeth and are not good eating, so it's catch and release (with care). Somehow we even managed to enjoy a gin & tonic along with all the excitement.
Our first morning out we were driving through very tall rusty-colored grass when Gee heard the alarm call of vervet monkeys in the trees nearby. He was certain they were announcing a leopard was nearby, and he was right. We managed to spot a shy, sub-adult male hiding in the grass. It was thrilling to watch him in his natural setting.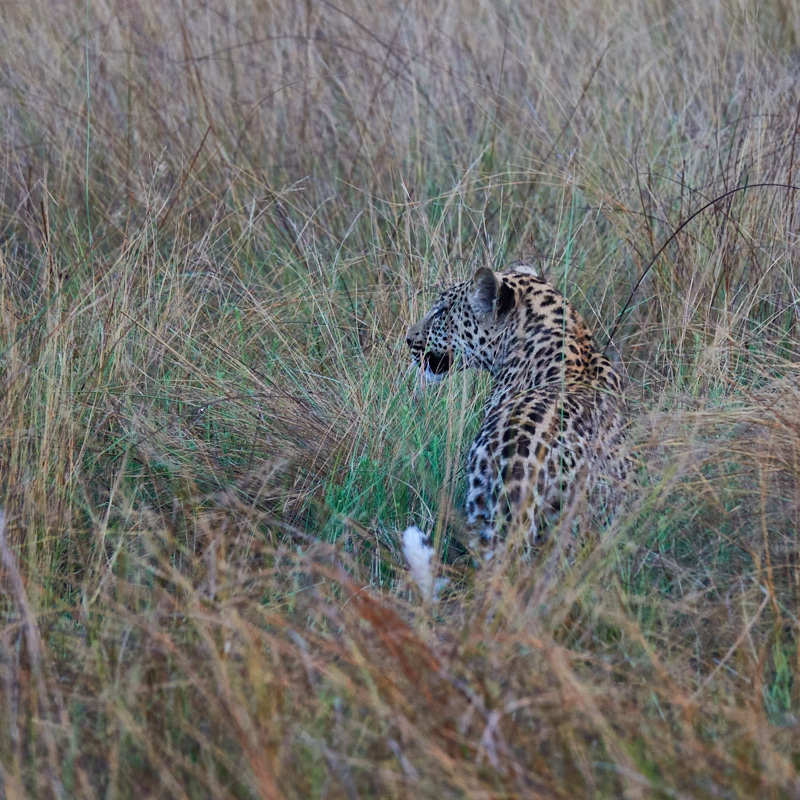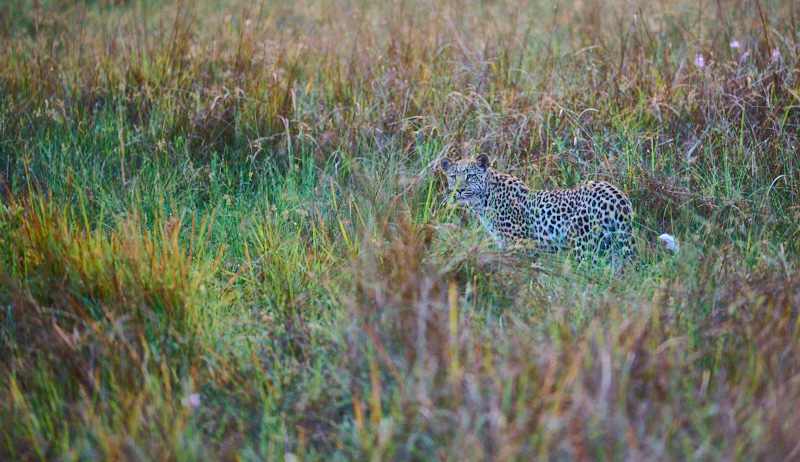 The height and color of grasses varies quit a bit in the area and some areas are much wetter than others. There are large abandoned termite mounds in parts of the Kwedi Concession (NG22) that are hundreds of years old and have large trees and bushes growing out of them. These raised areas are a favorite lookout spot for cheetah, though we didn't see any.
We did spend time watching a pack of wild dogs lounging in the tall grass. They had recently made a kill, so all had full bellies and were feeling quite lazy.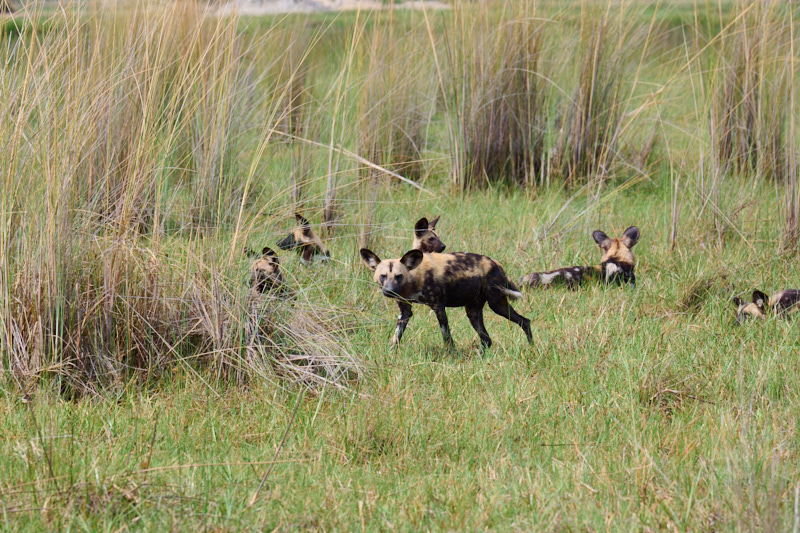 We saw plenty of other wildlife though including red lechwe, impala, a herd of majestic sable antelope, a mother and newborn giraffe and several newborn tsessebes with their mothers.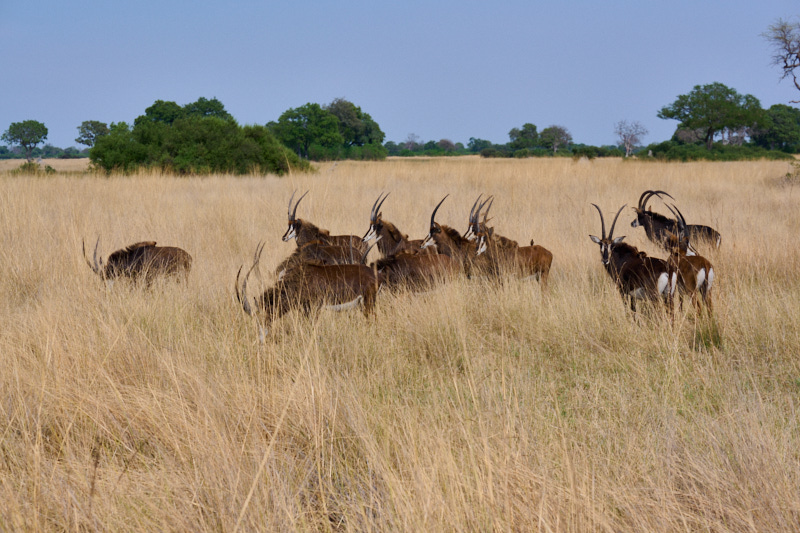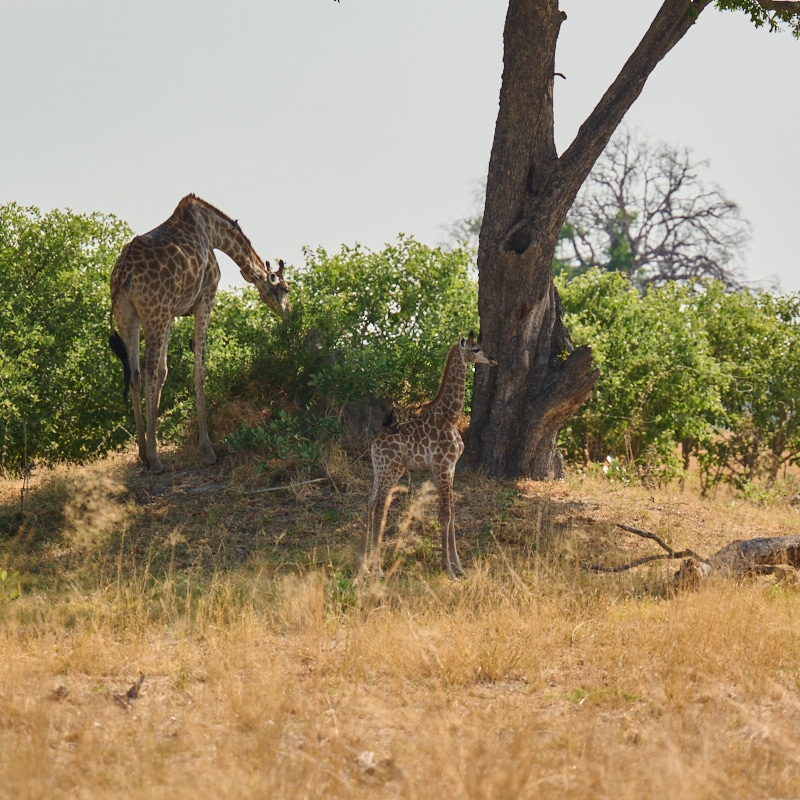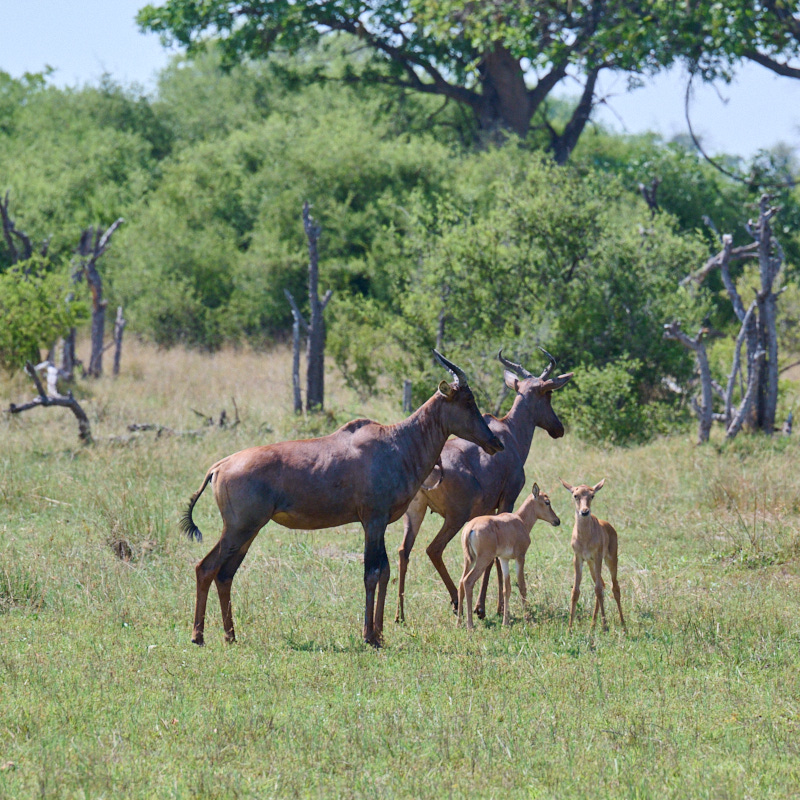 Birds were very numerous and we were fortunate, thanks to Gee's sharp eye, to see the illusive Pel's fishing owl. These ginger-colored birds are remarkable for their distinctive coloring, large size and piercing black eyes. Also distinctive for its size, and pink eyelids, is the Verreaux's eagle-owl.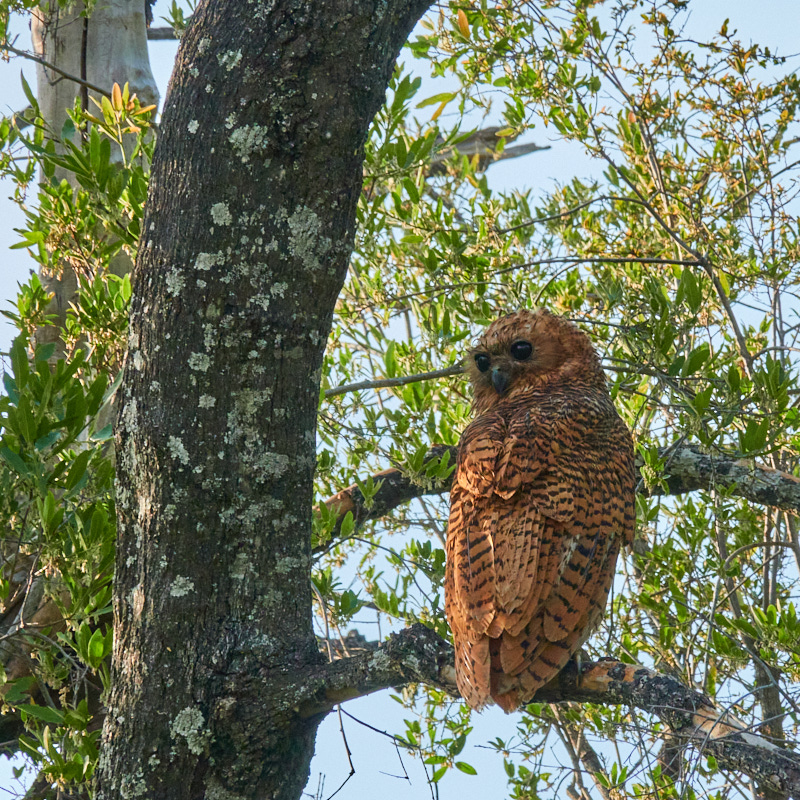 We had two other notable animal encounters, both of which move me to tears even now. A female lion had recently given birth to a litter of cubs, which she had hidden away in a den among some thick brush. She was accompanied by the largest male in the territory. They made a fine looking pair and all of the guides were looking forward to meeting the cubs. Then things took a dark turn — one that we as tourists failed to grasp the seriousness of until it was explained to us.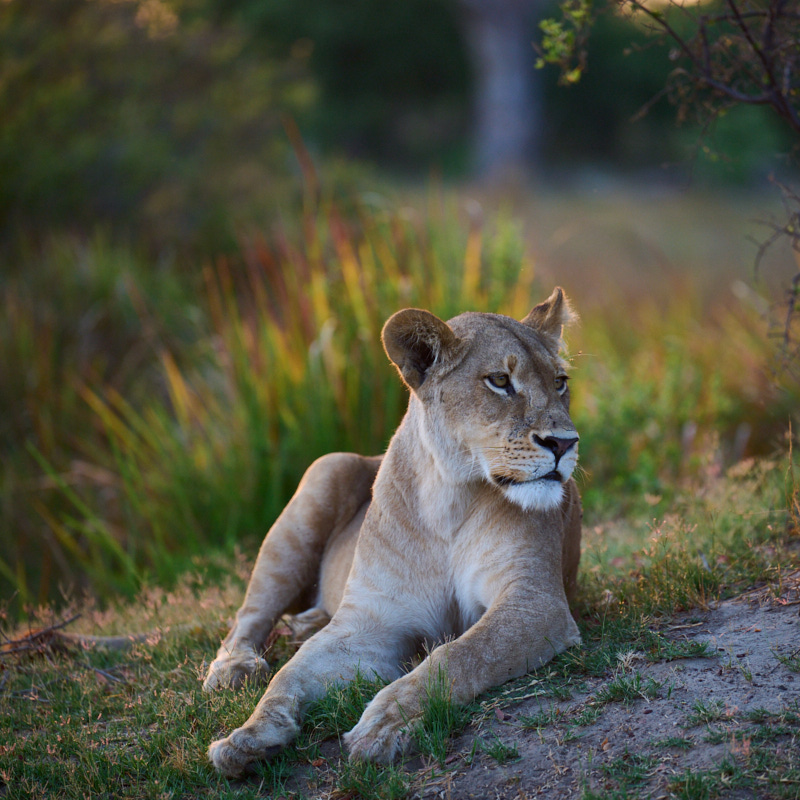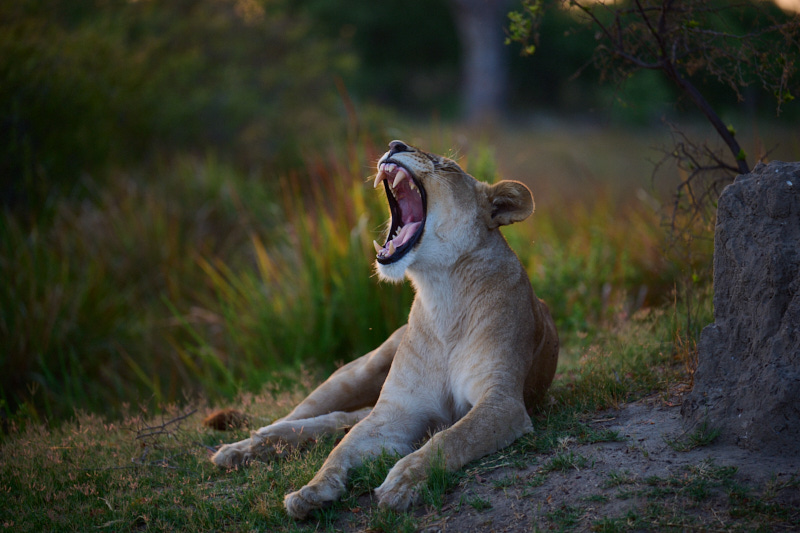 Not long after watching the pair of lions outside the den one morning, we spotted four younger male lions and a female that had moved into the pair's territory. Gee knew immediately this was an ominous development and for some time we watched them to see what they would do. He was certain they had picked up the scent of the other female and male. Gee solemnly told us the young males would undoubtedly find the den and kill the cubs. Sadly, that is exactly what happened a few hours later; I'm thankful we were not there to see it happen. Neither the mother of the cubs or the lone male were a match for the four younger male lions. The older male was forced out of the territory.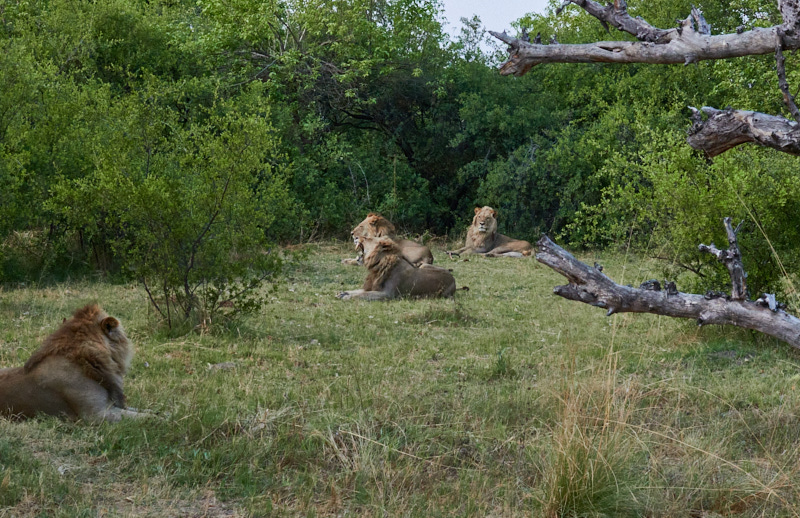 The next morning early we spotted the female whose cubs had been killed eating her recent kill: a baby red lechwe. It broke my heart to think of the lioness' loss the day before and then of the mother red lechwe's loss that morning. It was a harsh reminder of how life moves the wild.
The second encounter still moves me to tears, but tears of joy and awe. We were exploring a wet area of the concession and watching several groups of elephants. The evening sky was beautiful. We started down a single-track road when Gee noticed a group of elephants approaching us in the distance. Having nowhere to go, Gee stopped the vehicle and turned off the motor. He told us to remain absolutely still and quiet. No problem.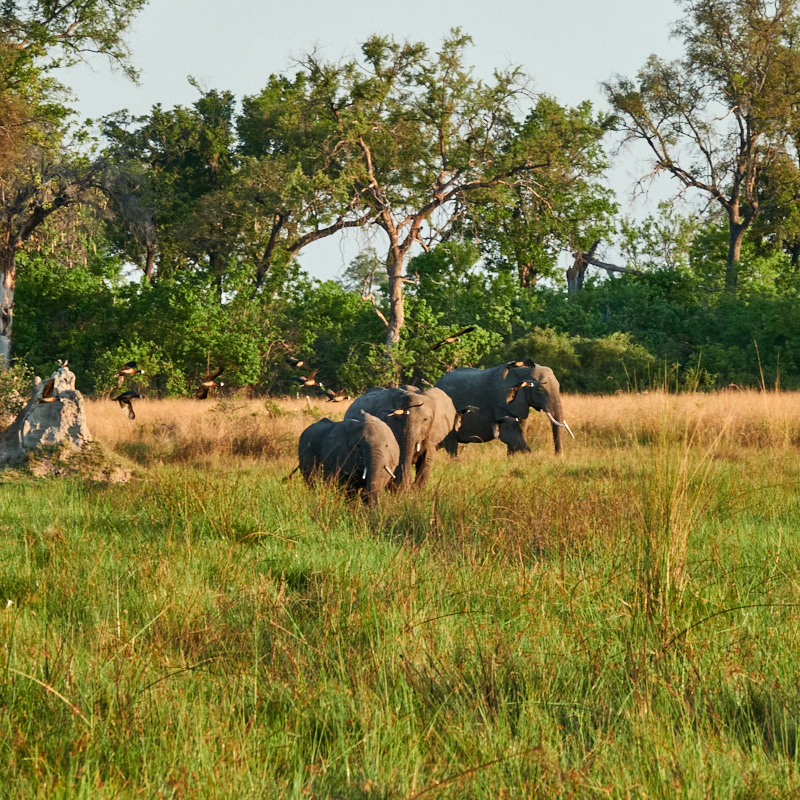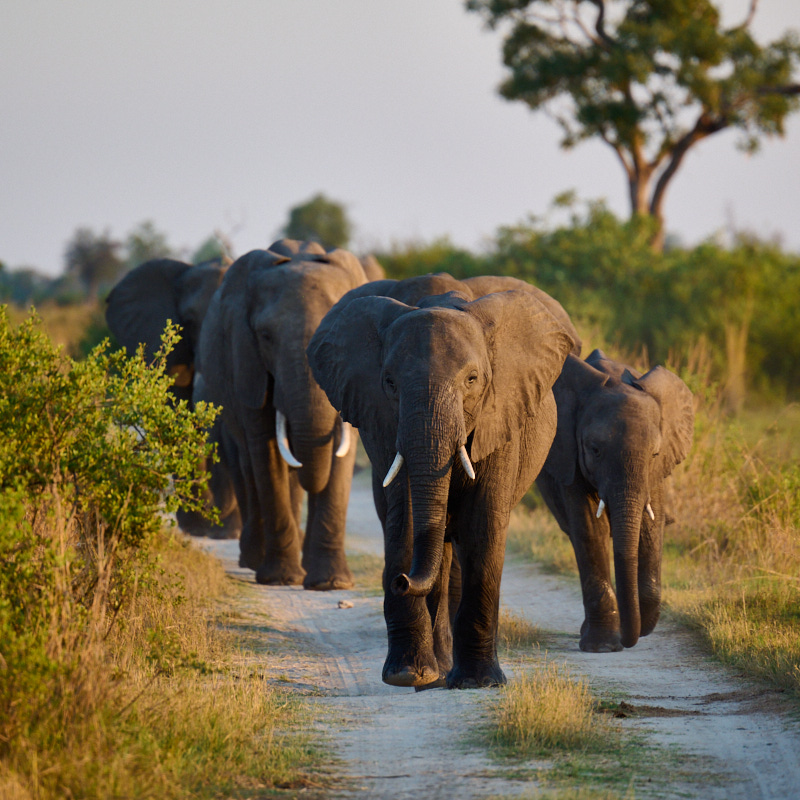 What unfolded around us was breathtaking. We could not have been any closer to these magnificent wild elephants, yet they moved around us without much notice — except for one juvenile who was encouraged by one of the adult females to just keep moving.
Wilderness Safaris' tagline is "Our Journeys Change Lives" and that has certainly been our personal experience. But, it is also true in a more important sense for camp staff and local communities who earn income from the camps. Habitat is also preserved because of tourism and animals are kept safe from poaching thanks to the camps' presence.
Traveling in the time of COVID takes extra planning and a fair bit of courage. We chose Expert Africa to organize our trip to the Okavango Delta, and then to Namibia, because they truly are experts in travel to Africa. They handled every detail of our trip from the time we landed in Zimbabwe until we reached Windhoek, Namibia at the end of our trip. Everything went off without a hitch and we felt well prepared for travel thanks to information provided by Expert Africa.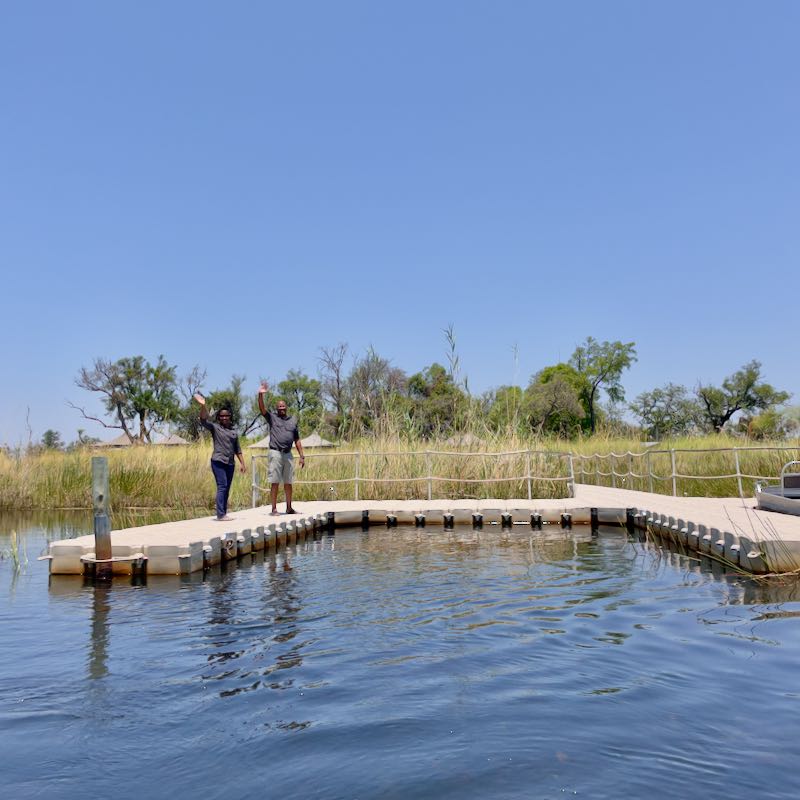 We loved our time at Little Vumbura and were sorry to leave. However, our next stop, DumaTau, was truly magical.
Cheers!