We recently received three wines from Fathers + Daughters Cellars as tasting samples. F + D is a new winery to us, so we were as curious to taste the wine as we were to learn about the people behind the wine. We discovered a story of family and a highly-regarded Anderson Valley vineyard.
Guy Pacurar and his wife Sarah established Fathers + Daughters Cellars in Anderson Valley in 2012. That same year their daughter, Ella, was born. On the occasion of their first harvest, September 7, 2012, Ella was there too, in a backpack.
There is a second father-daughter connection that is celebrated with Fathers + Daughters Cellars: that of Sarah and her father Kurt Schoeneman. Sarah's parents, Kurt and Heather Schoeneman, purchased Ferrington Vineyard in 1996. Sarah, who is a realtor, found the property north of Boonville in Anderson Valley for her parents.
With the assistance of an experienced Mendocino County vineyard manager, the Schoenemans replanted the 75-acre vineyard, which was originally planted in 1969. Ferrington Vineyard has since been a source of grapes for respected wineries such as Handley, Husch, Flowers, McPhail and Williams-Selyem. As you might expect, Ferrington is also the primary source of grapes for Fathers + Daughters Cellars.
Both families are transplants to Anderson Valley. Guy came to nearby Mendocino from Southern California in 2007 when he purchased the Brewery Gulch Inn. The Schoenemans moved north from the East Bay a few years earlier. Guy met Sarah up north and the couple were married in the Ferrington Vineyard.
Phil Baxter, Jr., of Baxter Winery, is the winemaker at Fathers + Daughters Cellars. His formal training at UC Davis in Viticulture and Enology has been augmented by studies at the University of Grenoble in France. He gained experience making wine at several domaines in Burgundy and along side his winemaker father, Phil, Sr., before establishing Baxter Winery.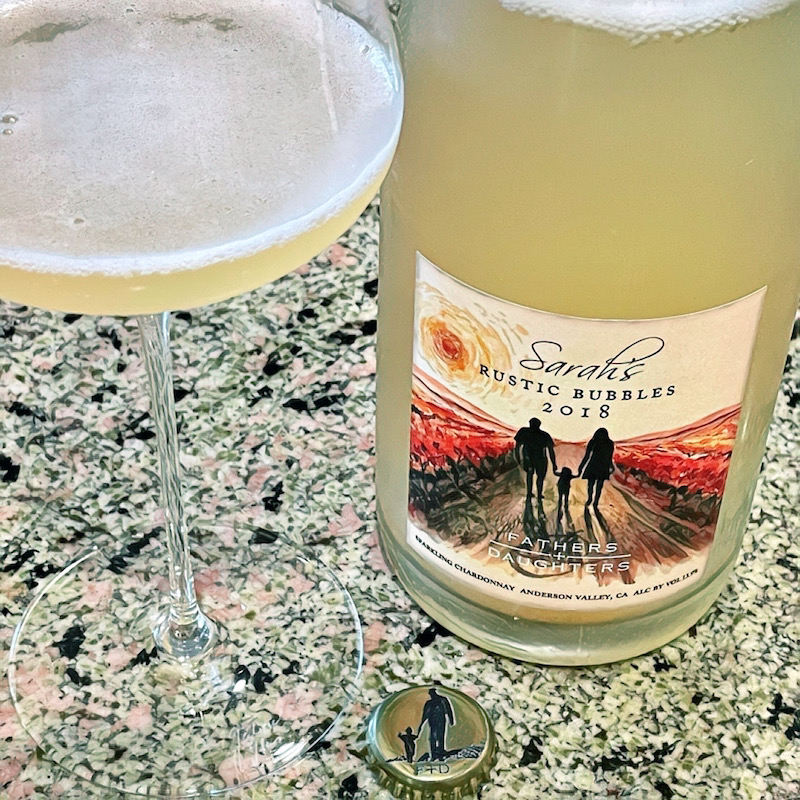 2018 Fathers + Daughters Cellars Sarah's Rustic Bubbles, Anderson Valley — cloudy yellow in the glass with many, fine bubbles. Aromas of grapefruit, peaches, pears and pineapple are generous. Flavors of yellow apples, pears, grapefruit and citrus pith have a creamy texture thanks to the many fine bubbles. Flavors and bubbles are long lasting. Only 100 cases made. 13.9% abv. SRP $21
This is a delightful bubbly and a fun one to try if you're unfamiliar with pétillant-naturel style wines. Pét nat is bottled before the primary fermentation is finished, so the fermentation finishes after bottling resulting in the bubbles. The process is not as controlled as the traditional method used in Champagne where the finished still wine is bottled with the addition of yeast, and most often a bit of sugar, to begin the second fermentation.
For the Sarah's Rustic Bubbles, Chardonnay was fermented in stainless steel and bottled. Once in the bottle, fermentation continued. Pét nat wines can be disgorged to remove the dead yeast or not, as is the case with this wine. The yeast results in a cloudy sediment, but is completely expected. Be sure to store the wine upright (so the sediment falls to the bottom of the bottle) and serve well chilled. The Chardonnay is sourced entirely from the Roederer Estate.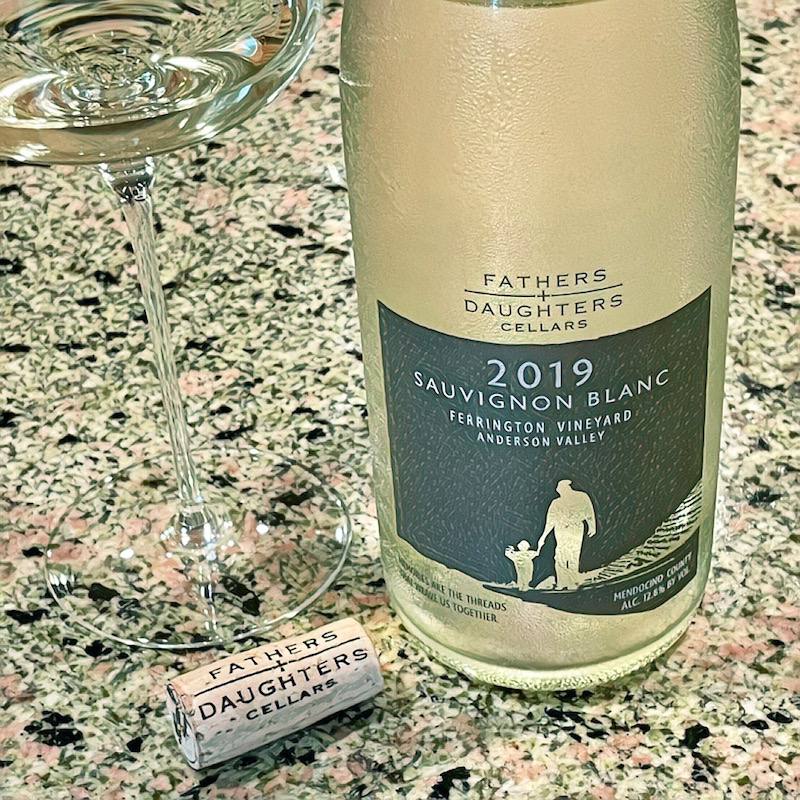 2019 Fathers + Daughters Cellars Sauvignon Blanc, Ferrington Vineyard, Anderson Valley — pale yellow in the glass with aromas of cut grass, stone fruit and citrus. Flavors follow with notes of cut grass, oat hay, stone fruit and citrus zest. Nice acidity supports the fruit flavors and the finish is clean. 12.8% abv. SRP $25
There is just a hint of Sauvignon Blanc's herbal nature. Nice stone fruit and dried hay flavors predominate. Sauvignon Blanc is sourced from the Ferrington Vineyard and vinified in stainless steel.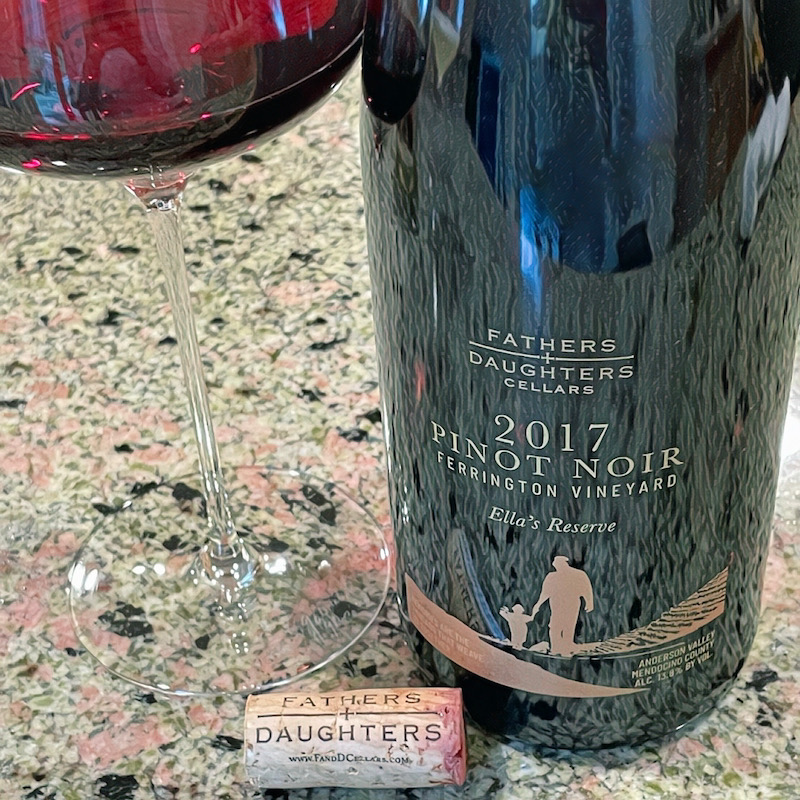 2017 Fathers + Daughters Cellars Ella's Reserve Pinot Noir, Ferrington Vineyard, Anderson Valley — translucent ruby in the glass with generous aromas of berry bramble, earth, raspberries, blackberries and hints of cherries. Layered flavors of raspberries, cherries and earthy berry bramble combine seamlessly with notes spice. Tannins are smooth in a barely-medium body. Only 100 cases made. 13.8% abv. SRP $52
From the first pour the translucent color of this wine announced its identity as Pinot Noir. The aromas and flavored followed. Lovely wine.
Pinot Noir (a mix of 828, 777, Pommard and Wädenswill 2A clones) sourced from the Ferrington Vineyard were sorted and de-stemmed into open-top fermentation tanks. 30% whole clusters were included. Fermentation started naturally with native yeast and manual punchdowns continued for 21 days. The wine was pressed when nearly dry and aged in 25% single use and 75% neutral French oak for 20 months.
These wines are balanced, complex and reasonably priced. The backstory is one worth knowing and if you're interested in supporting family operations, Fathers + Daughters Cellars certainly qualifies. Also on the website for purchase are Chardonnay, Gewurtztraminer, Rosé, the Dance (a white blend) and Apple Kobler a hard cider made from Ferrington Vineyard apples. Thanks to Fathers + Daughters Cellars and Chalkboard Communications for the taste.
Cheers!