Danshi Rise is just the kind of winery we hope to discover when we travel — single proprietor, small volume, authentic wine tasting experience, delicious wine. We experienced all of this and a man cave to rival any at Danshi Rise in Australia's McLaren Vale region south of Adelaide.
The winery sits on a rise above the vineyard at the base of the Willunga Hills near the town of Willunga. The view over the vineyards toward the sea, only 5 miles away, is expansive. We visited in October (2019) and the vineyards were plush with spring growth. The day was warm and sunny. As we took in the view I heard Roy Orbison's unmistakeable singing voice coming from the tasting room.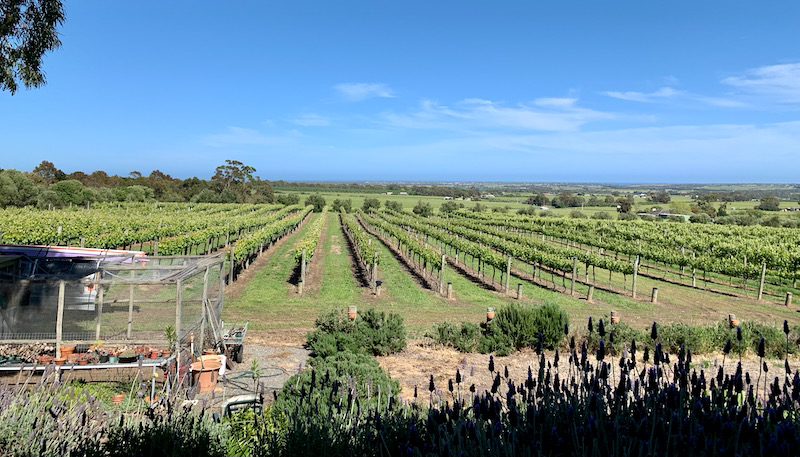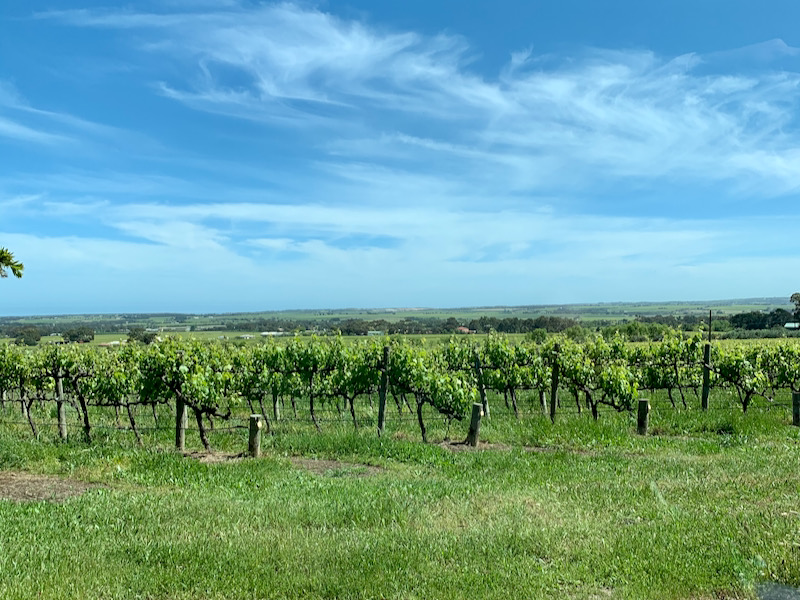 We were greeted by proprietor Steve Daniel. His manner was relaxed and easygoing and we immediately felt a home, even though the surroundings didn't look anything like home. The tasting area is decorated with Steve's extensive collection of electric guitars and includes a drum set, amplifiers and speakers. A large flat-screen TV was playing a performance of the late, great Roy Orbison. The combination of cushy seating along with tables and chairs gave the area a comfortable feel.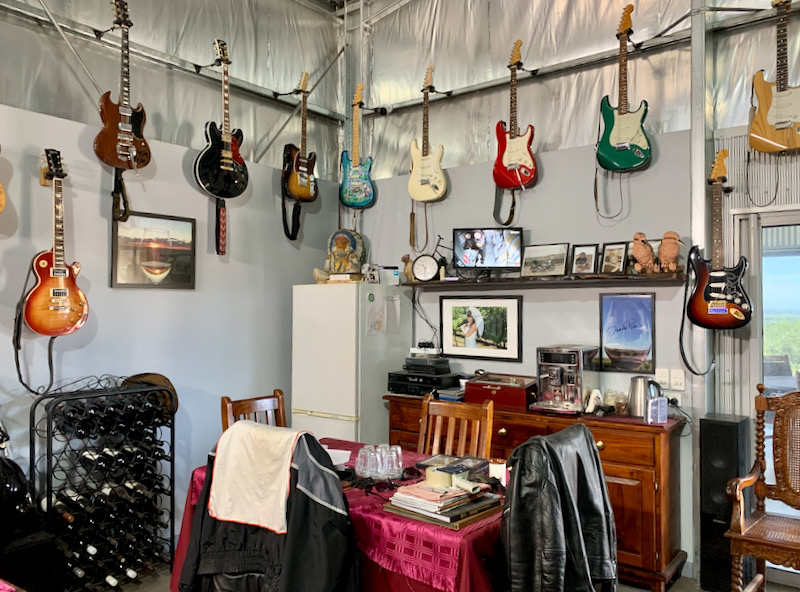 We took a seat with Steve at a long wooden table. Beyond were racks of barrels that spilled over into the next room. The combination of winery aromas and Roy Orbison's voice made for the coolest tasting experience ever.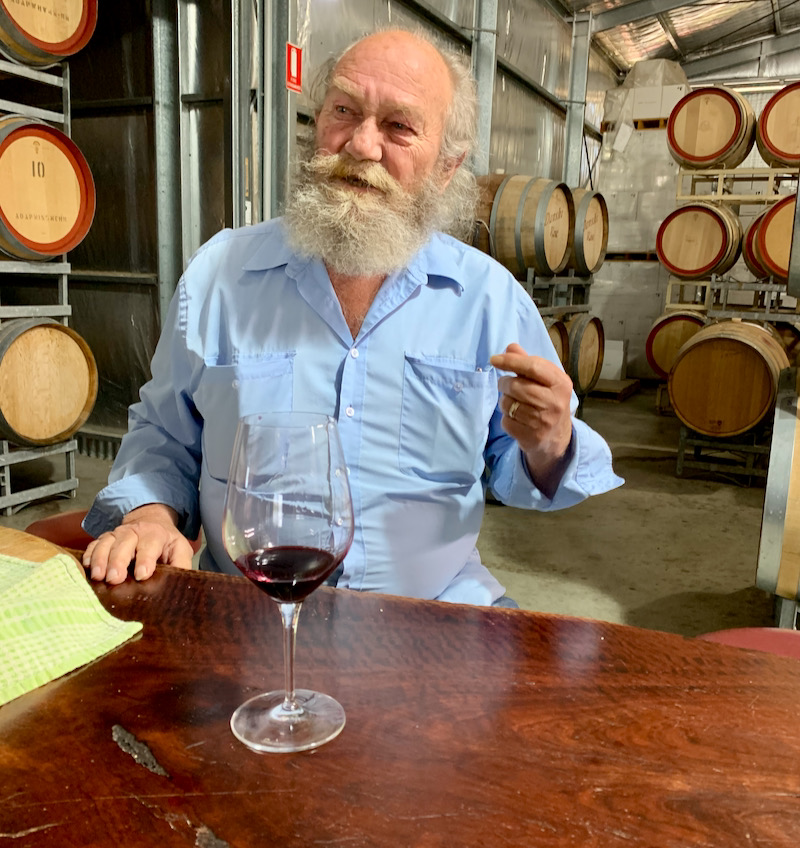 Steve farms 20 acres of vines planted mostly to Shiraz and a bit of Cabernet Sauvignon and Tempranillo. He characterized the soils as fairly uniform and rocky. In 30 years of growing grapes he has developed firm opinions about managing his vineyard. With regard to pruning Steve laughed, "You know, there are two schools of thought on that – mine and everyone else's." His Shiraz is trained over two horizontal wires, not the norm for new Shiraz vineyards according to Steve. He feels strongly that expanding the fruit zone allows more sunlight to reach the grape clusters, which translates to better quality grapes.
Quality, not quantity, is his goal with this type of trellising, as he aims for 3.5 to 4 tons per acre. With proper pruning he is able to insure the grape bunches are spread out eliminating the need for leaf pulling. His Cabernet and Tempranillo are trained on a single wire and all are machine harvested, without any loss of quality over hand picking in Steve's opinion.
In the wine cellar Steve takes a light hand, always with the goal of letting the fruit flavors of the grapes shine through in the finished wine. He picks primarily on flavors, but of course keeps an eye on acid and sugar levels as well. He never adds water to a ferment and finds it unnecessary to acidify his wines. Steve told us he can taste the addition of tartaric acid in wines and that's just not his style.
Fermentation takes place in 1-ton bins. He inoculates the alcoholic fermentation, but not malolactic fermentation. During the push of harvest 50 such bins may be fermenting at the same time. With each 1-ton bin sourced from just a row or two in the vineyard, each is a unique ferment. Then each bin fills about two barrels, resulting in two unique barrels of wine. These are the blending ingredients for Steve's wines. His portfolio of wines is all red and includes varietal and blended wines. Steve uses mostly French oak for aging (I did see some American oak barrels), for 2-3 years for his Cabernet Sauvignon, Tempranillo and Shiraz. The Grenache is bottled earlier.
Steve began the tasting with his 2019 Cabernet Sauvignon pulled from the barrel. This Cabernet was very composed for an 8-month-old wine. Bright, fresh flavors of dark fruit and silky tannins predict an elegant finished Cabernet. He has only 1/2 acre of Cabernet Sauvignon, and even though McLaren Vale isn't know for Cabernet, Steve told us, "I just wanted some to play with."
2015 Danshi Rise Grenache, Mclaren Vale — delicately colored and very aromatic with roses, dark fruit and earth. Tannins are smooth and the body is on the light side of medium. Steve purchases the grapes and purposefully makes a lighter style of Grenache. He suggests grilled salmon with his Grenache and the thought of the pairing had my mouth watering.
2015 Danshi Rise Grenache-Mourvèdre, McLaren Vale — darker in the glass with bolder aromas and flavors. Cinnamon, dark fruit, more body, grippy tannins. Beautiful with lamb. The blend is 70% Grenache, 30% Mourvèdre.
2015 Danshi Rise Grenache-Tempranillo, McLaren Vale — darker color, dark fruit flavors, earth, grippy tannins, more body. Steve suggested pairing this blend with grilled chorizo and Kalamata olives.
2014 Danshi Rise Shiraz, McLaren Vale — inky dark color, plenty of fruit, but not too ripe. Savory, lively acidity, grippy tannins. This wine is the star of the show. And, what's even more unbelievable is the price: $25 AUD = about $19 USD.
Steve told us the winery's name is a combination of his last name, Daniel, and Shiraz. It is meant to indicate the elevation of Shiraz, a variety he prizes highly. Steve sells 90% of his Shiraz in Canada. The rest of his wines are sold through his tasting room. Total production varies by vintage from 80 tons max to 30-35 in a bad year. "This is a small operation," Steve told us, "It's the real deal." And so it is.
Danshi Rise is a bit of a hidden gem. Tastings are by appointment only and signage off the road is subtle. We only found Danshi Rise because our guide for the day, Scott of Premium Wine Tours by Scott Ninnis, suggested the stop.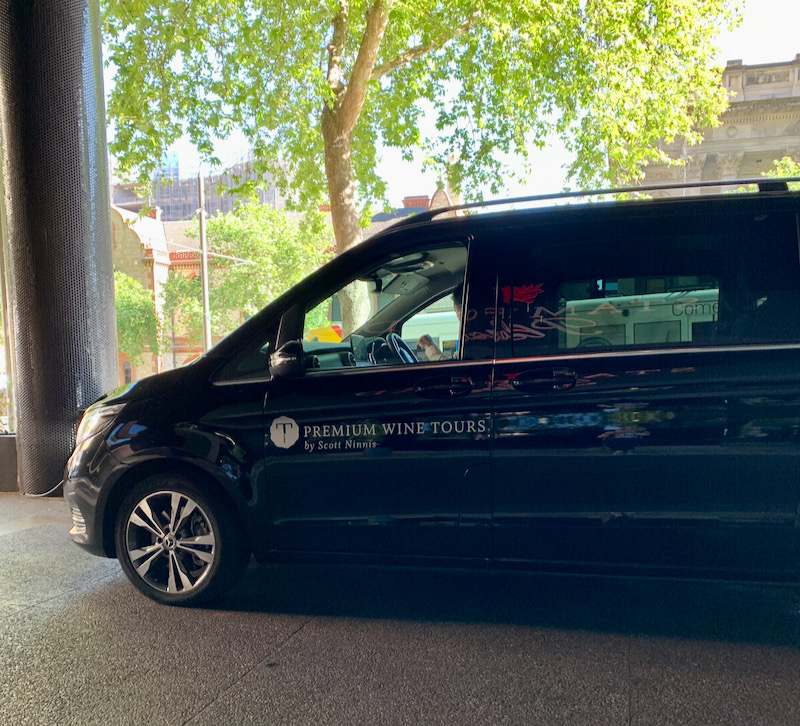 Scott can organize a day of wine tasting in Barossa, McLaren Vale or Adelaide Hills for you. Just let him know the kinds of wines you want to taste, or specific wineries you're interested in visiting, and he will take care of the details. Our day included pick up at our hotel in Adelaide, wine tastings, a stop for lunch, more wine tastings and drop off at our hotel.
Using a local tour guide is our preferred way to explore a wine region when we travel. We can sightsee without having to watch the road or worry about tasting wine and driving. We highly recommend Premium Wine Tours.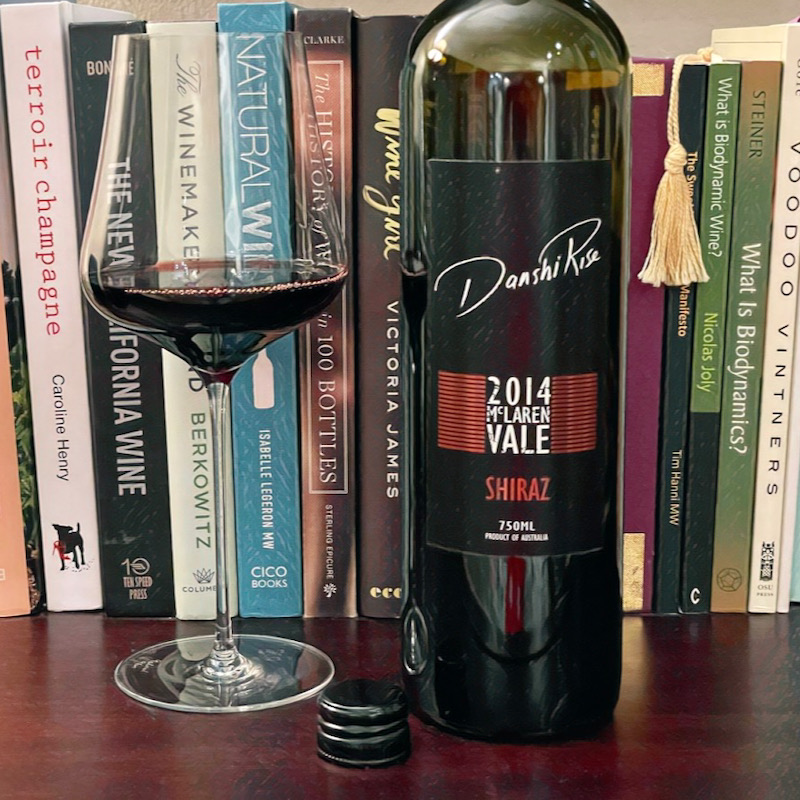 Until we can travel again, we are traveling through the wines in our glass. We recently opened the bottle of Danshi Rise Shiraz we brought home with us. We enjoyed it even more than we did on that October morning back in 2019. Thank goodness for wine.
Cheers!