Fully realizing wine and chocolate pairing is not to everyone's taste, we're sharing a wine and chocolate pairing for Valentine's Day because we also recognize many will think the pairing is a grand idea. We recently received three wines from 7 Deadly Wines and three chocolate bars made by Ghirardelli Chocolate Company as tasting samples, so we are proceeding with enthusiasm and an open mind!
Wine And Chocolate With A Local Connection
The 7 Deadly brand was the brainchild of Michael David Winery in nearby Lodi, California. The wine showcased Lodi's old vine Zinfandel and was made in a fruit-forward style that became very popular. Michael and David Phillips introduced the brand in 2002 and 7 Deadly Zins became the number one Zinfandel in the US between 2015 and 2018 when they sold the brand to The Wine Group. Michael David Winery was named Wine Enthusiast Magazine's 2020 American Winery of the Year.
The Wine Group is located in Livermore, California and their stable of wines includes over 60 brands — among them Benziger Family Winery, Concannon Vineyard, Imagery and Cupcake Vineyards.
Domenico "Domingo" Ghirardelli came to California from Genoa, Italy via Lima, Peru in 1849. He followed the California Gold Rush, but as a merchant not a miner, and established a general store here in Stockton and eventually a second store in San Francisco. In 1852 Ghirardelli opened a confectionary shop in San Francisco using skills he learned in Italy. That shop would become Ghirardelli Chocolate Company. In 1895 Ghirardelli relocated to the Pioneer Woolen Mills on North Point Street above what is now San Francisco Maritime National Historical Park. When the chocolate factory was relocated in the 1960s the building was saved by a group of San Franciscans and eventually redeveloped to retail and fine dining. Ghirardelli Square has become an iconic building along San Francisco's waterfront and was placed on the National Register of Historic Places in 1982.
Let's Taste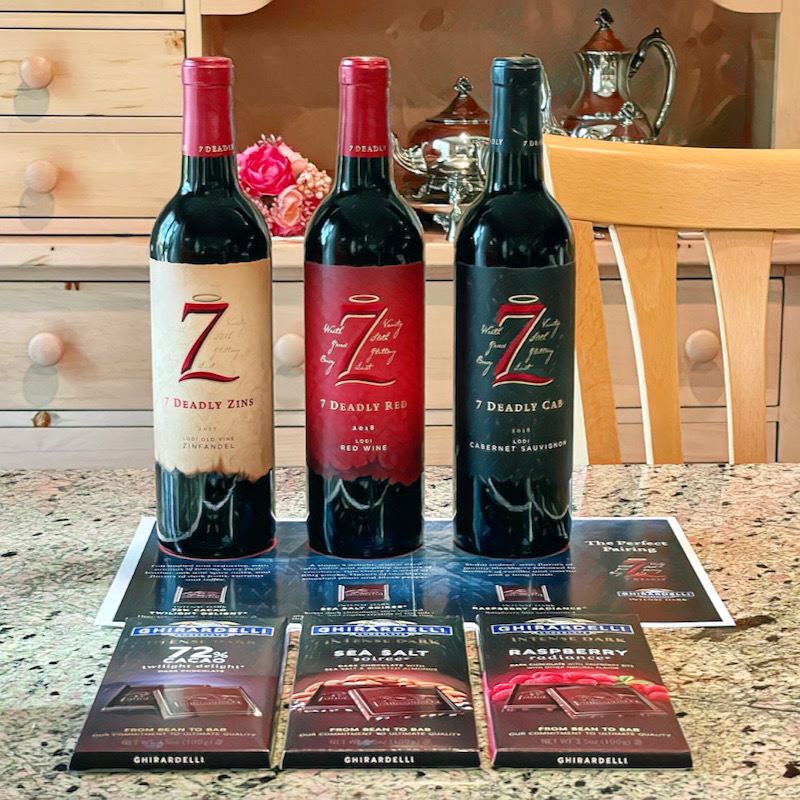 7 Deadly Zins 2017 Old Vine Zinfandel, Lodi — dark ruby in the glass with generous aromas of crushed boysenberries, ripe raspberries and dusty earth. Flavors of boysenberries, blackberries combine with a bit of earth, spice and vanilla. Tannins are smooth and well integrated with the generous flavors in a medium body. 15% abv. SRP $16
Ghirardelli Intense Dark 72% Cacao Twilight Delight — dark, concentrated chocolate flavors without much sweetness and a some pleasant bitterness. I love this style of chocolate for its intense cocoa flavors and bitterness.
The 7 Deadly Zins is rich, fruit-forward and easy sipping. The 72% Cacao is very dark and slightly bitter as expected. It's delicious, but not the best match for the ripe Zinfandel fruit flavors. I think this chocolate pairs better with the Cabernet Sauvignon, and that the Zinfandel needs a chocolate with more sweetness or fruit flavors. The Ghirardelli Intense Dark Raspberry Radiance is my choice with this wine.
7 Deadly Red 2018 Blend Blend, Lodi — dark ruby in the glass with aromas of earth, plums, blackberry and desert scrub. Flavors lead with vanilla, plums and blackberries with earthy notes in the background and lingering flavors of cocoa. Tannins are gauzy and drying in a medium body. 14.8% abv. SRP $16
Ghirardelli Intense Dark Sea Salt Soiree — dark, concentrated flavors of chocolate with toasty flavors of almonds and a pop of saltiness. The combination of chocolate, almonds and sea salt is delicious. The pairing with the fruit and earthy flavors of the red blend works well. Delicious pairing.
7 Deadly Cab 2018 Cabernet Sauvignon, Lodi — dark ruby in the glass with generous aromas of ripe blackberries and plums. Flavors of blackberries, plums and vanilla are bit earthy. Tannins are fine and drying in a medium body. 14% abv. SRP $16
Ghirardelli Intense Dark Raspberry Radiance — intense, dark, bitter chocolate flavors balanced with the fruitless of raspberries. Really delicious combination without too much sweetness. The raspberry flavors pair well with the fruit flavors of the Cabernet Sauvignon. Actually, all three Intense Dark chocolates pair well with this wine.
All three wines carry the Certified Green seal indicating the grapes are certified sustainable by Lodi Rules for Sustainable Winegrowing. Ghirardelli is part of of the Lindt & Sprüngli group and adheres to the group's sustainability and traceability standards for cocoa beans and palm oil.
If wine and chocolate pairing is something you enjoy, these wines and chocolate make good matches. The wines and chocolates are widely available, so feel free to mix and match according to your taste. Remember, if you don't like the pairing together, just enjoy them separately.
Thanks to Double Forte for sending this sweet package our way. Happy Valentine's Day!
Cheers!