Château Malescasse is located on Bordeaux's left bank north of the city of Bordeaux in between the AOCs of Margaux and Saint-Julien. You might say it's located in a great neighborhood. This bottle of Château Malescasse, which we received as a tasting sample, comes with lots of memories for us. It is one of the Bordeaux wines we tasted almost every year at a local wine shop beginning around 2000 until the shop closed in 2017. We always found it to be a wine of very good quality for a very reasonable price.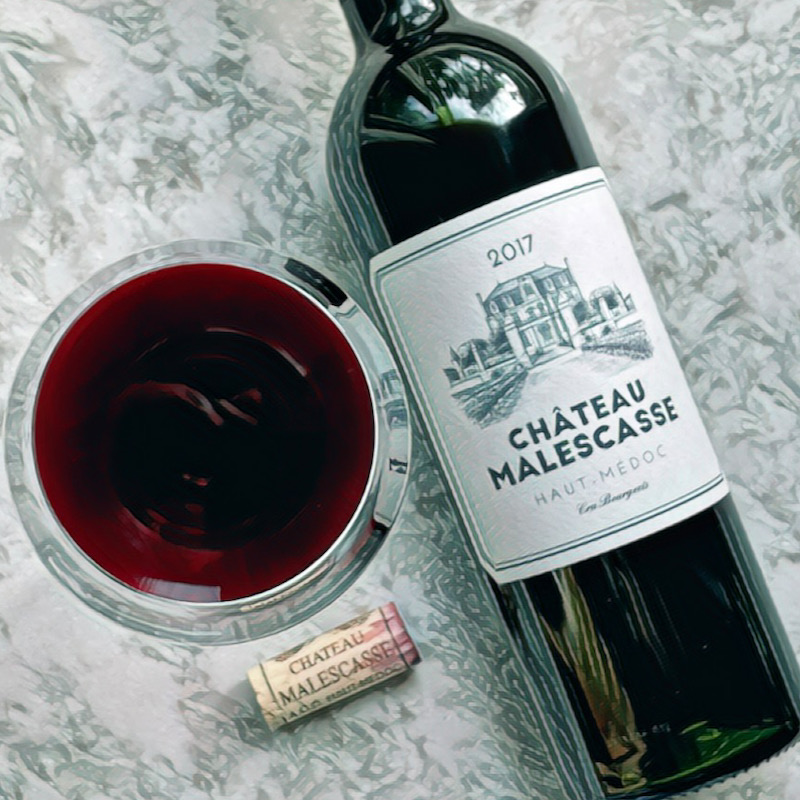 2017 Château Malescasse, Cru Bourgeois, Haut-Médoc, Bordeaux — medium ruby in the glass with aromas of plums, blackberries and green tobacco. Flavors of red and dark berries are supported by nice acidity and notes of cedar and tobacco. Tannins are a drying, but fine, and well integrated. The finish is medium in length and the body is medium. 13.5% abv. SRP $22.
This wine still tastes very young, with vibrant fruit and tannins that are not too aggressive. It should age well, but is very good now.
I do not have a tech sheet for the 2017 vintage, but in the most recent vintages the blend varies with Merlot dominant over Cabernet Sauvignon and a splash of Petit Verdot. Malolactic fermentation usually takes place in oak with 35% new oak and aging for between 12 and 14 months.
Château Malescasse was built in 1824 by the Renouil family in Lamarque. In the intervening years the property has seen some ups and downs. In 1970 Guy Tesseron (Château Pontet-Canet and Lafon-Rochet) purchased the estate and set about replanting the vineyard and renovating the buildings. By 1992 he and his son Alfred had restored the vineyard to its original size of 40 hectares.
For a time the telecommunications group, Alcatel-Alsthom, owned Château Malescasse, but in 2012 sold it to Philippe Austruy, also owner of Commanderie de Peyrassol in Provence. The entire estate has been renovated and the quality of wine improved. In 2003 Château Malescasse was elevated to Cru Bourgeois status and to Cru Bourgeois Exceptionnel beginning with the 2020 vintage.
Thanks to Colangelo & Partners for this taste of Château Malescasse and for the walk down memory lane.
Cheers!