Wine was not the primary reason we traveled to Namibia, but once we discovered there are several commercial wineries located in this arid African county we made it our mission to taste wine from as many of them as we could. It took two trips, but we have now tasted wine from all four commercial wineries in Namibia and visited two of them.
We were very successful during our first trip to Namibia several years ago. We found one Namibian wine in a wine shop in Windhoek and an excellent selection of three Namibian wines at Ongava Tented Camp. Hats off to Ongava for stocking Namibian wine. More safari camps should do this. Our experience left us wanting to taste more Namibian wine.
In addition to tasting wine from that one remaining winery, we decided to visit a winery or two on our second stay. We studied the winery locations in relation to Windhoek, where we stayed at the beginning of our trip, and it quickly became evident that our choices would be limited.
Thonningii Wine Cellar is located north of Windhoek in the Otavi Mountain Valley near Etosha National Park. The drive is nearly four hours (one way) and it is the only winery in the area. Similarly, Neuras Wine and Wildlife Estate is located an equal distance southwest of Windhoek and is the only winery in that area.
At a little over two hours, the drive to Omaruru is the shortest and offers two wineries — Erongo Mountain Winery and Kristall Kellerei whose wines we had yet to try. Omaruru was the obvious choice for our Namibian wine destination.
The next thing we decided was that we didn't want to drive and wine taste, so we hired a car and driver for the day. Or, I should say, Expert Africa, who organized our Namibian vacation, organized a car and driver for us. Best decision we could have made.
Lark Journeys

Driving near Omaruru
Greg, from Lark Journeys, picked us up early on the morning for our Namibian wine adventure. This would be an adventure for Greg as well, who had never been wine tasting in Namibia but, who enjoyed the day as much as we did. The two wineries we visited provided a look at Namibia's newest winery and its oldest. An interesting contrast.
Erongo Mountain Winery
Once off the main (paved) road to Omaruru our drive to the winery took us along a dirt road, through dry countryside, before reaching the brick winery building that also includes a tasting room, restaurant, patio and upper deck.
Erongo Mountain Winery entrance

Erongo Mountain Winery entrance

Patio area at Erongo Winery
Our visit near the end of September put us at the beginning of springtime. The vineyard, which hugs the winery, looked relatively young and was just coming back to life after what is typically a cold, harsh winter. Temperatures can dip into the 20º F range, resulting in a black frost that can kill young vines.
Erongo gapevines leafing out in late September

Vines leafing out at Erongo Winery
Proprietors Wolfgang and Esther Koll, who came to Namibia about 15 years ago, have found growing conditions along the Omaruru River challenging. The farm originally began as a 3500-tree olive orchard, but the trees died after two years. Undeterred, Wolfgang told us he switched his focus to wine grapes.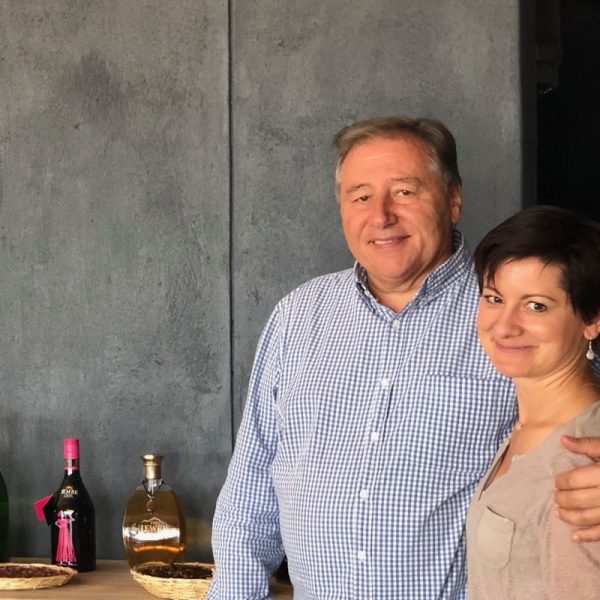 The development of Erongo Mountain Winery has been a process. The original 22-acre vineyard planting shrunk to about 12 acres over time due to the effects of drought, another challenge in Namibia. But Koll, who admitted that they have learned by doing, appears now to be set for a successful future. For the past four years a viticulturist has guided them. Vineyards are irrigated using a drip system (several wells tap underground water) and the plan is to increase the vineyard acreage back to 22 acres. Vine material will come from South Africa.
The current planting includes Shiraz, Cabernet Sauvignon and Cabernet Franc. They are experimenting with Chenin Blanc, Chardonnay, Cinsault and Viognier. In order to manage the threat of springtime frost they have attempted to delay bud break by pruning the vines later in the year.
To augment what is grown in the estate vineyard, Wolfgang also purchases grapes from a Namibian grower in the northern part of the country in addition to growers in South Africa. Grapes from both locations arrive in refrigerated trucks and all winemaking takes place in the Erongo winery.
A consulting winemaker has guided Wolfgang and Samuel Kahimunu in their winemaking efforts. Samuel, who everyone calls Etosha, has an excellent palate according to Wolfgang and the winemaking duo rely on the consulting winemaker less with every vintage.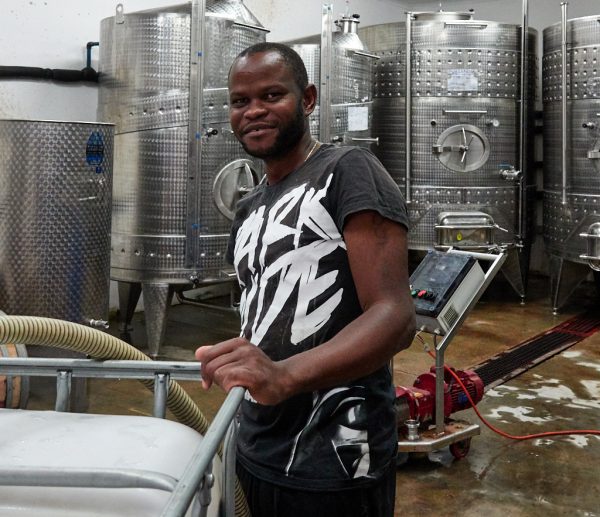 2014 was the first Erongo Mountain Winery vintage and red wines were the first offerings. Chenin Blanc was added in 2017. We tasted a beautifully floral 2018 Viognier from the tank during our tour of the winery.
Aging takes place in oak, using a combination of French, American and Italian barrels. "We do not want to make fast wine," Wolfgang told us, referring to his use of extended oak aging of between 15 and 20 months for the red wines. Bottling and labeling are done by hand, though a labeling machine may be in their future.
Keenan pours a taste of Viognier

Distilling apparatus at Erongo

Barrel variety at Erongo Winery
Wolfgang is determined to give Namibian visitors a taste of Namibia. The current offering at Erongo Mountain Winery includes 4 red wines, 4 white wines and four spirits from their distillery. The distilled spirits use local products, which in turn supports local growers and communities — a benefit that is important to Wolfgang.
Erongo Winery tasting room

Erongo Krantzberg

Erongo Etosha Blend

Erongo Essence of Namibia
The winery also has a restaurant, staffed by a chef with experience in a Michelin-starred restaurant. Wine tastings can be accompanied by light bites or a meal. Several groups of tourists were tasting wine and enjoying lunch when we visited and Wolfgang expects visits to increase. In fact, he voiced a desire to have overnight lodging on the wine farm so visitors can enjoy sundowner on the upstairs deck followed by dinner and an overnight stay. He has capital from investors, so I wouldn't put this beyond the realm of possibilities. Wolfgang has a big vision and lots of energy.
Snacks for wine tasting at Erongo Winery

Light lunch at Erongo Winery

Ostrich steak at Erongo Winery
So, how was the wine? Very good, as was our lunch. We tasted one white wine, a very pleasant Chenin Blanc, and all four red wines, which are balanced with nice tannins and complex flavors.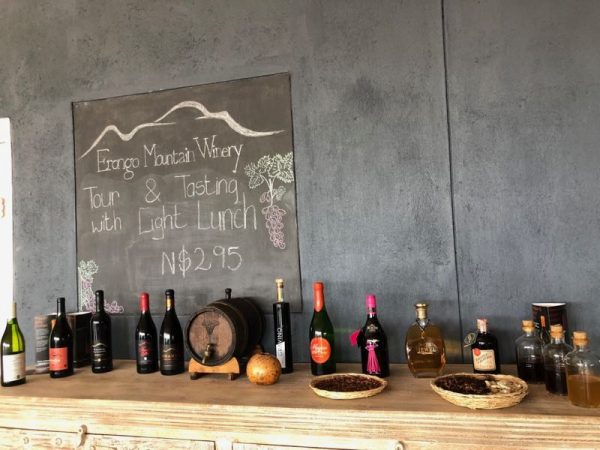 We also tasted the sparkling wine and distilled spirits. The sparkling wine is made using a Namibian fruit called maguni (also known as corky monkey orange or monkey orange.) Essence of Namibia is an herbal liqueur infused with Devil's Claw (which the Bushmen, or San people, use as a digestive aid among other things) and Eembe (pronounced em-bay) is a cream liqueur (similar to Amarula) made with a Namibian fruit called eembe. Both of these spirits offer a unique taste of Namibia.
Kristall Kellerei
Kristall Kellerei (pronounced chris-tall kaller-ray, it means Crystal Cellar) is located along the Omaruru River just on the opposite side of Omaruru from Erongo Winery. The rural location is also accessed via dirt roads off the main tarred road. Vineyards were first planted here by the Kluge family in 1990. They were the first wine grapes planted in the modern era making Kristall Kelleri the oldest operating winery in Namibia by my estimate.
Welkom to Kristall Kellerei

Tasting inside at Kristall Kellerei

Tasting inside at Kristall Kellerei

Kristall Kellerei winery
While developing the vineyards in Omaruru Mr. Kluge also began a distilling operation with fruit grown at Naute Dam near Keetmanshoop, more than 475 miles south of Omaruru. In the early 1990s the Namibian government began planting date palms, pomegranates, table grapes and prickly pear cactus near the dam for export. Not all of the fruit could be sold and Mr. Kluge entered into a partnership to use the excess fruit to distill into fine spirits made under the Naute Kristall label.
In 2008 the current owners, Michael and Katrin Weder, purchased part of the original farm from Kluge. They currently supervise the distillery at Naute Dam and since 2017 the farm in Omaruru has been managed by Christine van der Vyver who took us on a tour and tasting at the winery. Christine grew up in Omaruru.
In deciding what to plant in his vineyards, Mr. Kluge looked to the South African wine region along the Orange River, which separates the two countries. He started with Sauvignon Blanc, Colombard, Cabernet Sauvignon, Ruby Cabernet and Tinta Barroca. Only the Colombard and Tinta Barroca thrived and remain planted today.
The Omaruru River, like almost every river in Namibia, is ephemeral — it runs only in the rainy season and for a short time after. But water is absorbed into the ground where it is stored beneath granite rocks. So in spite of arid conditions, Omaruru has had plenty of water thanks to wells. At least until an extended drought between 2011 and 2016 caused wells to dry up.
Tinta Barroca vineyard

More vineyards at Kristall Kellerei

Christine van der Vyver – Farm Manager
The old Colombard and Tinta Barroca vines have put down deep roots and no longer require regular irrigation, but young Colombard vines planted in 2015 do require water. Christine estimated that about 60% did not survive. The water level looked normal in 2017 so more Colombard was planted along with a few rows of Malbec, Tempranillo and Mourvèdre. Fingers crossed going forward the rains come.
Just recently 150 vines of a German variety called Cabernet Cubin (a cross between Blaufrankisch and Cabernet Sauvignon) were planted. Christine told us the variety is drought-tolerant and only 6 hectares of this variety are planted in the world. They are the first to plant it in Africa. Additional Colombard and Barbera are coming soon.
Current production, entirely from vineyards at Kristall Kellerei and Naute Dam, is small: 60 liters of red wine and 3500 liters of white. About 8 acres are planted with the potential for another 4 to be developed on the farm. About 2.5 acres of Colombard is planted at Naute Dam.
As we toured the vineyards workers were fertilizing with chicken manure from a local egg farm. We noticed some individual vines had been wrapped in dry grass. Christine told us the vineyard workers clear the grass from the vineyard, by hand, and then use it around the young vines to protect them from frost.
Colombard planting at Kristall Kellerei

Young vine at Kristall Kellerei

Young Colombard vines protected from frost

Kristall Kellerei vineyard
The farm employs 6 workers, and there is no need for chemical sprays or fertilizers. The major pests are birds, so the vines are covered with netting as they begin to ripen. Otherwise the occasional duiker, dik-dik or kudu (all are antelopes) wander through the vineyards to nibble on grape leaves. Christine assured us the antelope are not a significant problem and everyone enjoys seeing them in the vineyard.
Old Colombard vines

Distilling equipment

New stainless steel tanks
Grapes are picked by hand and until recently were pressed manually. Fermentation starts spontaneously with a small addition of commercial yeast as needed. Wines are bottled, unfiltered, and bottles are labeled by hand. This is old-fashioned winemaking.
Wine tasting in the Kristall Kellerei 'wine garden'

Naute Kristall spirits
We sat in the shade of enormous trees and were serenaded by a variety of birds as we tasted the 2016, 2017, 2018 Rüppel's Parrot Colombard and 2017 Paradise Flycatcher Tinta Barocca followed by several of the distilled spirits.
Each vintage of the Colombard was distinctive, with alcohol levels at 13.7%, 15% and 16% respectively and tasting from dry to slightly sweet. "Every year is a different outcome. Surprise, surprise! What will it be?" Christine remarked of the variation. At Kristall Kellerei they celebrate the difference each vintage brings.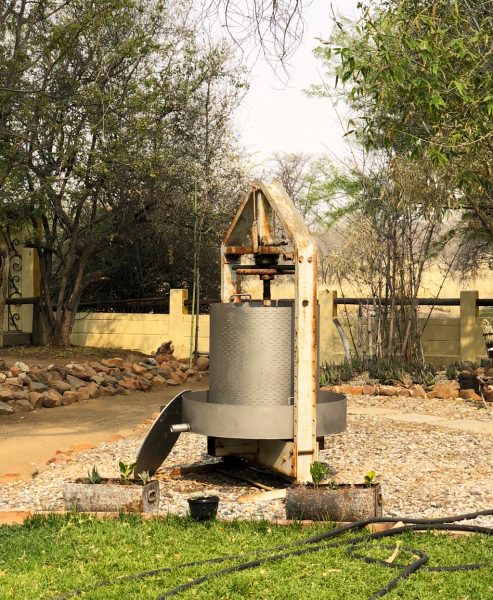 Our experience tasting wine in Namibia was absolutely charming. We left with a great respect for the hard work and determination it takes to make wine in Namibia. Essentially all equipment and winery supplies must be purchased from outside the country. All of this takes time and money. By comparison, winemakers in California have it made.
We didn't have time to explore the little town of Omaruru, but wish we had been able to do so. I can see spending a night in town after a day of wine tasting to allow for an exploration of Omaruru before heading back to Windhoek or Swakopmund. We always like to leave something for next time, so maybe we will see Omaruru in the future.
Cheers!