This month's Wine Pairing Weekend theme takes us to Uruguay, a wine destination that we've only briefly explored. Beyond Tannat we have little experience with wines from Uruguay, so this was a welcome opportunity to learn by doing. The theme this month comes to us courtesy of Jill from L'Occasion who is hosting this month's gathering.
The first thing that was required this month was a little research. I highly recommend you do what I did, skip over to the comprehensive website written by Amanda Barnes, South America Wine Guide. Amanda is a British journalist who has been living in the Southern Hemisphere since 2009 and she is an expert on South American wine. If you are interested in the wines of Argentina, Chile, Brazil, Uruguay, Bolivia & Peru then you will find what you're looking for here.
Winemaking in Uruguay
The winemaking tradition came to Uruguay with European settlers in the 1600s. Uruguay's signature grape variety, Tannat, was brought to the northern region of Salto by a Basque French immigrant, Pascual Harraigue, in the early 1870s.
The wine regions are located primarily, but not exclusively, along Uruguay's coast with 60% near Montevideo in the Canelones region. Amanda describes the coastal climate as mild, Atlantic maritime like to that of Bordeaux with similar rainfall totals.
80% of wine production in Uruguay is red and Tannat is the most-planted (26%) grape variety followed by Black Muscat, Merlot, Ugni Blanc and Cabernet Sauvignon. White wine production is on the increase, however. Uruguay makes about 25 million gallons of wine per year, putting it fourth in South America behind Argentina, Chile and Brazil in terms of volume.
The more than 260 wineries in Uruguay are mostly small, family-owned wineries. Of the 3500 growers, 70% have vineyards that are less than 12 acres in size.
Wine production in Uruguay may be fourth in South America, but per-capita consumption of wine in Uruguay is giant, as is consumption of beef.
The Wine
Finding wine from an unusual location can be a challenge. Happily, we had no problem finding wines from Uruguay. I did an online search and was able to find three wines from one retailer thereby minimizing shipping costs. I chose one variety I was familiar with from Uruguay (Tannat), one that I had never heard of (Marselan) and one variety I'm familiar with, but have never had from Uruguay (Albariño).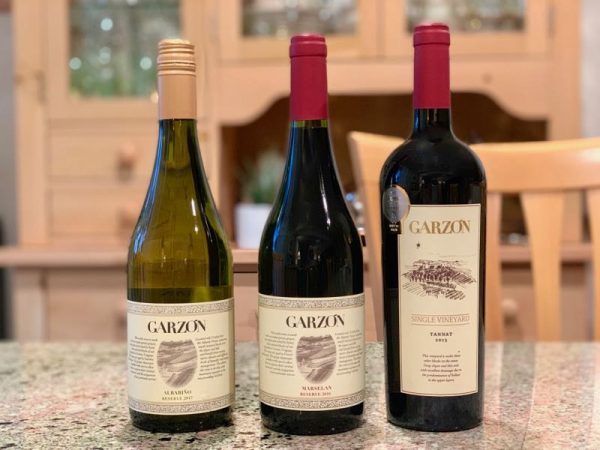 Bodega Garzón is located in the Maldonado province less than a 90-minute drive inland from the resort city of Punta del Este. It is a family-owned winery but one with international connections. Owner, Alejandro P. Bulgheroni, is an Argentinian-Italian international vintner with wineries in Tuscany, Argentina, Bordeaux and California in addition to Bodega Garzón.
Bodega Garzón lies 11 miles inland from the Atlantic Ocean. Vineyards planted over 550 acres of rolling hills include over 1000 plots to take advantage of every nuance offered by elevation, aspect and soil. All Bodega Garzón wines are sourced from estate vineyards.
The 205,000-square-foot winery is the first built outside North America to seek LEED Certification and is where enologist, Alberto Antonini works his magic with varieties from Albariño to Tannat.
Bodega Garzón, which opened in 2016, was recently awarded New World Winery of the Year by Wine Enthusiast magazine.
Have you watched the Wine Enthusiast Media Original Series It Starts With Wine? If you haven't, you must. The series begins with Uruguay and Bodega Garzón.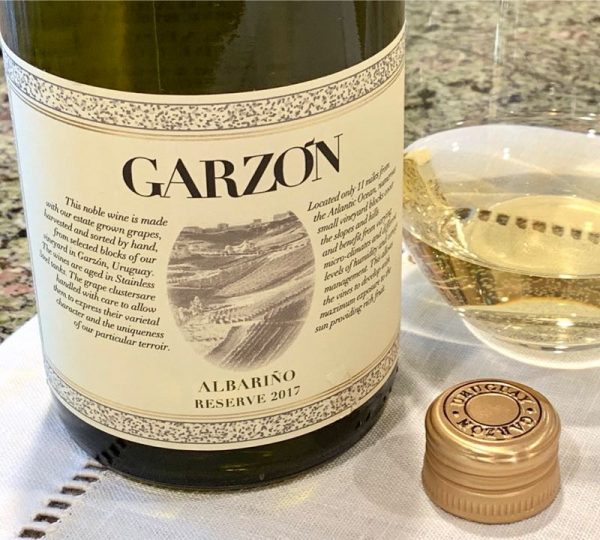 2017 Bodega Garzón Reserve Albariño, Uruguay — pale yellow in the glass with generous aromas of citrus zest, pears and oat hay. Flavors of stone fruit, pears, dusty minerals and citrus zest are supported by ample acidity. 14% abv. $17.99
This lovely Albariño has everything I look for in the variety: bright acidity, complex flavors and the perfect pairing for seafood or a warm afternoon. It is made in stainless steel and spent 3 to 6 months on the lees.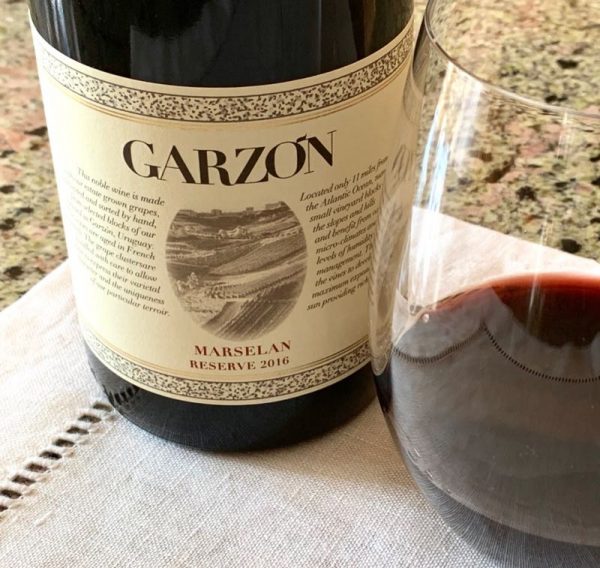 2016 Bodega Garzón Reserve Marselan, Uruguay — dense ruby in the glass with aromas of ripe plums. Generous red fruit flavors, crushed flower stems and dusty earth are supported by ample, grippy tannins. The body is medium with bright acidity. 14.5% abv. $16.99
Marselan makes a lovely, lively red wine that is animated and complex, but not at all heavy. Fermentation took place in concrete tanks and the wine spent 6 to 12 months aging in French oak barrels and casks. It is easy sipping and will pair nicely with pasta, pizza, pork and beef cooked many ways.
Marselan is a relatively young grape variety created by crossing Grenache and Cabernet Sauvignon. The cross was created in 1961 by the French National Institute for Agricultural Research (INRA) at the Domaine de Vassal station in Marseillan.
Marselan is mostly used as a blending grape in the Languedoc and Southern Rhône regions of France. It has found a home in China as well as Uruguay.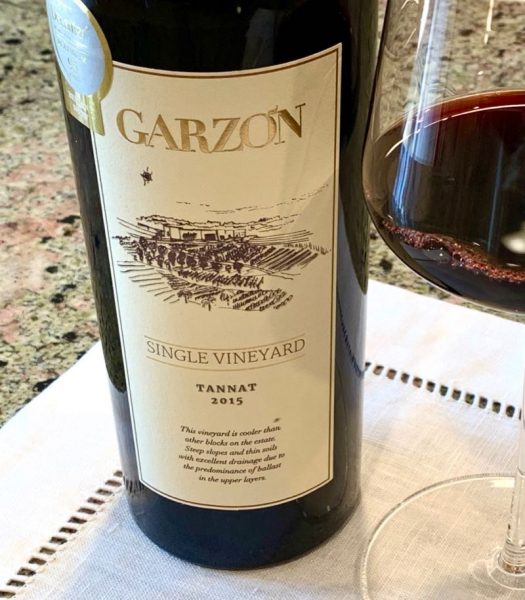 2015 Bodega Garzón Single Vineyard Tannat, Uruguay — dense ruby in the glass with aromas of dark fruit and dusty earth. Generous flavors of dark fruit, blackberries and plums along with generous earthy banknotes are supported by generous, grippy tannins. The body is medium+ with nice acidity and a very long finish with flavor and tannins. 14.5% abv. $26.99
As advertised, Tannat is a tannic, chewy variety with complex flavors and textures. This single-vineyard Tannat is sourced from a cooler vineyard block on the Bodega Garzón estate. It was fermented in concrete tanks and spent 12 to 18 months in French oak barrels and casks. It will stain your teeth and make the perfect pairing for grilled meats. The more char the better. That said, it worked very well with our vegetarian meal — heresy I know for most Uruguayans.
The Food and Wine
Albariño is an excellent partner for seafood and this one is no exception. And, this time of year I'm still thinking about Dungeness crab, so Dungeness crab Louie the pairing I had in mind with this Albariño. It worked beautifully.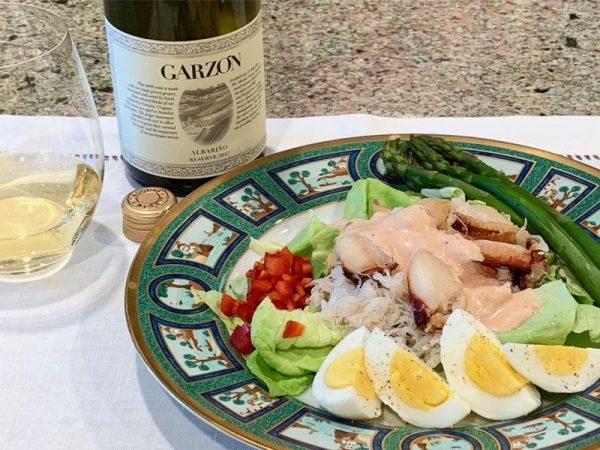 The bright acidity, stone fruit flavors and stony minerality all provided the perfect counterpoint to the richness of Dungeness crab. I kept the accompaniments and thousand island dressing simple to make sure the Dungeness crab was the star of the party.
We went in an unexpected direction with our pairing for the Marselan and Tannat. Grilled beef is the obvious pairing, but we chose a vegetarian option instead.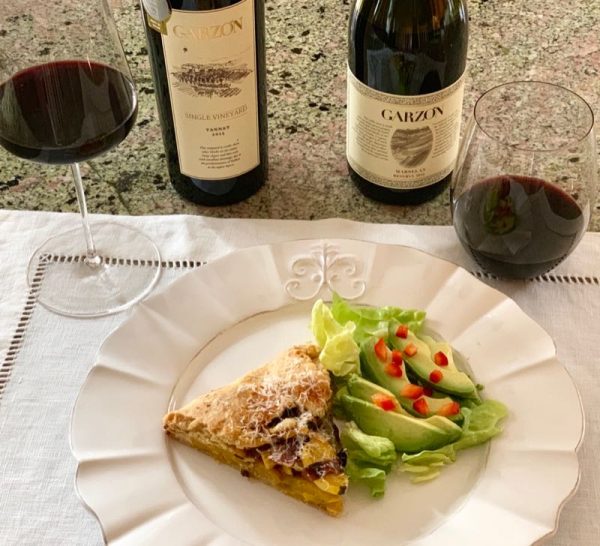 I recently discovered delicata squash and am smitten, so I modified a recipe from Food & Wine magazine, Curried Squash Galette, to include it. Oven roasting the squash and red onions seasoned with curry powder added depth of flavor and complexity that paired perfectly with both red wines.
I highly recommend this recipe with red wine and the roasted squash and onion mixture will also make a delicious side to chicken, pork or beef when you do prepare a meal with meat.
Our Bodega Garzón wine exploration was a total success. The Albariño was everything I expected in the variety. We both were pleasantly surprised by how delicious the Marselan was and, once again, the Tannat delivered exactly what we like in Tannat. The winemaking style suites our palates as well, with its fruit-forward style and restrained oak flavors allowing us to appreciate those fruit flavors of the wines.
Please keep reading to discover the many pairings our group of curious wine and food bloggers have created. Also consider joining us to talk wine from Uruguay and the food we enjoy with it. We will gather on Saturday, February 9 at 8 am Pacific Time on Twitter. Follow #winePW to join the conversation.
Cheers!