Cabernet Franc is the focus of this month's Wine Pairing Weekend (#winePW) group of wine and food enthusiasts. Can you see the broad smile on my face? Cabernet Franc is one of my favorite varietal wines because it makes delicious wine whether it's grown in a cool region resulting in a bright, red fruit wine or in warmer regions resulting in a darker, richer wine. Which style do I prefer? Depends on my mood. Happily, we had several to choose from in our wine cellar for this month's gathering, which comes to us courtesy of host Wendy Klik. You can view her invitation post on her website A Day in the Life on A Farm.
Cabernet Franc — The Interesting Bits
According to Wine Grapes, the compressive text by Jancis Robinson, Julia Harding and José Vouillamoz, Cabernet Franc likely originated in Basque Country. It is genetically linked to two very old grape varieties from the region and may have been taken north to France by pilgrims returning from Santiago de Compostela. The path a grape variety follows over time can be traced by following its trail of progeny even if that trail is not documented in writings from the time.
Cabernet Franc took hold in the Loire Valley, where it has been written about (and called Breton), but not before passing through other regions of France. Does the name Breton imply a connection to Brittany along the way? According to Robinson, vineyards were planted in the region during the Middle Ages when the climate was warmer. Firm evidence of a Brittany connection surfaced when genetic studies confirmed Merlot's parentage to be a natural cross between Cabernet Franc and an ancient variety found in Brittany.

Genetic studies also connect Cabernet Franc to two other important grape varieties. Cabernet Franc and Sauvignon Blanc are the parents of Cabernet Sauvignon, the Cabernet we are likely most familiar with, and Cabernet Franc is also one parent of Carmenère. Both Cabernet Sauvignon and Carmenère originated in the Gironde.
Cabernet Franc may have gotten its name in the Loire because of its association with Abbé Breton who planted a large assortment of Bordeaux varieties sent to him by Cardinal de Richelieu in 1631. Breton planted the varieties in Bourgueil and Chinon.
Cabernet Franc is described as a vigorous variety that prefers clay-limestone soils. It buds and ripens earlier than Cabernet Sauvignon and produces clusters with small berries. It ripens easier in cooler climates, or cooler vintages, which is one reason it is planted with Cabernet Sauvignon in Bordeaux.
Robinson describes wines made from Cabernet Franc as lighter in color, crisper and more aromatic than Cabernet Sauvignon. Underripe versions can be excessively herbaceous. Cabernet Franc isn't planted as extensively as Cabernet Sauvignon, but it is planted in many wine regions around the world. It is more often used as a blending variety than to make varietal wines, except in the Loire Valley where the opposite is true.
The Wine
Although I first fell in love with Cabernet Franc from Napa Valley I am always charmed by Cabernet Franc's expression in the Loire Valley. The wine we chose for this pairing is grown by Dominique Joseph in the Loire Valley's Saumur Champigny. He is a fourth-generation vigneron whose family has only made wine under their own label since 2011.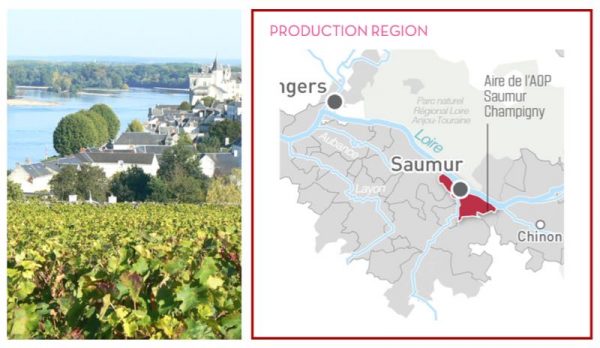 Saumur Champigny lies within Saumur AOC around eight villages near the city of Saumur. The name Champigny is believed to be derived from the Latin campus igni (field of fire) due to very warm temperatures in the area during summer.
Soils in the region are sand over chalky tuffeau. Cabernet Franc along with Cabernet Sauvignon and Pineau d'Aunis, though very rare, are the allowed varieties. The climate is described as temperate maritime.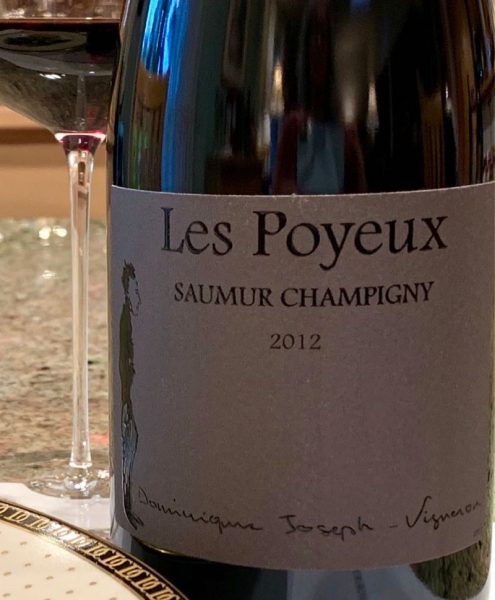 2012 Dominique Joseph Petit St. Vincent 'Les Poyeux', Saumur Champigny — dark, translucent ruby in the glass with aromas of red fruit, dried herbs, celery salt and hints of leather. Red fruit flavors of tart raspberries and cranberries follow along with black tea, dried herbs, slate-like minerality and leather. Acidity is bright and juicy. Flavors of dried red fruit and leather last on the finish along with smooth tannins. The body is on the light side of medium. Flavors evolve with time in the glass and provide a pleasing, and contemplative, glass of wine. 12.5% abv. $45
What a lovely Cabernet Franc. The combination of red fruit, leather and delicate herbaceous notes makes this a compelling wine to me.
The Joseph family owns a bit over 30 acres of vines around the small town of Varrains planted on clay and limestone soils. All farming is done without the use of chemicals or pesticides.
The lieu dit (named place) of Les Poyeux is a 2-acre vineyard located on gently sloping terrain with a southwest orientation. The soil is sandier than surrounding areas and the vineyard is farmed organically — and is certified. The average age of the vines is 55 years.
The Cabernet Franc was de-stemmed before being fermented in concrete. Aging took place for 12 months in 2 to 4-year-old barrels and the wine was bottled without fining and only light filtration.
The Food
I consulted one of my favorite cookbooks, Dori Greenspan's delightful Around My French Table, for this food pairing. I wish you could see how many markers I have in this book. I had Dori's Chicken Breasts Diable in mind for this Loire Valley Cabernet Franc pairing. It is easy and quick to prepare and is just as delicious made with chicken or pork. I chose chicken for this pairing.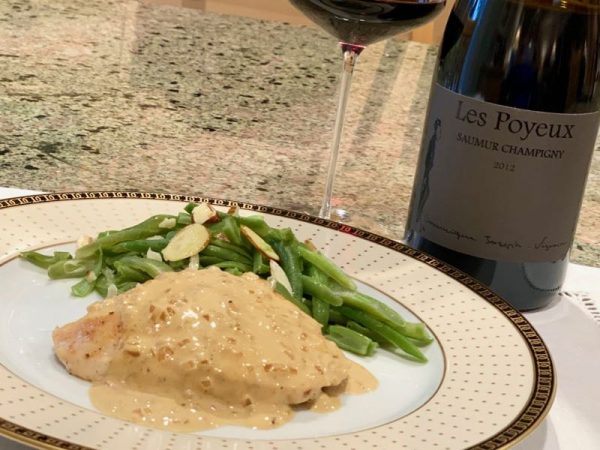 Print
Chicken Breasts Diable – Adapted from Dori Greenspan
4 skinless, boneless chicken breasts, pounded lightly
butter and olive oil – enough to sauté chicken and shallot
1 medium shallot, finely chopped
1 garlic clove, chopped
1/3 cup dry white wine
1/2 cup heavy cream
3 tablespoons Dijon mustard
1 to 2 teaspoons Worcestershire sauce
Print
Directions

Preheat oven to 200º F.
Sauté chicken breasts in butter and olive oil over medium heat until well browned on both sides. Season with salt and pepper. Adjust heat so that butter does not burn and chicken is cooked through without burning. Transfer to heatproof plater, cover and place in the oven.
Deglaze the pan with water to remove the brown bits accumulated in the bottom. Pour off to a heatproof container for use later in the recipe.
Add enough butter and olive oil to sauté shallot and garlic. Sauté over medium heat until softened. Add reserved liquid used to deglaze the pan and the dry wine. Let the mixture boil for a minute or two.
Add the heavy cream, Dijon mustard and Worcestershire sauce. Cook until the mixture comes to a boil. Taste and adjust seasoning as needed.
To serve place a chicken breast on a plate and cover with the sauce. Add sides as preferred. A green vegetable is plenty, but if you add spaetzle it will soak up the delicious sauce.
The Pairing
In a word, fabulous. The creaminess of the sauce played well with the juicy acidity of the wine and the umami qualities of the sauce were the perfect mirror to leather and dried herbs in the wine. A lighter style of red wine was really perfect with this chicken dish and I think it would work perfectly with pork made this way as well.
Cabernet Franc, especially from a cooler climate, is so food friendly and versatile. This wine is a perfect example. It was delicious with chicken and would pair well with pork, beef, vegetables and even fish.
Please keep reading to learn about the delicious pairings put together by the rest of the Wine Pairing Weekend bloggers. And don't forget to enjoy a glass of Cabernet Franc with a meal soon.

We will gather on Twitter to talk Cabernet Franc and the food that pairs with it on Saturday, March 9 at 8 am Pacific Time. Follow #winePW to join the conversation.
Cheers!