This month's Argentine wine theme for Wine Pairing Weekend pleased me to no end. A few months ago we received tasting samples of the Reserve range of wines made by Domaine Bousquet at their winery in Tupungato, Mendoza. It was an easy decision to feature these wines for Wine Pairing Weekend. We have tasted most of the wines made by Domaine Bousquet and found them to be uniformly delicious. And the wines are made using organic grapes, a story I am always happy to share.
I was tempted to cook up a storm for this month's Wine Pairing Weekend event. I pulled out two cookbooks and for a long while contemplated making empanadas. I have fond memories of eating them when we were in Argentina, but that remembrance and wine pairing will have to wait for another time.
This month I was pressed for time, having just returned from a week in Scottsdale that included many delicious and creative dishes in some of our favorite restaurants, and what I was really craving was something simple, savory and warming. And quick, as there was a mountain of laundry staring at me. Enter the savory tray bake. But, first the wine.
Domaine Bousquet
The story of Domaine Bousquet in Argentina began in the early 1990s when Jean Bousquet visited Tupungato in the Uco Valley, an hour south of Mendoza city. He liked what he saw — undeveloped land located at an elevation of 4000 feet above sea level with sandy, low-vigor soil. Before the end of the decade he had sold his vineyard and winery in the south of France and purchased that property in Tupungato.
Jean set about planting this untouched land and farming organically. From the very beginning. Viticulture and winemaking are certified organic by ARGENCERT in Argentina, which is recognized in the U.S. by USDA NOP (National Organic Program) and in the European Union by ECOSERT, among others. Winemaking takes place in Domaine Bousquet's modern winery in Tupungato.
Today, Domaine Bousquet is in the capable hands of Jean's daughter and son-in-law, Anne Bousquet and Labid Al Ameri. Anne's brother, Guillaume, is also a partner and European Sales Manager.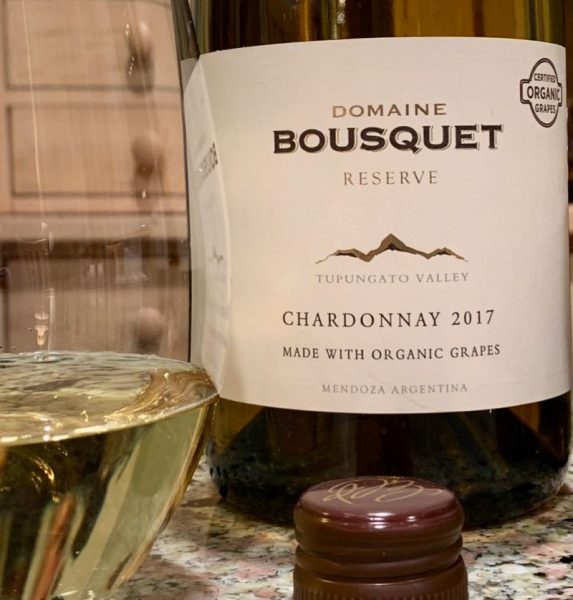 2017 Domaine Bousquet Reserve Chardonnay, Tupungato, Argentina — light golden in the glass with generous aromas of grilled pineapple, ripe yellow apples and dried oat hay. The flavors are equally generous with ripe apples and pears leading the way along with a bit of toast and intense, dusty minerality. Nice body and juicy acidity keeps the wine light and refreshing. 13.5% abv. SRP $18
This Chardonnay is so flavorful and sippable. I admit to pouring myself a splash while completing my laundry tasks. But this wine deserves a meal — anything from fish to chicken to pasta. It has plenty of flavor, nice acidity and a bit of roundness all of which means it will pair successfully with with a variety of meals.
Fermentation started in stainless steel tanks and after seven days 50% of the wine continued fermentation and then aging in French oak for six months.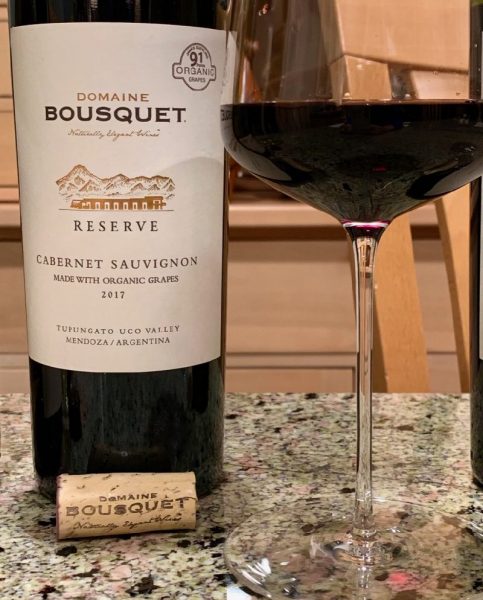 2017 Domaine Bousquet Reserve Cabernet Sauvignon, Tupungato, Argentina — dark ruby in the glass with aromas of ripe plums, dried herbs and cedar. Flavors of ripe plums, blackberries, crushed flower stems, dried herbs and dusty earth are supported by drying tannins in a medium body. The length is medium. 14.5% abv. SRP $18
Give this Cabernet a bit of time to unwind itself. It is elegant and interesting. Malolactic fermentation and aging for 10 months took place in French oak. Once again, this is a red wine for a variety of meals: chicken, pork, beef.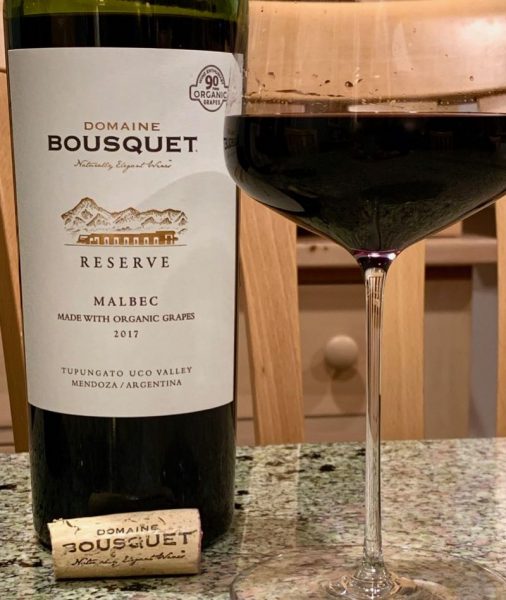 2017 Domaine Bousquet Reserve Malbec, Tupungato, Argentina — dense ruby in the glass with generous aromas of blueberries, raspberries and blackberries. The flavors follow with raspberries, blackberries and dried blueberries along with juicy acidity. Delicate cedar notes join in the background flavors. Tannins are drying and linger along with berry flavors and cedar in the medium-long finish. 14.5% abv. SRP $18
This Malbec offers pure fruit enjoyment with lovely structure. It is expressive and exuberant, without any hint of over extraction or overripeness, from its first pour in the glass. It completed malolactic fermentation in French oak where it aged for 10 months. Anything you cook on the grill will pair perfectly with this wine. That said, it was a delicious pairing for our oven-roasted meal as well.
All grapes for the Domaine Bousquet Reserve wines are sourced entirely from estate vineyards. When you taste any of the Domaine Bousquet wines you will notice the winemaking style allows the flavor of their lovely, organically-grown fruit to shine through. There is no masking flavors with heavy oak treatment. As Anne put it so perfectly when I met her in early 2018, "We try not to put too much makeup on our wines." So true. It isn't necessary.
A Savory Tray Bake
Tray bake: Noun. a flat, usually chewy cake which is baked in a tray, cut into small squares, and served as a biscuit.
As you can see, tray bake (also traybake), is a British noun that refers to baking, not roasting. But tray bake has also come to be used to describe roasting on a tray in the oven to make savory dishes. I love the sound of a savory tray bake, it sounds a lot more fancy than roasting vegetables and meat together in the oven. It also makes me think of the many, delicious episodes of the Great British Bake Off I've watched and where I first learned the word traybake.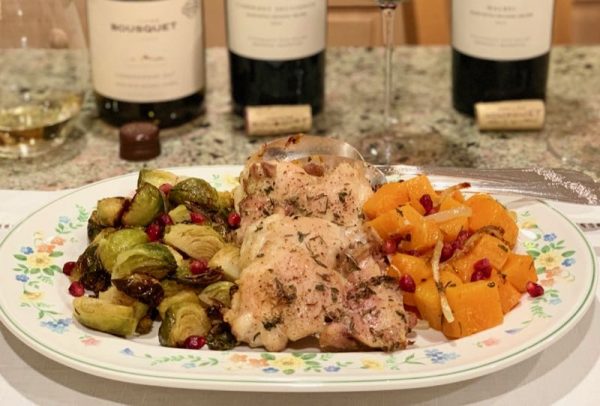 The beauty of a savory tray bake is that you can add any combination of vegetables and meat, or just vegetables if you prefer, that take about the same length of time to roast. Toss each with olive oil, season with salt and pepper and the combination of fresh herbs that pleases you and off you go. I used convect roast at 375º F (190º fan in the UK), to roast chicken thighs, butternut squash and Brussels sprouts. Simple and delicious.
The Pairing
My enjoyment of this wine and food pairing began way before we sat down to dinner. As mentioned earlier, I sipped the Domaine Bousquet Reserve Chardonnay as I did the laundry. Not long after I put our savory tray bake in the oven the aromas of rosemary and thyme filled the kitchen. Soon the aromas of roasting vegetables and chicken warmed our home.
The front label of every bottle of Domaine Bousquet wine declares "Naturally Elegant Wines™". An apt description. We sipped each wine with our meal, feeling hard-pressed to choose a favorite. The combination was a warming welcome home for us. Just what I was hungry for.
Please keep reading to learn about the Argentine wine and food pairings the rest of the Wine Pairing Weekend bloggers prepared. I can hardly wait to read them myself.
On Saturday morning, January 12, at 8 am PST we will gather on Twitter to talk Argentine wine and food. You can join the conversation by following #winePW. I hope you will join us and this month's host, Jeff, from Food Wine Click.
Cheers!