We recently met with Layne over a glass of his 2016 m2 Centennial Harvest Soucie Vineyard Old Vine Zinfandel. We talked about why this vineyard is so special to him as we sipped the wine that is Layne's tribute to this very special Zinfandel vineyard.
Layne Montgomery has a thing for Zinfandel. Talk to him for even a short while and his affection for the variety will become apparent. And while he has several favored Zinfandel vineyards in Lodi, one Zinfandel vineyard stands out to him. It is a Zinfandel vineyard he has been making wine from since before he began making wine commercially at m2 Wines — the Soucie Vineyard.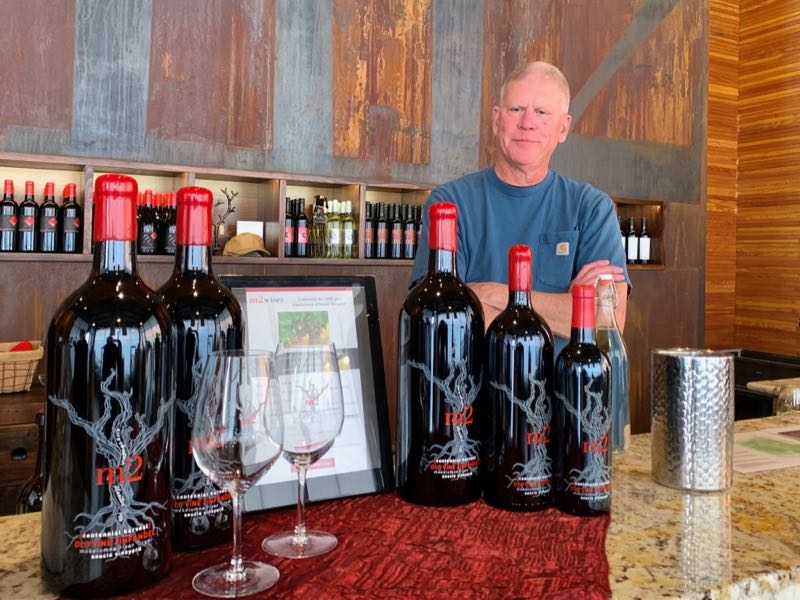 Soucie (Sue-see) Vineyard is planted on the western edge of Lodi's Mokelumne River AVA. The original six-acre block of own-rooted Zinfandel was planted in 1916 by Kevin Soucie's grandfather. Kevin, a fifth-generation Lodi farmer, still farms his family's head-trained vineyard today. Layne pointed out that not many winemakers have the opportunity to make wine from a vineyard that is 100-years-old or older, and with many of Lodi's heritage vineyards being pulled out that opportunity will become even more uncommon.
The vineyard's west side location puts it close to cooling breezes from the Sacramento-San Joaquin River Delta. Layne told us that even when temperatures are over 100º on a summer's day, temperatures fall sufficiently overnight so that he needs a sweater in the vineyard early in the morning.
Soils in this part of the Mokelumne River AVA are Devries sandy loam, alluvium laid down down along what was once the edge of the Sacramento-San Joaquin River Delta, that contain very low organic matter. In the vineyard, this sandy loam is 80 feet deep in places. The soil also contains quartz, which sparkles like diamonds in the sand when it rains.
Layne was taken with the vineyard the first time he saw it in 2002 and maybe with Kevin's farming practices as well. He joked that after touring the vineyard with a group of winemakers Kevin went back to rake everyone's footprints out of the sand because the footprints upset the Zen of the Zin. Yes, Layne possesses a sharp wit.
He also makes a persuasive argument in favor of Soucie Vineyard beyond its history and location. Zinfandel has become America's grape and California is its American home. Lodi, he believes, is the best California appellation for Zinfandel and Soucie Vineyard consistently brings top dollar in Lodi for Zinfandel. Wine from Soucie Vineyard earns top points from critics and wins many wine awards. Beyond that, it just tastes darn delicious.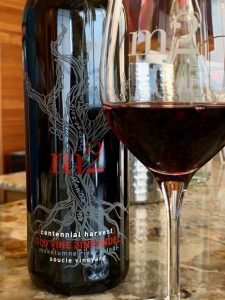 Layne is particularly pleased with his 2016 Centennial Harvest Soucie Vineyard Old Vine Zinfandel. We both quite liked it as well. Over the hour or so we spent talking to Layne the wine developed significantly in the glass. The medium ruby wine initially offered aromas of of red fruit, gravelly minerality and celery salt. Red fruit and earthy, berry bramble flavors followed with notes in the background of black pepper and smoke. Tannins are smooth and well integrated with the flavors.
No need to decant this lovely Zinfandel, just sip it slowly and enjoy its evolution. Think about what was happening in the world in 1916 when the vineyard was planted and all that has happened since. It is history in your wine glass.
Winemaking with Zinfandel, and Soucie Zinfandel is no exception, can be a challenge in the winery due to the relatively high sugar level required in the grapes to develop adequate flavors in the wine. Once in the winery, Layne waits for the sugar level to stabilize in the de-stemmed fruit before initiating fermentation. Then he manages a slow fermentation to develop maximum flavors.
Layne prefers American oak barrels for Zinfandel aging. He uses a variety of coopers and only 20 to 30% new oak to build flavors without overwhelming the fruit flavors of Zinfandel.
Wednesday, November 21, the third Wednesday in November, is National Zinfandel Day (#ZinDay on social media). m2 Wines has already begun their celebration of America's heritage grape with a Zin-centric lineup in the tasting room featuring five different Zinfandels. The tasting includes a side-by-side of three Zinfandels from the Soucie Vineyard. We highly recommend you stop by to taste this delicious tribute to a very special Lodi vineyard.
On a related note… Layne was one of six fearless Lodi winemakers to participate in the
Lodi Native Project
. That project, which started with the
2012 vintage
, made Zinfandel from heritage vineyards in a very specific, hands-off style intended to demonstrate the uniqueness of each vineyard site. Naturally, Layne chose Soucie Vineyard for that project.
Layne describes his m2 Wines Lodi Native Soucie Vineyard Zinfandel as something of a wine geek's wine. It's true. If you're interested in how wine is made, it is the perfect wine to facilitate that discussion. When you stop by the tasting room be sure to give it a taste.
And, by the way, Happy National Zinfandel Day!
Cheers!