The Wine Pairing Weekend group of bloggers is beginning the year with a show of support for Sonoma wineries and an acknowledgement of the fire relief efforts since the devastating fires that scarred the wine country in early October. Jill Barth, this month's #winePW host, set the tone perfectly in her post announcing the event:
We're calling it #SonomaStrong to raise awareness of fire relief efforts throughout Sonoma. Groups such as Sonoma Valley Rotary Foundation, have led the way with this hashtag, and we use the spirit of giving, community, and collaboration to guide our posts and collective voices.
Sonoma Valley Rotary stepped in almost immediately to directly help fire victims, evacuees and first responders. Their work continues, and by June 18, 2018 Sonoma Valley Rotary expects to have distributed 100% of the $566,159 collected through the online #SonomaStrong fundraising effort.
The #SonomaStrong fundraiser is now closed through the Sonoma Valley Rotary Club, but they have suggestions for those still wishing to donate to help fire victims:
Additionally, the County of Sonoma provides the following list of entities accepting financial donations:
A financial contribution is often the only way for those of us who do not live in the area to help, and it is a very effective way to help as well.
Beyond that, visiting Sonoma County will support the economy of the area. Wineries in the area want everyone to know they are open for business and waiting for your visit. A winery visit, restaurant meal or overnight stay helps the local economy and the local folks providing services. And, on top of it all, this is a beautiful time of year to visit. It's a win-win situation!
Our #SonomaStrong Wine
When considering our wine choice for this month's pairing the only choice was Chardonnay or Cabernet Sauvignon, because we knew it would be a wine from Jordan Vineyard & Winery in Healdsburg. The obvious choice might be Cabernet, given the recent chilly weather, but we with Chardonnay instead. It's always nice to mix things up a bit. Besides, I had a food pairing in mind that is warming and comforting that I thought would be just the thing to enjoy with a glass of Jordan Chardonnay and a fire in the fireplace.
2015 Jordan Winery Chardonnay, Russian River Valley, Sonoma County — medium golden in the glass with aromas of yellow apples and citrus zest. Complex flavors of citrus, yellow apples along with minerality and a pop of cedar are supported by bright acidity. The finish is on the long side of medium with nice weight and texture in the mouth. 13.8% abv. $32. Purchased at the winery.
Production notes indicate fermentation took place in stainless steel and 53% new French oak barrels. Malolactic fermentation was limited to 19%. Sur lie aging for two months with weekly stirring was followed by aging in new French oak for 6 months. Jordan uses a variety of French coopers in the production of this 100% Chardonnay sourced from the Russian River Valley.
If there is an ABC (anything but Chardonnay) drinker in your life give her a sip of Jordan Chardonnay – it will change her mind. I know, I was an ABC drinker for a time after running into too many over oaked, bitter Chardonnays that just weren't to my liking. Jordan Chardonnay was one of the wines that changed my mind.
The Food
Jalapeño Popper Dip is a bit low brow for the intellectual Jordan Chardonnay, but together this odd couple is brilliant. The warm, cheesy creaminess of the dip is a perfect match for the flavors, acidity and mouthfeel of the Jordan Chardonnay. The combination was addictively delicious. Is anyone else thinking this would make the perfect pairing for a Super Bowl gathering?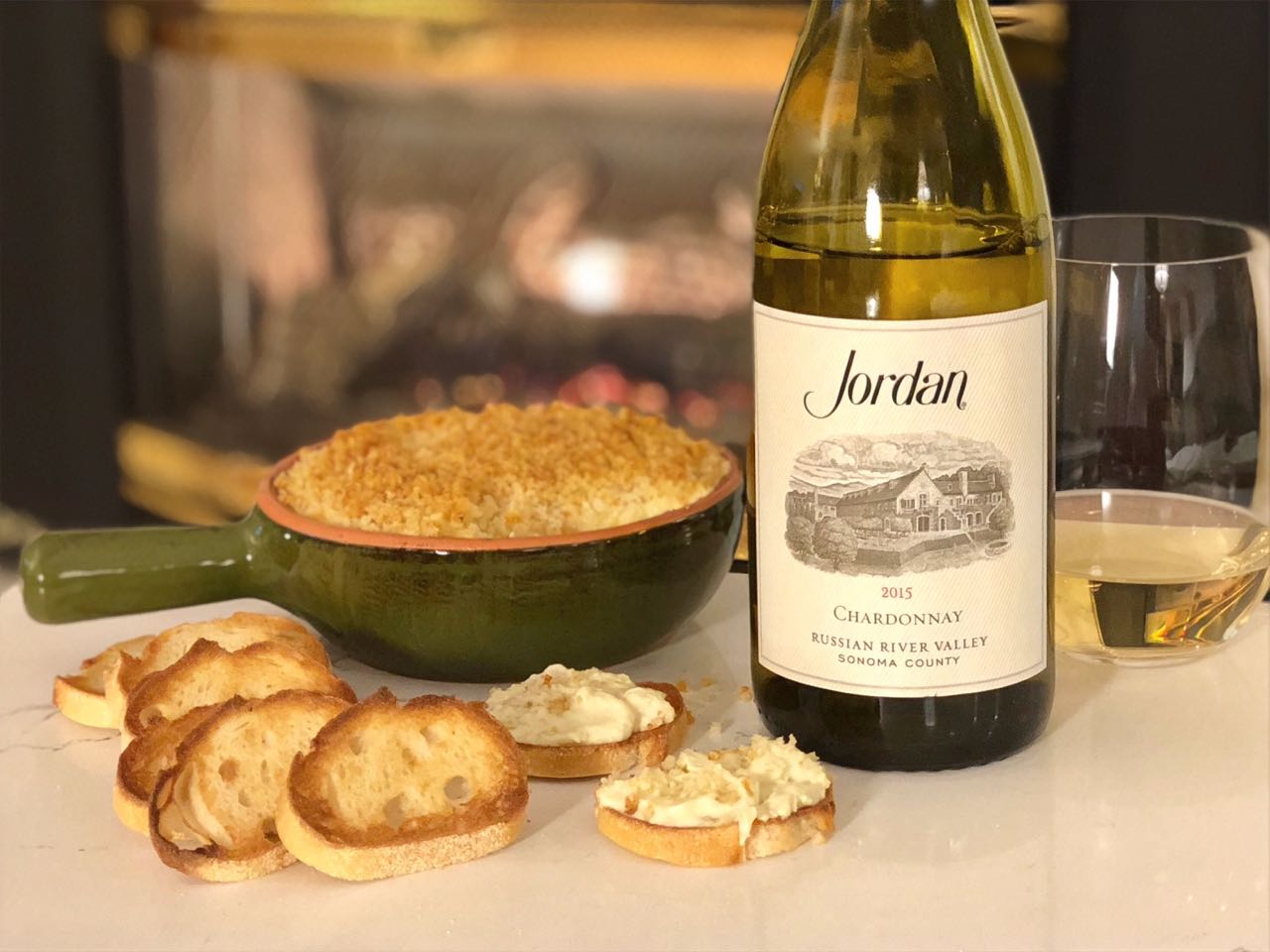 Jalapeño Popper Dip
8 oz cream cheese, softened at room temperature
1/2 cup mayonnaise
1/2 cup shredded cheddar and Jack cheese
1/2 cup grated Parmesan cheese
1 can (4 oz) chopped green chiles
1 can (4 oz) sliced jalapeño peppers, drained
1/2 cup panko breadcrumbs
1 tablespoon melted butter
1 baguette for serving the dip
Directions
Preheat oven to 375 º F
Combine cream cheese, mayonnaise, grated cheddar and Jack cheese, 1/2 the grated parmesan cheese, green chiles and jalapeños in a food processor and blend until smooth
Pour the mixture into an ovenproof container
Mix the melted butter, remaining Parmesan cheese and breadcrumbs
Sprinkle breadcrumb mixture over the dip
Bake until the dip is heated through and bubbles at the edges
Slice the baguette and brown the slices
Once cooled, serve the Jalapeño Popper Dip with the toasted baguette slices
Note: This dip may also be served with tortilla chips, but, I warn you, over eating may result. This recipe is one-half the original recipe.
Please continue reading. The list of Sonoma wine and food pairings from the rest of the Wine Pairing Weekend bloggers looks delicious.
We will be gathering on Saturday morning, January 13, at 8 am Pacific Time to talk about our food and wine pairings and the #SonomaStrong initiative. You can join the Twitter conversation by following #winePW.
Cheers!