The theme for our November Wine Pairing Weekend (#WinePW) event remembers the devastating wildfires that have struck many wine regions around the world recently. The topic for this month's wine and food pairings comes from Gwendolyn Alley who blogs at Wine Predator. The title of her invitation post: Together We Rise: Wines from Fire Struck Regions in CA, Chile, Spain, Portugal.
This time last year we were all reeling from the wildfires that struck northern California. We became familiar with names like Tubbs, Nuns, Atlas and Redwood Valley Fires. In addition to significant loss of property, more than 40 people lost their lives. Then on Dec. 4 the Thomas Fire started in Southern California. The fire would char over 281,000 acres in Ventura and Santa Barbara counties and become the largest California fire in terms of acres burned. Two people were killed.
In late July 2018 a fire began northwest of Ukiah that would become known as the Mendocino Complex Fire. The blaze would eventually consume over 450,000 acres and become the largest fire by acreage in California's history. The Mendocino Complex fire consumed nearly 200,000 more acres than the Thomas Fire. One firefighter was killed fighting the blaze.
California wine country was not the only wine country to suffer devastating fires. Portugal, Chile and South Africa have also been impacted by wildfires.
Rebuilding from these fires continues. Just recently the San Francisco Chronicle published an article summarizing the progress in the Sonoma and Napa regions. PBS has compiled a list of organizations helping victims of California's wildfires.
So, this month our group of wine and food bloggers will be reaching for wines from one of these fire-ravaged regions to pair with food. We chose a wine from our cellar for this month's event. With a winemaking facility in Napa Valley's St. Helena and vineyard partners in the Napa, Sonoma and Anderson Valleys as well as the Russian River Valley and Sonoma Coast, Failla Wines has connections to many of the wine regions damaged by fire. And they make darn good wine.
We first discovered Failla wines through our Les Marchands Wine Bar & Merchant wine club. In 2016 we received a bottle of 2014 Sonoma Coast Pinot Noir. We opened the bottle in December 2016 and it blew our minds. It was one of the most memorable wines I tasted in 2016. It was etherial and complex and immediately drew me in. It was our first taste of the stunning wines made by Ehren Jordan.
https://www.instagram.com/p/BNiPcELDRkm/
I looked for some to buy and discovered Failla wines are available via a mailing list on the winery website. Well, I quickly added my name to the list and we've been purchasing ever since.
Failla Pinot Noir has remained a favorite, there are quite a few to choose from, and I've gotten to know and love many of the Chardonnays as well. I'm just finding my way with Syrah. It isn't a variety we drink very much of.
The Wine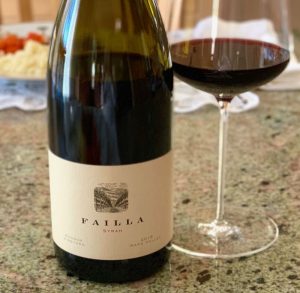 2016 Failla Hudson Vineyard Syrah, Napa Valley — dense ruby in the glass with generous aromas of black olives, dried herbs and dark fruit. Red and dark fruit flavors are backed by interesting savory and black olive flavors. Tannins are drying and persistent in the medium-long finish and the body is on the light side of medium. 14.2% abv. $56
This is a savory Syrah. There are red and dark fruit flavors as well, but it is the savory character of this wine that makes it so remarkable (and delicious) to me. Many Syrahs I taste are very fruity. Some are a bit smoky. Fruit-forward, smoky Syrah is delicious, but it is the savory quality of this Syrah makes it so memorable. We enjoyed this wine over the next couple of evenings and it was delicious to the last drop. I'm happy to say we have another bottle or two in our cellar.
Failla proprietor and winemaker, Ehren Jordan, has been making Syrah, and Chardonnay, from the Hudson Vineyard since 2010 and Ehren's friendship with Lee Hudson goes back much further than that.
The Syrah block was planted in 1997 in Haire series soil. Days are moderately warm here and the nights are cold resulting in a long growing season.
Ehren's winemaking style is hands off. Whole cluster fermentation, utilizing native yeast, and foot treading are part of the program with this wine. Aging takes place in mostly used French oak barrels.
For more insight into Ehren Jordan's winemaking influences, philosophy and what he's working on, give a listen to Levi Dalton's interview with Ehren. It is an interesting discussion between two men who know a whole lot about winemaking. Thanks to fellow blogger, Jeff Burrows, for mentioning the podcast in a comment on my Failla Hudson Vineyard Syrah Instagram post.
https://www.instagram.com/p/Bpk-oDrnGuJ/
The Food
I had a hankering for lamb tagine. Don't ask me why, but that's what I wanted to prepare to accompany the Failla Hudson Vineyard Syrah. So I searched online until I found a recipe that sounded good. I settled on this Moroccan Lamb Tagine recipe. I wanted a recipe with ginger, turmeric and cinnamon. The recipe also called for dried apricots, dates and sultanas. Heat, I presumed, from cayenne pepper would provide a delicious counterpoint to the dried fruit and it did.
The recipe was easy to put together. I cooked it on the stovetop rather than the oven, and that worked just fine. A tagine is not essential to prepare this dish. An added benefit of cooking it on the stovetop is the wonderful aroma that filled the house in the three hours it simmered.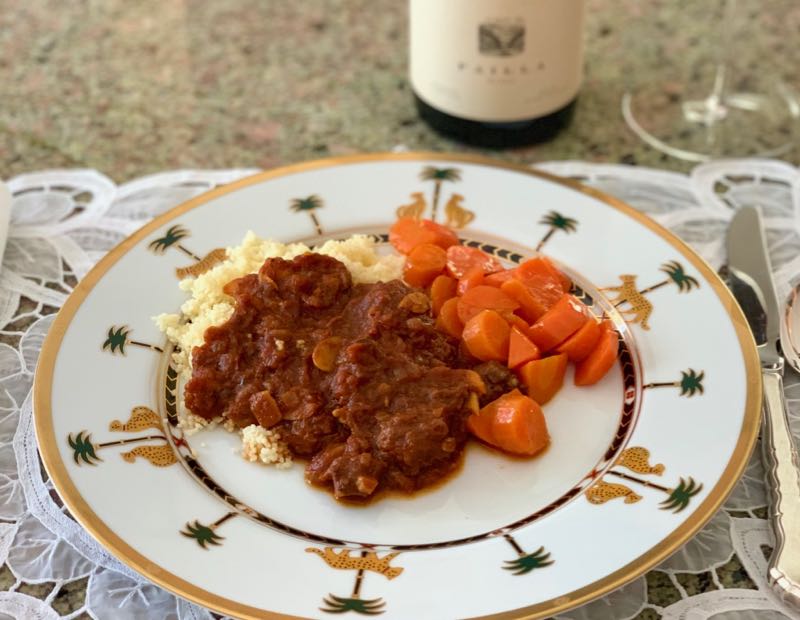 I served the Moroccan Lamb Tagine over couscous and prepared buttered carrots with fresh-ground nutmeg to accompany them.
This dish is hearty and warming. We loved the combination of spice flavors and enjoyed the heat provided by the cayenne pepper. Slivered almonds added a bit of crunch and the dried fruit a bit of sweetness. The sautéed lamb gave this dish a richness and depth of flavor as well. The buttered carrots hit the spot. This is a dish I will make again.
The Pairing
We loved the Moroccan Lamb Tagine and we loved the Failla Hudson Vineyard Syrah, but we weren't as thrilled with the combination as we were with either on their own. The heat and dried fruit flavors in the lamb tagine were not a good match for the savory Syrah. A more fruit-forward Syrah might have been a better match.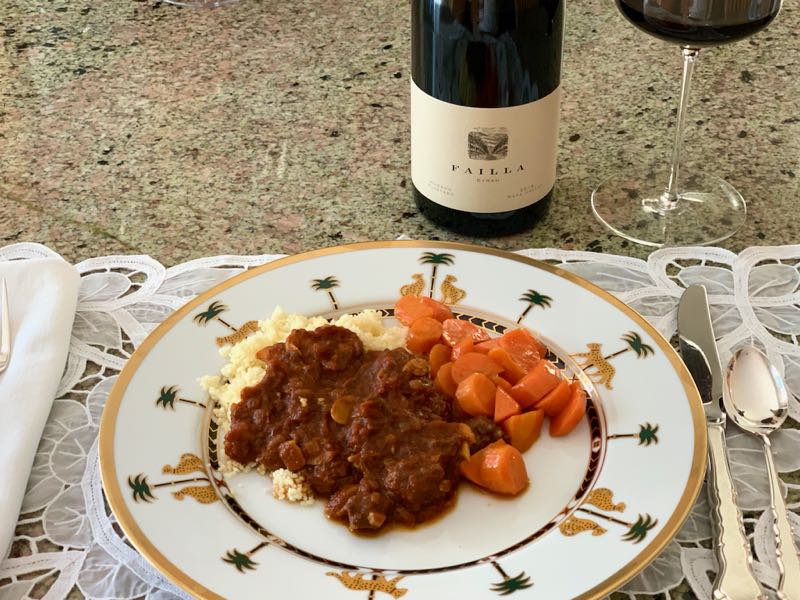 Lamb is a very good match for the Failla Hudson Vineyard Syrah though. Lamb stew with vegetables would be a dynamite pairing or Grilled lamb chops and roasted root veggies. I have made a note for next time.
Not to worry, we enjoyed both our meal and our wine, we just ate first and then enjoyed our wine as we relaxed on the sofa. Not every food and wine paring we conceive works perfectly, and that's OK. It always provides a learning experience, though, no matter how the pairing works out.
Please read on to discover the food and wine pairings the rest of the Wine Pairing Weekend bloggers created. Looks like some delicious pairings. We will be gathering on Twitter Saturday morning, November 10, at 8 am Pacific Time to talk about our food and wine pairings. You can join the conversation by following #WinePW. Please join us.
David Crowley

 of Cooking Chat"  suggests "Butternut Squash Risotto with Roasted Garlic and Sonoma Wine."

Nicole Ruiz Hudson

 of Somm's Table 

 will  "Uphold Ribolla Gialla with Crispy Pork Chops & Braised Cabbage to support California Fire Relief"

Wendy Klik from 

A Day in the Life on the Farm says "Let me tell you a story."
Camilla Mann of Culinary Adventures with Camilla is "Celebrating Sonoma:
Lamb Lollipops with Cranberry-Apple Mostarda + Wild Ridge Pinot Noir 2014.
Gwendolyn Alley of Wine Predator, will have "Post #ThomasFire Gratitudes with The Ojai Vineyard's 2001 GSM and Duck for #WinePW."
Cheers!