The theme for this month's Wine Pairing Weekend was pretty wide open, just grab a bottle of rosé and create a food pairing. Our host, Lori who blogs at Dracaena Wines, left us free to create the food pairing of our choice with a rosé from any wine region of the world made from any grape variety. As luck would have it, I came across the perfect rosé for this pairing a few weeks ago. To create our food pairing, we took advantage of a Lodi wine country visit to stop at our favorite Lodi cheese shop where we gathered ingredients for our food pairing.
The Wine
When our stock of rosé dwindled to almost nothing, a visit to one of our local wine shops became necessary. Almost immediately I spied a rosé made from Pineau d'Aunis, and quickly grabbed two bottles. This unusual Loire Valley red immediately became a favorite of mine late last year when I first tasted it at the same wine shop. In fact, we created a food pairing for the January Wine Pairing Weekend event with that wine and I have enjoyed several bottles of Pascal Janvier Coteaux du Loir Rouge "Cuvée du Rosier" Pineau d'Aunis since. Needless to say, I was curious to taste a rosé made by another producer from the same variety.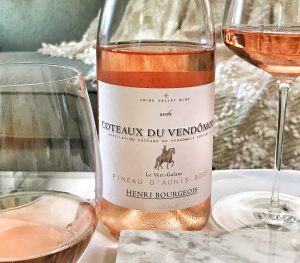 2016 Henri Bourgeois Pineau d'Aunis Rosé — ballet slipper pink in the glass with tart red fruit and peppery aromas. Tart raspberry, cranberry and blackberry flavors are made more interesting and complex by an underlying black pepper spiciness. The wine has a delicate body, juicy acidity and a medium-length finish. 12% abv.
This rosé of Pineau d'Aunis delivers similar flavors to the red version of this wine, but they are more delicate. In spite of the more nuanced flavors it is recognizable as Pineau d'Aunis and is definitely a variety to look for. Once you've tasted it you will always remember it.
The Food
Cheese Central is located on School Street in downtown Lodi and has a wide variety of cheese from around the world as well as a good selection of salami. We dropped in and chose a bit of this and a bit of that to create a charcuterie plate to accompany our rosé of Pineau d'Aunis. Finocchiona salami lent delicate fennel flavors, Calabrese salami echoed the fennel flavors but with the addition of hot peppers and smoky flavors. Both were rich and flavorful.
Zamorano, a sheep's milk cheese made in Zamora, Spain is a hard and crumbly cheese with pungent, nutty flavors. As a counterpoint, we chose a wedge of Domaine du Village Triple Crème Brie. This beautiful, soft cheese is buttery and rich with a silky texture.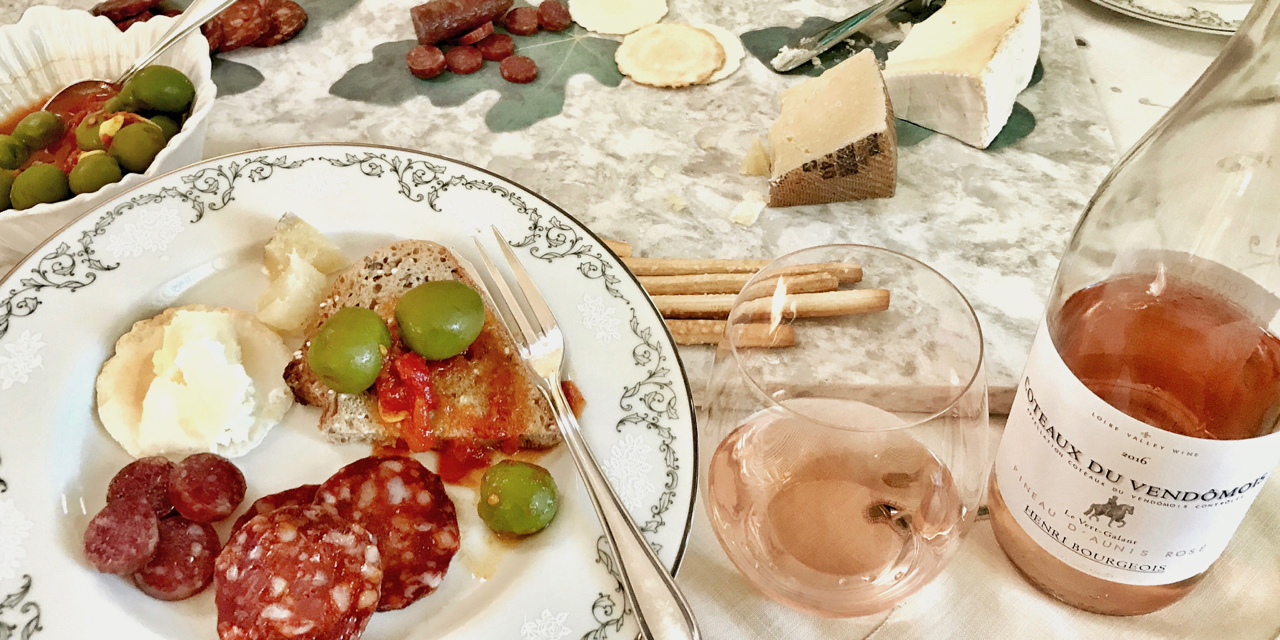 Finally, in addition to bread sticks, crackers and toasted wheat bread, I prepared Castelvetrano olives in tomatoes, garlic and turmeric. This is a dish we first ordered in a restaurant as an appetizer that, coincidently, we enjoyed with a glass of rosé. The olive dish had a much more creative name than what I call it here, but neither Pete or I can remember what it was called on the menu. Oh well, I was pretty sure it would work with this lovely rosé of Pineau d'Aunis which was definitely the case. The olives are earthy, rich and complex tasting and were a nice addition to the flavors of the cheese and salami.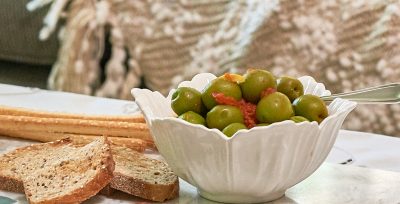 Castelvetrano Olives in Tomatoes, Garlic and Turmeric
16 oz. Castelvetrano olives, with pits
2 small heirloom tomatoes, peeled and diced
2 cloves of garlic, thinly sliced
1/2 teaspoon turmeric
4 slices whole grain bread, toasted
Directions
Drain olives and place them in a small pan.
Add diced tomatoes, sliced garlic and turmeric.
Cook over low heat for 20 minutes or until tomatoes are fully cooked and all flavors have combined.
Allow to cool slightly before serving with slices of toasted wheat bread.
Thank you, Lori, for hosting this month's Wine Pairing Weekend and for choosing rosé as the subject. I am always happy to find a reason to enjoy a glass of delicious rosé.
The rest of the Wine Pairing Weekend group of bloggers have prepared a wide range of pairings with rosé for you to peruse. Be sure to give them a look.
We will be gathering Saturday morning, August 12, at 8 am Pacific Time to chat about our rosé and wine pairings. You can join the conversation by following #winePW on Twitter. We would love to have you join the conversation.

Cheers!