If it's October, then it's time to celebrate Merlot. For the past five years the Merlot Movement has gained momentum with Merlot tastings and social media sharing during October using the hashtag #MerlotMe across social media platforms. The effort is supported by a group of California and Washington state wineries who have declared October International Merlot Month. You will find details about the month-long celebration on the MerlotMe website.
One of the Merlot events listed on the MerlotMe website is this Saturday's Wine Pairing Weekend event, which features food pairings with Merlot. You will find the invitation post for this month's MerlotMe #winePW event on FoodWineClick!, the lovely blog written by this month's host Jeff Burrows.
For the past several years we have been traveling during October and have missed the annual month-long celebration of Merlot, so we were thrilled to be contacted by the organizer of #MerlotMe about participating in the celebration this year. We were sent a generous collection of Merlot as tasting samples from Napa Valley, Sonoma County (and Dry Creek specifically) as well as Paso Robles and Washington state's Columbia Valley. We will be sipping Merlot all month and cooking up delicious pairings for these wines. Stay tuned to our Twitter, Instagram and Facebook accounts for a chronicle of our pairings.
Duckhorn Merlot – A Delicious Representation of Napa Valley
We chose two Merlots produced by Napa Valley's renowned Duckhorn Vineyards for our Wine Pairing Weekend wines. The winery was established in 1976 by Dan and Margaret Duckhorn with the purchase of 10 acres in St. Helena. The first Duckhorn harvest took place in 1978 and produced 800 cases of Cabernet Sauvignon sourced from Stag's Leap District and Howell Mountain, and 800 cases of Merlot from the Three Palms Vineyard. Duckhorn Vineyards now also produces wine under the Paraduxx, Goldeneye, Migration, Decoy and Canvasback labels. The 2017 harvest marks the winery's 40th.
The 2017 harvest for Napa, Sonoma, Mendocino and Solano counties have been struck by an inferno of unprecedented proportions resulting in tremendous loss of life and property. Duckhorn Vineyards remains closed to wine tasting as of the publication date of this post due to safety concerns. Updates will no doubt be posted on the winery website as conditions change. We are especially thankful to have received these wines to share with you at this time.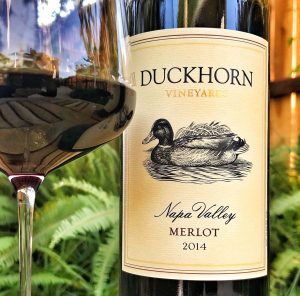 2014 Duckhorn Vineyards Napa Valley Merlot — dark ruby in the glass with rich red and dark berry aromas with a hint of toast. Flavors begin with red fruit and gain complexity with dark fruit in the background along with cedar notes. Drying tannins are well integrated with the flavors in this medium-bodied wine. Bright acidity bordering on tartness keeps this flavorful Merlot rather light on its feet. 14.5% abv. SRP $54
This Merlot is so sippable! It is complex, but not heavy. The blend of 88% Merlot, 7% Cabernet Sauvignon, 3% Petit Verdot, 2% Cabernet Franc was sourced from estate vineyards as well as individual growers in the Napa Valley. Sixteen months of aging in French oak, 40% new, has resulted in a wine that is ready to enjoy now. We found it gained complexity with time in the glass, though we did not decant the wine.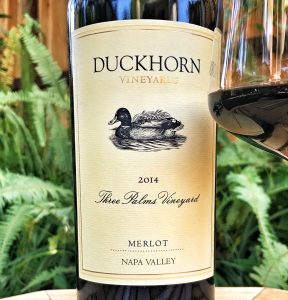 2014 Duckhorn Vineyards Three Palms Merlot — dark ruby in the glass with dense red and dark fruit aromas. Warm red fruit flavors combine with dark fruit flavors of plums and blackberries along with hints of dusty earth and cedar. The flavors are rich and complex without being over ripe. Tannins are drying and smooth in this medium-bodied Merlot that exhibits very good acidity, great complexity and a very long finish. 14.5% abv. SRP $98
This lovely Merlot is so complex. It shows layers of red and dark fruit flavors with hints of earth and cedar lending interest. For those who think of Merlot as is simple or boring, this wine will change your mind.
The 2014 Duckhorn Vineyards Three Palms Merlot is a blend of 86% Merlot, 8% Cabernet Sauvignon, 4% Malbec, 2% Petit Verdot. It aged for 18 months in French oak, 75% new. This Merlot is delicious now, but I would expect it to gain complexity with time in the bottle, assuming you have the discipline to age this lovely Merlot.
The Three Palms Vineyard is located in Calistoga at the warmer end of the Napa Valley and is synonymous with the highest-quality Merlot. The Duckhorns have been instrumental in establishing this very high standard for Merlot. The vineyard is, of course, a key component of that success. The soil is described in this Napa Valley Register article as sparse, bale loam with a volcanic stone component. Three Palms was planted in 1968 by Sloan and John Upton. The property had been owned by San Francisco socialite Lillie Coit who planted the three palm trees that give the vineyard its name.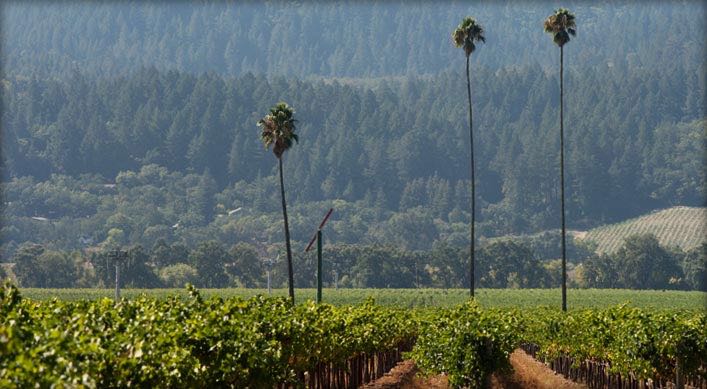 In case you are wondering why one of the three palms is significantly shorter than the others, it's because one died and had to be replanted. The Uptons apparently had no intention of calling the vineyard Two Palms. You will find a complete account of the incident as well as interesting background on the vineyard and Duckhorn in this article, also from the Napa Valley Register.
Since 2011 the Duckhorns have purchased all of the grapes from this important Merlot vineyard and in 2015 they purchased the vineyard from the Uptons.
A Fall Merlot Pairing
After a summer that felt much hotter than usual the cool, damp mornings and just-warm afternoons we've experienced lately are welcome. Now I'm in the mood for roasted vegetables, but not quite ready to give up grilling. Our pairing for these lovely Merlots is simple, but it was so delicious. We grilled a grass-fed New York strip steak and paired it with roasted butternut squash and roasted Brussels sprouts. Yum. We split the steak, grilled to medium-rare, between us and it was just perfect.
The vegetable preparation was so simple a recipe is unnecessary. Just quarter the Brussels sprouts, toss with olive oil, salt, pepper and diced pancetta. Same with the butternut squash: peel, seed and dice, then toss with olive oil, salt, pepper, cinnamon and thyme. Roast at 375º F until just tender.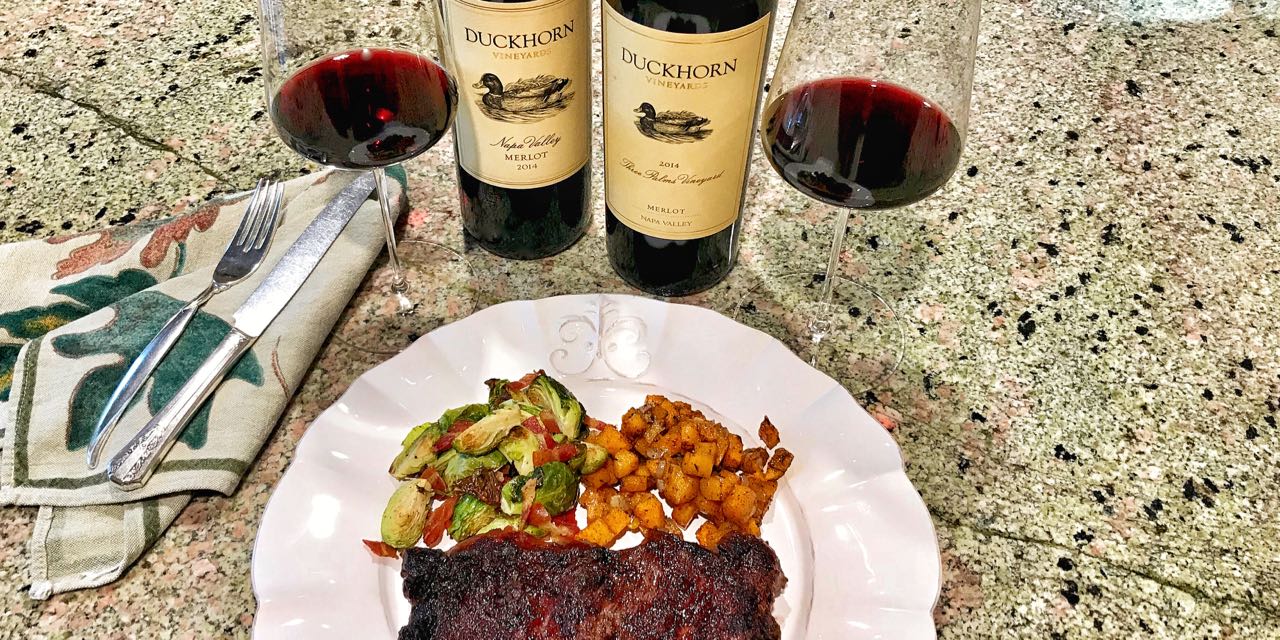 Both Merlots have ample flavor to pair with grilled steak. The Three Palms Merlot is the bigger of the two, but both paired successfully. I wouldn't turn down a glass of either. I expect over the next several days we will finish both Merlots. It would be a shame to waste such delicious wine.
#MerlotMe Pairings from Our Fellow #winePW Bloggers
I see many Merlot pairings below that sound delicious. I will be reading through these posts over the weekend and hope you will do the same.
Our group will gather on Twitter at 8 am, Saturday, October 14 to talk Merlot and food. You are welcome to join the conversation, just search for #winePW to do so.
Remember to share your Merlot experiences during October on social media with #MerlotMe and consider joining a Merlot event near you.
Cheers!