It's February so, of course, the Wine Pairing Weekend group has collected some sweet, romantic and otherwise interesting food and wine pairings to share with you for your Valentine's Day celebration. Christy, who blogs at Confessions of a Culinary Diva, sent out this month's invitation.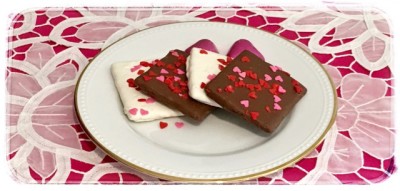 My goal for our Valentine's Day pairing was to create a pairing that was special, but one that would leave me time to spend with my valentine. We started our pairing this month by choosing the wine, one that I expected would be very memorable. I've had my eye on a bottle of Burgundy at a local wine shop for some time. I watched the number of bottles on the shelf dwindle to one and decided it was finally time to act. I snagged the last bottle.
In my mind I had an idea of what to expect from this wine but, because I wanted to get the food pairing right, I asked the wine shop owner about his impression of the wine. He told me to expect delicate aromas and elegant flavors. "It's not a California Pinot Noir," he cautioned. "It has the kind of nose a Burgundy should have." With one final admonition from him not to serve the wine with something too spicy, I was off to create my pairing.
I had a dish in mind as we discussed the 2012 Domaine Jean Tardy & Fils Nuit-Saint-Georges "Au Bas de Combe Vieilles Vignes", one I had found a few days earlier. Something comforting, warm and creamy. A dish that is not fancy on its own, but one that could be elevated with the best ingredients, proper seasoning and by pairing it with this elegant Burgundy. I took inspiration for the dish, Shepherd's Chicken Pot Pie, from two recipes and the result was every bit as delicious as I hoped it would be.
The Wine
2012 Domaine Jean Tardy & Fils Nuit-Saint-Georges "Au Bas de Combe Vieilles Vignes" — light to medium ruby-garnet color in the glass. Berry bramble and earthy aromas are delicate but distinct. Blackberry flavors combine with delicious woodsy and earthy flavors. The tannins are smooth and well integrated. Bright acidity and smooth tannins combine for a lighter weight in the mouth and the finish is at least medium in length. The aromas drew me in and the flavors made me want to stay. What a lovely wine. 13% abv.
Winemaking at Domaine Jean Tardy & Fils is described as traditional with 100% destemming, cold soak prior to fermentation and oak aging for about 18 months in a variety of neutral and new oak. The current winemaker, Guillaume, took over from his father with the 2001 vintage, but Jean Tardy still has a hand in the daily operation of the Domaine. The family produces only about 25,000 bottles per year with the majority of the wine sold for export (lucky for us.)
The Food
The thing I like best about chicken pot pie is the filling. Somehow, I am always disappointed by the crust. Either the flavor or texture is not as expected, or there just isn't enough of it. So, when I saw a recipe that was essentially a chicken pot pie except that the crust was replaced with mashed potatoes, I thought the combination of creamy filling and smooth mashed potatoes might be more satisfying.
By the time this Chicken Shepherd's Pot Pie is assembled everything is completely cooked and the pie just needs a few minutes to brown in the oven and heat through completely. It is a great dish to make ahead of time and warm just before serving.
The first task was to bake the chicken breasts, which I lightly seasoned with salt and white pepper. Next, I peeled the baking potatoes and boiled them until tender. I whipped them with heavy cream and butter and set them aside.
In the meantime I peeled and diced the carrots and cooked them just until tender. In a large sauce pan I sautéed onions until translucent, then garlic, parsley and tarragon. I added flour and cooked it for a minute or so before adding butter and homemade chicken stock to create a white gravy. When the gravy was at the desired consistency, I added diced chicken, carrots and frozen, thawed peas. With everything warmed through, I poured the mixture into a baking dish and topped it with whipped potatoes. It took only 15 minutes at 500º for the potatoes to brown and the filling to begin to bubble.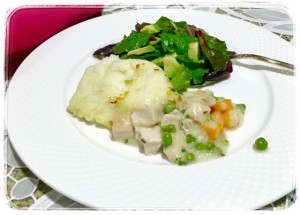 The filling was rich, creamy and perfectly flavored by the chicken and tarragon. Both the carrots and peas were flavorful and sweet. The fluffy mashed potatoes were perfect with the rich filling and the quantity was just right. To our taste, much better than a crust could be. Pete declared the recipe a keeper.
The Pairing
This pairing was one of the most delicious we have enjoyed for our Wine Pairing Weekends. The key to the success of the pairing is balance. I was careful not to over season the chicken breasts and to not add too much tarragon or garlic.
The creaminess of the filling was perfectly balanced by the bright acidity of the Burgundy. Tarragon as a background flavor was an excellent match with the woodsy flavors of the wine. Neither the food or wine trampled over the other.
Take Aways
A humble dish prepared with the best ingredients and properly seasoned can really shine. Truthfully, extra butter and cream can also contribute to the success of a dish.
Just a bit of planning in terms of food and wine pairing can have magical results. When in doubt about a wine, ask someone who knows. I find choosing a Burgundy very challenging, but because I love Pinot Noir I persevere and almost always ask for advice before making a purchase.
Make this dish ahead of time so you have time to clean the kitchen before dinner. Then, all you need do after dinner is the dishes, which leaves you time to enjoy the evening.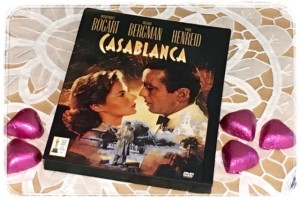 After dinner, we poured another glass of 2012 Domaine Jean Tardy & Fils Nuit-Saint-Georges "Au Bas de Combe Vieilles Vignes", put our feet up and watched one of our favorite movies. Mission accomplished: a delicious dinner followed by time to enjoy a relaxing evening with my sweetie. Perfect for Valentine's Day.
We will be discussing our Valentine's Day pairings on Saturday morning, February 13, at 8am Pacific time. You can join the conversation by following #winePW on Twitter. We will have lots to talk about!
Below is a list of our Wine Pairing Weekend friends' pairings for their Valentine's Day celebrations.
Happy Valentine's Day!
Jade from Tasting Pour:
– Love Letter Pastries and Brandborg Winery Pinot Noir
Jeff from Food Wine Click – Perfect Wine for a Sparkling Valentine's Day Celebration
Martin of Enofylz Wine Blog – Valentine's Surf and Turf with a Twist and Champagne Pairing
Kirsten of The Armchair Sommelier – My Squashy Valentine
Jennifer from Vino Travels – Sparkle Your Valentine's Day with Brachetto from the Roero with Demarie
David of Cooking Chat –
–Cauliflower Kale Soup paired with Pinot
-Sweet Strawberry Cream with Chocolate and Wine Pairing
Michelle from Rockin Red Blog – Valentine's Day in the South of France with #WinePW
Sarah from Curious Cuisiniere – Gougeres (French Cheese Puffs) and Blanquette de Limoux
Cindy from Grape Experiences:
– A Valentine's Gift: Elegant Anaba Wines
–Cava and Crave Worthy Chocolate Cookies for Valentine's Day
Lori from Draceana Wines – Need a Valentine's Wine? As You Wish.
Diana from Wine Pass shares – Valentine Risotto and Rich Chocolate Beet Cake with Brachetto d'Acqui
Valerie of Girls Gotta Drink – A Moscato Food Pairing: Moscato for Breakfast Anyone?
Wendy from A Day in the Life on A Farm – Asian Tuna and Noodles with Rodney Strong Pinot Noir
Camilla of Culinary Adventures with Camilla :
-Cherry-Glazed Chicken with Hahn's Santa Lucia Highlands Pinot Noir
-Barley Stuffed Acorn Squash & Zesty Crayfish with Landmark Vineyards' Overlook Chardonnay
-Wild Boar Mushroom Pot Pies with Landmark Vineyards' Overlook Pinot Noir