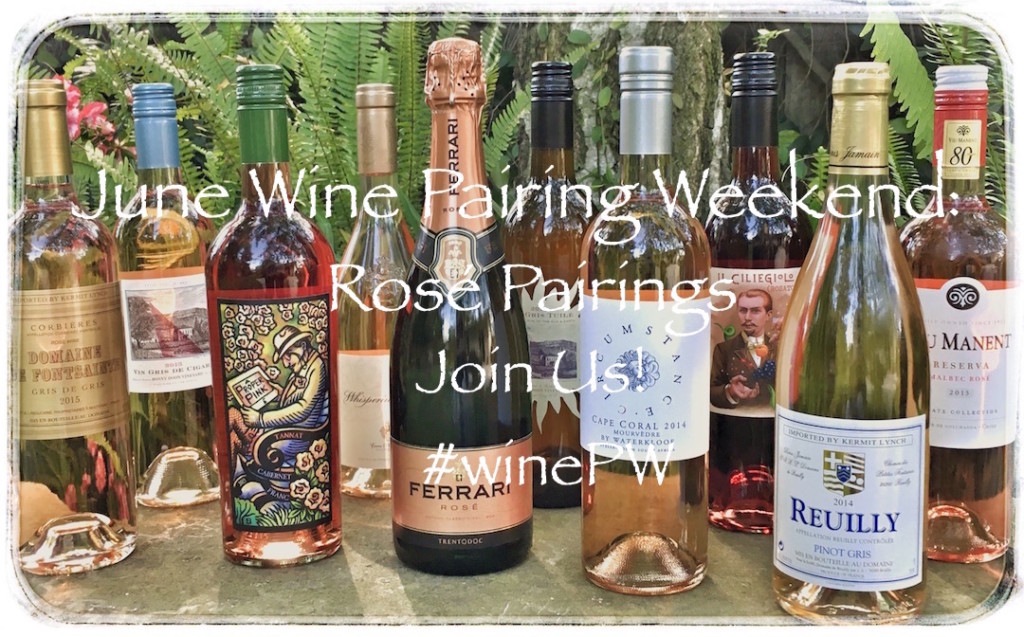 You are cordially invited to participate in the June 2016 Wine Pairing Weekend. The challenge for the month is Rosé Pairings.
Wine Pairing Weekend, also known by its Twitter handle #winePW, is a group of food and wine bloggers who gather together every month to share food and wine pairings. The theme varies every month and is chosen by that month's host.
We publish our posts on the second Friday evening of the month (or early Saturday morning depending on your time zone), then on Saturday morning we gather on Twitter to chat about our food and wine pairings. It's loads of fun and you will meet all kinds of interesting people — in addition to gathering wickedly delicious food and wine pairing ideas. The June event is scheduled for Saturday, June 11.
The pairing challenge for June is very straight forward. Pair the rosé of your choice with the food of your choice. It's all up to you. Begin with a rosé (or two or three) and choose your recipe(s) accordingly, or start with the food and choose the wine.
If you are a rosé lover, like I am, then you already know how food friendly rosé can be. If you're not much of a rosé drinker, then this is your opportunity to step out of your comfort zone and try something new. Either way, please consider joining us for the June Wine Pairing Weekend.
For a list of past and upcoming #winePW events, please visit the Wine Pairing Weekend Calendar on David's blog Cooking Chat. David started Wine Pairing Weekend in June 2014, and we're still going strong.
Here's how to join us:
Send me an email to tell me you're in. Include your blog URL, Twitter handle, link to your Pinterest profile and any other social media detail. As soon as you know the title of your blog post, email it to me. I'd like to get a sense of who's participating and give some shoutouts and links as we get closer to the event. My email is:
Prepare your rosé and food pairing. The pairing is entirely up to you. Any rosé paired with the food of your choice will work. Whatever strikes your fancy.
Send me the title of your post by Tuesday, June 7 to be included in the preview post. I will publish a preview post shortly after getting the titles, linking  your blogs. Your title should include #winePW. If you want to get involved after Tuesday, June 7, just drop me an email with the title of your post and I will add you to the list of links.
Publish your post between 12:01 a.m. and 8:00 a.m. EDT on Saturday, June 11, 2016.
Include a link to the other #winePW participants in your post, and a description of what the event is about. I will provide the html code you can easily put in your initial post — which will link to people's general blog URL — then updated code for the permanent links to everyone's #winePW posts.
Get social! After the posts go live, please visit your fellow bloggers' posts to comment and share on social media. We have a Facebook group for participating bloggers to connect and share too.
Sponsored posts are OK if clearly disclosed. Please be sure to disclose if your post is sponsored or if you are describing wine or other products for which you have received a free sample.
Any questions, leave a comment or drop me an email. I hope you will join us!
Cheers!