Our first Wine Pairing Weekend for 2016 has us "Celebrating Something New in the New Year." This month's host, Camilla Mann, who blogs at Culinary Adventures with Camilla, extended the challenge to all of us. It's the perfect theme for the first month of a new year.
After tasting many wonderful sparkling wines during 2015, I have been inspired to integrate sparkling wines into our everyday dinners (not a resolution, but a a goal for the new year.) Why should sparkling wine be reserved just for appetizers or for a toast? Plus, I love sparkling wine. It's delicious, generally crisp, often dry with generous palate-cleansing bubbles. I love all of those characteristics in a wine. And, the list of grape varieties used to produce sparkling wines is as varied as the regions that produce them.
Through the generosity of the folks at Banner Media Group, we recently received a bottle of Faire la Fête NV Brut Crémant de Limoux as a tasting sample. This is our first taste of Faire la Fête, though not our first Crémant de Limoux, and so we decided to create a pairing with it for Wine Pairing Weekend.
So, the challenge we set for ourselves was to go in a completely NEW direction with a food pairing for our NEW wine. First, no cooking allowed. That's new for Wine Pairing Weekend. We decided to order takeout and eat at home. Second, try a restaurant that is new to us. Ok, I admit that wasn't too hard for us. We don't eat in restaurants very often, and order takeout even less often.
Next, what to order? A quick glance at the Faire la Fête tech sheet gave us some basic information to help us decide. The wine is a brut sparkling wine made in the méthode traditionnelle, and is composed of a blend of 70% Chardonnay, 20% Chenin Blanc and 10% Pinot Noir. Translation: the wine should taste dry (not sweet), should be clean with good acidity and have lots of small bubbles. Possible food pairings: something creamy, something fried, something cheesy, fish, chicken or pork. Hmm… our decision: Japanese food.
The Wine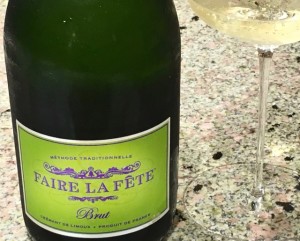 Faire la Fête NV Brut Crémant de Limoux — pale yellow in the glass with many small bubbles. Citrusy aromas are followed by crisp, tart apple flavors with a squeeze of citrus. As the wine warms in the glass the apple flavors tend toward riper, yellow apples but remains citrusy. It finishes with nice acidity. 12% ABV.
This Crémant de Limoux is made in the méthode traditionnelle. That is, still base wines are produced, then blended and bottled along with a bit of yeast and sugar to induce the bubble-producing second fermentation. It's the same method used to produce Champagne, but cannot by European Union law be called méthode champenoise – that is reserved for Champagne only. According to The Oxford Companion to Wine, the Crémant classification was established in the late 1980s to acknowledge dry sparkling wine made elsewhere in France, but in the same manner as in Champagne.
French wine regulations are in place for Crémant production that require specific winemaking processes, but a variety of grapes may be used and vary by location, so that Crémant represents quality sparkling winemaking reflective of the region. There are quite a few French regions, in addition to Limoux, that produce AOC Crémant: Alsace, Bourgogne, Loire, Jura, Die, Bordeaux and the most recent addition, Savoie.
Limoux is located in the foothills of the Pyrenees mountains and is relatively cool with less Mediterranean influence (and more Atlantic influence) than many areas of the southern Languedoc. These hillside vineyards at elevation are perfect locations for the Chardonnay, Chenin Blanc, Mauzac and Pinot Noir that may comprise the blend of a Crémant de Limoux.
Interestingly, the production of sparkling wine was documented by the Benedictine monks of Abbey Saint-Hilaire near Limoux in 1531. They may have been the first to produce sparkling wine, and this date is about 150 years prior to the contributions made by Dom Pérignon in Champagne.
The Food
So, what to choose from the delicious-sounding menu of CoCoro To Go? We decided on three dishes: spicy sesame chicken, asparagus roll and fried squid. Great choices, all.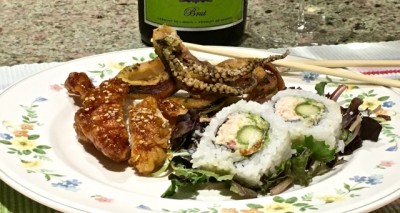 Spicy sesame chicken: dipped in tempura, deep fried and served with sesame seeds and a spicy ginger teriyaki sauce. The tempura batter was a bit crunchy and the chicken tender and moist. The sesame seeds provided a bit of crunch as well, and the ginger teriyaki sauce was spicy and just a bit sweet.
Asparagus roll: sliced into rounds and presented on a mixture of baby greens that included house dressing and wasabi. Each round held snow crab, avocado and asparagus wrapped with seaweed and rice.
Fried squid: sliced and deep fried then tossed with a cilantro pesto and ponzu.
The Pairing
I especially enjoyed the spicy aspect of the spicy sesame chicken with the Faire la Fête Brut. The sparkling wine provided a cooling contrast to the heat of the spicy ginger teriyaki sauce. The nuttiness and crunch of the sesame seeds was accentuated by the cleansing bubbles of the Faire la Fête.
The sweet, salty snow crab and creaminess of the avocado paired beautifully with the bright acidity of the sparkling wine. Even the asparagus fit right in. When I added a dab of wasabi, wow! What a great combination.
Fried food and dry sparkling wine is a match made in culinary heaven, and this pairing of fried squid was no exception. The squid was firm, a bit salty and the savory cilantro pesto flavors paired beautifully with the citrusy flavors of the wine.
The crisp effervescence of the Faire la Fête makes it an extremely versatile wine. It paired very well with each dish in our takeout selection. If I had to choose a favorite pairing from this menu, it would be either the asparagus roll or the fried squid. I can't decide which I liked better.
The Take Aways
This was a remarkably easy and satisfying meal, though it's unlikely we will make a habit of eating takeout, when time is short it can be a good choice. Choose the restaurant with as much care as you do your wine, and the combination is very likely to be a hit.
Use the information on the wine bottle (or ask your friendly, local wine merchant) to help you determine what the wine is likely going to taste like. That will help you make your food decisions.
Consider integrating sparkling wine more regularly into your everyday dinner menu planning. They often represent a very good value, this Faire la Fête comes in at under $20. Start with dry sparkling wines, Crémant would be an excellent starting point, and branch out from there. Think cool climate wine regions.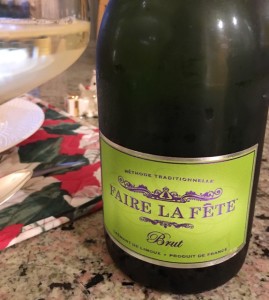 Unless you have friends over for dinner, you will have sparkling wine left after your meal. Invest in a sparkling wine bottle stopper similar to either of these. They will preserve the bubbles in the wine left in the bottle until the next day if refrigerated (be careful when removing the stopper though.) I have had mixed results using them for longer.
It is actually really nice to sip a glass of bubbly the next night while cooking your evening meal and setting the table. If you don't finish the sparkling wine that evening, use it to cook with.
I hope our Faire la Fête NV Brut Crémant de Limoux and Japanese dinner-to-go pairing has inspired you to drink more sparkling wine and to be creative with your food and wine pairings. We certainly had fun with it.
Thanks to Banner Media Group for introducing us to this recent addition to the fine sparkling wines being produced in Limoux. This tasting sample was a great reminder just how delicious Crémant de Limoux can be.
Here is what the rest of our Wine Pairing Weekend blogging friends came up with. Looks like some delicious pairings!
We will be chatting about our food and wine pairings on Twitter, Saturday morning January 9 at 8 PST. Join the conversation by following #winePW.
Cheers!