Our Wine Pairing Weekend (#winePW) challenge for November came from Camilla Mann who blogs at Culinary Adventures with Camilla. The Feast Nearby – Grateful for Local Vintners and Seasonal Foods is the theme this month. Perfect for the Thanksgiving month of November.
Aside from the idea of gratitude, I was also pleased this month's theme included a focus on local vintners. We are fortunate to live in California, home to countless quality wineries, and even luckier to have the Lodi wine region right in our backyard. I reached for a wine from one of our favorite Lodi wineries for this month's pairing. It was almost too easy!
Heritage Oak Winery and Old Vine Carignane
Heritage Oak Winery lies along the Mokelumne River about 6 miles east of Lodi. Tom Hoffman's family has owned land in the area since the 1860s and the winery is located on property given to Tom's great-grandmother by her parents on the occasion of her marriage in 1892. An enormous blue oak stands near the winery building.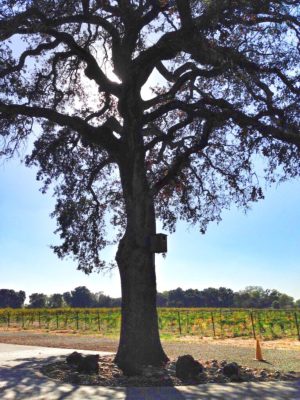 We visited the winery and wrote a profile of it in 2013. After tasting through Tom's wines with him we took a walk through the vineyards and along the Mokelumne River. It was a very enjoyable afternoon. We had another opportunity to enjoy wines from Heritage Oak Winery during the Wine Bloggers Conference in Lodi this past August. We enjoyed dinner paired with several of their wines and had the opportunity to visit with Tom and his wife Carmela. We enjoyed their wines that evening just as much as we did the first time we tasted them several years ago.
Tom's winemaking style is hands off. He uses oak judiciously to produce well balanced and delicious wines. The wine we chose for this food pairing is a perfect example of his winemaking style. It is a wine with ample flavor, without being over ripe, that is just as delicious on its own as it is with food.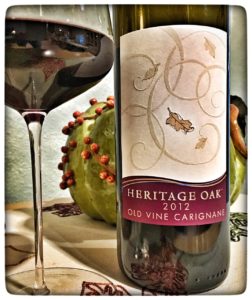 2012 Heritage Oak Old Vine Carignane — medium ruby-garnet color in the glass. Aromas of black tea, dark fruit and earth are followed by bright red and dark fruit flavors. The combination of flavors is at once fruity and a bit tart with great depth of flavor. I love the juicy acidity in this wine and the smooth well-integrated tannins. The wine is medium-bodied and the finish is on the long side of medium. 13.1% abv. 125 cases produced. $28.
The source for this 100% Carignane is the Rauser Vineyard which was planted in 1909. The vineyard is located on the opposite side of the Mokelumne River from Heritage Oak, but it's still in the neighborhood. This wine highlights an interesting dimension to grape growing in the Lodi AVA… it's ancient vineyards. The yield in this ancient head-trained vineyard is low due to its age – less than 3 tons per acre. It's history in your wine glass.
Carignane (the U.S. spelling, also Cariñena and Mazuelo in Spain, Carignano in Italy and Carignan elsewhere) has historically been used mostly as a blending grape due to its high natural acidity and excessive tannins. It is a late-ripening variety, which means it ripens fully only in very warm climates, and it's susceptible to powdery and downy mildew. Its saving grace is its relatively high yield. Just less than 2700 acres are planted to Carignane in California according to the USDA Grape Acreage Report for 2015. Worldwide, plantings have decreased since 1990.
Local Spaghetti Squash and Greek Lamb
Just as we are fortunate to have the Lodi wine region in our backyard, we are also lucky to live in California's San Joaquin Valley where farm produce is abundant. I love shopping at our local Farmers Market where I can purchase directly from the growers. I took a trip to our local market after a month-long absence and found a wide selection of fall squash to choose from. That was the inspiration for this food pairing.
It's been quite some time since I've prepared spaghetti squash, so I did a quick online search to learn how to prepare it. I found an informative post that explained how to roast the squash to achieve the longest spaghetti threads. The technique of slicing the squash in rounds rather than from end-to-end for roasting worked very well though slicing the spaghetti squash is a bit tricky. Extreme caution is advised.
For this pairing I adapted a recipe I have prepared before. I substituted spaghetti squash for orzo in the Greek Lamb with Orzo recipe I found on the FOOD52 website. The recipe was posted by FIVE and SPICE.
The only other modification I made of Emily's recipe was to use less tomatoes than she called for. I used only two-14 ounce cans of petite-dice tomatoes rather than the 28 ounce whole tomatoes and 14 ounce of diced tomatoes. I prefer the texture of petite-dice tomatoes and found that adding two-14 oz cans gave me the right amount of liquid for the meat.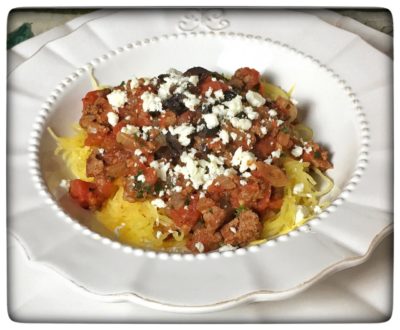 The meal was relatively quick to pull together. I first started the spaghetti squash roasting and prepared the Greek Lamb while the squash was roasting. The meat sauce had plenty of time to simmer while the squash was roasting then cooling enough to handle.
We love lamb, but I know many people do not. If you prefer you could easily substitute ground beef, chicken or turkey. The combination of cumin, cinnamon, coriander and oregano in this recipe created a rich, earthy, complex flavor with the lamb and it paired beautifully with the richness of the roasted spaghetti squash. The crushed red pepper added a bit of heat in the background. Topping the dish with crumbled feta cheese and chopped kalamata olives added a pop of saltiness that was just perfect.
The Food and Wine Together
As I began cooking Pete poured me a glass of the Heritage Oak Old Vine Carignane. I enjoyed this wine so much on its own I worried that I might not like it as much with our meal. Wrong. The pairing was perfect. The red and dark fruit flavors paired beautifully with the earthy, complex flavors of the Greek Lamb. The flavor of the roasted spaghetti squash was rich and the juicy acidity of the wine was a perfect contrast. Neither the wine or the food overwhelmed the other. It was a beautiful combination.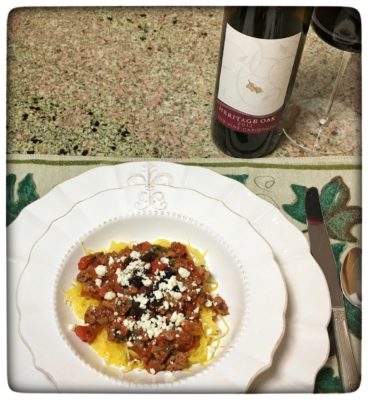 The Heritage Oak Old Vine Carignane is available directly from the winery, if you're close enough to visit. It is also available from their website. I purchased the wine at the Lodi Wine & Visitor Center and it is available on their website as well.
Thanks to Camilla for the great choice of themes for this month's Wine Pairing Weekend. It was a great reminder for me of how fortunate we are to live where we do. Close to good wine and abundant local produce.
Be sure to read all about the pairings the rest of our blogging friends created. We will gather for a Twitter chat on Saturday morning, November 12, at 8 am Pacific Time. You can join the conversation by following #winePW on Twitter. Hope to see you then.
Cheers!