I can't believe another month has flown by and that it is time once again for Wine Pairing Weekend. Our March pairing is co-joined with Open That Bottle Night, which happens every year on the last Saturday in February. Basically OTBN is an "excuse" to open that special bottle of wine you've been holding, or to try a wine you've been curious about. It's up to you to make your own fun. You can read about the origin of OTBN in this article by Dorothy Gaiter one of the founders of the celebration.
Our assignment for Wine Pairing Weekend was to choose a wine for OTBN and then plan a meal to pair with that wine.  Sounded like a fun idea, and it was.
We looked through our wine cellar to see what looked interesting. We've been enjoying Napa Cabernet and wines from Bordeaux recently, but we haven't had a wine from the Rhône Valley recently, so that was our focus. We chose a 2006 Domaine Philippe & Vincent Jaboulet Crozes Hermitage. Yes, it's a mouthful, and a delicious mouthful at that.
Next we moved on to the menu. We wanted to do a braise, something that would fill the house with wonderful aromas but not require standing at the cooktop all afternoon. We chose to modify a delicious-sounding recipe for Braised Lamb Shanks and Root Vegetable Puree. It took a bit of preparation, but then braised in the oven for several hours.
The Food
Lamb shanks are problematic for me. I don't like the way they look in the butcher counter or on my plate when they've finished cooking. I do however love lamb, so I always substitute another cut of lamb in any recipe for lamb shanks I've made. It has always worked out well. My favorite cuts are a round bone chop or shoulder chop. They generally don't have too much fat, and I cube the meat then follow the recipe with that substitution.
This recipe for lamb shanks was new for me, but is very similar to a recipe I have from my mother that is one of my favorites. Because I chose not to use lamb shanks in this recipe, my version of this dish was a bit more rustic. The recipe calls for removing the lamb shanks from the braising liquid after they are cooked then straining the liquid. Because I had cubes of lamb, it was not possible to strain the braising liquid. I left all of the sautéed vegetables in the liquid and it worked out just perfectly.
For some reason I rarely think to puree a mixture of root vegetables, usually its just sweet potatoes or white potatoes on their own. It was the combination of vegetables that drew me to this recipe and I'm glad I tried it. I used a hand blender rather than a food processor as the recipe suggested. This method involved much less clean up and produced a silky consistency.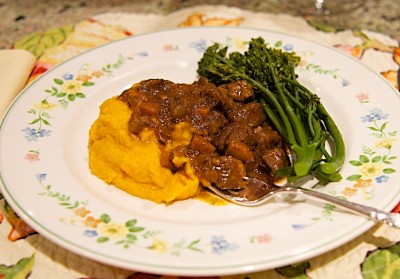 To add color and textural contrast I also prepared broccolini, just lightly steamed. It was simple and delicious.
The Wine
Jaboulet family's winemaking history reaches back to 1834 in the Rhône Valley. For 30 years Philippe was director of production for the family's Domaines Paul Jaboulet Aîné.  After the sale of the family business in 2006, Philippe and and his son Vincent struck out on their own establishing Domaine Philippe & Vincent Jaboulet.
In addition to retaining a portion of the family vineyards in Crozes Hermitage and Hermitage, they purchased a cellar and surrounding vineyards in the village of Mercurol and a vineyard in Cornas. Grape varieties include Syrah, Marsanne and Roussanne.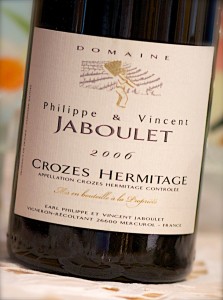 2006 Domaine Philippe & Vincent Jaboulet Crozes Hermitage — translucent ruby-garnet in the glass with aromas of leather and earth. Mature dark fruit flavors mingle with leather, cedar and a bit of red fruit. Tannins are fine and smooth in a light to medium bodied wine with nice acidity. The flavors reflect time in the bottle, and are well worth waiting for. ABV 13%.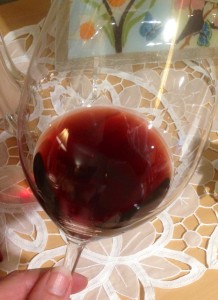 This wine is a perfect example of the rewards of bottle-aging wine. Fruit flavors have changed, becoming darker and are complimented by leather and wonderful cedar flavors. The tannins have become silky yet provide structure along with the juicy acidity. I love these aged flavors in a red wine, and the color has taken on a garnet hue. This lovely Syrah was worth waiting for.
The Pairing
Divine. After braising for over two hours, the lamb was tender and the braising liquid had concentrated and thickened. The flavors were rich, meaty and earthy thanks to the combination of sautéed bacon, onions, leeks, celery, carrots and red wine.
The puréed root vegetables were silky, smooth and sweet. The recipe called for both butter and heavy cream which were partially responsible for the silky texture. Both the carrots and ruby yams provided sweetness and the parsnips added a hint of greenness. If parsnips are not your favorite root vegetable (that would be me), adding them to others can make them more enjoyable.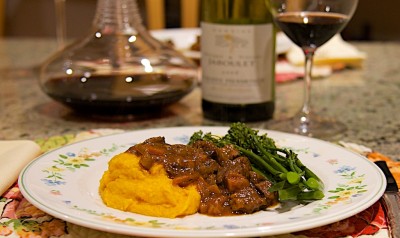 The silky texture and sweetness of the puréed root vegetables added richness and creaminess to the braising liquid and the lamb. I was very surprised this combination worked so well. My usual inclination would be to prepare spaetzle or mashed potatoes with a braised dish. I know that combination is delicious, but so was this and the flavor combination was much more complex.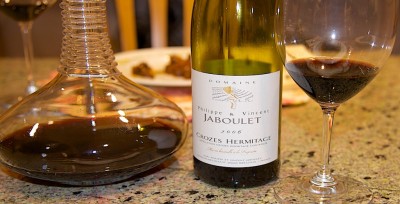 We were happy to have chosen a wine with smooth tannins to accompany the silky texture of the root vegetables. In the end, this pairing was all about texture – the smooth texture of the vegetables and the silky tannins in the wine.
Be sure to check out these special pairings from my fellow #winePW bloggers!
Culinary Adventures with Camilla paired Roasted Flank Steak with Goat Cheese and Caperberries + La Marea 2012 Mourvèdre
Tasting Pour is sharing Chenin to Sheepie? Brava Cava! #Winewpw #OTBN
Curious Cuisiniere paired Entrecote Bordelaise (Steak: Bordeaux Style) with Red Oak Vineyard Meritage
A Day in the Life on the Farm served up Michigan Red with City Chicken
Girls Gotta Drink is sharing A Priorat Wine Masterpiece: 1974 Scala Dei
Vino Travels paired Fattoria dei Barbi Brunello and Pappardelle with Bolognese
Grape Experiences is sharing Wine and Dine: 2012 Van Duzer Willamette Valley Pinot Noir and Chicken Breasts and Zucchini with Marjoram
Wild 4 Washington Wine paired A Special Oregon Pinot Noir with Eastern North Carolina Inspired Ribs
Rockin Red Blog is sharing Celebrating #OTBN on #WinePW
Cooking Chat paired Avocado Chimichurri Beef Tenderloin with a Reininger Carmenere
ENOFYLZ Wine Blog is sharing Friends, Food and Wine; An #OTBN To Remember #winePW.
If you are catching this post early enough, you can join our live Twitter Chat on Saturday, March 14, at 8 a.m. PT, via the Twitter hashtag #winePW. If you've come to us after March 14, consider joining us for #winePW 11 focused on wine pairings for early spring vegetables hosted by A Day in the Life on the Farm on Saturday, April 11.
Thanks to David for hosting this month's #winePW and for the pairing idea. It was a fun pairing for us.
Cheers!