With Cinco de Mayo in mind, the May wine pairing weekend (#winePW) topic was South of the Border. The choice of topics by Christy Majors, this month's host of #winePW, couldn't have been any better. You will find an introductory post about this month's paring on Cindy's blog, Confessions of a Culinary Diva.
We love preparing and eating Mexican food and have several favorite Mexican food cookbooks. Diana Kennedy's Mexican Regional Cooking was my first Mexican cookbook, and always the cookbook I consult first when thinking about cooking Mexican food.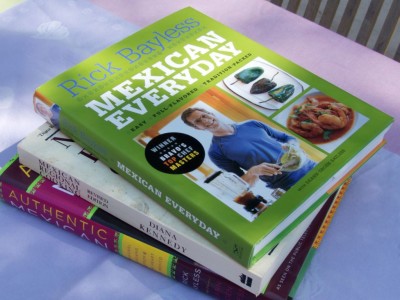 We also have two cookbooks by Rick Bayless, Authentic Mexican and Mexican Everyday. Both are excellent and we cook from them often.
Because our weekends have been busy in the past month, we needed to find a recipe that didn't require lots of time. As much as I was hungry for cochinita pibil, there was just not time for it this month. Another factor is the unseasonably warm weather we've been having, which has already put us into summer mode in terms of eating lighter.
We chose Grilled Chicken Salad with Rustic Guacamole, Romaine and Queso Añejo from Mexican Everyday by Rick Bayless. The salad was delicious, very spicy and didn't take too long to prepare. Perfect for our South of the Border wine pairing weekend.
The introduction of this recipe in the cookbook perfectly describes it:
"Here's an offering to entice folks out of the "grilled chicken Caesar" rut. True, it starts with grilled chicken, but chicken that is redolent of roasted garlic, green chile, cilantro and lime, chicken that dances the cumbia with guacamole, crisp romaine and nutty aged cheese."
Now for a wine to pair with this spicy chicken salad. We considered a white wine initially, figuring a dry white wine would be a good match. Ultimately though, we decided to pour a rosé…we just love dry rosé so much and drink it very often during the summer months (though I am not opposed to drinking rosé during cooler months as well!) We chose our last bottle of 2013 Waterkloof Circumstance Cape Coral.
The Food
The recipe calls for a spicy dressing that is prepared from chilis and garlic cooked in oil and then pureed along with cilantro, lime juice, salt and pepper to taste. The dressing is used to marinate the chicken breasts before grilling them, to spice up a chunky guacamole and grilled onion mixture as well as a dressing for the lettuce.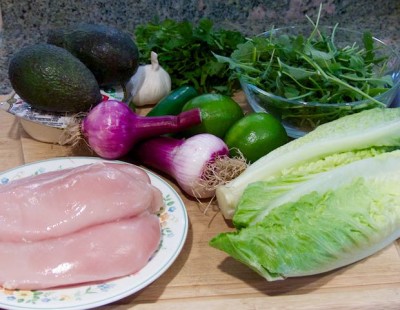 I used two serrano chilis and one jalapeño. The jalapeño was not hot at all, tasting more like a green bell pepper than a chili. The two serrano chilis were spicy however, and in spite of their spiciness, I did not remove the ribs or seeds from the halved chilis before sautéing them along with the garlic and jalapeño. As a result, the dressing was very spicy, just how we like it. To make a dressing that is less spicy, simply remove the ribs and seeds before you sauté them.
Next, I combined the softened chiles, garlic and the oil with cilantro, lime juice and salt and pepper in the bowl of a small food processor. I processed the mixture until it was smooth. It was delicious.
We marinated the three skinless, boneless chicken breasts (Mary's Free Range Chicken is the only chicken I buy) in a bit of the dressing for the length of time it took to prepare the grill and for the fire to burn down.
The recipe called for a white onion to be grilled, but because there were beautiful, red spring onions in the Farmer's Market I used them instead.
While Pete grilled the onions and the chicken breasts, I prepared the lettuce. In addition to the chopped romaine, I used a bit of baby arugula — just for interest.
Once the onions were grilled, I chopped them and added them to the diced avocados along with a few teaspoons of the spicy dressing. This makes the rustic guacamole, which you can leave chunky or smash if you like the texture a bit more creamy.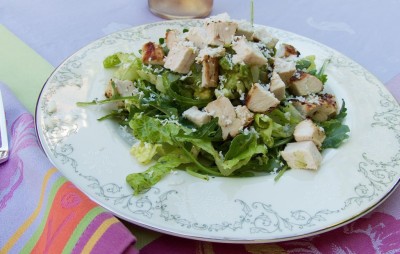 We let the chicken breasts rest a few minutes before dicing them, and assembling the salad. I added a few tablespoons of the dressing along with a bit more olive oil to lightly dress the greens. Then each plate got a dollop of guacamole, some diced chicken on a bed of greens and a dusting of grated Mexican queso añejo cheese.
The Wine
We dug into our wine cellar and pulled out one of our very favorite rosés — one made in South Africa. Waterkloof Wine Estate is a biodynamically-certified wine farm located in Somerset West, in the southeastern portion of Stellenbosch. We first tasted this rosé during a winery visit last July. At that time, we fell in love with the beautiful setting of the winery and their commitment to biodynamic farming principles, which we wrote about in a prior post. We will post shortly about our wine tasting with Waterkloof winemaker Nadia Barnard and the delicious lunch we enjoyed at their spectacular restaurant. It seems like we always have that food and wine thing going on!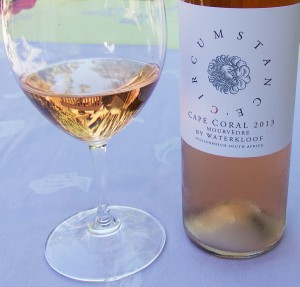 2013 Waterkloof Circumstance Cape Coral — pale coppery-salmon color in the glass with generous aromas of ripe berries, spice and earth. Similar berry flavors combine with delicate earthy flavors and just a grating of citrus zest. The finish is fairly long lasting with flavor and bright  acidity. ABV 13.5%.
To Pete, this wine sings with the flavors he associates with Mourvèdre. Aromas are evident as soon as the wine is poured into the glass and the flavors exhibit a level of complexity that mostly comes only from a rosé made using several varieties. It really is a special wine.
The grapes were hand harvested and gently whole bunch pressed. Fermentation, using natural yeast, was long and slow in large wooden fermenters which allows the complex flavors you taste in the glass to develop. We loved the wine the first time we tasted it last July, and still do today.
The Pairing
Wow! The Grilled Chicken Salad with Rustic Guacamole, Romaine and Queso Añejo was deliciously spicy, peppery and creamy thanks to the guacamole. The chicken had nice smoky, charred flavors and a zestiness thanks to the marinade. The combination of romaine and baby arugula made for an interesting contrast of flavor and texture.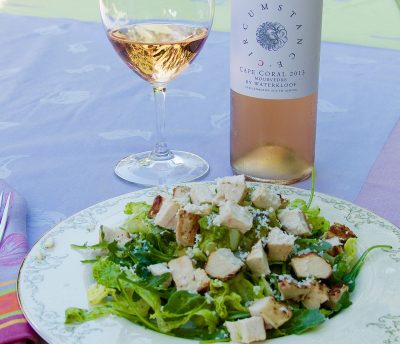 I was a bit concerned that the heat of the dish would overwhelm the rosé, but that was not the case. The spicy flavors of the chicken salad actually brought out even more berry flavors in the rosé — truly an amazing combination. Even though the rosé is completely dry, it did seem to cool down the heat from the salad just a bit.
Really a delicious combination and a good choice for any evening when time is short. We grilled three chicken breasts, which means we had two left over which we sliced and used to make sandwiches for lunches  the following few days. I love to cook once and eat several times!
Benefit number two from this recipe was left over spicy salad dressing. We used the spicy dressing the next evening to marinate halibut before grilling it. Oh my gosh, it was so good — worth a post on its own.
And finally, benefit number three is that we have now enjoyed our last bottle of 2013 Waterkloof Cape Coral and one of our favorite wine purveyors now has the 2014 in stock  so our cellar has been replenished. We will be enjoying the 2014 Waterkloof Circumstance Cape Coral rosé all summer long!
For more South of the Border recipe and wine pairing ideas, check out the posts of the rest of our wine pairing weekend bloggers. The list looks delicious!
We will be chatting about all of these great combinations, and more, on Saturday morning (May 9) at 8am PST. I know it's early, but grab a cup of coffee and join the conversation by following #winePW on Twitter.
Cheers!
Camilla from Culinary Adventures with Cam has prepared "Dry-Rubbed Tri Tip Roast with Halter Ranch 's 2011 Cotes de Paso"
Cindy from Grape Experiences "Wine and Dine for #winePW: Matanegra Vendimia Seleccionada 2010 and Queso Fundido"
David from Cooking Chat is pairing "Spanish Wine for Pork Tacos"
Jennifer from Vino Travels mixes it up with "Mexican meets Italian: Fish Tacos with Stemmari Sparkling Grillo"
Lori from Dracaena Wines "Mexican Musings on #WinePW"
Martin from Enofylz Wine Blog "Chicken Pipian Verde, Mexican Quinoa and the Devil's Collection White"
Michelle from Rockin Red Blog "Celebrating Cinco de Mayo with #WinePW"
Sarah from Curious Cuisiniere presents "Carnitas and the Basics of Mexican Food & Wine Pairing"
Wendy from A Day in the Life on a Farm is bring us Veggie Quesadillas with and old vine Nisia from Spain
Confessions of a Culinary Diva is pairing wines from Baja California