Our challenge for the June wine pairing weekend (#winePW on Twitter) came to us from Italy, literally. This month's #winePW host is Valerie Quintanilla, you can read all of the details of the challenge in her blog post. She is an American living in Italy, so her challenge to us of pairing a summer dish with Arneis, a delightful northern Italian white wine, was spot on.
Also spot on was the timing of the arrival of a delicious Arneis at a local wine shop, making our choice of Arneis for this pairing almost too easy. It is one we tasted during an earlier wine tasting at the shop and enjoyed very much. With our choice of wine compete, a bottle of 2013 Damilano Langhe Arneis, all we needed to do was decide on a recipe to pair with the wine.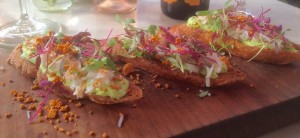 As it turns out, that was also pretty easy for us this month. Having recently returned from a trip to Santa Barbara where we enjoyed excellent food and wine, we took inspiration from a dish we had during that trip — a dish we are calling Dungeness Crab and Pea Purée Crostini. We enjoyed this small plate one afternoon at Les Marchands Wine Bar & Merchant, a wonderful wine bar serving delicious food prepared by The Lark Santa Barbara, a great restaurant next door. Both are located in Santa Barbara's Funk Zone which has all kinds of interesting places to eat and drink, not to mention enjoy artwork. We always visit the area when in Santa Barbara.  All I needed to do was find a recipe to use as a guide in preparing the pea purée. A quick internet search took care of that part. I love having so many recipes at my fingertips!
The Food
After I casually called our dish Dungeness Crab and Pea Purée Crostini, I got to thinking about the actual difference between crostini and bruschetta hoping I had correctly named our delicious little bites. Crostini which means little toasts in Italian are generally thin slices of bread (think sliced baguette) that have been toasted and topped with savory goodies. Bruschetta comes from the Italian bruscare which means to roast over coals. Generally these slices of bread are larger (like slices of ciabatta) and rubbed with garlic cloves and drizzled with olive oil. Bruschetta may be topped with tomatoes or other savory items. So, not a big difference, but I think our crostini are properly named. Whew!
Since I missed fresh pea season at our Farmer's Market by a week or so, I used frozen peas to make the pea purée, following a
recipe
I found online. I began by sautéing an onion in butter, then added the peas, a few shakes of cayenne pepper, salt and enough wine to barely cover the peas. When the peas were cooked I allowed them to cool before carefully spooning the warm mixture into a blender, adding the cooking liquid as needed, and blended until the texture was smooth. Pretty straightforward.
A couple of thoughts on the pea purée: since I wanted just the sweet pea flavor to shine through, I didn't add herbs. Several recipes I saw called for mint to be added, which could be delicious. I did add just a bit of cayenne pepper to balance the sweetness of the peas with a bit of heat. I cooked the peas a bit longer than the recipe indicated, until all of the alcohol flavor from the wine had cooked off. I just kept tasting the mixture until it had the flavor I wanted.
When the pea purée was finished, I chilled it while we prepared the bread, the Dungeness crab and washed the greens for the topping. Pete sliced and toasted the bread while I prepared the Dungeness crab and the greens. Because we love the clean, sweet flavors of Dungeness crab so much, we did not make any addition to the crab. All that was left to do was assemble our crostini — each little toast was topped with pea purée, Dungeness crab and a bit of field greens. Pretty simple…and delicious.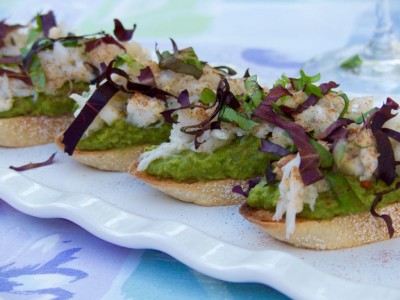 The sweet flavors of the peas and the Dungeness crab were wonderful together along with the savory notes provided by the sautéd onions and spice from the cayenne pepper. The pea purée was smooth and creamy and the Dungeness crab rich and luxurious. The field greens on top provided texture as did the crunchy crostini.
The Wine
Valerie's post provides all of the background information you need to know about Arneis and Roero. The Arneis we chose for this pairing comes from the Langhe region, south of Roero, the other region of Piemonte along with Terre Alfieri growing significant amounts of Arneis.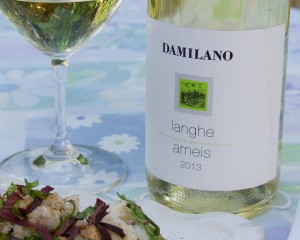 2013 Damilano Langhe Arneis — golden straw color in the glass with with delicate pear and white flower aromas. Pear flavors combine with delicate flavors of citrus zest, white flowers and minerals. Over time a hint of spiciness adds to these complex flavors. The wine has nice acidity, is a bit round in the mouth and finishes long with flavor. 13.5% abv.
This wine has a nice weight in the mouth, more than you might expect from a white wine. The combination of delicate fruit and mineral flavors along with a bit of weight is a pleasant combination and makes this wine a summer sipper you can easily bring to the dinner table.
The Pairing
Interesting. The flavors of the Dungeness Crab and Pea Purée Crostini were sweet and savory which accentuated the pear and floral flavors of the Damilano Arneis. This was one of those wonderful pairings where the combination of food and wine exceeded either one on its own. The roundness of the Arneis was very nice along with the creamy texture of the pea purée.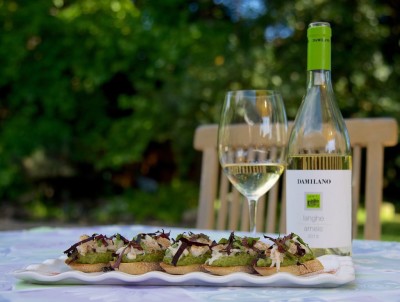 I'm embarrassed to say how many of these delicious little toasts we enjoyed. After we polished off the pretty plating we prepared for picture taking we prepared several more! Needless to say, sufficient to count as dinner that evening.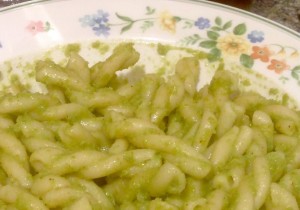 We had more pea purée than we needed for this recipe, but I was determined not to let it go to waste (though it may have gone to waist). It made a really delicious lunch when combined with pasta that I cooked and tossed with garlic sautéd in olive oil. The combination of the creamy peas, olive oil and garlic was perfect with pasta. If I usually enjoyed a glass of wine with lunch, I would have reached for a glass of the Damilano Langhe Arneis. But I don't, so I didn't.
You can see what the rest of our wine pairing weekend friends cooked up for their Arneis pairings by reading their blog posts below.
Also, you can join our Twitter chat Saturday at 8am PST to talk food and Arneis. Just follow #winePW, pour yourself a cup of coffee and join the conversation.
Cheers!
Wine Pairing Weekend July: Join us next month! 
In July Americans celebrate Independence Day and the French celebrate Bastille Day. July's Wine Pairing Weekend will take place on Saturday, July 11, led by Michelle Williams of Rockin Red Blog. The group will explore food and wine pairings from the United States and France. From Michelle, Get creative and make your favorite all American food and wine meal, your favorite all French food and wine meal, one of each or a combination of both! With these two regions the sky is the limit!