The theme for the October Wine Pairing Weekend (#winePW) is Fall Fruits and Wine Pairings. Fall fruits…hmm that title made me think of dessert initially. But, then I got to thinking about what a fall fruit is. I pretty quickly determined that squash is a fruit, and not a vegetable as I had assumed, so that opened-up the possibility of cooking a savory dish instead of a dessert. Since butternut squash is my favorite fall squash, I set about finding a recipe using butternut squash.
The Food
With just a bit of searching online I found a recipe from Ina Garten using roasted butternut squash that sounded very good: Saffron Risotto with Butternut Squash.  I love risotto and enjoy the challenge of cooking it to perfection. And this recipe includes pancetta, which always makes everything taste better.
This recipe took a fair amount of preparation. Peeling and dicing the butternut squash before roasting it was the most time consuming portion. I did that first and got the squash roasting while I diced the pancetta and shallots.
Next I put the stock in a large pot to heat on a back burner of the stove top and then sautéed the pancetta and shallots. With that complete I added the carnaroli rice (which I substituted for arborio rice), then the wine. With most of the wine absorbed by the rice, I began adding the chicken stock two ladles at a time as instructed, then the saffron.
When the stock is absorbed as the rice cooks, I continued to add more stock two ladles at a time. Generally as the risotto cooks I clean the kitchen and keep an ear out for the sound of the risotto cooking in the pot. When the sound changes from a bubble to almost a sizzle, the risotto requires more liquid.
With the risotto cooked through, but still with a bit of texture, I added the cheese and stirred in the roasted butternut squash. It took about 30 minutes to cook the risotto to the desired tenderness.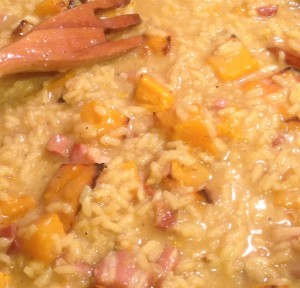 The risotto thickens considerably after the cheese is added, so make sure it isn't too thick when you add the cheese.
We served ourselves, added a sprinkle of Parmesan cheese to our risotto and sat down to enjoy our meal.
The Wine
Since the recipe includes white wine in its preparation, that pairing was a natural. Pete suggested possibly pairing a red wine, maybe something lighter bodied and not too ripe, just to see how that might work.
After rummaging around in the wine cellar we decide on a white wine, but had difficulty selecting a red wine we thought might work. Eventually we decided it might be interesting to try a rosé instead of a red wine, so we chose a white wine and a rosé to pair with the butternut squash risotto.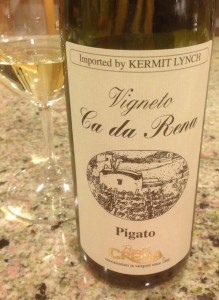 2013 Punta Crena Pigato Riviera Ligure di Ponente Vigneto Ca da Rena — light yellow in the glass with delicate melon aromas. Flavors of citrus, melon, stone fruit and a bit of spice finish with a lingering minerality and crisp acidity. ABV 12.5%
This wine is produced by a small, family-owned winery in northern Italy near the village of Varigotti in the Liguria region. The family grows primarily indigenous grape varieties, Pigato being among them. Pigato is the Ligurian name for the white grape called Vermentino elsewhere in Italy.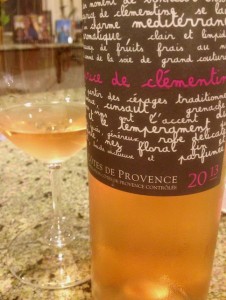 2013 Chateau les Valentines Le Caprice de Clémentine Les Valentines Côtes de Provence Rosé — light salmon color in the glass with obvious aromas of raspberries and blackberries. Berry flavors combine with lemon zest and crisp acidity for plenty of flavor. ABV 12.5%
The 35-hectare Provence estate of Château les Valentines is located in La-Londe-les-Maures overlooking the Mediterranean. Made from a blend of 50% Grenache and 50% Cinsault, this rosé exhibits the bright, complex, berry flavors I associate and love in a rosé produced from blended grape varieties. We much prefer blended rosé to single variety rosés for this reason.
The Pairing
This Saffron Risotto with Roasted Butternut Squash is one of the most flavorful risottos I have tasted. The background flavors from the combination of shallots and pancetta combined nicely with the roasted, caramelized flavors of the butternut squash. The pancetta flavors predominated along with the roasted butternut squash. The parmesan cheese added a creamy saltiness.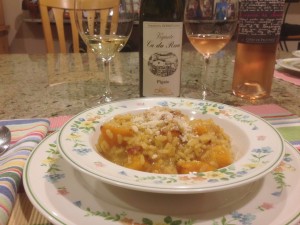 I'm not convinced the saffron added any identifiable flavors, possibly it's just part of the background flavors. Next time I prepare this risotto dish I'm going to omit the saffron and see if I can detect a difference in the flavors.
Pete is not a huge fan of butternut squash on its own, but when used to make soup or when it's combined with other flavors, as is it in this risotto recipe, he enjoys is very much. We found this recipe is a great way for both of us to enjoy roasted butternut squash.
2013 Punta Crena Pigato Riviera Ligure di Ponente Vigneto Ca da Rena
This white wine is so delicious, I'm glad we did not start drinking it while I was cooking, we might not have had much left for our meal. The combination of delicate melon and stone fruit flavors and the interesting minerality proved to be a delicious combination.
Speaking of a delicious combination, that perfectly describes the pairing of this wine with the butternut risotto. The flavors of the wine stood up to the flavors of the risotto, but did not interfere with them. Same of the risotto with regard to the wine. The flavors of both were maintained and they went perfectly together. This was my favorite pairing of the two wines with the risotto.
2013 Chateau les Valentines Le Caprice de Clémentine Les Valentines Côtes de Provence Rosé
This delightfully flavorful rosé is one I just want to sip on a warm afternoon. No food necessary, however it paired very well with this risotto dish. The berry flavors of the wine were accentuated by the caramelized flavors of the risotto. This wine was Pete's favorite pairing with the risotto because the wine was so flavorful.
If you have the time and patience to prepare risotto, this is a recipe I would recommend. Roasting the butternut squash adds so much flavor as do the sautéed pancetta and shallots. It is a dish that is rich, flavorful and satisfying. It's worth the time it takes to prepare. As you can see, we both enjoyed this meal very much.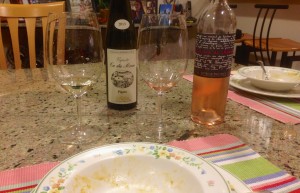 Cheers!
Wine Pairing Weekend #5 Bloggers: here's what all of the other bloggers have created for the October Wine Pairing Weekend!
Pumpkin Lasagna with Halter Ranch's Côtes de Paso by Culinary Adventures with Camilla
Squash and Sausage Soup with Pumpkin Cornbread and McKinley Springs 2010 Bombing Range Red by Tasting Pour
Linguine with Roasted Carnival Squash and a Garnacha by Cooking Chat
Pinot Vs. Syrah – Pork Tenderloin with Fig & Apple Sauce by Confessions of a Culinary Diva
Sweets
Caramelized Almond Apple Upside Down Cake with a Late Harvest Riesling by A Day in the Life on the Farm
Surprise!
Wines for a Sweet & Savory Fall Harvest Meal by foodwineclick