Food and wine often accompany each other during a meal. In our house they are always companions on the dinner table. Whether you start with the wine first, then plan the meal or the other way around you need to consider how one will influence the other. The general idea is always to find a harmonious pairing — one which enhances both the flavors of the wine and the food. This of course is a matter of personal taste. Not everyone will agree on every food and wine pairing. But that makes things interesting!
So with food and wine pairing in mind, Pete and I gathered a group of wine friends together to participate in an event organized by fellow blogger, David Crowley. David has organized Wine Pairing Weekend, what will become a monthly event aimed at bringing together food bloggers and wine bloggers. He will choose a food theme and leave it to the participants to find the best wine pairing. Then we will all write about our pairings. The goal is to get food bloggers writing about wine and wine bloggers writing about food. You can read the details on David's blog Cooking Chat. Sounds fun doesn't it?
The theme of the first Wine Pairing Weekend was wine pairings for grilled meat. Perfect for this time of year as we already have our grill fired up for the season.
The Food
After a bit of discussion Pete and I decided to grill Rolled Pork Florentine. This recipe by Laura Calder is one of our favorite stuffed pork-roast recipes. We have made it several times, once roasted in the oven and once on the grill. We much preferred the extra flavor grilling gives the roast.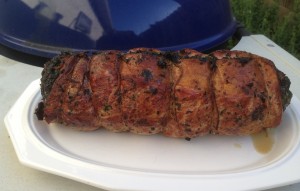 So with the decision made to grill Rolled Pork Florentine, we set about inviting a few wine friends to join in the fun.  We described the premise for the tasting and the pork recipe and asked each person to bring a bottle of wine they thought would match well.  Everyone was game for the experiment and thought it sounded like a fun idea.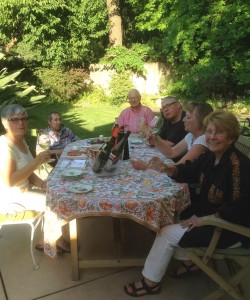 We began the evening with hors d'oeuvres and wine out on the patio. You know, just to make sure our palates were tuned-up for the main meal! It was so nice to relax outside for a while and it was convenient for Pete to check the grill periodically.
I admit to being a bit intimidated  the first time I prepared Laura Calder's Rolled Pork Florentine recipe because it required butterflying the pork roast. I followed the instruction one step at a time and it worked out just fine. There are countless videos online that demonstrate both butterflying and roll cutting techniques.
I slightly modify the spinach stuffing by adding chopped cremini mushrooms and marjoram. Marjoram is an herb I use both fresh and dried. We have it growing in our herb garden and I especially like it with pork.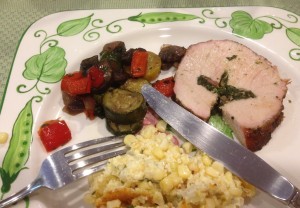 Summertime in our house means corn pudding. It's a bit early in the year for local corn, but I was just so hungry for this recipe I made it anyway. The Barefoot Countessa's Sagaponack Corn Pudding recipe is easy to put together and delicious. I admit to cheating a bit, in that I no longer cook the pudding in a water bath. Once when making it I forgot the water bath part, and just baked it without, and it was fine (and a whole lot less work!)
Finally I oven-roasted squash, onions, red bell pepper and mushrooms tossed with freshly chopped basil. That made three items on the plate. That's how my mother taught me to cook. Always three items and not two starches. This of course does NOT apply to Thanksgiving dinner!
The Wine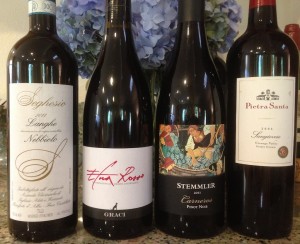 We had four bottles of wine, all red, to pair with dinner. We used the extremely unscientific method involving serial tastings of all wines with the food to evaluate which we liked the best. The most technical portion of the evaluation involved providing two wine glasses per guest, so each person could taste between two wines if they so chose. There was no statistical evaluation, we merely asked each person which wine they preferred and totaled the votes.
The final tally was verified by measuring the amount of wine remaining in each bottle which assumes the bottle with the least wine remaining was the most popular. This method of verification was at least as unscientific as the initial method used to tally the favorite wine, which seems totally appropriate.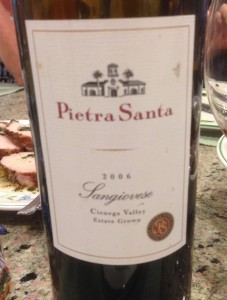 2006 Pietra Santa Cienega Valley Sangiovese — this dark, delicious wine showed spicy, earthy and dark fruit aromas. Cedar popped in the flavor along with dark fruit, moderate tannins and and a long finish.
This wine, though by no means heavy bodied, was the heaviest bodied wine of the group. Most of us thought this wine was a bit heavy for the meal. It is a delicious wine better suited to a grilled steak perhaps.
Another consideration was the very warm day. Sometimes a lighter red wine just tastes better when the weather is very warm.
2011 Stemmler Carneros Pinot Noir — light ruby in the glass with tart cherry aroma and flavors along with earthy bramble and significant tartness. Tannins are smooth and well integrated.
The Pinot Noir lovers in the group favored this wine with the pork for its light body and tart cherry flavors. It is a nice warm-weather red wine that did not overwhelm the pork flavors, but ultimately more tasters preferred a wine with a bit more weight and a little less tart.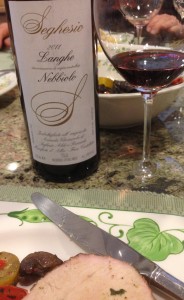 2011 Seghesio Langhe Nebbiolo — medium ruby in the glass with complex, dark fruit flavors and aromas along with smoky deliciousness. Tannins are moderate and well integrated into the flavors and the body is medium weight.
This wine is absolutely delicious. The combination of smoky, dark fruit, pleasant tannins and medium body makes this wine a winner. Though this wine did not garner the most votes, the bottle was empty at the end of the evening. That combination makes this wine a tie for favorite.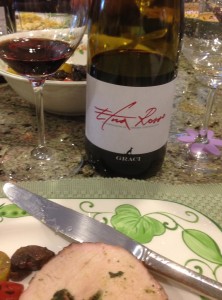 2011 Graci Etna Rosso — light ruby in the glass with dark fruit and savory, herbal aromas. Flavors of dark fruit, tobacco, green tea combine with moderate tannins and a relatively light body.
Those that favored this wine did so for its flavor and lighter body. Those who chose the Nebbiolo as favorite preferred a wine with a bit more body, feeling it made a more substantial partner to the pork. The basic style of wine you prefer always influences what wine tastes best with food. No big news item there.
The Conclusion
Though the Etna Rosso had the most favorite votes, there was more of it remaining in the bottle at the end of the evening than the Nebbiolo. For that reason we declared the 2011 Seghesio Langhe Nebbiolo and the 2011 Graci Etna Rosso to be co-favorites of the evening. Two favorites are better than one!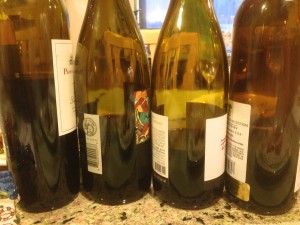 We finished the evening with a lemon tart and an assortment of fortified wines. We ate, sipped and voted. All-in-all it was a fun evening. Everyone seemed to enjoy sampling a variety of wine with the meal and I enjoyed hearing why each person chose their favorite wine. A great way to taste and learn. The first Wine Pairing Weekend was certainly a success for us. Thanks David for the great idea!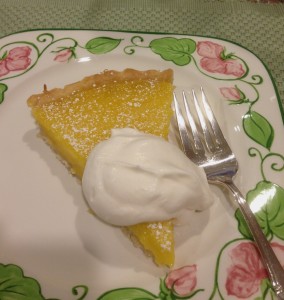 Wine Pairing Weekend #1 Bloggers: Be sure to check out the great pairings my fellow bloggers have come up with for the first Wine Pairing Weekend!
The Tasting Pour is posting "Pairing Food and Wine: Cabernet Cliché"
Culinary Adventures with Camilla is pairing "Lemon Marmalade-Glazed Duck Legs + Holman Ranch's Off-Dry Pinot Gris"
Vino Travels – An Italian Wine Blog will share "Food and Wine Pairing: BBQ with Montepulciano d'Abruzzo"
Grape Experiences is sharing "Wine and Dine: Sinfo Rosado 2012 with Chicken Enchilada Burgers"
Pull that Cork posted "Rolled Pork Florentine on the Grill, Which Wine Pairs Best?"
From Cooking Chat, "Grilled Pork Tenderloin Paired with a Bonny Doon Syrah"
Meal Diva blogged about "Grilled Sausage Kabobs and White Wine"
Curious Cuisiniere paired "Wine Grilled Chicken with Lewis Station Winery's Oaked Chardonnay"
Join the #winePW conversation: Follow the #winePW conversation on Twitter throughout the weekend and beyond. If you're getting this early enough, you can join us for a live Twitter chat on our theme "Wine Pairings for Grilled Meat" on Saturday, June 14, 10 to 11 a.m. Eastern Time. You can also visit our group Pinterest board to pin some great pairing ideas for later! Stay tuned for the July Wine Pairing Weekend, which will focus on "Refreshing summer wine pairings" on Saturday, July 12.
Cheers!